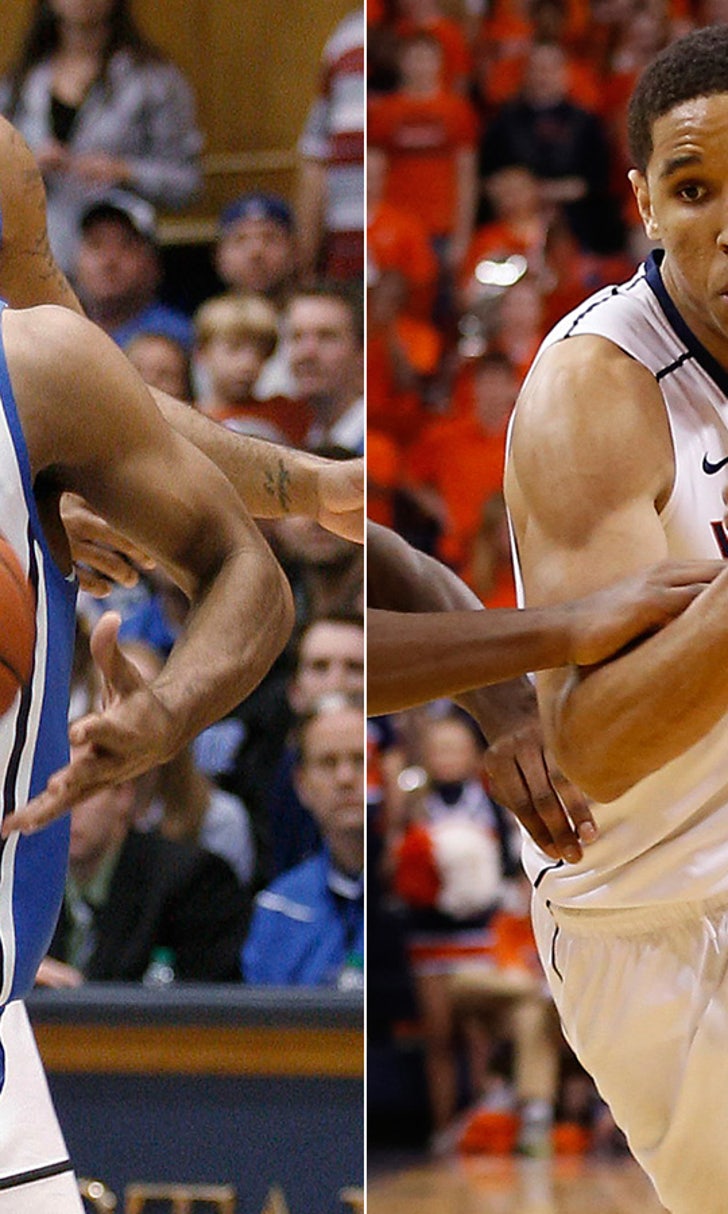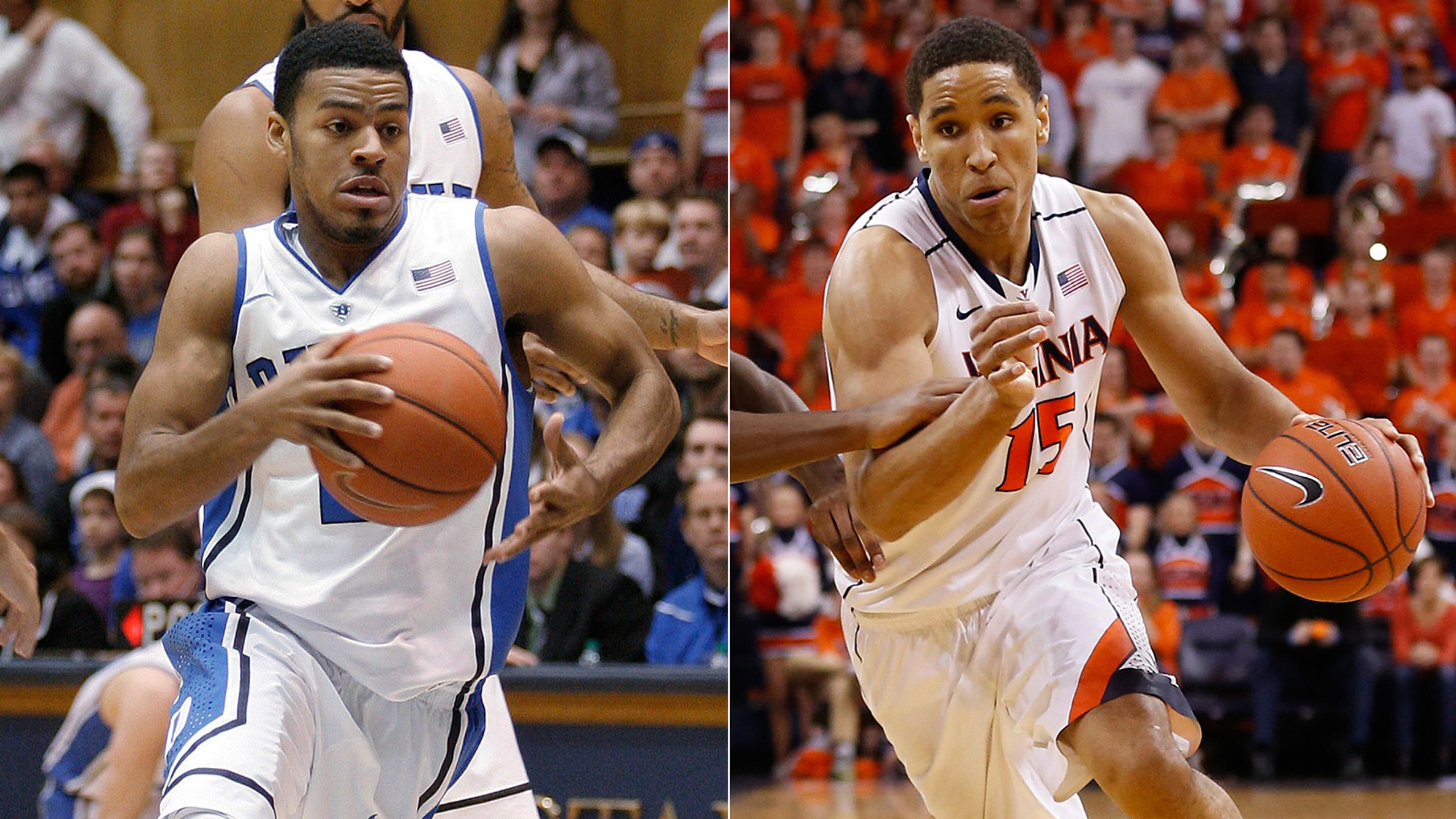 Notebook: Duke, Virginia enter NCAA tourney with high expectations
BY foxsports • March 20, 2014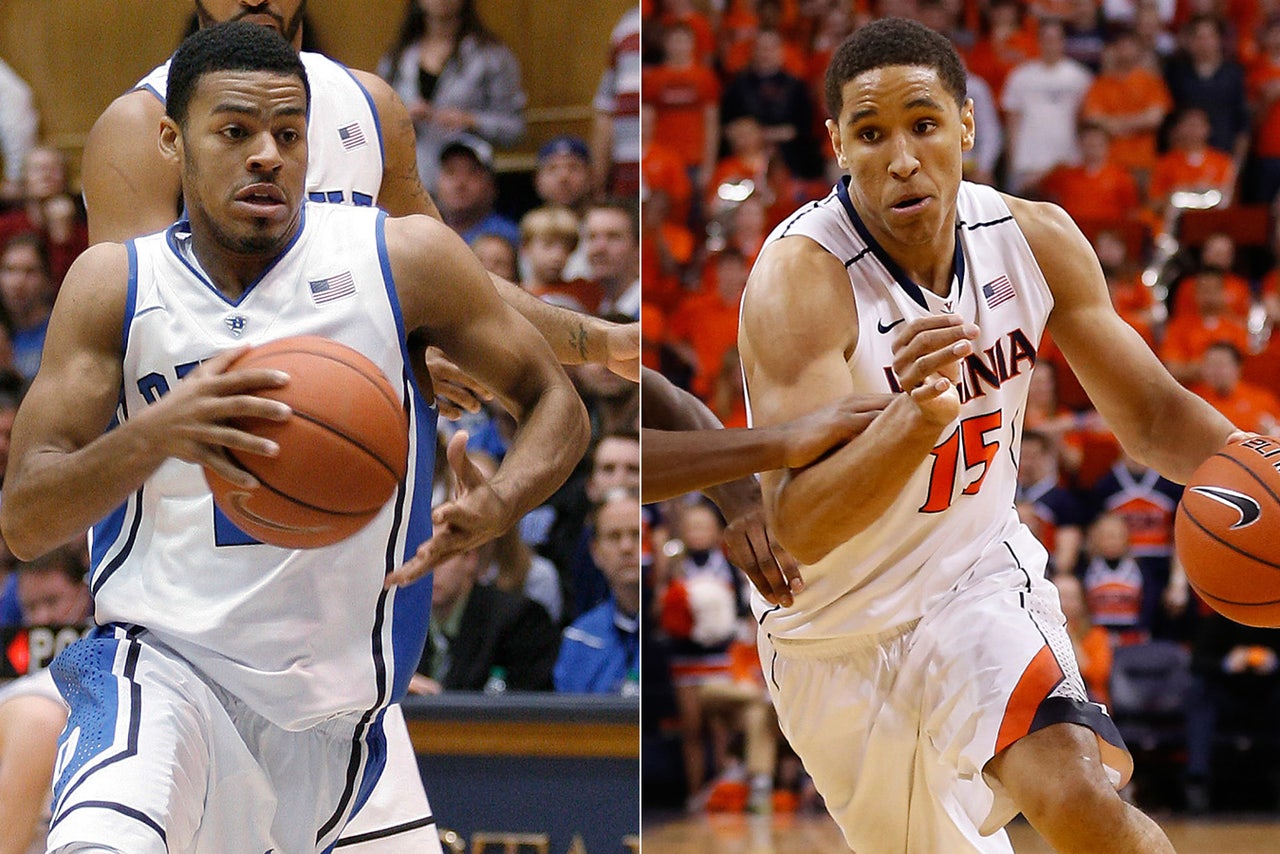 RALEIGH, N.C. -- Last year during the NCAA Tournament, Duke was led by an experienced core of seniors in Mason Plumlee, Seth Curry and Ryan Kelly and had as good a chance to get to the Final Four as any other team. The only question mark was its point guard, Quinn Cook, who had a rough go of things in Indianapolis in the third round with 12 points in two games on 3-of-16 shooting.
This year, all of that still holds true, except for the whole senior core thing.
In 13 of Duke's first 16 games this year, Cook hit double figures in scoring and was amazing at directing the Duke offense, efficient with his assists and keeping turnovers low all while providing the Duke offense a spark when necessary. But he's been up and down, to put it mildly, the past few weeks. And Duke needs more from him if it wants to make it through March unscathed.
"I think it's simple: when (Cook) plays like we know he can play, we're one of the most dangerous teams out there," Duke sophomore Rodney Hood said. "When we don't, we're still dangerous but we're not as dangerous. He's a key component to our team. He had a great week of practice and we've just got to take it into the game."
Teammate Andre Dawkins -- a graduate student -- echoed Hood's sentiment that Cook has had a good week of practice, but he recognizes that they need more steadiness from the junior point guard as well.
"I think he's extremely important for all the different things he can do. He can shoot it. He can get to the basket. Obviously he can push the ball very well, get other people involved. He's extremely important to what we do," Dawkins said. "I think the last couple weeks, he's started to kind of turn it around, play a lot better. The last couple days in practice he's been really good. I'm excited to see what he does. I think he'll play really well and if he does that, it really takes our team to another level."
Cook understands the fear of his fan base and outsiders/analysts alike.
He remembers his two bad games in Indianapolis last year, and he knows he needed to be better. It fed him early this season, and he'll need it to motivate him now, too.
"I remember the Michigan State game. I played terrible, but we won the game, so, I wasn't hard on myself at all," Cook said. "But I remember last postseason. I played well the first two games in Philly and then I struggled the last two. I've shown the I can play on this stage, at this level, and I can show that I struggle. It's been motivation for me all year."
Duke head coach Krzyzewski certainly said it best, though.
"The clock stops right here. Just whoever you are right now now, you've got to show it. Hopefully that will be good enough to do a good job tomorrow."
Hood, who is Duke's second-leading scorer and likely would've been first team All-ACC were it not for his talented teammate Jabari Parker, is widely thought to be strongly considering leaving early for the NBA. His head coach said as much after the Clemson game in last week's ACC Tournament, saying he wished he would have Hood for more than one year.
But Hood says he hasn't made a decision. And he seemed surprised to even be asked the question.
"That's -- I haven't even thought about that side of it. I think that's something that's just been glued to me because - I haven't made that decision," Hood said. "It's not even a 50-50 thing. I just haven't thought about it."
His mother is a high school principal in Mississippi, so Hood said she would certainly be fine with him staying to get his Duke degree (which he would earn after next year).
"For me, especially with my mom being a principal, and I have another year academically to graduate, she really impressed on me the importance as far as graduating. Graduating from Duke and coming from Mississippi, that's a big-time deal," Hood said. "That's something especially that I'm looking forward to. But I haven't made a decision. I'm just going to continue to enjoy my college experience."
Virginia enters the Raleigh regional feeling as good as it has felt as a program in quite some time, as the Cavaliers should. Winners of the ACC regular season and tournament crowns, Virginia has its first No. 1 seed since 1983 (fourth all-time).
But even as Virginia continues to clear every hurdle put in front of it, rather real or imaginary, the Cavaliers are still doubted or questioned. To be fair, the reason many analysts are picking Michigan State (the No. 4 seed) to advance out of Virginia's East Region bracket is not because of Virginia as much as it is the love and respect for the program Tom Izzo has built in East Lansing.
Still, it has left some Virginia players wondering what they have to do to get respect.
Virginia leading scorer Malcolm Brogdon had a hypothesis.
"Um ... bring it every year, just have no lapses every year?" he said. "But that's not something we can control right now. We've got to come out every game and establish ourselves."
There's a delicate balance between getting so fired up about slights, perceived or otherwise, that it distracts a team from its task at hand. Freshman point guard London Perrantes said this team walks that line just fine.
"We see things like that, but we know that we've got to get past this first game. We're not even worried about that as of right now," Perrantes said. "We can't persuade the announcers, so we've got to just play. ... We're not worried about reporters and things they say. It's definitely difficult not to, but."
And there are bigger problems for a head coach like Tony Bennett to have than his team being slighted or dismissed.
"I think every time we get overlooked, every time we see our team or program being overlooked, it's just fuel to the fire, motivation for us to push harder and be hungrier," Brogdon said.
They don't mind being the underdogs. The Cavaliers were thought to be one of the best teams in the ACC this year going into the season before falling on their face a bit in the non-conference slate. They righted the ship and dropped just two total games in league play (out of 18 regular season and 21 total games, including the ACC Tournament), and won most of them in dominant fashion.
But sophomore Justin Anderson said this team doesn't want to go back to that place where it believed its own hype ever again.
"You don't want to be complacent because we understand what complacency can do for us. Preseason, we had a lot of attention, we had a lot of hype that went around our team. We knew that with that hype, that wasn't going to do anything when the ball was tipped and anyone can be beat any given night," Anderson said. "Especially at this part of the year -- it's March Madness. You can't take anyone for granted. We're just going to make sure that we come ready to play and play the best basketball that we can."
Duke's up-and-down season this year -- well, by Duke standards -- evidently led at least one reporter to think Krzyzewski might be ready to call it quits.
"Did my wife ask you to ask me that or what?" Krzyzewski quipped. "No, I'm not thinking of retirement."
The 67-year-old head coach has had a difficult year personally, with his older brother passing away in late December and then dealing with a health scare in a loss at Wake Forest a few weeks ago.
But he's still in relatively good health for his age.
"A number of coaches have things like that happen in their family lives like that, just like other people -- lawyers, doctors, businesspeople," Krzyzewski said. "You just have to be able to handle that. That's part of this thing called life, I guess, is what they call it."
Obviously, a certain amount of success will breed more admiration, both from outsiders and Virginia's own fans. The Cavaliers' fellow students aren't giving them inflated egos, though.
"Our school is the type of school that they'll tell you congratulations, but they're not putting you on a high pedestal or giving us free food. It's not anything like that," Anderson said. "We understand that we're just a bunch of humble guys that are underrated and we've always had that chip on our shoulder, so we just left it there. We didn't take the rankings and the numbers and all that for granted. We just allowed people to do what they wanted to do on that side of it, and we wanted to make sure we just showed up and played the best basketball that we could."
But that doesn't mean some of them aren't enjoying increased attention from outsiders in the media and even in their own fanbase. Brogdon, who narrowly missed All-ACC First Team (voted on by the media), would know about that better than anyone.
"I think we all enjoy a certain amount of the attention. I think it's nice to get recognition for your success and the success you've had as a team," Brogdon said. "But then at a certain point, you have to block it out because you're going into a game where it's do-or-die. Seeding doesn't matter and none of that recognition matters anymore."
Some of the doubt about Virginia entering ACC play came from an 87-52 loss at Tennessee, a game that was as ugly as the final score would indicate. At the time, Tennessee wasn't anything to write home about and the Volunteers ended up having to win a play-in game to advance to the NCAA Tournament's 64-team field.
The Cavaliers didn't know it at the time, but it would be a turning point in their season.
"It wasn't one of those things where everybody after the game was like, 'This is going to jumpstart a huge streak.' It was just, 'We lost, let's get back, let's correct it.' Then after that, we started to play really well," Anderson said. "It's easier to look back now and say this is probably why we have the success that we've had now, because of this. But it wasn't anything that we went home, put our heads down about. We knew we had a lot more basketball to play."
That game did teach Virginia an important lesson, though. And it's one they have continued to use throughout the regular season.
"We understood that we couldn't do it on our own. We understood that the individual had to sacrifice for the team to be successful," Anderson said. "I think we've done a tremendous job of sacrificing our individual talent to put it all in one mix and make a great team effort. We started thinking a lot more 'team' -- not that we weren't thinking it at first, we were just still trying to find what we do best at that time. Then we found what we do best and we've made a streak from there."
And considering the Cavaliers have won 19 of their last 21 games and their only two losses have come by a total of 10 points (and both on the road), "streak" seems to be putting it mildly.

This team is as hot as any other coming into the tourney -- the only question remaining is how well they can handle success.
---