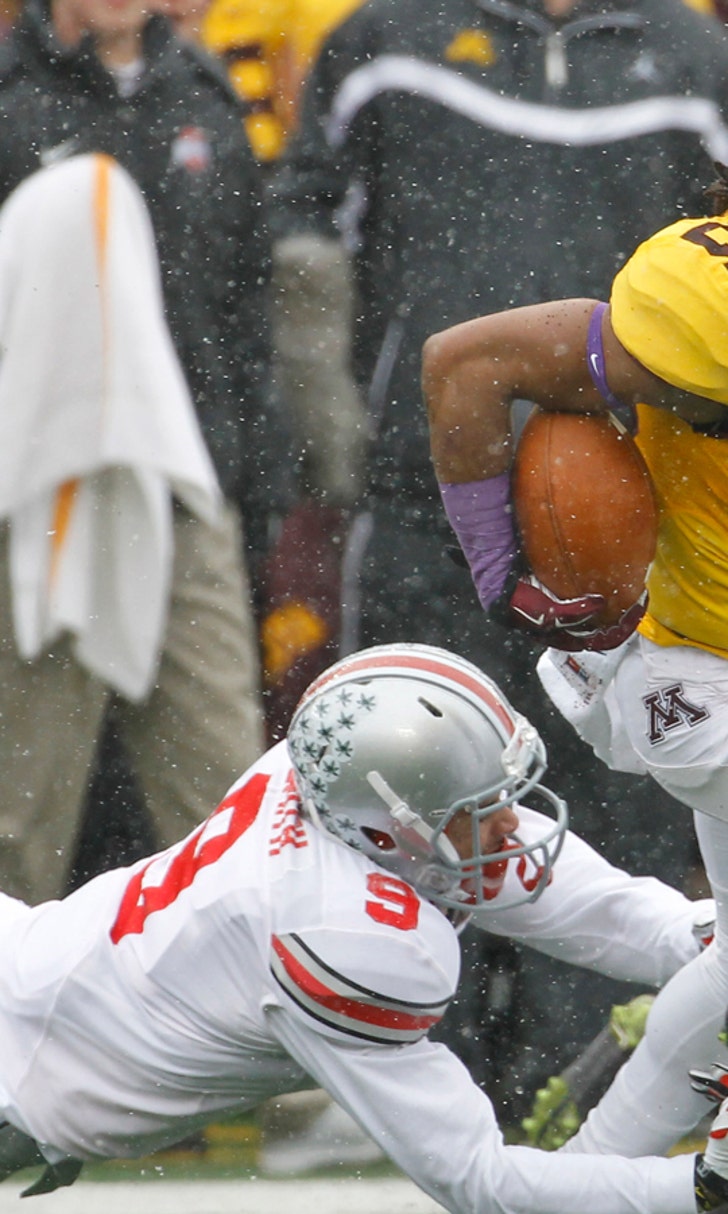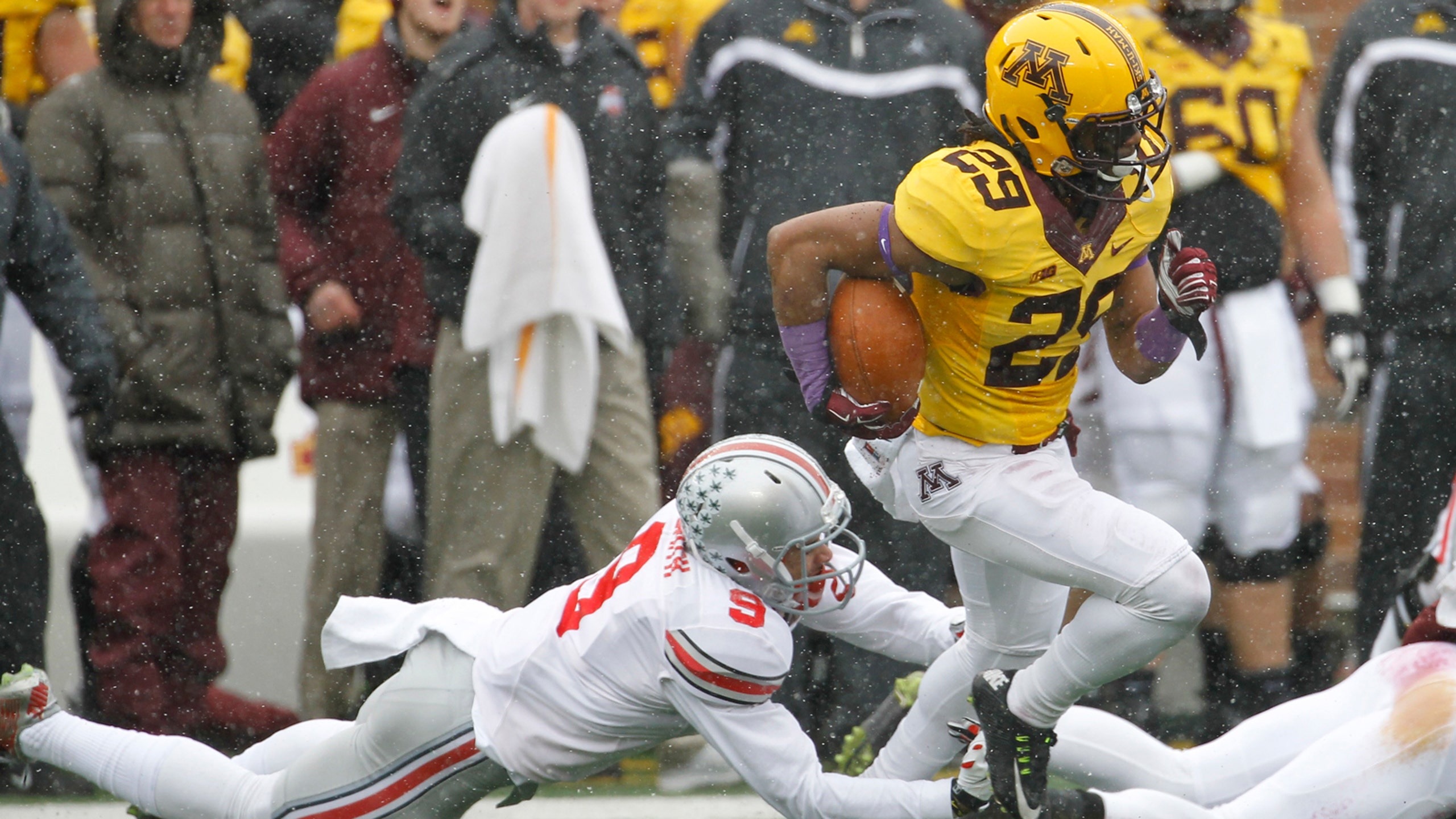 Notebook: Boddy-Calhoun has big game on big stage
BY foxsports • November 15, 2014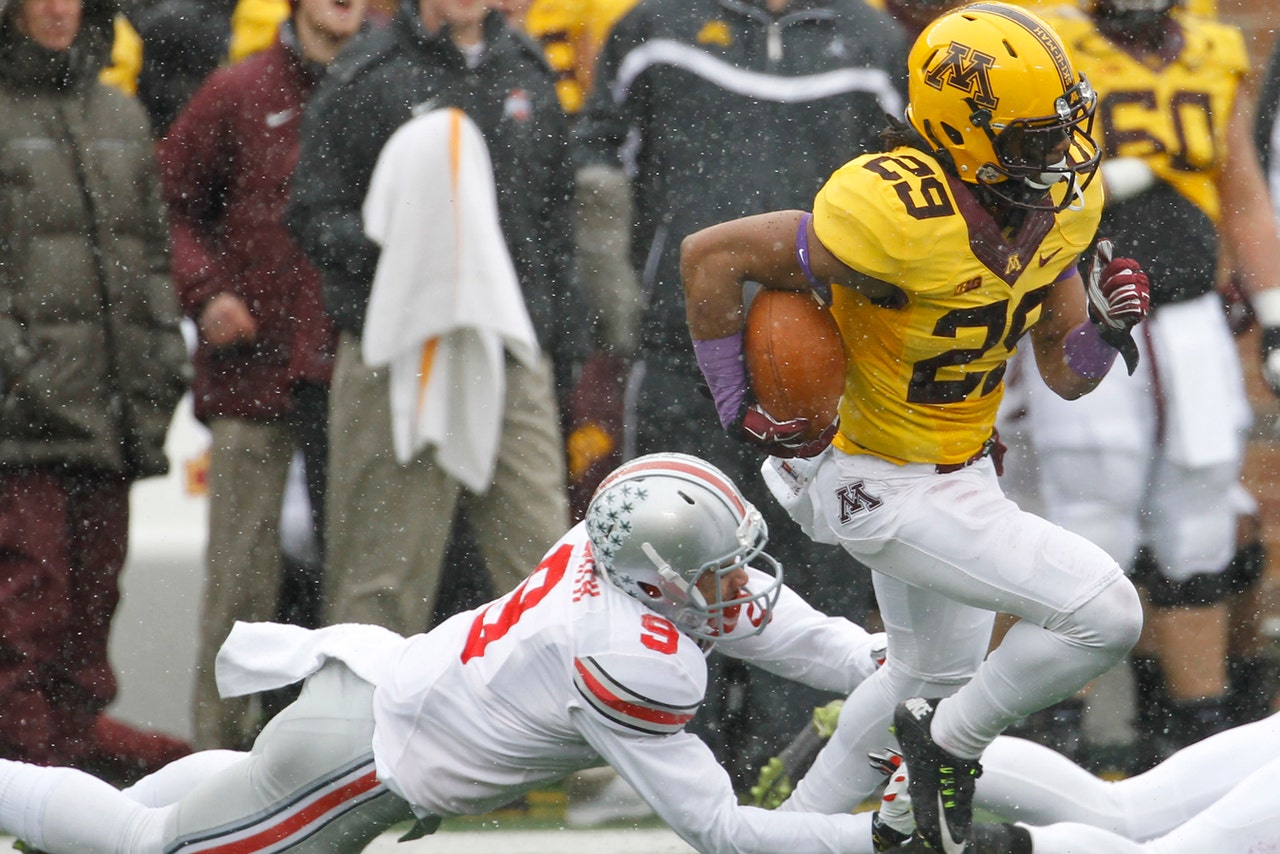 MINNEAPOLIS -- Saturday should have been Gophers cornerback Briean Boddy-Calhoun's senior day.
If not for a knee injury that cut his 2013 season short just two games in, Boddy-Calhoun entered 2014 as a redshirt junior. Given how well he played in the loss to Ohio State, Minnesota is sure glad Boddy-Calhoun will be back for one more year.
After the Gophers fell behind 14-0 to the high-powered Buckeyes offense, Boddy-Calhoun did his part to turn the tide. The Delaware native intercepted a pass by Ohio State quarterback J.T. Barrett, who tried to hit a receiver deep downfield. Thanks in part to a big block by Derrick Wells, Boddy-Calhoun had room to run. In fact, he returned his team-leading fourth interception of the year 56 yards all the way to the OSU 39-yard line. It took the Gophers just three plays from there to put their first touchdown on the board when David Cobb ran it in from five yards out.
"Our offense always does a great job after turnovers usually converting it into points," Boddy-Calhoun said. "I think when we get turnovers, the offense really thrives off of that. They marched it right down and scored. I think that even gave our defense more life."
Just as the Buckeyes threatened to expand on their 14-7 lead, Boddy-Calhoun played the role of defensive hero once again. Ohio State's Jalin Marshall caught a short pass from Barrett and headed toward the goal line. That's where Boddy-Calhoun jarred the ball loose, and linebacker De'Vondre Campbell recovered it in the end zone.
Minnesota went on to convert that turnover into seven points on its ensuing drive. The Gophers' 14 unanswered points on offense had plenty to do with the plays Boddy-Calhoun made on defense.
"He's a great kid, that's the best part about it. He is a great, great kid," said Gophers head coach Jerry Kill. "You always like to see good things happen to good people. He did a great job. He's done a great job all year, coming off that knee injury. I'm glad we've got him for another year, that's for sure."
The momentum started to sway in Minnesota's favor after both of those two big plays. The seemingly invincible Buckeyes offense showed a few weak spots in the armor.
"When things aren't going the right way, sometimes the defense just needs to step up and make a play," Boddy-Calhoun said. "In the back of my mind, I told myself that if I had the opportunity to make that play that I was going to make that play."
Passing game struggles with WR corps thin: Gophers quarterback Mitch Leidner didn't have his full complement of receivers on Saturday, but the sophomore still struggled. He was just 7 of 19 for 85 yards and a pair of interceptions. Tight end Maxx Williams led all Gophers with three catches for 47 yards.
Meanwhile, Isaac Fruechte was the only wide receiver with a catch. He caught three passes for 28 yards, including a 15-yarder. KJ Maye didn't have a catch but did have three rushes for four yards on the jet sweep.
Sophomore Drew Wolitarsky once again missed a game with an injury, and fellow sophomore Donovahn Jones didn't play at all. Kill said Jones was being disciplined and was scheduled to be held out the first two series, but Jones was also ill before the game so was held out anyway.
"It can be tough but I thought guys did a pretty good job stepping up here and there," Leidner said. "We've got to just keep building it up at those positions and keep getting better there."
Gophers win battle of punters: Coming into Saturday's game, Minnesota's Peter Mortell and Ohio State's Cameron Johnston were No. 2 and 3 in the Big Ten, respectively, in average yards per punt. Mortell booted his punts for an average of 44.7 yards, while Johnson's punts averaged 43.4 yards.
There was no question who was the better punter in this matchup.
Mortell averaged 51.8 yards on his five punts Saturday, while Johnston's four punts went for just 36.8 yards, including punts of 30 and 32 yards. Those differences in the punting game helped give Minnesota great field position in the first half, while the Gophers were able to pin the Buckeyes deep on a number of occasions.
After Mortell's first punt of the game was downed at the Ohio State 5-yard line, the Buckeyes scored just three plays later on an 86-yard run by quarterback Barrett.
"I thought we did an outstanding job in the kicking game," Kill said. "That's the tough thing is we had them pinned and they made big plays. ... Those things kill you, because we did the thing that you needed to do to keep them on the long field, and you've got to make them earn it."
Follow Tyler Mason on Twitter
---