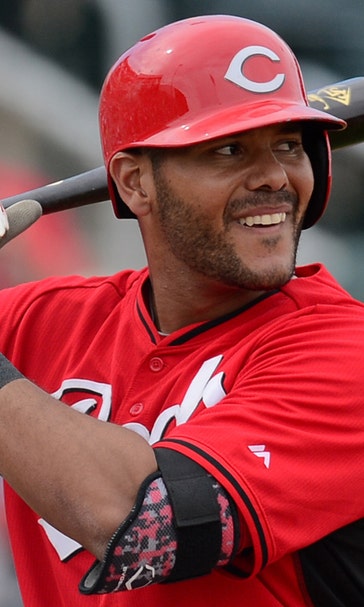 Non-roster players Boesch, Dominguez pushing for Reds Opening Day spots
BY foxsports • March 26, 2015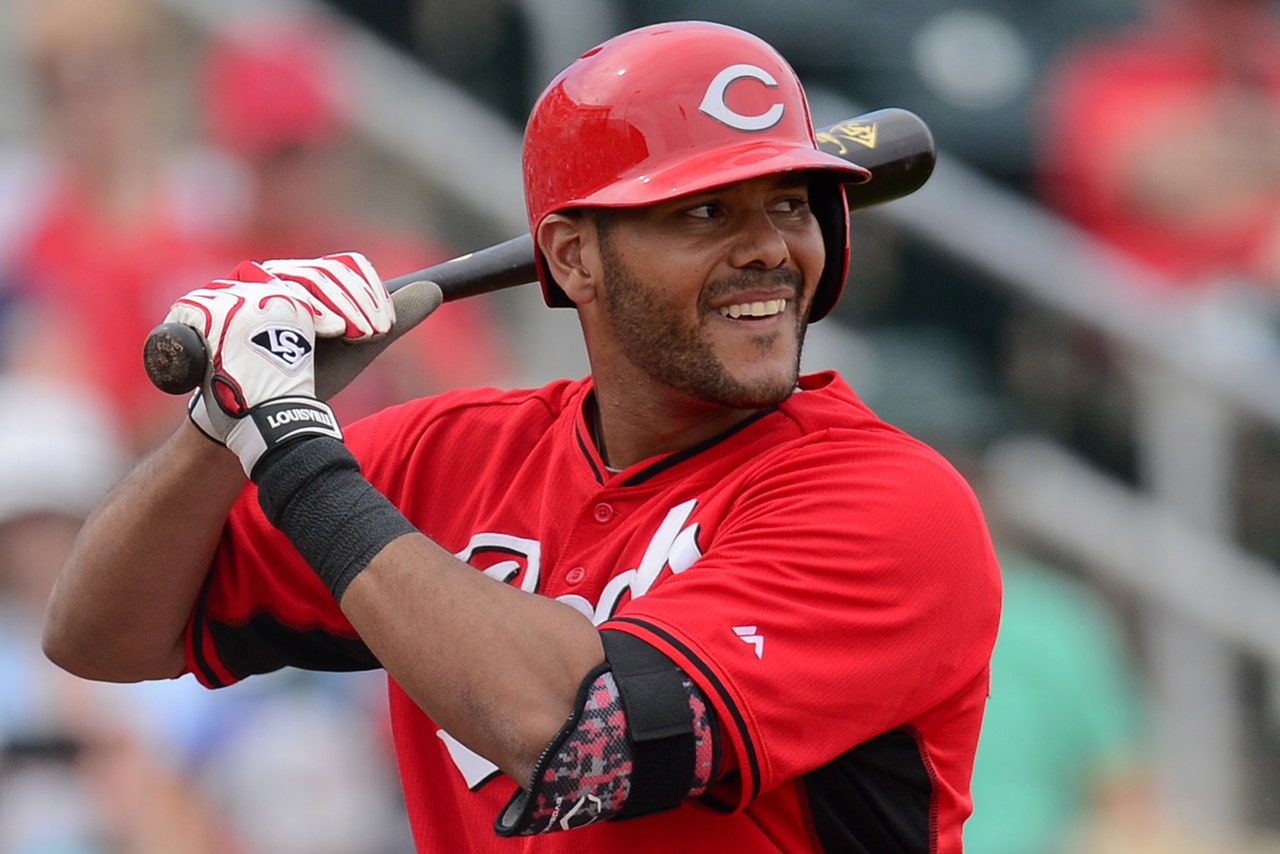 GOODYEAR, Ariz. -- Brennan Boesch and Chris Dominguez were given no guarantees when they signed with the Reds in the offseason.
Neither player was placed on the organization's 40-man roster, the list every Major League Baseball team has from which to select its 25-man roster for the regular season. Boesch, 29, and Dominguez, 28, signed non-roster deals that invited them to come to Arizona and have an extended tryout period to show what they could do. Both had previously been highly regarded prospects in other organizations; Boesch actually has a history of success in the majors with Detroit.
Both are still in the running to be with the Reds on Opening Day and beyond.
When it comes to making that final roster, it just may come down to one or the other for a spot on the bench. The Reds know who their starting eight position players are going to be. That has never been a point of competition this camp. Reserve spots, however, have been a different story. That's where there has been opportunity.
"I'm just preparing for a season," said Boesch. "You can write about opportunities and stuff but I've got to prepare. You hope in your preparation that it gives a good idea of what kind of player you are for your new team."
Manager Bryan Price has been complimentary of both Boesch and Dominguez throughout camp.
On Boesch: "He's playing an unbelievable center field, he's throwing well, running the bases well. There's a lot of different ways he could help our ball club if he chooses not to hit .500 during the regular season."
On Dominguez: "He's got big power without having to work for it. He doesn't have to try to hit the ball hard to hit the ball hard. He's got a natural strength. He's found the barrel (of the bat) a lot this spring for both extra-base power and hard-hit contact."
Boesch, who will celebrate his 30th birthday the second week of the season, is with his third new team in three years. He was twice named the American League Rookie of the Month in 2010 when he first came up to the big leagues with Detroit. He led all AL rookies in home runs and RBI that season and was fifth in balloting for AL Rookie of the Year.
His 2011 season included a game in which he hit two home runs, drove in five runs and scored three times but a thumb injury that required surgery in September set his career on another path. His time with the Tigers was through after 2012. He spent 2013 with the New York Yankees and their Triple-A team in Scranton/Wilkes-Barre before being released in the middle of July.
Last season he signed a minor league deal with the Los Angeles Angels of Anaheim after Cactus League play had begun. Boesch turned that opportunity into leading the Pacific Coast League in batting average and slugging percentage. He got back to the big leagues, playing 27 games for the Angels in three different stints. It wasn't enough to keep him with the organization but it was enough to earn this chance with the Reds.
Boesch is listed as an outfielder but he's also played at first base this spring.
"I'll play anywhere. I'll pitch if I can get in the lineup," said Boesch. "It's all about getting in the lineup any way you can. Outfield or first base, it's about getting in that lineup anyway you can. That's what I plan on doing."
Spring training stats always come with a "buyer beware" caveat. Every player is working on one thing or another in a game. History is littered with players who have had Ruth-ian springs only to show their true colors once April comes around. The opposite is just as true; players who do little to impress in spring training games are more than ready to produce once games start counting.
Boesch has hit .351 this spring with three home runs and nine RBI to go with a .622 slugging percentage. Dominguez has a .553 slugging percentage that includes five doubles, two home runs and nine RBI.
Neither player is paying attention to their spring numbers.
"At-bats. How well my at-bats are?" said Dominguez. "Not necessarily getting a hit but just making sure that if I swing at a pitch I hit it hard somewhere. Put a good swing on it. If I have a long at-bat, that's a good thing too."
Dominguez was named an All-Star in the San Francisco organization in 2013 and 2014. Baseball America rated him as the best power-hitting prospect in the Giants' system in 2012. He was a third-round pick in 2009 out of the University of Louisville and had 91 home runs and driven in 420 runs with a career .436 slugging percentage in the minor leagues before getting a September call up last year and playing in eight games.
The Giants designated him for assignment on Jan. 29 to make room for pitcher Ryan Vogelsong.  Dominguez cleared waivers and was released on Feb. 4. The Reds signed him to a non-roster deal with an invitation to play in their big league camp on Feb. 11.
Like Boesch, he has proven he is versatile enough to play multiple positions from the corner outfield spots to both first and third base. He even played 40 games at shortstop last season in Triple-A. At 6-feet-4, 233 pounds he's not a prototypical shortstop but, as Boesch said, it's about doing anything to get into the lineup.
"I've played multiple positions throughout my minor league career," said Dominguez. "Not that I'm a shortstop but in emergency situations I can definitely hold my own."
Of the 36 players still in camp for the Reds, 10 of them are non-roster players. In order for any of them to make the big league club, the Reds would have to release someone from the 40-man roster. It all adds into the decision-making process.
"You can have a great spring and not make the club," said Price. "That's kind of the nature of the beast here. We have to take the 25 guys that give us the best chance to win. Those are going to be difficult decisions.
"I would not be surprised one bit if the final roster has some surprises and if some of the final decisions are decisions that we may not have seen in the middle of February."
---