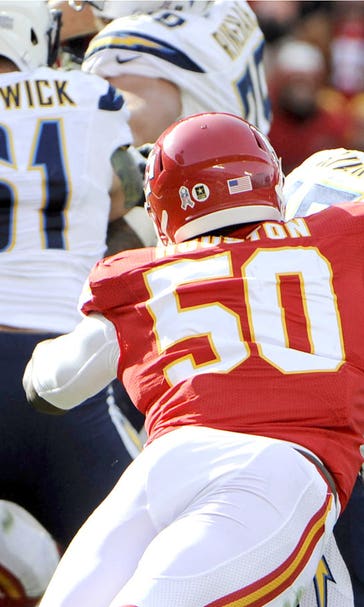 No shock: Chiefs' Houston skips report date for offseason program
April 20, 2015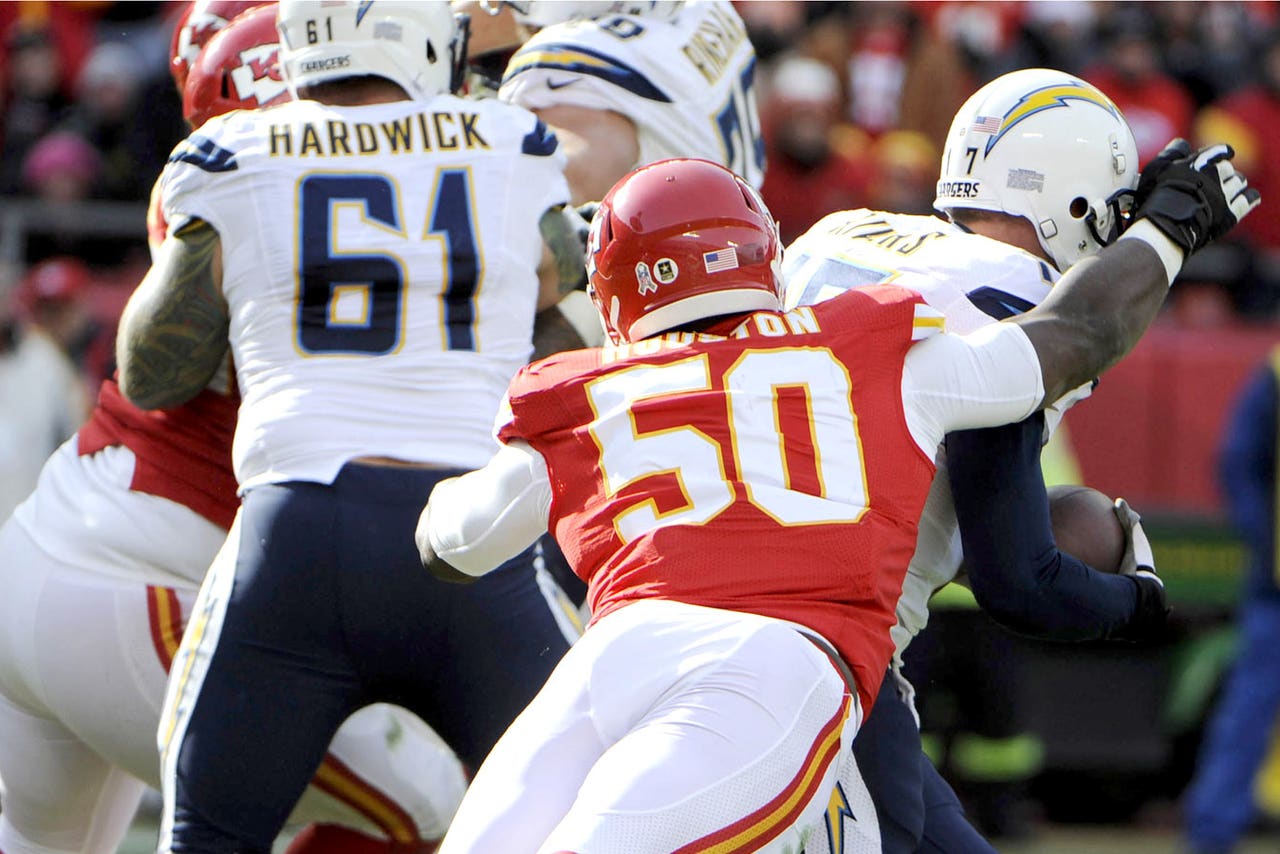 KANSAS CITY, Mo. -- The Kansas City Chiefs reported for the start of their offseason program on Monday.
Well, most of them did.
The most notable absence was All-Pro linebacker Justin Houston, who was given the franchise tag after a record-setting sack season. Houston still has not signed his tender as the Chiefs and his representatives try to reach an agreement on a long-term deal.
"I'm hopeful they'll get it worked out," Chiefs coach Andy Reid said. "I think both sides want to be here for whatever's sake. I know the jockeying. I've been around long enough to understand how it works out, particularly when you're doing negotiations with good players."
The Chiefs and Houston began talking about a long-term deal last offseason, but were unable to make much headway. Houston ended up playing under the final year of his rookie deal, and finished with 22 sacks to break the franchise single-season record held by Derrick Thomas.
His performance only drove his asking price up, and the Chiefs could need to get creative to meet it. In the meantime, they've slapped the franchise tag on Houston -- he has yet to sign the tender -- that would mean a one-year deal worth more than $13 million.
"They'll come to a number that works out for both sides and he'll be here for a long time," Reid said. "I know on the other side, Justin is going to work his tail off, because that's the way he's wired, to make sure he's ready to go when the time comes."
Fellow linebacker Derrick Johnson also sounded optimistic Houston will arrive eventually.
"Probably shouldn't talk about guys who aren't here," Johnson said, "but when the season hits, we'll have all our bullets. Put it like that."
In other news, Johnson said he was nearly 100 percent after missing nearly all of last season with a torn Achilles tendon. Johnson has been taking part in full workouts for a while, but said that he won't know for sure where he's at until teams can begin on-field work.
"It's not in the back of my mind," he said of the injury. "Mentally, it's been awhile since my injury, and that has to go away for you to succeed and get back to where you left off."
Defensive tackle Mike DeVito, who also tore his Achilles tendon in last season's opener, also reported for the start of the voluntary workouts and pronounced himself ready to go.
"I think I would have considered retirement if I had to go through that myself," said DeVito, who worked side by side with Johnson on his rehab. "But working with a guy like DJ, day-in and day-out, getting in there and going through this, we really felt that bond."
The first phase of the offseason program allows players to lift weights and do conditioning at the team facility, and coaches to work with players in the classroom. It also allows quarterbacks to throw passes to wide receivers as they begin to build some chemistry.
Alex Smith, who missed last season's finale with a lacerated spleen, was able to get onto the field for the first time with Jeremy Maclin, who signed a five-year, $55 million deal with Kansas City in the offseason. They ran a couple of routes in the indoor facility -- nothing too fancy -- but both of them could already tell that chemistry would be no problem.
"It's our job to get it done, to get it done as efficient as possible and as fast as possible," Maclin said. "We're going to continue to work over the course of the offseason, but the way Alex carries himself, the way I carry myself, we'll be just fine."
Smith said he's been medically cleared to take part in workouts, and that the only thing the spleen injury prevented him from doing last season was taking a hit.
"Literally a few weeks after our season, that was the timeline they had given me that I would be fine," Smith said. "It didn't restrict me. Normal life. I could work out, run, do everything I needed to do. Just kind of went about my business, and this point, it's felt great for a while."
---