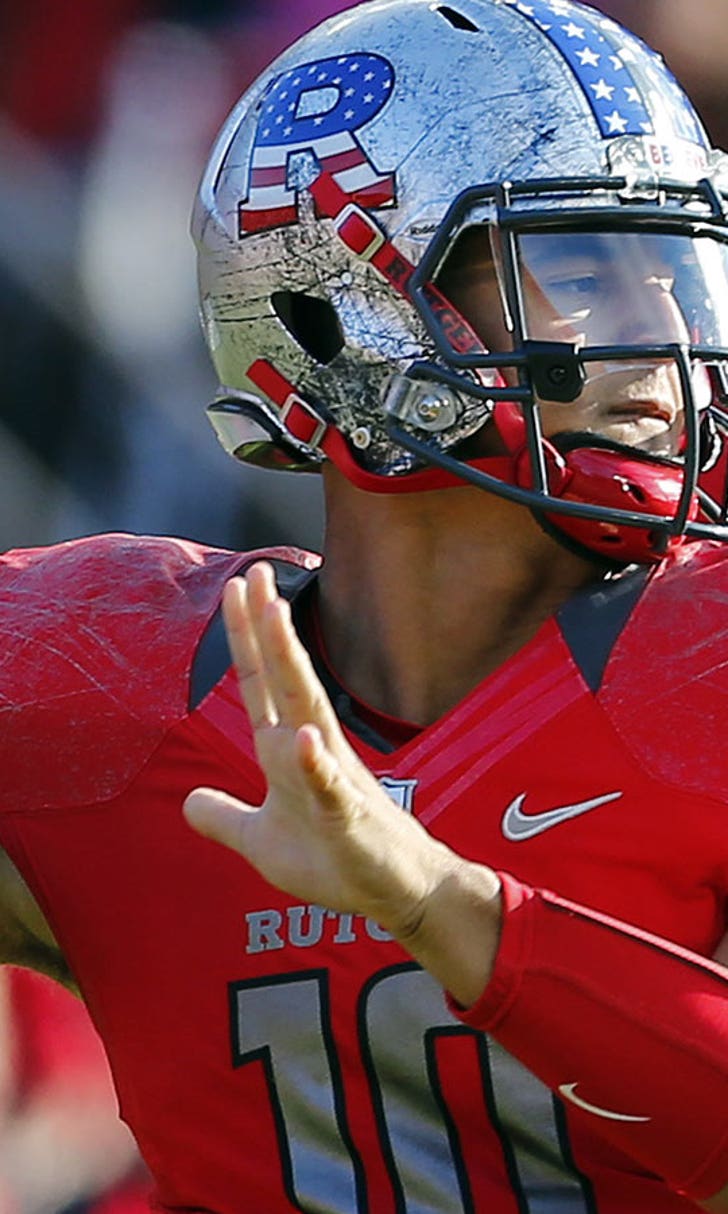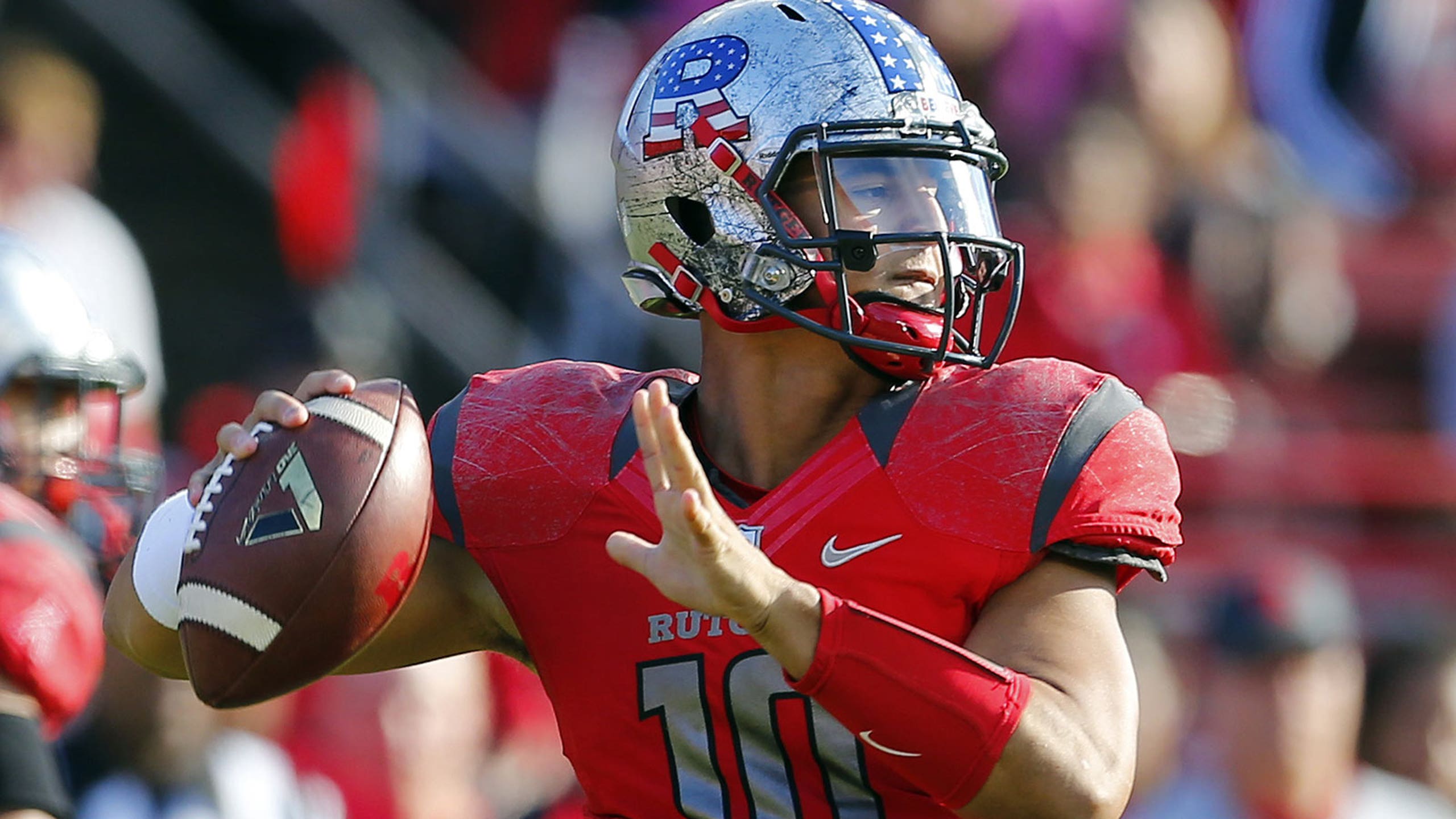 No matter which QB plays for Rutgers, Badgers will prepare the same
BY foxsports • October 27, 2014
MADISON, Wis. -- Rutgers football coach Kyle Flood enters the week with a quarterback question he cannot fully answer. Not yet, at least.
The question: Will starting quarterback Gary Nova be healthy enough to play after sustaining a knee injury on Saturday against Nebraska?
"That decision could come at any point during the week," Flood told reporters during his weekly Monday news conference.
If Flood and Co. don't know whether Nova or his backup, Chris Laviano, will play, then rest assured neither does Wisconsin coach Gary Andersen. The Scarlet Knights play host to the Badgers at 11 a.m. CT on Saturday in Piscataway, N.J., and the difference between Nova and Laviano is substantial.
Nova, a senior, is one of the most experienced quarterbacks in college football with 41 games played. Laviano, a redshirt freshman, has appeared in three games. Nova ranks second in the Big Ten in passing yards per game at 243.6, and his 14 touchdowns passes ranks third in the conference. Laviano, meanwhile, has thrown just 11 passes all season.
"I don't know where we would go to really find anything different that would make us think the offense is drastically going to change," Andersen said. "I would say this group of offensive coaches do a nice job of mixing up week by week, not really by quarterback but by the scheme of what the deficiencies or what the potential deficiencies are on the grease board prior to the game. They do a nice job of scheming up an offense to give you an opportunity."
During Saturday's 42-24 loss to Nebraska, Laviano did complete 4 of 7 passes for 49 yards and rushed for 54 yards on five carries -- one of which went for 46 yards on a scramble. But Laviano remains a bit of a mystery to the Badgers, who won't have much film on him if he makes his first college start.
Unlike the two-quarterback system Wisconsin is employing with Joel Stave and Tanner McEvoy, Rutgers' top two signal callers run the same offense, Badgers players and coaches said. Because of that, they don't expect to make any major changes in how they approach practice this week.
"We're not really going to prepare differently," Badgers linebacker Marcus Trotter said. "Even if he's in there, they run the same scheme and the same plays. I think we're going in there trying to learn what they do schematically and just trying to find the best way to stop that."
Wisconsin's defense is coming off its most complete performance of the season in a 52-7 victory against Maryland last Saturday. The Badgers now rank in the top 15 nationally in all four major defensive statistical categories, including fifth in passing defense (163.4 yards per game).
"But I really want to highlight the fact that it wasn't perfect," Trotter said. "We watched film today in the morning, and we learned that there's definitely some busts here and there and some mistakes. So that makes me even more fired up because it makes me understand that our defense can get even better. I think it was a good statement, but I think it can foreshadow what we can become if we keep on working harder."
Recruiting changes: The Big Ten's East Coast expansion means teams such as Wisconsin have a better opportunity to branch out in recruiting different markets as well. The New Jersey area, Andersen said, is one of those new markets.
"In the last couple of years, we've been able to get into some homes there, and we haven't won every battle there," Andersen said. "It's an intense recruiting area, but we've got our share fair of kids from out there."
Wisconsin currently has three players on its roster from New Jersey: linebacker Sherard Cadogan, running back Corey Clement and quarterback Tanner McEvoy.
Andersen noted the addition of Maryland and Rutgers had upped the importance of recruiting on the East Coast.
"I think we've carried a good name there in the past and the kids have stated earlier the young men that have come from there have had great success, so we will go in there," Andersen said. "If we say the Southeast, the East Coast, to me they would be the same. It's not really a state or a certain area. It's a region maybe, whereas Wisconsin is Wisconsin. Those are more regions of the country that we think we need to recruit in, but it is a priority."
QB talk: Andersen was asked to address a Big Ten Network commentator's report during Saturday's game that Wisconsin would pick one quarterback for the team's remaining five games.
"No, I don't know where that would have come from," Andersen said. "That's never been the plan, and I don't expect it at present to be the plan, so we will move forward as planned, like we talked about after the game.
"I may have said something in my sleep. Who knows?"
Stave and McEvoy both performed well during their stints against Maryland. Stave completed 9 of 15 passes for a season-high 155 yards with two touchdowns. McEvoy completed 5 of 7 passes for 44 yards and ran for 84 yards, which included a 60-yard touchdown burst.
Follow Jesse Temple on Twitter
---