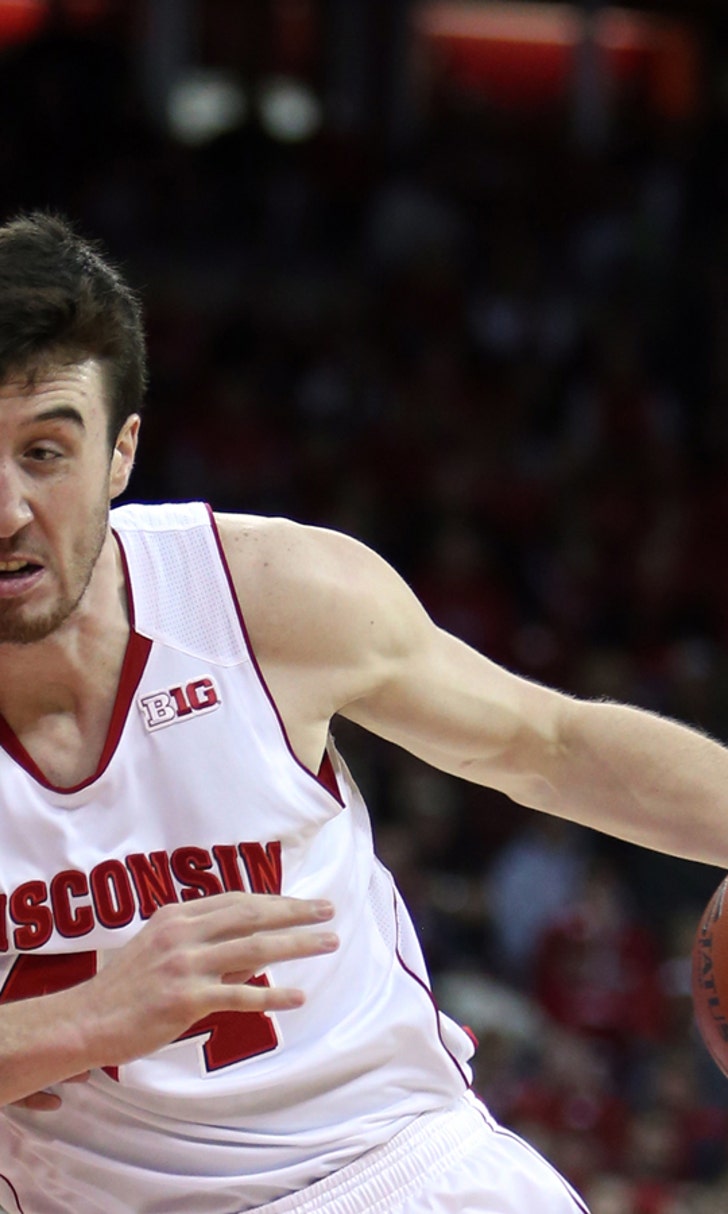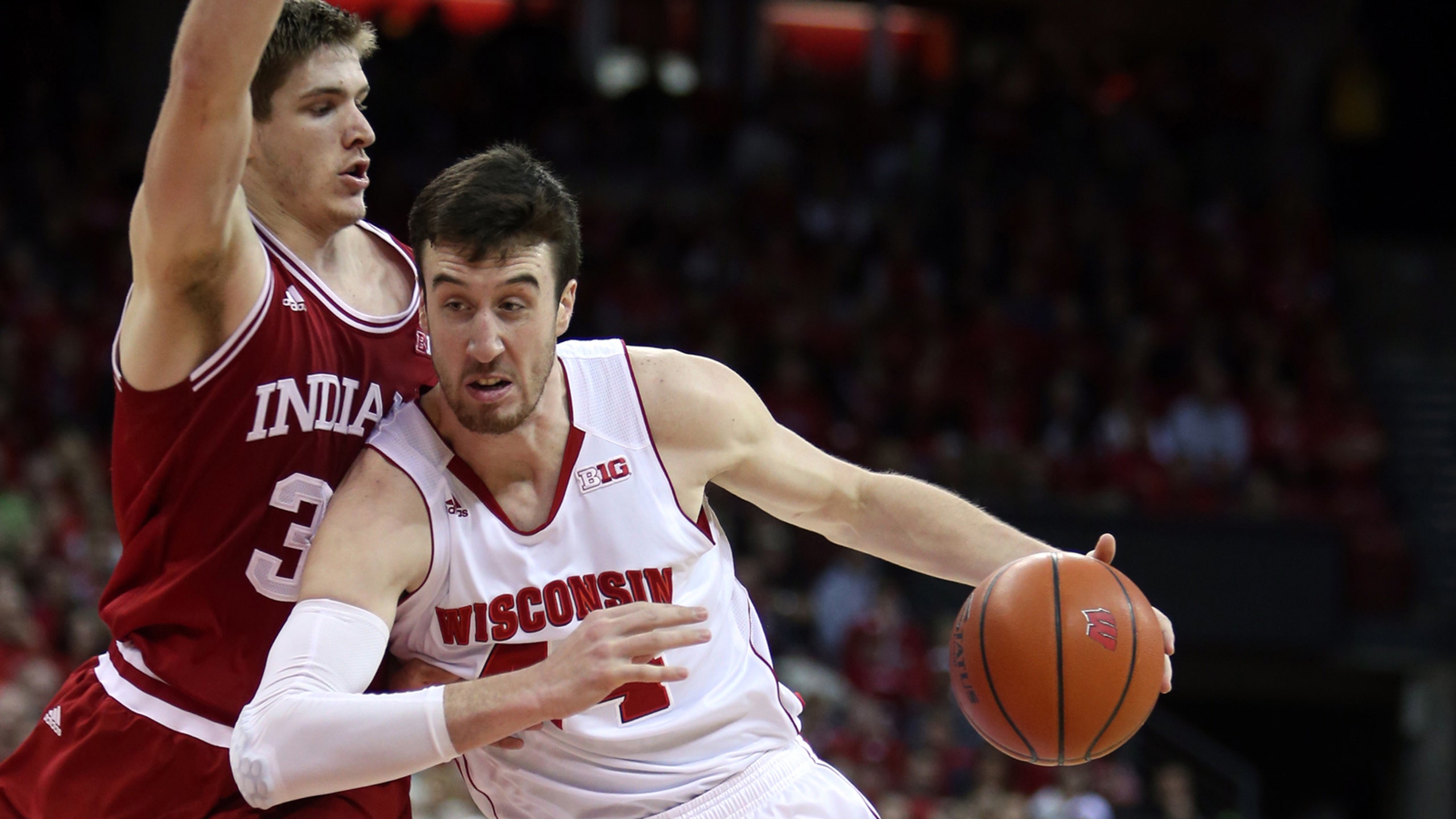 No. 5 Wisconsin an insurmountable challenge for Indiana
BY foxsports • February 3, 2015
MADISON, Wis. -- The entry pass to Frank Kaminsky came from atop the key, and immediately, Indiana's defense found itself in substantial trouble. Pick a sequence, really, and the result Tuesday night would've been the same. Lob to one of Wisconsin's big men, turn to face a couple undersized forwards desperately clinging on, soar in for a dunk.
But if you're looking for a moment that best encapsulated No. 5 Wisconsin's 92-78 destruction of Indiana at the Kohl Center, this was as good of an example as any. Here was Kaminsky, the Badgers' 7-foot national player of the year candidate, sealing inside to collect a pass that knocked 6-7 Indiana forward Collin Hartman to the ground. All that stood between Kaminsky and the basket was the Hoosiers' 6-foot point guard Yogi Ferrell, the second component of a fruitless post double team.
You can guess what happened next.
Kaminsky lowered himself, knocked Ferrell away like a gnat and converted an easy left-handed layup for a 28-23 Wisconsin lead. And it was merely one bucket in the paint among a slew of many more for the Badgers, who demonstrated their tremendous size advantage all night.
"I think we did really well," Kaminsky said. "Most of our offense ran through the post tonight. We knew we had a size advantage, and we knew we had to take advantage of it. I think we did a good job feeding the post. We went a little bit away from it for a while, but once we got back into it, it was pretty good."
Wisconsin (20-2, 8-1 in Big Ten play) scored 40 points in the paint, which marked its third-highest total this season. And the Badgers' frontcourt starting trio of Kaminsky, Nigel Hayes and Sam Dekker combined to shoot 19 of 24 from the field (79.1 percent) -- something Badgers coach Bo Ryan was sure to point out following the game.
Kaminsky paired with Hayes to covert 10 of 10 first-half field goal attempts -- most of which occurred inside -- and combine for 25 of Wisconsin's first 34 points. Both players reached double figures in scoring within the first 15 minutes on an assortment of layups and dunks.
"I thought our guys made some tough shots inside," Ryan said. "And we had to have that because we knew they were going to hit some 3s. We made our run in the second half, they made their run. I was kind of glad ours was first."
Wisconsin's superior height against Indiana's quickness and scoring ability was a common theme entering the week. UW's starting frontline of Kaminsky, Dekker and Hayes went 7-foot, 6-9 and 6-8. Even the Badgers' bench consisted of 6-10 forward Duje Dukan and 6-8 forward Vitto Brown. Indiana, meanwhile, started two 6-7 forwards: Troy Williams and Hartman. The next-tallest player in the starting lineup was 6-4 guard Nick Zeisloft. It didn't help Indiana's cause that talented 6-4 freshman guard James Blackmon Jr. did not play because of an ankle injury.
When Hayes and Kaminsky scored three buckets in the paint within the first 90 seconds, it figured to be a long night for Indiana (16-7, 6-4). Neither player missed until Kaminsky's drive to the rim came up short with 13:56 remaining in the second half. To that point, the pair had combined to make their first 11 field-goal attempts.
"You cannot let a very good team like Wisconsin play at the comfort level throughout the game," Indiana coach Tom Crean said. "We needed to make it probably a tougher game on the ball. Certainly their size is their size and our size is our size. But man, zone, combination defense, whatever it was, we needed to do a better job of pressuring the ball and making it tougher for the ball to get inside, and we didn't do as good a job of that. And then they took advantage of us."
The only quasi negative to emerge for Wisconsin was Indiana trimming a 32-point deficit to 12 on Ferrell's three-point play with 3:17 remaining in the game. During one stretch, Indiana scored 30 points on 13 possessions, including 3-pointers from Ziesloft, Robert Johnson, Hartman and Ferrell. But the Hoosiers ran out of steam -- and time -- on any type of historic comeback.
"We might have stepped off the gas a little bit and kind of relaxed, and they took advantage of it," Kaminsky said. "But we were able to give ourselves (such) a huge cushion that whatever they did would've been really hard to come back from."
Kaminsky scored 23 points and led five Badgers in double figures. He was joined by Hayes (16 points), Bronson Koenig (15 points), Dekker (14 points) and Josh Gasser (11 points). Guard Zak Showalter added a career-high nine points on three separate three-point plays.
"I've kind of been waiting for this," Showalter said. "I just kind of bring energy like I always do. Frank and Nigel seemed to be open every time I touched the ball, so just trying to get it to those guys. It felt good to be out there."
The same surely could be said for the rest of Wisconsin's team, which cruises into the halfway point of Big Ten play with a two-game lead and a conference title in sight.
Follow Jesse Temple on Twitter
---