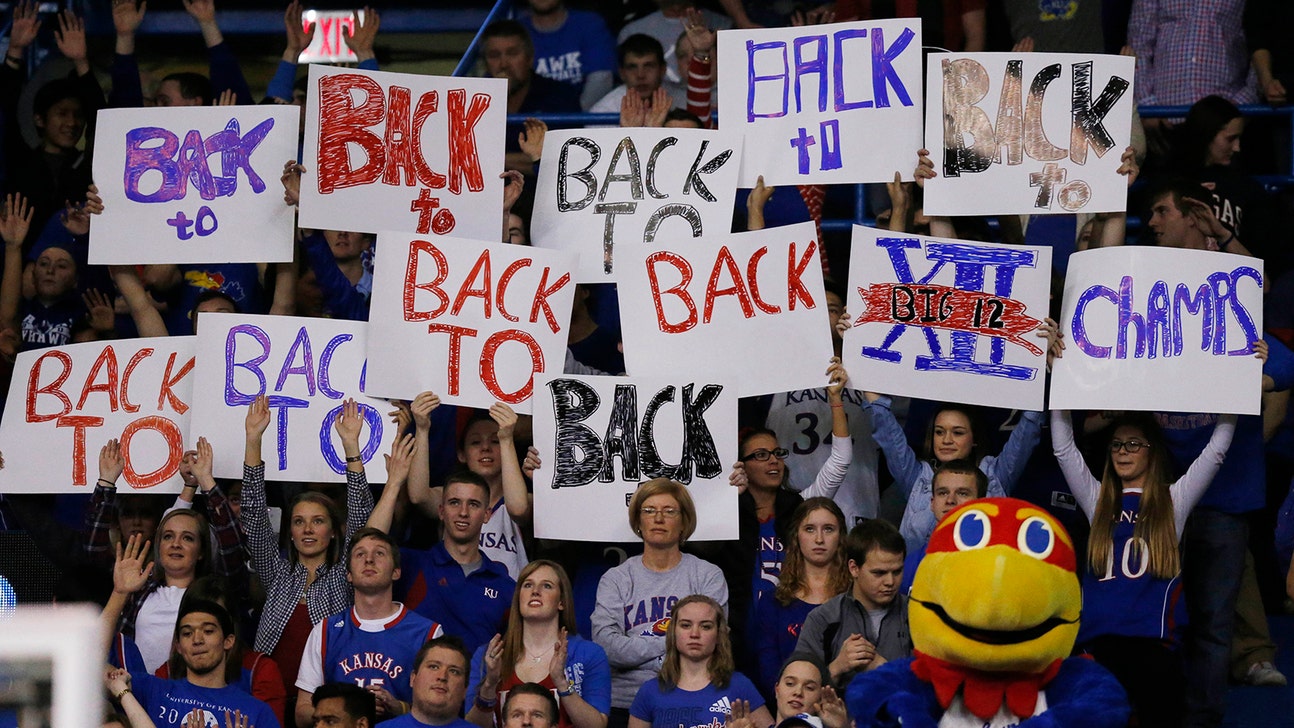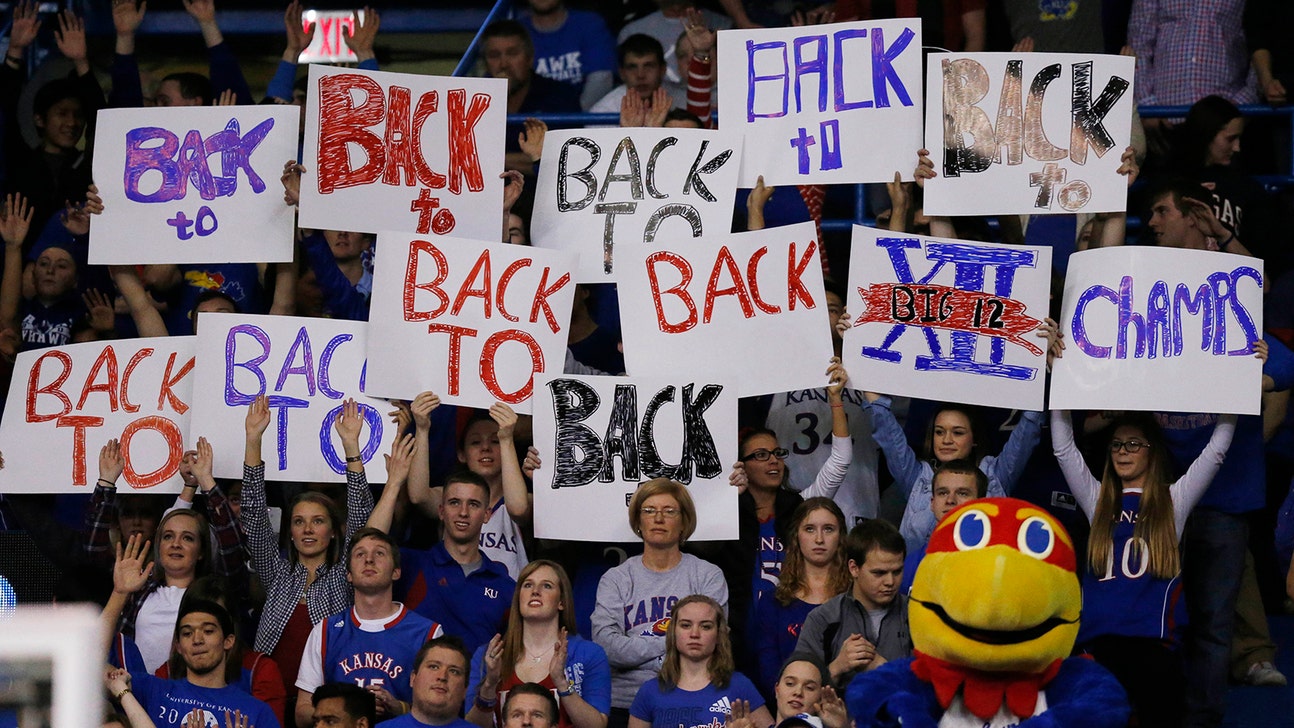 No. 5 Kansas beats Oklahoma for Big 12 title
Published
Feb. 24, 2014 11:53 p.m. ET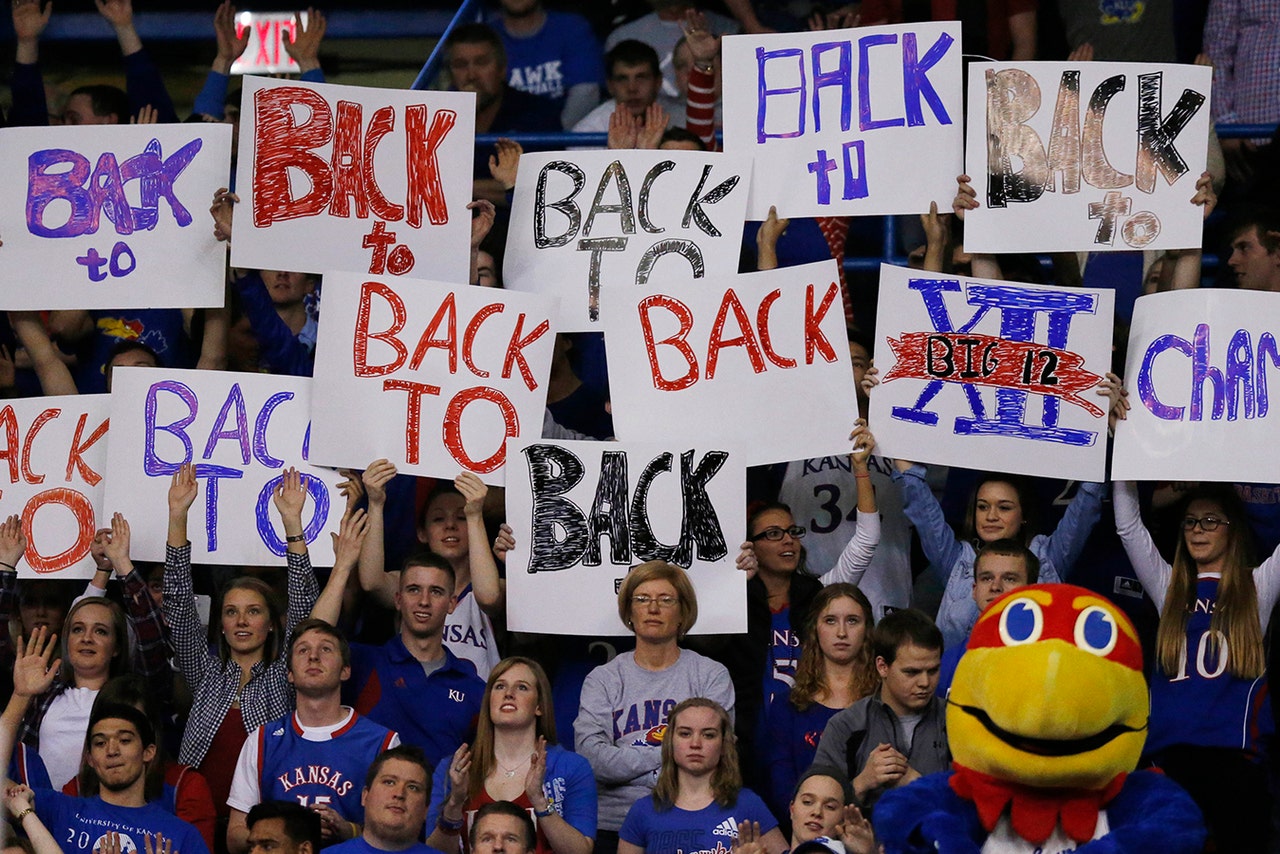 LAWRENCE, Kan. (AP) -- Naadir Tharpe finally got to stand in the middle of the court at Allen Fieldhouse, bask in the adulation of another sellout crowd and celebrate a conference championship.
The junior guard, who wrapped up his first two Big 12 titles on the road, had 19 points to lead five Kansas players in double figures Monday night, and the fifth-ranked Jayhawks held off Oklahoma 83-75 to ensure a share of their 10th consecutive league crown.
"Just a great feeling," Tharpe said. "To be at home, to hear the fans and all that, it's a beautiful feeling. It just shows the tradition of Kansas and what it means to us."
Wayne Selden and Andrew Wiggins added 15 points each, and Joel Embiid had 12 points and 13 rebounds for the Jayhawks (22-6, 13-2), who poured off the bench at the buzzer to celebrate the latest addition to their nation-leading 57 conference titles.
It might be the only one for Wiggins and Embiid, the dynamic freshman duo projected to be lottery picks if they come out this season. Wiggins has already stated his intention to do so.
"Winning the championship," Wiggins said, "just a great feeling on the court."
Only two schools in men's Division I basketball have won more consecutive conference titles than Kansas: UCLA captured 13 straight from 1967-79 in the Pac-10, and Gonzaga won 11 straight in the West Coast Conference from 2001-11.
"It's something you know," Selden said. "When you come in here, that's the standard."
Cameron Clark had 18 points and Buddy Hield finished with 16 for the Sooners (20-8, 9-6), who have lost 12 of their last 13 games against the Jayhawks, including both this season.
Oklahoma still has not won in the Phog since 1993, when Billy Tubbs was on its sideline.
"It's so tough here for a lot of reasons," current Sooners coach Lon Kruger said. "Bill does a great job, they're very talented, the atmosphere is great, the difference really is in the runs they make, and that's what you have to avoid. Easier said than done."
The first half Monday night boiled down to an old-fashioned Big Eight tussle.
The Jayhawks threw the first body punch, picking up right where they left off in a rout of Texas by taking a 15-4 lead. Oklahoma answered with a few haymakers of its own, going on a 13-2 charge and eventually pulling ahead 27-25 with 5:26 left in the half.
Selden took over down the stretch, though, scoring seven straight points to give Kansas the lead back. Frank Mason's 3-pointer capped a 10-0 surge and made it 42-33 at halftime.
"We handled the ball well, made tough plays, but two or three stretches is why Kansas is so tough," Kruger said. "We gave them moments of run that you have to try to avoid."
The Jayhawks, arguably the deepest team in the Big 12, forged their lead despite playing without a handful of players due to foul trouble. Wiggins, Tharpe, Perry Ellis, who finished with 11 points, and Jamari Traylor all had two fouls, and Connor Frankamp was on the bench with three.
Wiggins picked up his third on the first play of the second half, when Ryan Spangler drove to the basket for an and-one. It was the start of a 10-2 run that got the Sooners back in the game.
"They made a couple shots, we made a couple shots," Clark said, "but the main thing is we didn't take care of the ball at critical times."
Clark's hot shooting and a couple of timely 3-pointers by Hield gave Oklahoma the lead, only for Kansas to come back once more. Wiggins scored on a putback of his own miss with 8:01 left to give the Jayhawks a 60-59 lead, and their advantage grew to 69-63 a few minutes later.
The Sooners kept finding answers. When Wiggins hit a 3-pointer to make it 74-66, Isaiah Cousins promptly scored in the paint. When Tharpe got a home-rim bounce on a pull-up jumper, Hield was there to hit a fall-away 3-pointer to close within 76-71 with 1:30 left.
Oklahoma simply ran out of time, and as the final seconds ticked off the clock, another sellout crowd at the Phog began to chant, "Ten straight! Ten straight!"
"In a league this competitive, thought by many to be the toughest league in the country, to have a three-game lead with three to play is pretty special," Kansas coach Bill Self said.
---