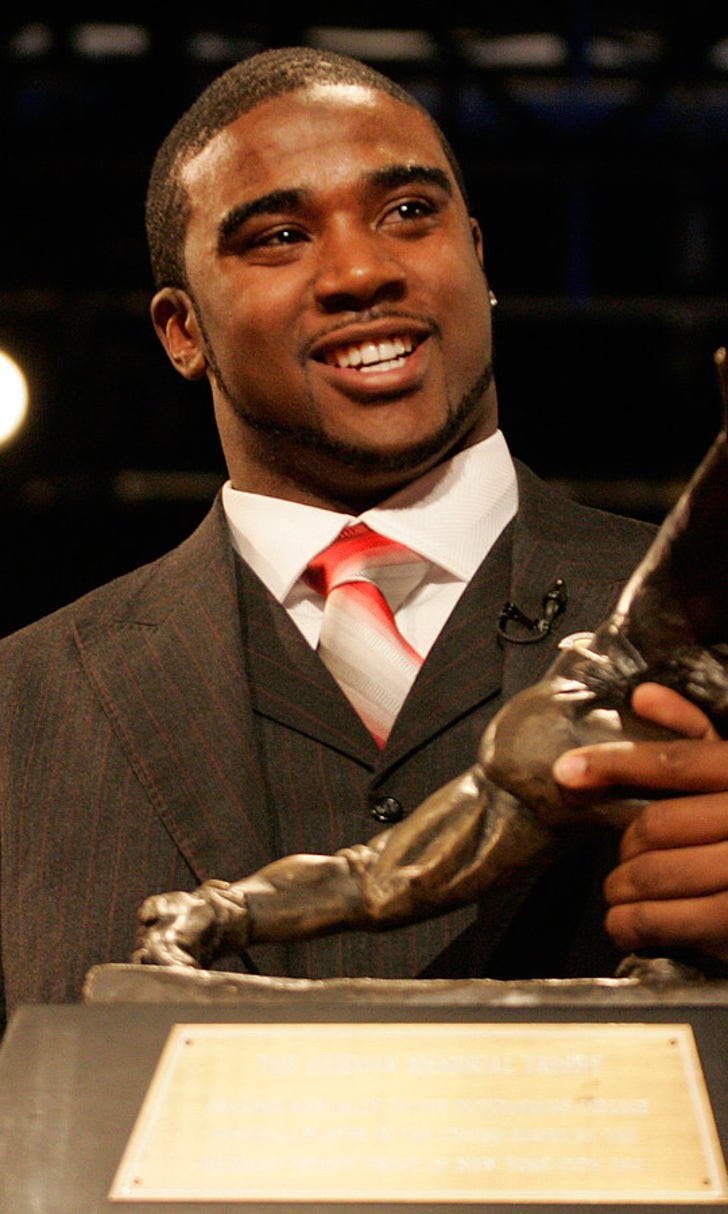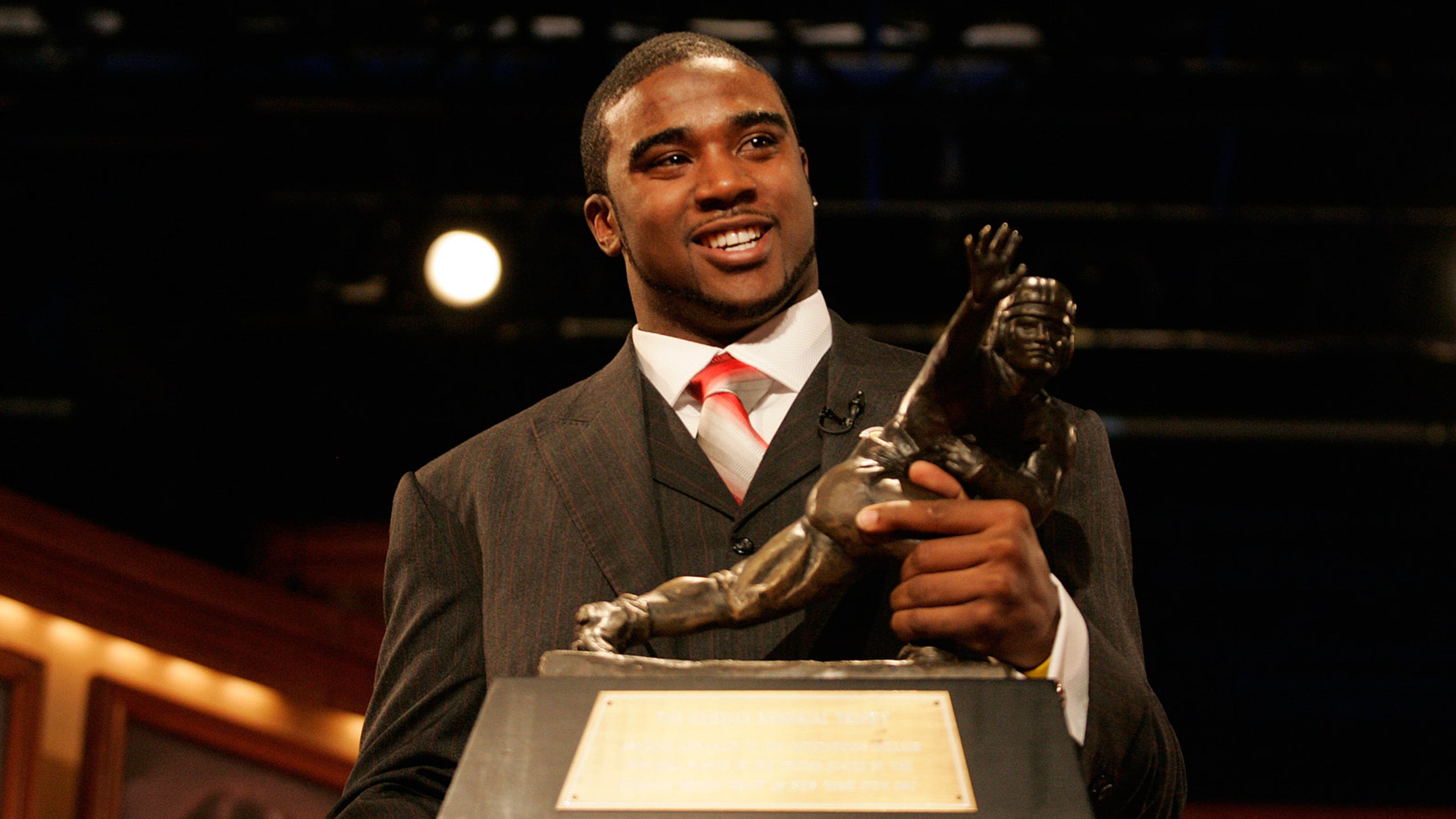 No. 10, Troy Smith to be honored in Ohio Stadium
BY foxsports • November 22, 2014
COLUMBUS, Ohio -- Troy Smith's name and his jersey number "10" will forever be displayed in Ohio Stadium as the Ohio State Department of Athletics will honor Smith, the 2006 Heisman Trophy winner, and enshrine his jersey number in Ohio Stadium during halftime ceremonies of the Nov. 29 game against Michigan.
Smith, a 2006 Ohio State graduate with a degree in communications, will be the eighth former Buckeye to be so honored in Ohio Stadium after the five previous Heisman Trophy winners -- Les Horvath, Vic Janowicz, Howard "Hopalong" Cassady, Archie Griffin and Eddie George, Chic Harley, the school's first three-time All-American, and Bill Willis, an All-American and member of four Halls of Fame who was one of four African-Americans to reintegrate professional football.
"Being recognized like this from such a prestigious university like The Ohio State University usually doesn't happen until later years down the line," Smith said, "so this is a special time in my life and an important time.
"I never once in my first few years at Ohio State imagined something like this, but as the potential for this to happen came closer and closer, the thought of it happening became bone chilling. Only a very small percentage of people are up there [in lights in Ohio Stadium]. This honor means everything in the world to me and I can't tell you how much I appreciate it and how much I bleed Scarlet and Gray."
3-0 vs. Michigan
One needs to look no further than his achievements vs. Ohio State's rival from the north to know how true Smith's words are. He started three games against Michigan and won all three to become only the second Ohio State quarterback to accomplish the feat. In each game he topped 300 yards of total offense and he accounted for nine touchdowns and 857 yards passing in the three victories.
"It's time to honor one of our all-time greats," Gene Smith, university Vice President and Director of Athletics, said this week. "Troy's playing days are over. His accomplishments and achievements as an Ohio State Buckeye are legendary. And we are so proud to be able to recognize this young man by honoring his name and number in Ohio Stadium."
Smith, 25-3 as a starting quarterback, led Ohio State to Big Ten championships in 2005 and 2006. In 2005 he threw for 2,282 yards with 16 touchdowns and only four interceptions, and in 2006 he threw for 2,542 yards with a school-record 30 touchdowns against just six interceptions.
Smith won the 2006 Heisman Trophy in a landslide -- his victory total was the second-largest margin of victory -- and he was a consensus All-American as a senior after leading Ohio State to a 12-0 regular season, 14 consecutive weeks as the No. 1 team in the nation and to a national title game appearance. He closed an exceptional career at Ohio State with 5,720 passing yards while completing 62.7 percent of his passes (second-best at Ohio State) and with 54 touchdowns (third behind Bobby Hoying and Joe Germaine). His career passing efficiency mark of 157.1 is a school record.
Smith was drafted in the fifth round of the 2007 NFL Draft by the Baltimore Ravens. He played three seasons with the Ravens and one with the San Francisco 49ers. He completed his second season playing for the Montreal Alouettes of the Canadian Football League last year, and he has indicated that his playing days are over.
But there won't be a game played in Ohio Stadium from now on without his name and his number in it.
The No. 10
The number 10 is currently in use by freshman defensive end Jalyn Holmes, from Norfolk, Va., and he will continue to wear that jersey. Moving forward, the Department of Athletics will continue to honor individuals and enshrine jersey numbers of its outstanding performers across its 36-sport intercollegiate athletics program, but jersey numbers will no longer be taken out of circulation. The school's 18 previously retired jersey numbers will remain retired, though, outside of a decision based upon protocols being developed now.
---