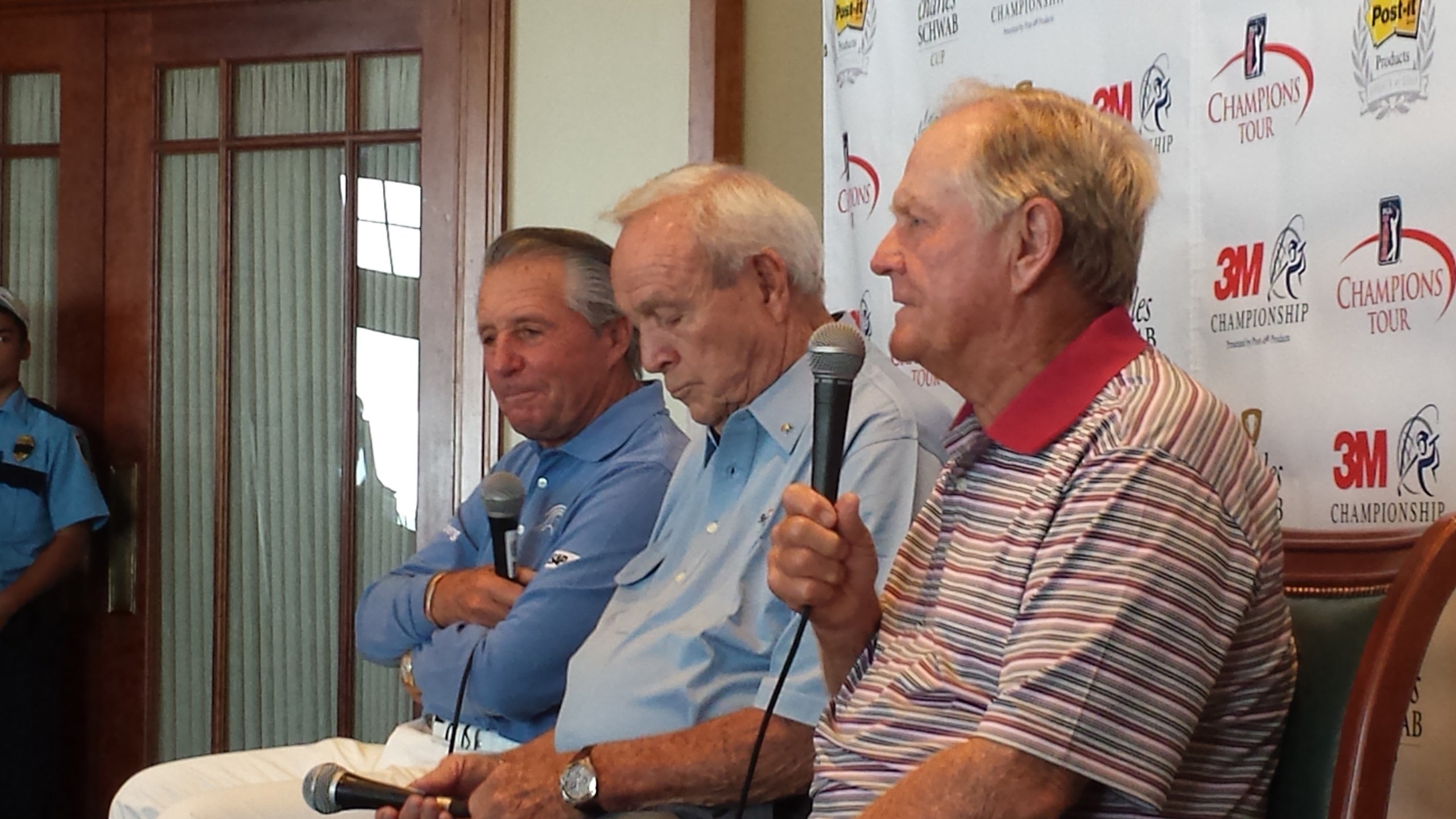 Nicklaus, Palmer and Player put on show in Twin Cities
BY foxsports • August 2, 2014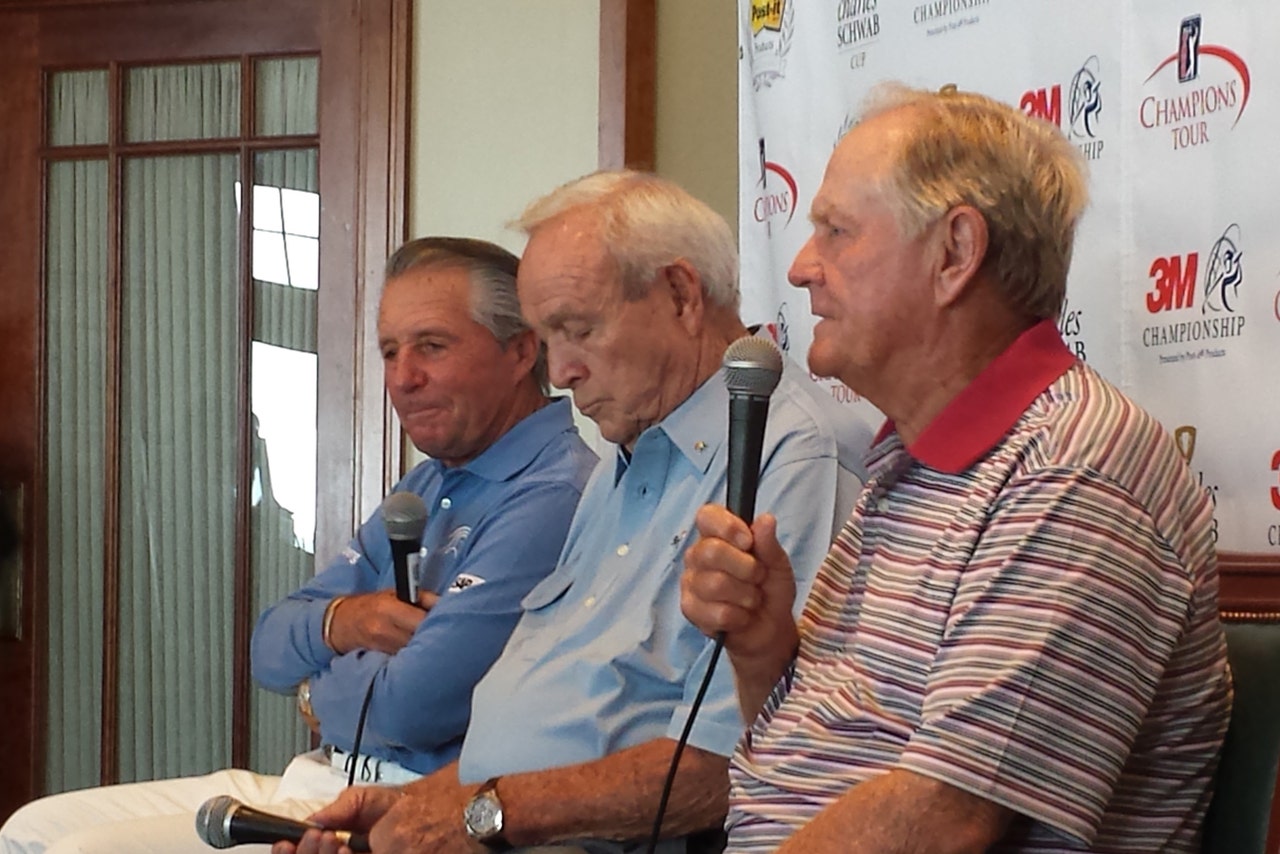 BLAINE, Minn. -- Three of the greatest golfers ever to play the game took their seats next to each other on Saturday at the 3M Championship. Between the three of them, a total of 159 tour events and an astonishing 34 majors have been won.
It's not often these days that Jack Nicklaus, Arnold Palmer and Gary Player get together in the same room. But when they do, such as at Saturday's 11th annual Greats of Golf Challenge event at the TPC Twin Cities, the old rivalries and plenty of stories from the past 50-odd years come back to life.
"When I saw Arnold yesterday, the first thing I said, 'We've got so many wonderful memories, and here we are at our ages, still playing in this wonderful game of golf, still playing pretty well.' It's something we've got to cherish," said Player, 78, who won nine majors in his career. "We've played around the world together for 40 years or more and had a great friendship. We obviously wanted to beat each other and we were very competitive, which makes for a very healthy situation. We've had great respect and great love for each other."
Golf's "Big Three" were just a few of several legendary golfers taking part in the Greats of Golf exhibition, which teed off after the last group of golfers Saturday in the 3M Championship. Before Nicklaus and Player took their swings on hole No. 1 alongside six-time major winner Lee Trevino, they drew a crowd at the practice range, where their iconic swings looked unchanged from their time on the PGA Tour.
The 84-year-old Palmer didn't play in the 18-hole best ball challenge, citing a back injury that requires him to do physical therapy three days a week. While he's hopeful to get back on the course by the end of the summer, Palmer instead served as a captain Saturday for a group of LPGA greats Annika Sorenstam, Nancy Lopez and Pat Bradley.
Oh, and the seven-time major winner was there to watch his good friends and former competitors as they entertained the crowd of thousands.
"They'll do a good job. They'll hit the ball well," Palmer said. "That's why I'm not going out there."
Gary Player (left) and Lee Trevino bump fists while Jack Nicklaus looks on as they participate in the Greats of Golf Challenge during the Champions Tour's 3M Championship on Saturday.  
It's hard for this trio to avoid the spotlight, even though they've all been retired for years. There was no fading into the sunset after playing professionally, not when you've won as many tournaments as these three have. Nicklaus, golf's all-time major winner with 18 titles, admits he doesn't golf much these days, perhaps a dozen or so times a year, only "when I have to," he said. He joked that he had to hit the range recently so as not to embarrass himself during Saturday's event.
Nicklaus added that he and Player recently spent time on the course together in Florida in anticipation for this weekend's round. The bond that the Big Three formed over years of competition on the links has made them close friends for life.
"The game of golf's been a wonderful game. It's been great to all of us," Nicklaus said. "We'll hit the ball maybe close to 100 yards short of where we used to hit it, but we'll still try to be competitive and try to have fun like we used to."
It was the first time Nicklaus had played the TPC Twin Cities, a course designed by Palmer that opened in 2000. Both Player and Nicklaus have also designed courses over the years as a way to stay involved in the game they love.
Events like the one in Blaine this weekend provide another opportunity for Player, Palmer and Nicklaus to reconvene. While the actual tournament teed off hours before these three, they stole the show and drew the most attention from fans in the gallery.
"Why do you think we're here? Do you think we enjoy sitting at home watching television? No, of course we don't," Nicklaus said. "We've been in the public all our lives. Arnold's not even playing right now, and he's here because he likes being a part of what happens in the game of golf."
They might not drive the ball as far as they once did or play as often as in their tour days, and the scores might creep up a little higher than they're used to. But golf remains very much an integral part of the lives of Player, Palmer and Nicklaus.
"You can be 80 years old or you can be 80 years young, or you can be 20 years old or 20 years young. Age is merely a concept that man has devised," Player said. "Golf is an amazing game. You can play forever."
Follow Tyler Mason on Twitter
---