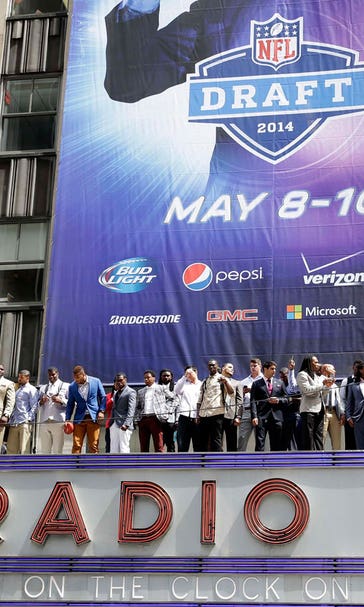 NFL Draft Day's Final Thoughts
May 8, 2014


Yesterday, I presented the audience with my best version of my Final board.  This would imply that it is my final copy, but when I realized I did not place Chris Borland (he belongs at 57th) or Troy Niklas (he should be about 62nd) and then need to move everyone down, I guess it is my final 77.  This works with the Cowboys pick in the 3rd round 78th for now.

For the Cowboys, I am reminded of what I wrote on January 15th - some 113 days ago.  Thankfully, I am consistent in my views (on these, at least) on how this entire thing breaks both in January and now as the process has been completed.

Let's review the basic objectives as stated in January:


1) -

 

The Cowboys must attempt to fix their defense in the draft at the expense of almost everything else on the agenda.
It has been said a number of times already in this short off-season from a number of people that although everyone seems to agree that the best player available is a great starting point, this team needs to really emphasize defense in its selections.  As one friend suggested, "I don't care who they take, as long as he tackles well."  I think that says it pretty well.  
The Cowboys have a historically bad defense that needs help at nearly every spot except the one that they overloaded on (cornerback), but the other is that they have had a historically bad defense for the last few years and in most off seasons have done almost nothing to fix it.  Think about it - with the exception of the 2012 offseason of Brandon Carr and Morris Claiborne, they really have not done much of anything after the 2010, 2011, or 2012 seasons except coordinator changes and some very ill-fated scheme alterations.  They have never addressed safety with any conviction and it has certainly been said over and over that they haven't spent a top 80 pick on a defensive lineman since Marcus Spears in 2005.  Compare that with the New York Giants who take one up there almost every year, and you can see which franchise values which path.   
2) - There is also a real feeling that for the first time in a bit, the Cowboys are thought to be shopping for a QB in this draft if it falls properly.   
you should at least have in the back of your mind the idea that things have happened in the past 12 months that would have the Cowboys thinking quarterback as early as their top pick in the draft.  Clearly, this would be a difficult pill for many to swallow, but there is no way that the Cowboys can feel great anymore about the long-term situation with Tony Romo.  They have to believe that he will recover and could be their QB until 2016, but the idea of pushing off the next young prospect at the position may be over.  They have to know with the back issue and the age and the contract, that the time is now to figure out what the plan may be in the next chapter of their franchise. 
I would never argue that this is a sure thing, but you can believe that when I look at QBs available in the first and second round, I am looking for the first time in years at their potential fits in Dallas.  Nobody wants to take a player that high in the draft who may not play for 2-3 years, but that is likely the best way to proceed because you will not have any clarity on Tony Romo in this offseason.  You will surely be fed reports of his fantastic recovery and workouts, but only when he is getting planted in the turf next September will we truly know if he is right or on his way to retirement. 
3) - The list of pressing, immediate needs is manageable, but the list of general needs is quite long.
Here is the overall theme of Cowboys football in the 7 seasons since Parcells.  They have a pretty strong and suitable roster from 1-20.  They are not bad in a lot of spots and presently, if the season started in April, you have a feeling that you would be ok at just about every starting position but Defensive Tackle, Defensive End, and Safety.  You might like another LB who can start and I am not willing to say that Ron Leary is my left guard or Mackenzy Bernadeau is my right guard if I have a better idea, but for now, they are not horrible. 
But, from 21-53 on the roster, the issues are still not where they need to be.  I might argue that organizational depth is better in 2013 than it was in 2011 or 2012, but we are only talking shades of gray.  They need to continue to grow their depth so that injuries do not mean finding couches and looking on them for replacements.  Good teams have understudies in constant training for the injuries that are guaranteed to hit, and clearly from the fact that the Cowboys employed 20 different defensive linemen in 2013's regular season they are not a good team yet.  Sometimes the waiver wire can be helpful, but it cannot be your primary source of personnel.  That has to be your draft and development side and the Cowboys have been running to stand still for years. 
All of this says that we should slant our research for the top 3 rounds to offensive line and defensive front 7 (unless a premium QB or safety drops), but after that, pick a guy at any position and add him to this team.  There are almost no spots on the squad that cannot be supplemented with a talent young college star who is ready to contribute.  
I am willing to stand behind those 3 emphatically on this morning of the 2014 draft.  The Cowboys know the issues that face them and now have 11 picks to do something about it.

I think there are quite a few of us who would love nothing more than to trade backwards a bit in the first round in an effort to pick up another Top 80 selection, but, in a draft like this with relative depth, it is often believed that the number of teams looking to move down far outweigh the number of teams looking to move up.  It sounds trite, but the cliché that you have to have a partner to trade is in full effect here and now.

Now, a few frequently asked questions before we get this party started:

Hey Bob, who are the Cowboys going to take at #16?

Well, let's start here.  I really think they would love to back up 10 spots (Cleveland at 26?  Perfect!) and snag a valuable pick at #35 to boot.  That, of course, is unreasonable unless Cleveland is feeling crazy (Costner?) and therefore, I would imagine it would cost #16 and #78 (and possibly a 7th) to get #26 and #35.  Would I do that?

YES. I. WOULD.

The fact is that I am not dying to grab any of the likely candidates at #16.  Will there be a good player there, yes.  Will there be a steal?  I don't think so.  Aaron Donald and Anthony Barr are likely long gone.  Mike Evans is not sliding that far.  Johnny Manziel will tempt, but hopefully that is what Cleveland is antsy about.

But, realistically, if the Cowboys are looking at Zack Martin, Kony Ealy, CJ Mosely, and Calvin Pryor (as well as the top corners), I would love to pull the parachute and get out of there.  Unfortunately, that likely won't happen, either.

So, if you ask me to marry my best guess of who will be there and then who will the Cowboys grab, I must confess that I imagine they will take Martin while I would highly recommend Pryor.  Ealy is a fall-back spot.  I don't like Martin that much and prefer the UCLA guard Su'a-Filo over him, but if you read the signs, they seem to lock in on Martin being solid value right there.

If they can trade back, what are we looking at there?

Well, this is why I get a bit excited.  I think at #26, you could be looking at Ealy, Jimmie Ward, Scott Crichton, Timmy Jernigan, or Demarcus Lawrence.  Grab any of the 4 there.

Then at #35, you can grab the best tackle - Morgan Moses/Billy Turner/Jawuan James or the best DT left of Will Sutton/Dominique Easley/Rashade Hageman/Stephen Tuitt.

And, at #47, you can clean up the scraps, go back to the OL/DL well and grab one of the above names that will surely slide or go for the sliding premium QB prospect.

Are you telling me you wouldn't be pumped about Jimmie Ward, Scott Crichton, and Billy Turner?

I would absolutely consider that draft a success as you would have 3 studs ready to roll for years.

What prospects do you feel like you like more than the consensus opinions?

I think Mike Evans is the best receiver in this draft.  I think Xavier Su'a-Filo is a star in this league soon.  I think Kyle Fuller is the best corner in the draft.  I absolutely believe that Lamarcus Joyner is going to be a stud and people will wonder why they let him slide.  Will Sutton and David Yankey are high on my list relative to the masses.  As is Jeremiah Attaochu and Dakota Dozier.  Billy Turner is a late 1st for me (although I can see him making it to late 2nd) and my biggest stunner is David Fales, who I think is the 3rd best QB in the draft.  Put all those in the time capsule.

What prospects do you feel like you don't like as much as everyone else?

There is quite a list here, but let me start with the track star linebackers.  I don't think Ryan Shazier and Telvin Smith are my cup of tea at all given their speed over power component.  I don't care for it much at all, to be honest.  I also think Bridgewater and Carr are highly over-touted, Bridgewater for several reasons, Carr because he throws an amazing number of his passes behind the line of scrimmage (think Nick Foles).  I think Kelvin Benjamin is absurdly over-rated and I don't get all of the love for Joel Bitonio.  Bradley Roby is not a tackler, Cyrus Kouandijo cannot set the edge on pass protection very well against speed.

=====

Well, that is plenty.  It starts tonight and we will re-huddle in the morning to discuss Rounds 2 and 3 as well as what the Cowboys did in Round 1.  Good luck.
---