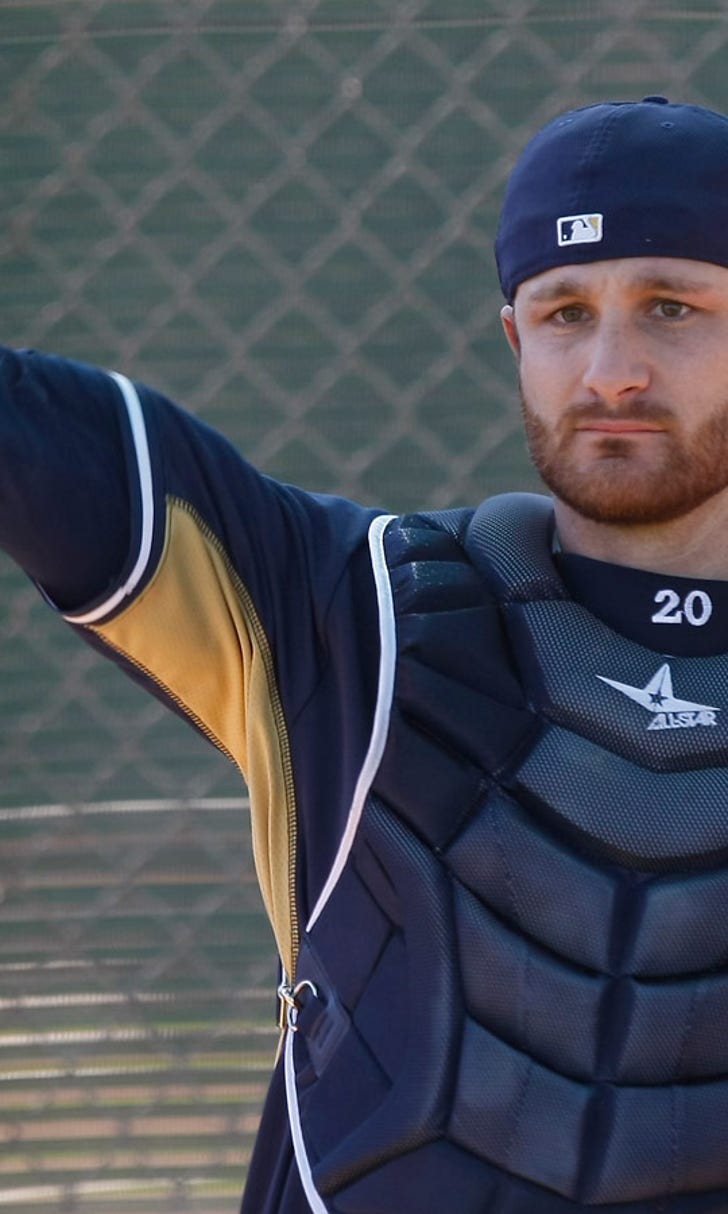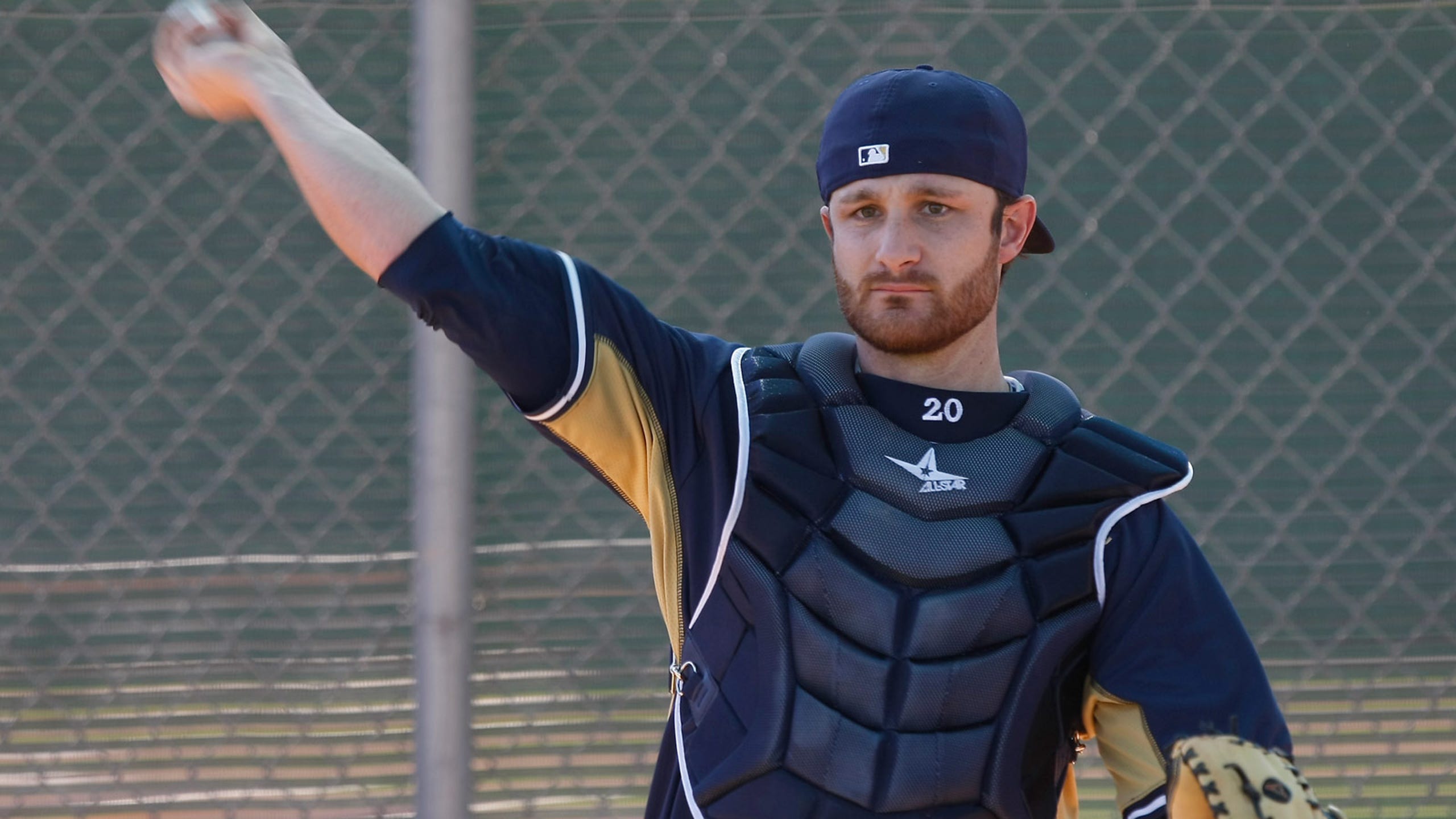 New home plate collisions rule brings up questions for catchers
BY foxsports • February 24, 2014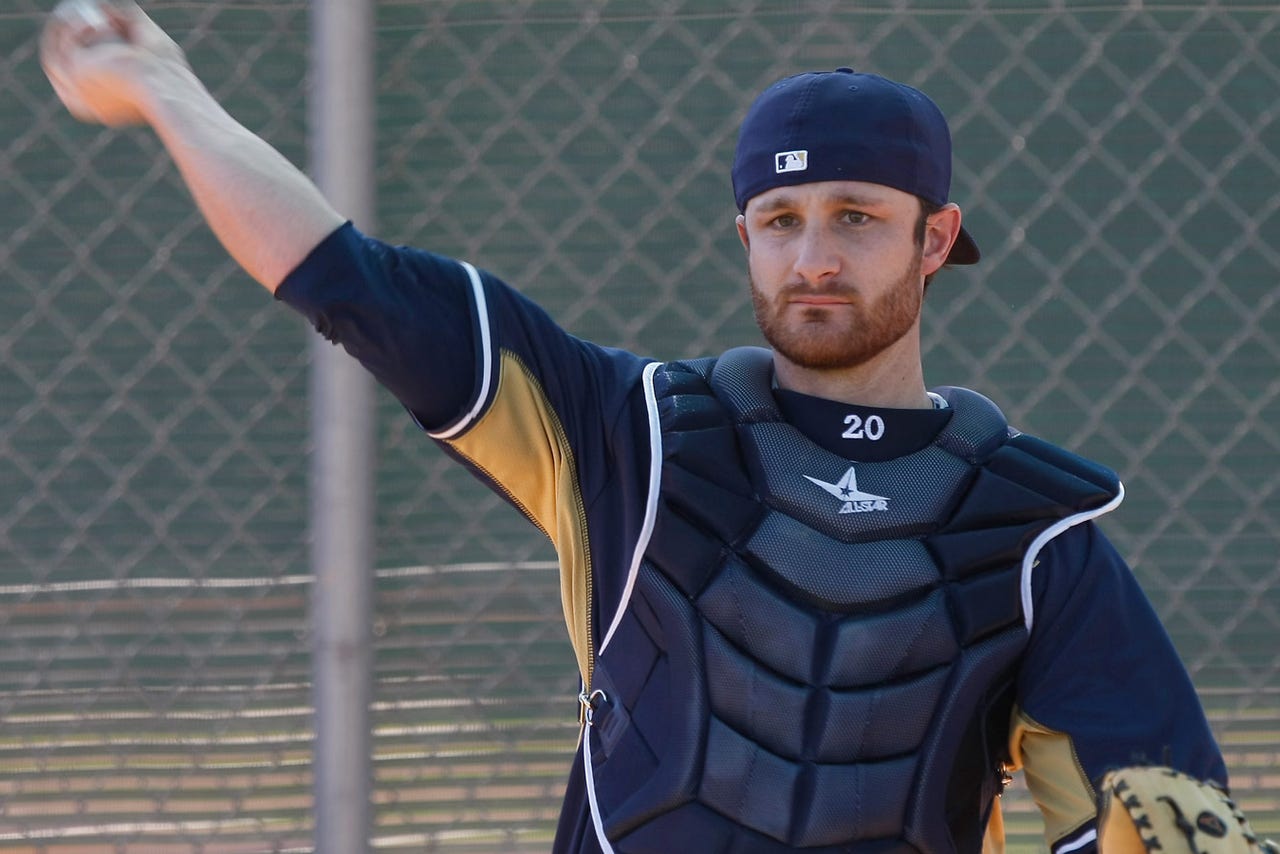 PHOENIX -- Brewers catchers Jonathan Lucroy and Martin Maldonado returned from the practice fields Monday to find a piece of paper awaiting them in the clubhouse at Maryvale Baseball Park.
On it was an explanation of the new rule jointly announced Major League Baseball and the Major League Baseball Players Association hoping to eliminate "egregious" collisions at home plate.
The rule says catchers will no longer be able to block home plate unless they have the ball, while a runner can't go out of a direct line to the plate in order to initiate contact with the catcher. The runner will be safe if the catcher blocks the plate without the ball and called out if he initiates contact with the catcher.
While Maldonado asked to wait to comment on the new rule until he knows more about it, Lucroy voiced his confusion with the wording of the rule after reading it at his locker.
"I don't know," Lucroy said. "They need to clarify some stuff, for sure."
This part of the rule seemed to be a sticking point for Lucroy: "A slide shall be deemed appropriate, in the case of a feet first slide, if the runner's buttocks and legs should hit the ground before contact with the catcher. In the case of a head first slide, a runner shall be deemed to have slid appropriately if his body should hit the ground before contact with the catcher."
"I think we need some clarification on some different techniques for catchers," Lucroy said. "Are we allowed to stand double-knee in front of the plate with the ball? So we're allowed to block the plate but they're not allowed to hit us? I don't understand that.
"We just need clarification. I'm sure there's no way we can totally block the plate. I thought we were supposed to give them some kind of lane like they slide into second and third."
Lucroy said Brewers manager Ron Roenicke, who attended a meeting further explaining instant replay at Salt River Fields on Monday, was going to do his due diligence to learn more about what catchers can and can't do.
The Brewers plan to work on different ways to handle plays at the plate whenever clarification on the new rule is received.
"We've been working on them the past couple days, doing some stuff," Lucroy said. "Just trying to figure it out. But it's just kind of been messing around. We haven't totally figured out what we're going to do yet -- a technique -- and stick with it because we're not totally sure yet."
One thing Lucroy fully understood was why the rule is being put into place. Major League Baseball wants to avoid the huge collisions at home plate, the ones similar to the blow then-Marlins outfielder Scott Cousins laid on Giants catcher Buster Posey in May of 2011.
Posey suffered a broken leg and missed the rest of the season.
"Spirit of the rule -- I get it," Lucroy said. "You've got big investments in catchers nowadays. Buster, Yadi -- guys with a lot of money on their contract. These guys are franchise players, and the owners don't want those guys getting hurt. I mean, I get it."
Bringing a ring: Not many players in the Brewers clubhouse have a World Series ring to their name, but reliever Jose De La Torre will soon be added to the list.
Because the 28-year-old pitched in seven games for the World Champion Boston Red Sox last season, De La Torre was recently sent a ring sizer in the mail. He went to a store in his native Puerto Rico to get sized and take care of all the other required business.
Kyle Lohse (2011 with the Cardinals), Francisco Rodriguez (2002 with the Angels) and Eugenio Velez (2010 with the Giants) are the only other players on Milwaukee's roster to have World Series rings.
"There's great players that go their whole career and they never get one," De La Torre said. "Being able to be there for a month and be a part of that and a great team like they had, that was awesome."
De La Torre had three different stints with Boston in 2013, pitching in a total of 11 1/3 innings with a 6.35 ERA. He was placed on waivers to clear way for Clay Buchholz to return and was claimed by the Brewers in September.
It was the right-hander's first taste of the big leagues after putting up good numbers over seven years in the minor leagues. De La Torre has finished just two minor-league seasons with an ERA over 3.00 and carries a career minor-league ERA of 2.82.
He worked mostly in long relief and middle relief for Triple-A Pawtucket last season but also pitched in some high-leverage situations.
"I'm not familiar with him, but if you go back and look at his stats and what he's done in his career, there are some really good numbers," Brewers manager Ron Roenicke said. "There aren't too many guys that sign and pitching-wise they just put up all these ERAs of 2.00.
"Usually you see this fluctuation, they are all over the chart and developing, trying to throw strikes. This is a guy that just comes in and deals all the way through. I know there's something really good there that he does that he understands how to get out hitters. You can't be that consistent and not understand it."
While he could be considered a long shot to earn one of the few open spots in Milwaukee's bullpen, De La Torre is hoping he can impress enough during spring training to at least garner himself consideration.
"We have some really good pitchers in here, so I just can show them what I can do, throw strikes, get people out and be consistent," De La Torre said. "That's all you have control of, just pitching. Whatever they decide is up to them. I'm just here to help the team in any way I can. I'm going to just go from there."
If De La Torre does make the roster, he'll be able to get his ring right away, as the Brewers are Boston's opponent on its Opening Day and ring ceremony game.
"Hopefully I can make the team and be there and get it there," De La Torre said. "That would be pretty awesome. Right now I'm just focused on being here and working hard to do what I can do to make this team."
Follow Andrew Gruman on Twitter
---