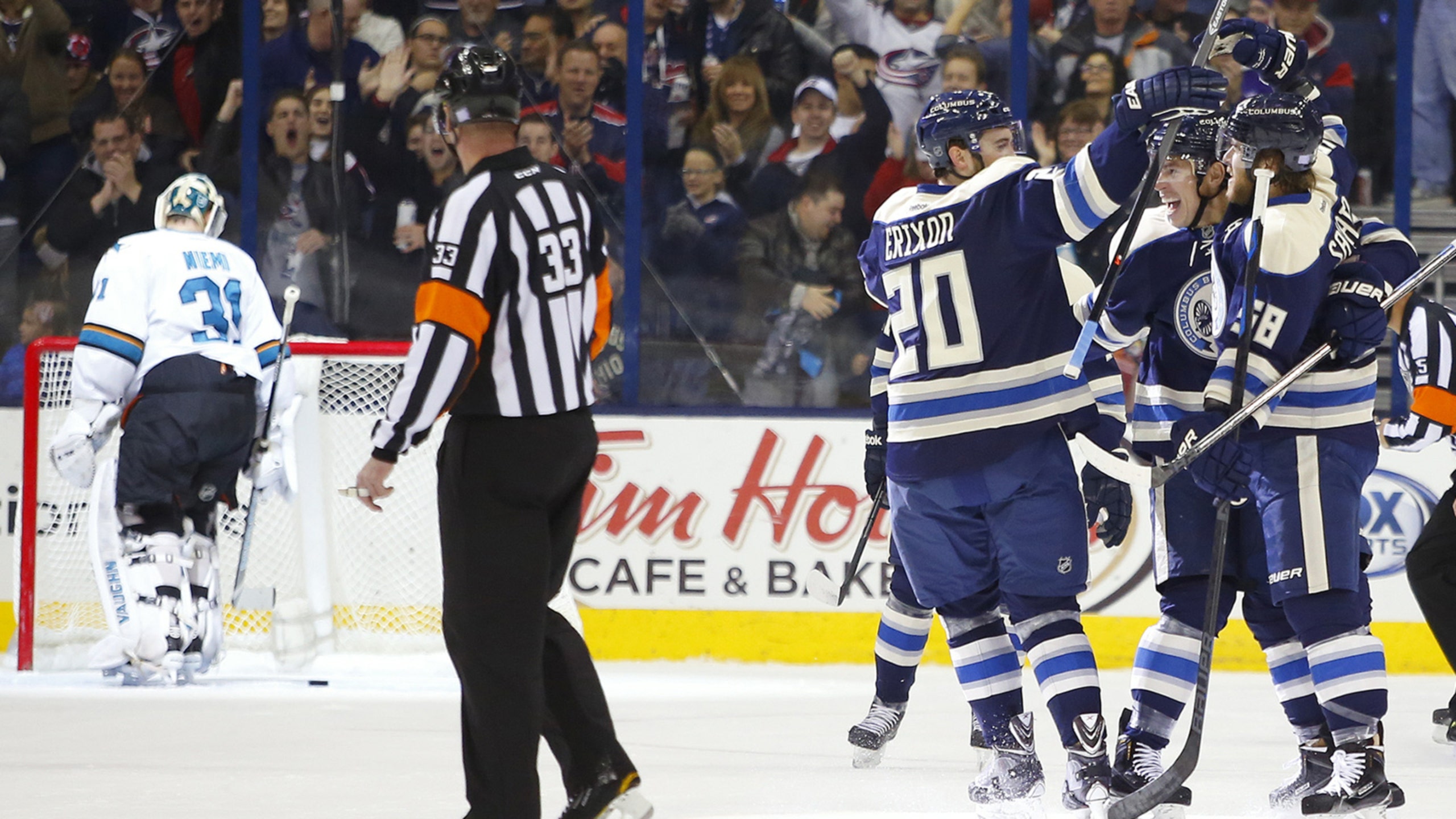 New Blue Jacket Jordan Leopold sees opportunity with Columbus
BY foxsports • November 16, 2014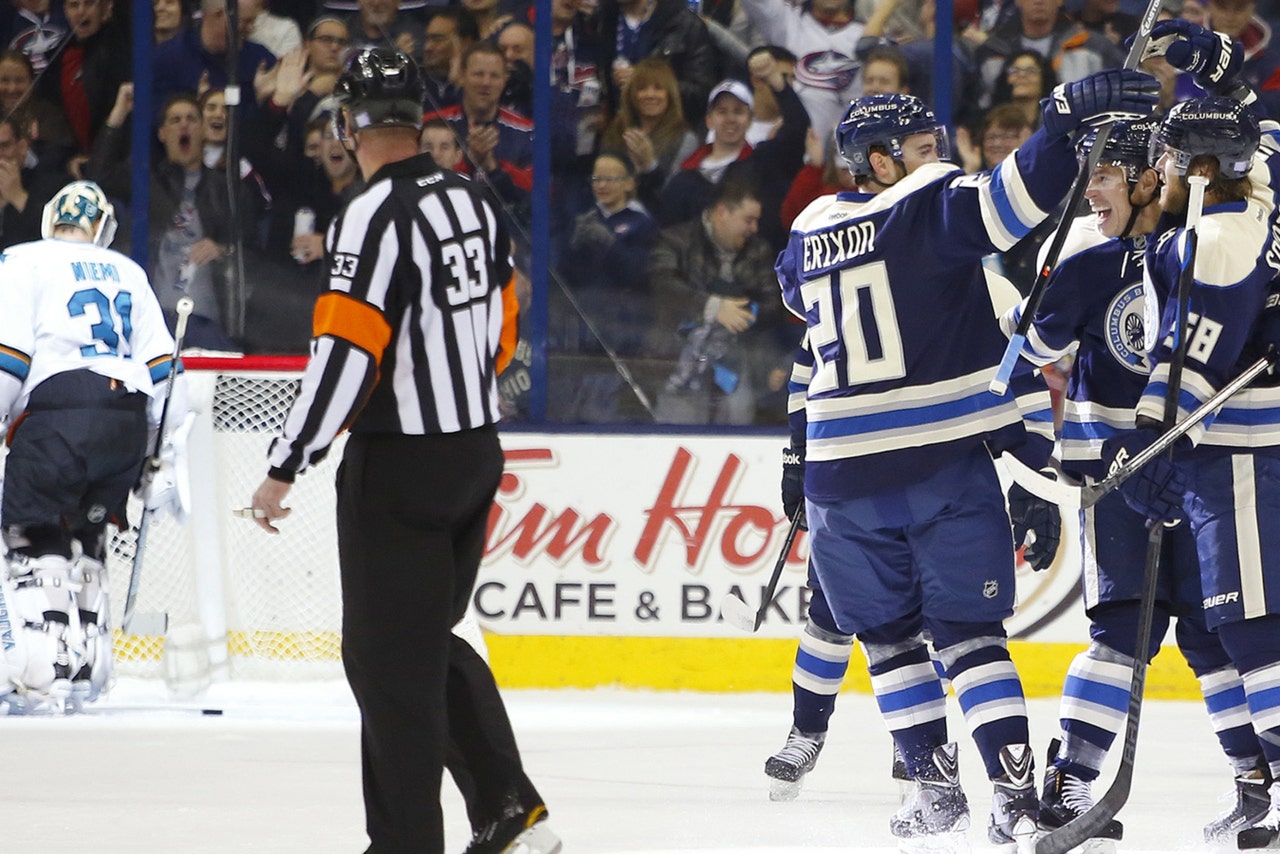 Columbus, Ohio - They capped off an emotional twenty-four hours, in which they played two games, with a 2-1 victory over the San Jose Sharks. The return of goaltender Sergei Bobrovsky was made all the more sweet, with this marking his 100th career win.
When the Saturday dawned, the status of defenseman Fedor Tyutin was uncertain after having a knee-on-knee collision with the Flyers Jakub Voracek Friday evening. By midday, he had been placed on Injured Reserve and was expected to miss 4-6 weeks.
Shortly after that, it was announced that the Blue Jackets had traded their 5th pick in the 2016 NHL Draft to the St. Louis Blues for defenseman Jordan Leopold. He got the word that he had been traded to Columbus, hopped on a plane and was in the lineup for the game against the Sharks that night.
He was paired with David Savard, who has become a workhorse for the club, eating up minutes like nobody's business. Savard led the team with 22:42 TOI Saturday.
"We didn't have a practice together," said David Savard, "but he's played a lot of games in the NHL (731 games). He's real easy to play with and he communicates well. Right away, he made it real easy for me. He's part of the group now. And moving forward, I think he's going to be a big part."
In less than twelve hours, Leopold is already a player that Savard and the rest of the young guys are looking up to.
"I think he's going to be a great fit," said Savard of Leopold. "Obviously, he's got the experience. We're a young group in here, and having older guys come in helps us younger guys grow as NHL players. The longer we're around him, the more we're going to learn about staying in the league. He's been in the league for twelve years and we can only learn from that."
What goes through the mind of a player traded to a team that has only won one game in their last ten?
"I've been through 11-12 game losing streaks before," Leopold said. "I know, in the back of my mind it's tough on the guys, but when you've got a guy like (Bobrovsky) coming back, it's a big boost. When you make a trade, sometimes that's a big boost on a locker room."
"Its little things, but the guys played well tonight. Bobrovsky was the difference tonight. My job is to stay upbeat, be supportive and whatever role they end up putting me in, just do my job."
In St. Louis, he was the seventh defenseman on a team that was deep on "D" and healthy. When he did get slotted into the lineup, he didn't get much ice-time. After two periods Saturday night, he had 12:03 before eventually ending the night with 17:11 spread over 19 shifts.
When told he had 12:03 after two periods, he said "That's what I was averaging in St. Louis. I've got to get into a groove. It's been two or three weeks since I played (October 30 was his last game). Who knows where we go with this, I might end up getting more minutes."
At the age of 34, he's not that far removed from having a career year with the Buffalo Sabres. He set a career-high in points and goals (13-22-35 in 71 games) in 2010/11. He followed that in 2011/12 with 10-14-24 in 79 games with the Sabres.
He has a stay-at-home sensibility with the upside of experience moving the puck. He understands what his job is and doesn't get excited, as evidenced with his steady play Saturday.
"It's just a matter of being supportive and moving the puck. That's what I've been my whole career, a puck mover. If it's five-on-five and getting the puck out of the zone... that's my job. It's pretty simple."
Of course, after the game, he was one of two centers of attention. The other was Bobrovsky. He talked about coming into a team that has the luck and resiliency that the Blue Jackets exhibit.
"There's a fine line between winning and losing in the NHL. When you lose NHL-caliber players, it's sometimes hard. But you try to grind through it, you try to be positive and you try to find a way to win. (Saturday) was an example of that. Hopefully there's more of those (wins) to come as we get more guys back."
Blue Jackets head coach Todd Richards, when asked about Leopold after that game, gave a simple and direct answer about what Leopold brings to the youngest team in the league.
"Just composure," said Richards. "He's an experienced guy being able to settle things down and make a good first pass. Making the right play, whether that's getting the puck out of our zone or getting it into their zone. That experience, right now with all the injuries, those are the type of plays that you need and the type of players that you want to have, just to kind of lead the way for the young guys."
Jordan Leopold has no illusions about where he is at this stage of his career. The reality of being 34 years old in the NHL and in the twilight of his career is not lost on him. He will do whatever is asked of him and could very quickly become a valuable 'character' guy for this young club.
"The number one thing is... I'm going to have fun," said Leopold. "I'm towards the tail end of my career, not the start. So, now I'm the oldest (34 years old) guy in the room. Whatever way I can contribute, it doesn't matter which way, if it's a voice, if it's encouragement, if it's going out there and playing 20-25 minutes... whatever it may be. I'm just going to take it in stride and have fun with it."
"I've got four kids and a great family. I've got a lot to be proud of as I've gone through my career. But, by no means do I want to be done. It's the new wave of the NHL, where age kind of gets you. I'm thrilled and it's a great opportunity for me. I just take one day at a time, there's not a lot left for me, it's about enjoying it. You end up telling the young guys around here that it goes by quick... and it does. Everybody says it, but you don't believe it."
"I've been to the Stanley Cup Finals once, back when I was 23 (2003/04 with Calgary) and I've never been back. You know, you think you're going to be back every year. But it just doesn't happen that way. There are all these teams that are slotted every year to maybe make a push and they don't. And then there are a couple of 'surprise' teams. You know what? When I played in Calgary, we were a 'surprise' team. So, anything can happen. It's just a matter of where you're going at the right time."
Todd Richards said postgame that Leopold will be a good addition to the team, both on and off the ice. The newest Blue Jackets defenseman knows how fleeting everything about the NHL can be. In the absence of Tyutin, Leopold fills a need for a calming and steady influence on the blue line.
It also helps that Leopold is from Minnesota, as Todd Richards carries that love for his home state with pride. The former University of Minnesota player, also a Hobey Baker Award recipient, is now a Blue Jacket. And, Todd Richards, also an alumnus of the University of Minnesota, smiles...
"Can't go wrong getting Minnesota guys," quipped Richards postgame. "If you can get more Minnesotans, you instantly make your team better."
---