NBA Dribbles: Nets, others angle to make deals before deadline
Published
Feb. 3, 2015 4:20 p.m. ET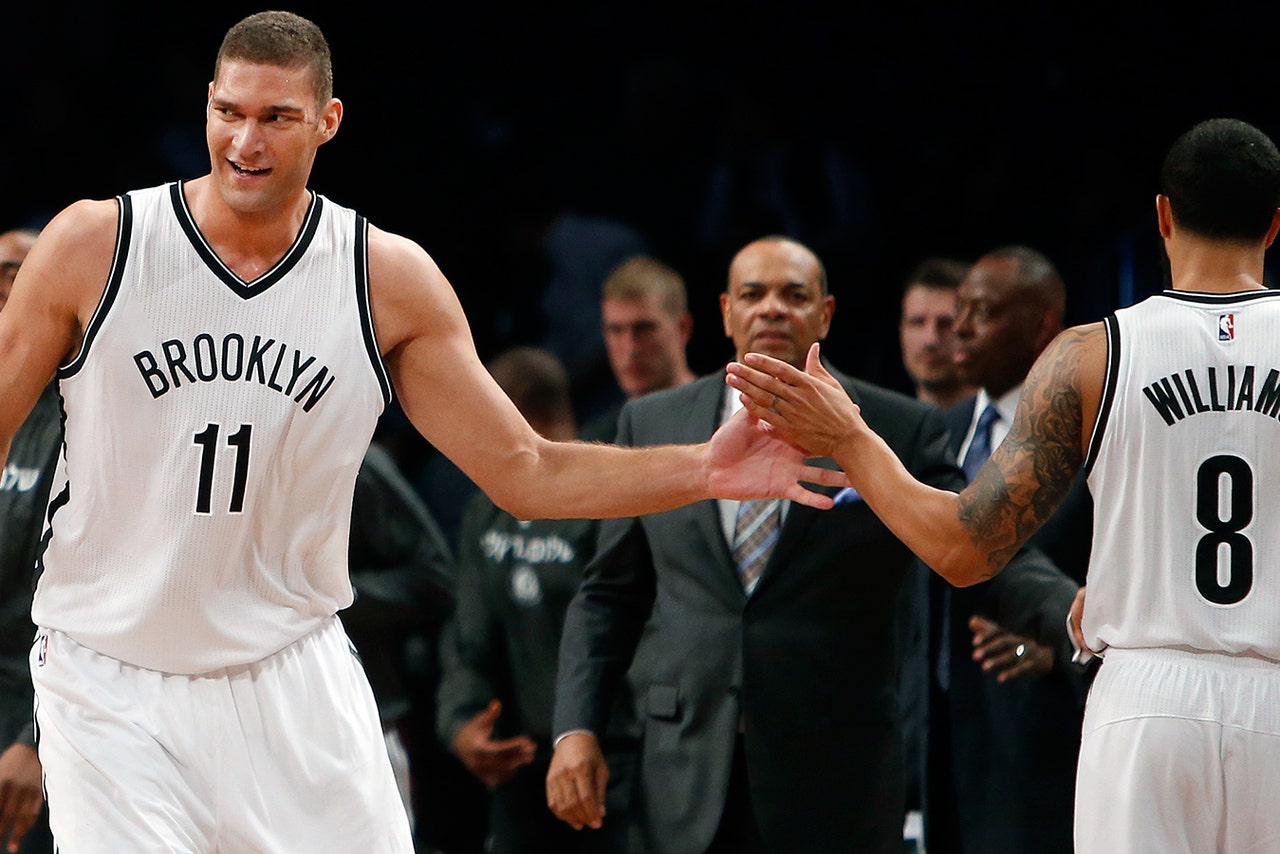 CLEVELAND -- News, notes and random dribbles from around the NBA:
1. Expect Nets general manager Billy King to take calls all the way up to the trading deadline Feb. 19. It's no secret the Nets would happily unload center Brook Lopez, guard Deron Williams or swingman Joe Johnson -- or all three.
2. King on potential trades: "I've talked to Brook about it, I've talked to Joe, I've talked to Deron. The players all know it's part of the business, but we're not looking just to get rid of these guys just because they're saying they're gonna do that. We're exploring things that make sense as people call, but we're not going to be making a trade to make a trade. That's foolish."
3. If there's one thing that always frustrates GMs, it's the thousands upon thousands of trade scenarios created by reporters and fans that have no chance of happening. For NBA types, nothing is more annoying than those "trade machines" found all over the Internet. At the same time, trade buzz is great when the idea is generating extra interest in the league.
4. Anyway, back to the Nets. They supposedly spoke to the Kings about Williams more than a month ago, but those talks have died -- or at least, been put on hold. There were also reported discussions of a possible Johnson-Lance Stephenson swap with the Hornets. Now, most of the chatter involves Lopez and the Nuggets.
5. According to Adrian Wojarnowski of Yahoo Sports and FOX Sports 1, the Nuggets and Nets haven't spoken in more than a week. That sort of refuted a report from ESPN's Marc Stein, who tweeted Monday that the Nuggets offered a first-round pick (obtained from the Cavaliers for Timofey Mozgov), as well as J.J. Hickson and JaVale McGee, for Lopez.
6. Of course, it's hard to know what's true at this time of year. King told the Nets website he isn't making trade calls -- and instead, "calls are coming in," he said. But as Minneapolis-based sports anchor/reporter Darren Wolfson tweeted, the Timberwolves will tell you the Nets placed a call to inquire about Wolves forward Thaddeus Young.
7. The Nuggets also appear willing to move speedy point guard Ty Lawson. But right now, the price seems too high for other teams to do more than just hang up the phone.
8. Timberwolves point guard Mo Wiliiams is another serious candidate to be dealt sometime this month. The Cavs, Clippers, Pistons, Kings and Heat are all said to be interested. But don't mistake "interest" for doing anything it takes to trade for the guy. Hard to envision either the Cavs or Pistons making a real move for Williams.
9. If the Timberwolves do trade Williams, it wouldn't be surprising to see them bring in second-year point guard Nate Wolters. As of this moment, Wolters is a member of the Pelicans -- but RealGM reported he will not be resigned after his second 10-day contract expires. Wolters spent last season and the early part of this one with the Bucks. He was then waived and drew interest from the Wolves before signing with the Pelicans.
10. Reports of the Pistons exploring a deal for Heat point guard Norris Cole are a little over-inflated. Pistons president/coach StanVan Gundy said the team isn't planning on trading for a fill-in for Brandon Jennings, out for the year with a torn Achilles. "Only if it makes sense," Van Gundy said, before implying that most trades don't.
11. It will be a shocker, however, if Cole remains with the Heat after the trading deadline. Both sides are ready to part ways -- as the Heat are considerably more pumped about rookie Shabazz Napier.
12. Cole is a product of Cleveland State, and yes, you had better believe the Cavs would be interested. But don't expect it to happen unless the Heat lower what is supposedly an inflated asking price.
13. It will be interesting to see what develops with the Kings this offseason, as they are almost certain to miss the playoffs yet again. Barring a sudden turnaround, odds are against interim coach Tyrone Corbin keeping the job. While Kings executive Chris Mullin has already been mentioned as a potential replacement, expect to hear the names of Cavs assistants Tyronn Lue and Larry Drew mentioned when the job becomes available.
14. The longest winning streak in Hawks history is over, ending at 19 games following Monday's loss to Anthony Davis and the Pelicans. Interesting how the next day everyone wrote off the Hawks as real contenders. But most of the people who don't appreciate the Hawks are the ones who never watch them play.
15. Hawks center Al Horford put the streak in perspective. "We've got a lot of season left," he said. "Nineteen games, that's good. We lost one -- 19-1 now. So it's just regrouping."
16. The Hawks are 32-3 since Nov.28. They are second in the league in assists (25.p apg) and third in points allowed (96.5 ppg). So they really move the ball and they really defend -- two staples to major success.
17. But they have issues rebounding, which can be tough to overcome in the biggest games. Right now, the Hawks 40.9 rebounds per game, which is 27th in a league of 30 teams.
18. One day before the streak began, the Hawks sat second in the East (behind the Raptors). Now, they lead the entire conference by a whopping seven games. It will take a fairly colossal meltdown for anyone to catch them before the playoffs.
---