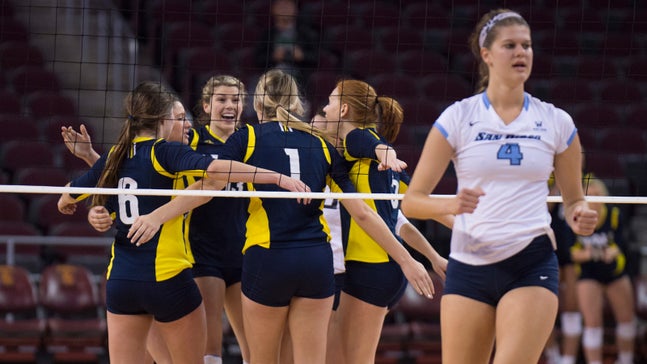 NAU's historic volleyball season ends with tourney loss to San Diego
Published
Dec. 4, 2015 12:45 p.m. ET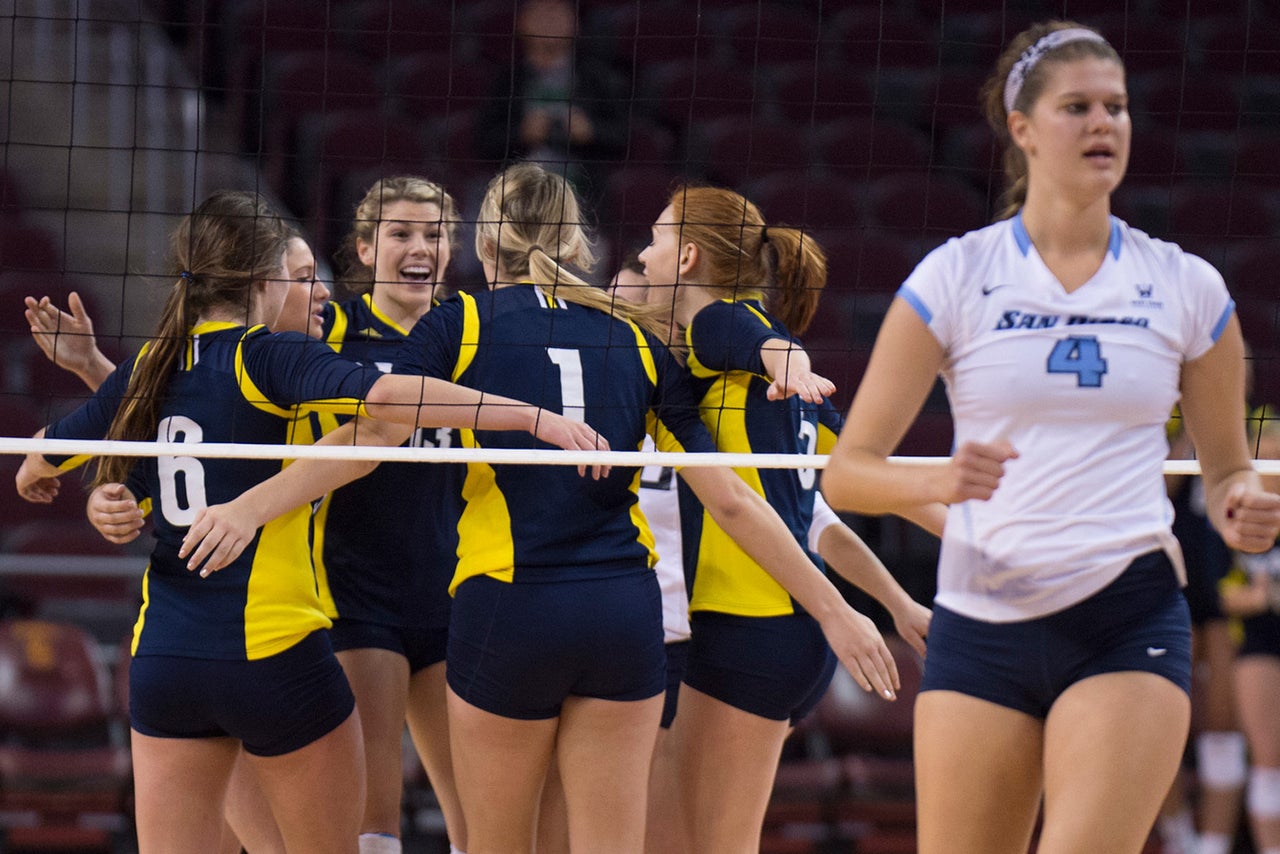 LOS ANGELES, Calif. -- The Northern Arizona volleyball team's historic season came to an end Thursday night with a 25-15, 25-19, 26-24 loss to the University of San Diego in the first round of the NCAA Tournament.
The loss snapped a school-record 17-match win streak. NAU finishes with a 28-5 record -- most wins in school history.
"We were a little more tentative at the start of the match than I've seen in a really long time," said head coach Ken Murphy. "We didn't get in a groove like we were capable of and San Diego was a little more confident on their side. Once we discovered that we could control our side of the net, we got into a rhythm, but this was a first time experience for all of us and tonight meant a lot to us."
Senior Janae Vander Ploeg capped her career with 10 kills, 15 digs and five blocks in her final match in a Lumberjack uniform. NAU's Senior Class as a whole shined with Payton Bock leading the team with six blocks, and Stacia Williams and Jordan Leiter posting 13 and 10 digs.
"We had moments of greatness on defense and we stayed pretty consistent throughout," Williams said. "However, there were those plays that we didn't get that one extra dig and we'll look back at those and be a little bummed out. But we fought the whole time and you can't ask for more than that."
Against a strong San Diego defense, NAU hit a season-low .078. But the Lumberjacks did their part defensively themselves, outblocking the Toreros 12-9 to limit the San Diego to just .165 hitting.
The Lumberjacks were making their first NCAA Tournament appearance since 1999, and just the second ever, after winning both the Big Sky regular season and tournament championships.
"The level of success, the accumulation of wins and the championships were unprecedented for NAU," Murphy said. "Even more than that though was all the hard work that went into it. It wasn't something that happened in one day or even three months. It took a year of grinding it out every day and that's impressive for me to see in a group of young women. They were selfless and gave to that cause every day."
The senior class of Vander Ploeg, Bock, Williams and Leiter guided the Lumberjacks to their best four-year stretch in program history, posting 92 wins over their careers.
"It's something I will never forget," Vander Ploeg said. "Not a lot of teams make it to this point, and to be one of the 64 teams to make it to the NCAA Tournament is amazing for NAU volleyball. If I could go back and do this season again, I would do it in a heartbeat. We're a team that never gives up, and we love the sport of volleyball. You could see that on the court."
---