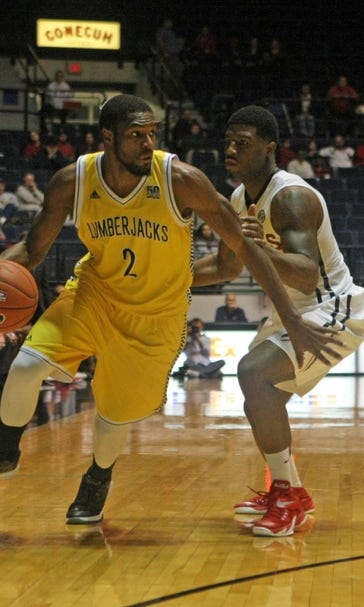 NAU faces conference foe Sacramento State in CIT second round
March 20, 2015

FLAGSTAFF, Ariz. -- The road to the 2015 CollegeInsider.com Postseason Tournament championship game continues for Northern Arizona as it heads to conference foe Sacramento State in the second round.
The Lumberjacks and Hornets will tip off at 7:05 p.m. Saturday at the Hornet's Nest.
NAU is coming off its first-ever postseason win after a 75-70 victory at Grand Canyon on Wednesday night. The Lumberjacks had last made the postseason in 2011, and coincidentally it was in the CIT. Now only did the Lumberjacks win their first postseason game, but the win was No. 20 of the season as NAU continues to make history this season.
Saturday marks the third match this season for NAU and Sacramento State. The Hornets won the first meeting in Sacramento 78-73 to start Big Sky play, but Lumberjacks topped the Hornets in the final regular-season game, 70-68, to ruin their chances of claiming a share of the Big Sky title.
NAU defeated Grand Canyon to advance to the second round and Sacramento State beat Portland on the road to make it to Saturday's game. NAU and SAC are two of four Big Sky teams to reach the 20-win plateau. NAU leads the all-time series 34-12, while the Hornets have a 14-9 advantage in Sacramento. The Hornets finished the regular season 9-0 at home in conference games.
---