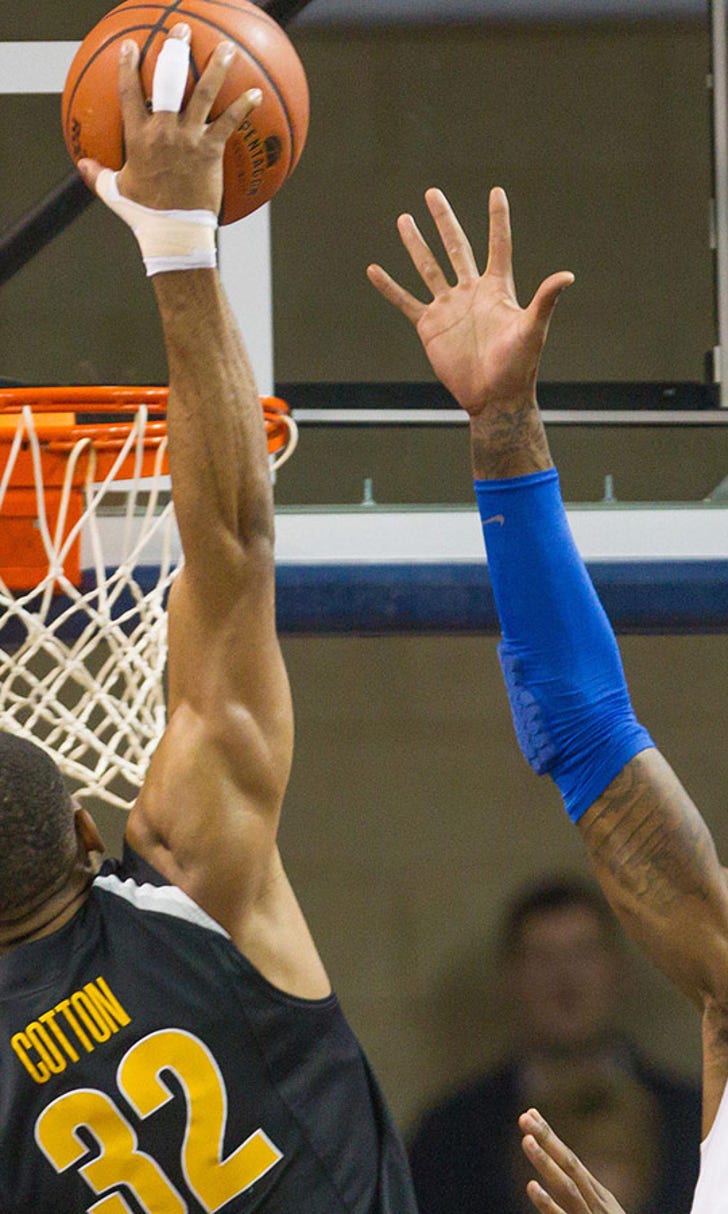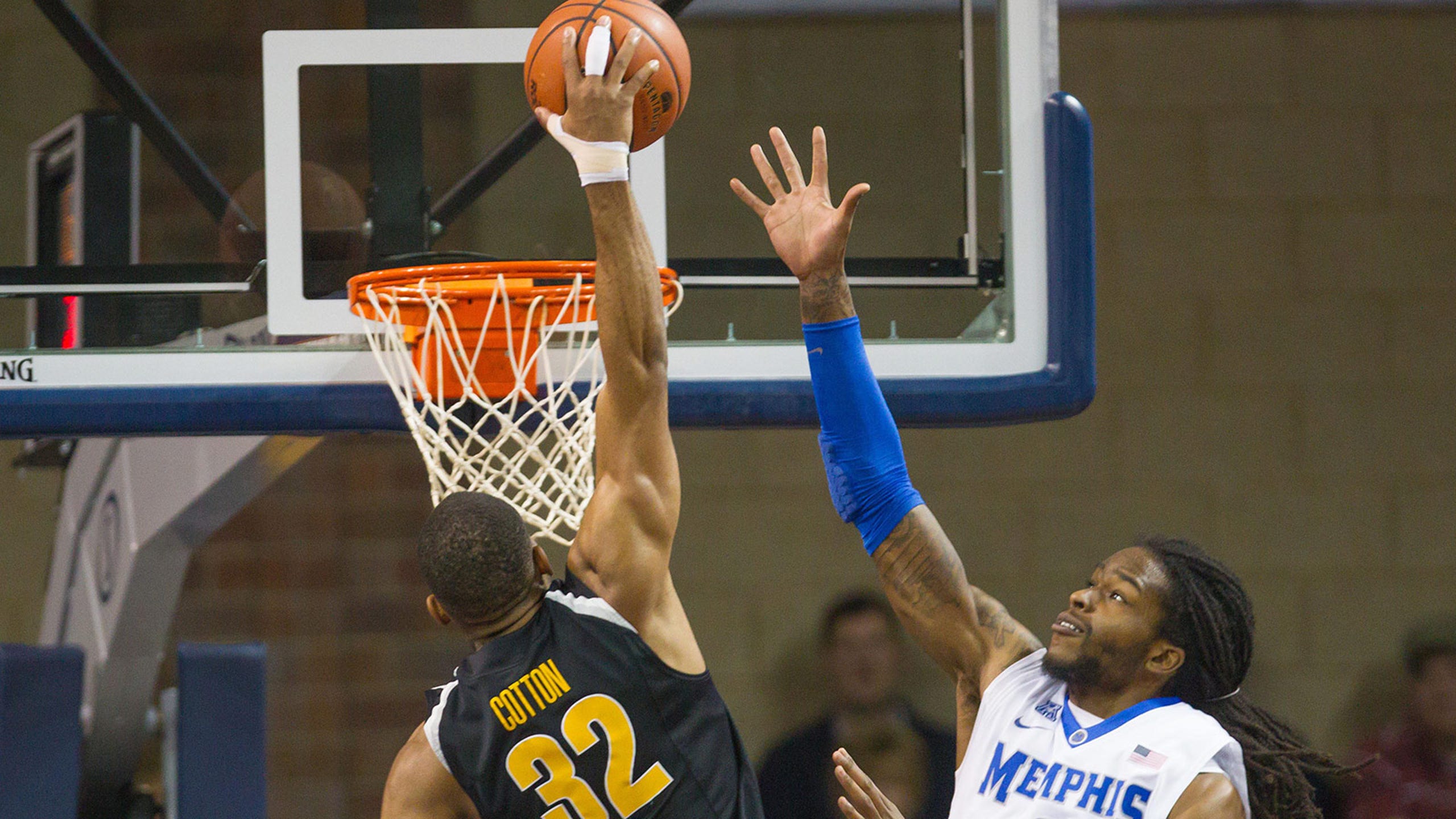 Names may change, but Shockers' stifling D remains the same
BY foxsports • November 18, 2014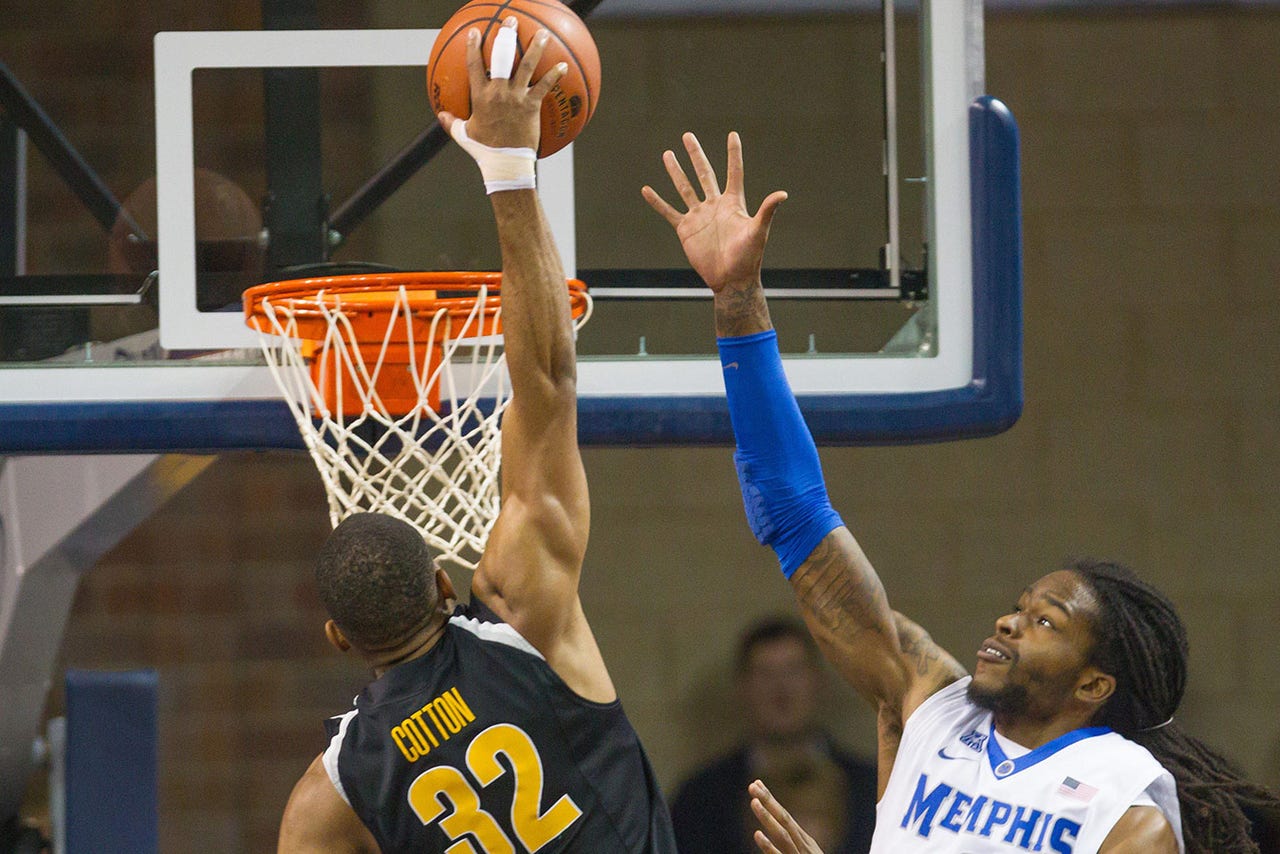 New frontcourt. Same angry.
Apropos, right? In a building named The Pentagon, defense was the order of the day as the Missouri Valley Conference power of now, No. 11 Wichita State, thumped a Valley power of old, Memphis, 71-56, in Sioux Falls, S.D.
The two teams, which combined for 59 wins a season ago, got together and misfired on 67 of 112 field-goal attempts and 20 of 26 tries from beyond the arc. Aesthetic, it wasn't.
The Shockers, of course, are just as comfortable playing ugly as they are angry, and Wichita (2-0), two games in, looks as if it hasn't missed much of a beat defensively from last winter's 35-1 MVC champs. The law firm of guards (Fred) VanVleet, (Ron) Baker and (Tekele) Cotton took a while to warm up, but found a flow late in the first half, finishing with 46 points, 10 assists, 12 rebounds, eight steals and three 3-point makes.
Of course, it's a different look without the departed Cleanthony Early, a 6-foot-8 forward who could spot up deep against bigger lineups and post up comfortably against smaller ones. Darius Carter, a 6-7 senior with length and no fear, opened in the post and featured a comfortable mid-range, face-up jumper, leading Wichita over the first 20 minutes with 10 points and three rebounds and finishing with 12 and four, respectively. The three-headed paint monster of the previous season is now a four-headed beast with multiple fouls to give, anchored by Carter and supported by bruising 6-7 forward Shaquille Morris, 6-7 Rashard Kelly and 6-10 Estonian Rauno Nurger -- all true or redshirt freshmen. And swingman Evan Wessel, a long 6-4, is the glue guy, a mess of floor burns, rebounds, pokes, steals and outlet passes.
If the Shockers are trying out a patchwork frontcourt, the banged-up Tigers are sort of patchwork everywhere. It showed Tuesday, especially when matched up against one of the best guard combos (still) in the country: Memphis turned it over 24 times to Wichita's 12 while tallying just four assists on 20 buckets.
Against these Shockers -- 37-1 over their last 38 contests -- those are the kind of numbers that will get you buried, and quickly. The former took a while: Wichita came in having yet to make a three on the season, and whiffed on its first seven attempts.  But once the first went down -- Baker's rainbow from the corner with 16:20 left in the contest, pushing the Shockers' lead to 38-29 -- the worm turned for good. VanVleet's trey from the top of the arc extended a 14-6 run that stretched the cushion to 52-35 with 11:39 to go.
Of course, you could make a strong case that the viral dunk of the game was also the moment that flipped the momentum for good. Up 33-29 with 16:52 left in the game, off-guard Cotton took a baseline feed from VanVleet out beyond the 3-point line, got a half-step on his defender and drove a clear path to the lane, where he finished with a posterizing, one-handed slam. The Shockers' bench went nuts, and the Tigers' many leaks turned into a collective flood of bad.
Wichita had misfired on 12 of its first 16 shots, yet held a 10-4 lead through the 11:45 mark, thanks to a defensive effort that held Memphis to 2-of-8 shooting. At the half, things inside were as frigid as the Dakota temps outside: The Shox were 12 of 31 from the floor (38.7 percent); the Tigers, 7 for 25 (28 percent).
Even with a remodeled frontcourt, though, the Play Angry crew still leans on what took 'em to the penthouse during the Gregg Marshall Renaissance: Defense. In this case, using turnovers -- Memphis had 11 at the break to Wichita's five -- to create runouts and easy buckets. A chippy, choppy first half ended with a 6-1 Shocker run that included Baker's first two makes of the day, the last on a fast-break layup with 41 seconds left in the period that put the Shox up, 29-22.
It remains to be seen whether this team has the makings of a No. 1 seed again -- a smallish starting lineup with four guards got out-rebounded 40-38 and out-blocked 9-3 by Memphis, and a Dec. 3 trip to Utah could prove tricky. But as long as VanVleet/Baker/Cotton are healthy and Marshall is directing traffic, anything is on the table. And as the Tigers learned the hard way, the names may change, but the mantra doesn't: The more you push this bunch, the angrier they get.
You can follow Sean Keeler on Twitter at @SeanKeeler or email him at seanmkeeler@gmail.com.
---