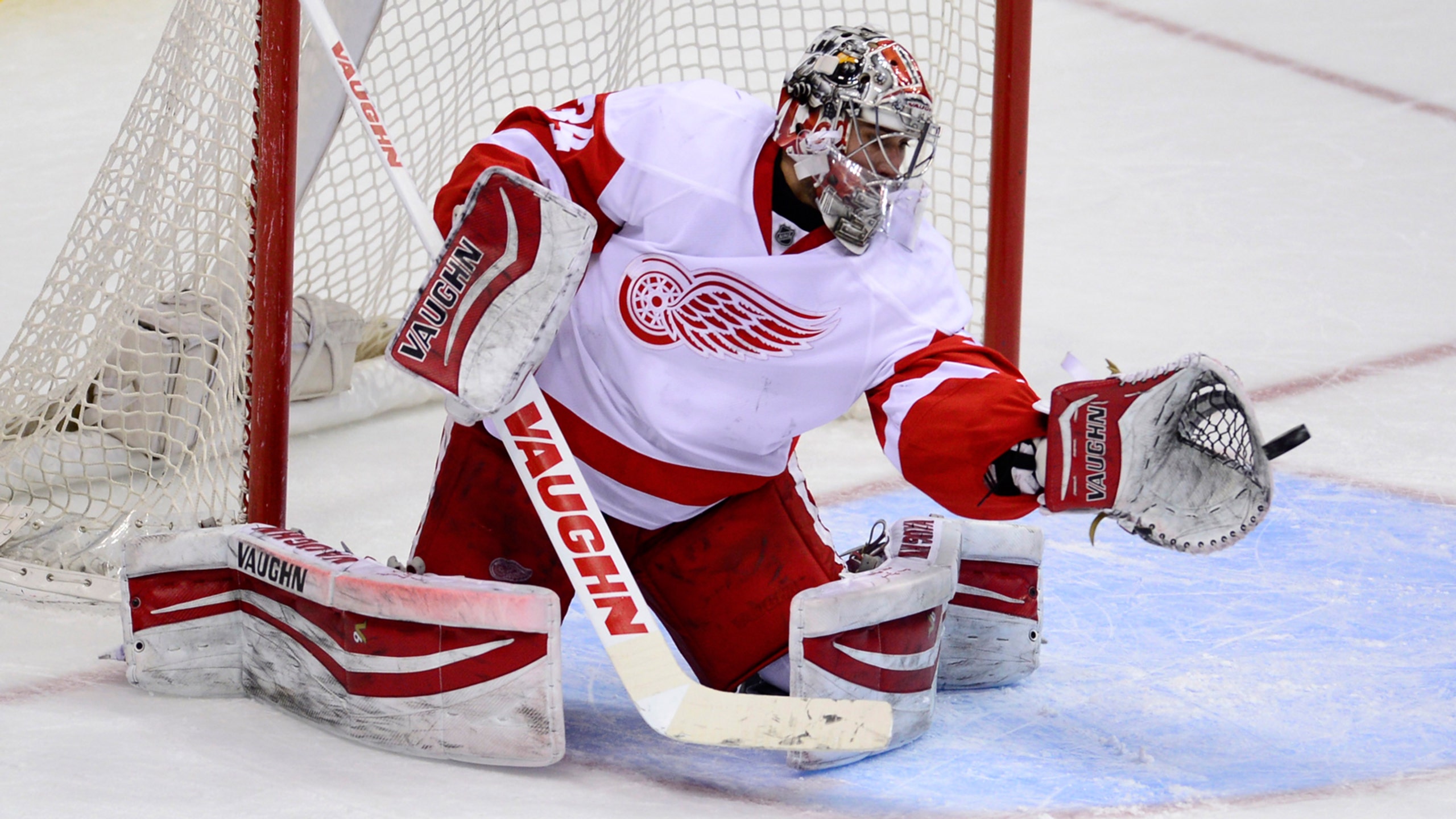 Mrazek could get shot at third straight strong start Saturday
BY foxsports • February 7, 2015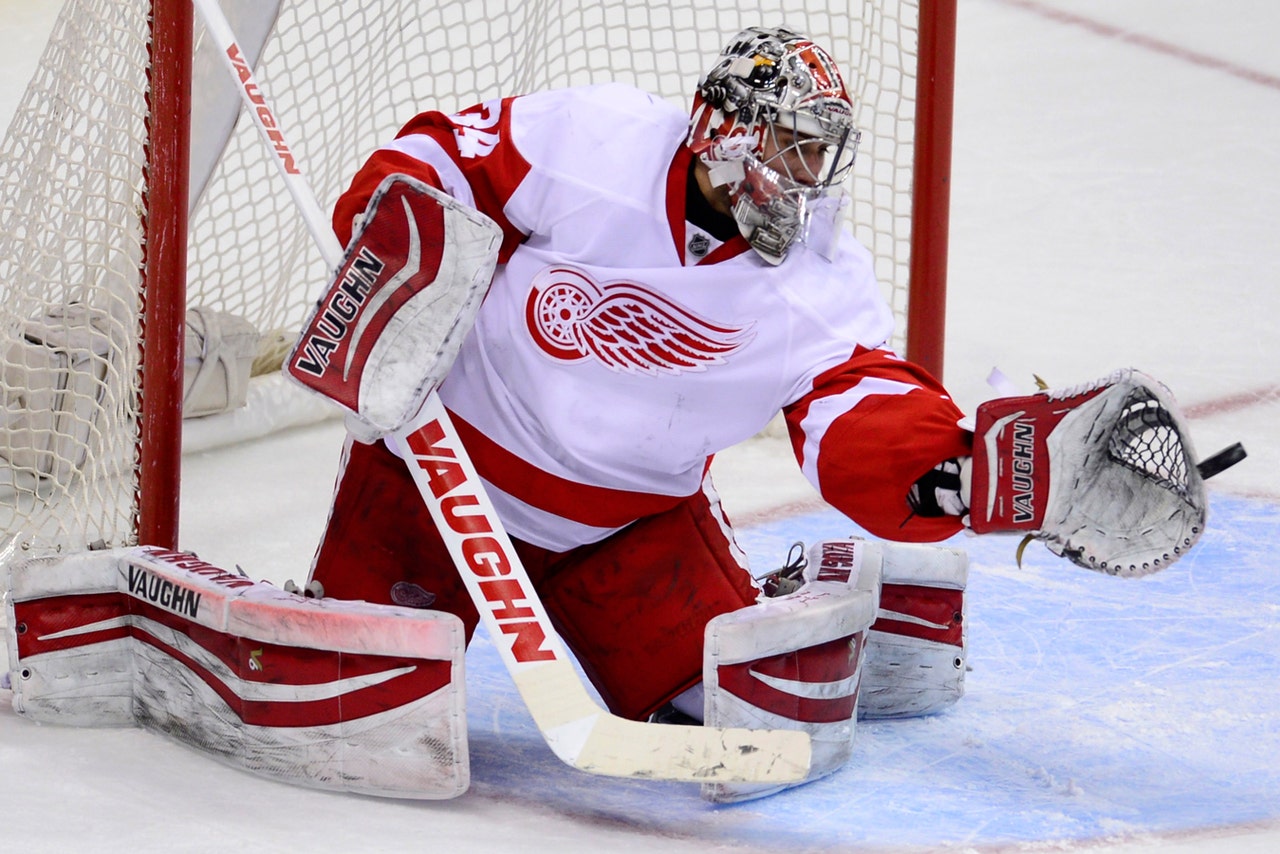 With Jimmy Howard said to be less than a week away from returning, temporary starter Petr Mrazek is finally coming around.
Season-opening backup goaltender Jonas Gustavsson is also back on the roster, so Mrazek's role moving forward is uncertain.
Backup duty looms for one or the other, but Mrazek could get a shot at a third straight strong start Saturday night when the Detroit Red Wings visit the Arizona Coyotes (7:30 p.m. pregame, 8 p.m. face-off on FOX Sports Detroit).
Howard had been on his way to one of his more impressive seasons, on pace for his best career goals-against average at 2.11, before going down with a slight groin tear Jan. 10. He's aiming to return Wednesday in Pittsburgh, the next game on Detroit's schedule after the trip to the desert.
The Red Wings (30-12-9) haven't suffered in the standings without Howard, going 8-2-0 including the 3-1 loss to Washington in which he was injured in the first two minutes.
Mrazek shouldered that loss and, including that substitute appearance, went 5-2-0 despite a 3.29 GAA in his first eight games subbing in. The 22-year-old has won the last two with one goal allowed and a .980 save percentage after Thursday's 3-0 victory in Colorado.
"I think that was a good month with some bad games," Mrazek told the team's official website. "You just don't think about it and just play next games. I'm really happy that's over. (In last Saturday's 4-1 win) against the Islanders, the two points were more important than the one goal I let (in), and the shutout is a bonus today."
Gustavsson was recalled Wednesday after making two starts for Grand Rapids in the AHL but hasn't played for Detroit since suffering a shoulder injury Nov. 5.
Things have been smooth offensively with an average of 3.78 goals per game in the last nine, and the Red Wings' seven goals in the last two games have come from seven different sticks.
Justin Abdelkader's goal against Colorado came on the power play, and Detroit is 3 for 6 on the advantage over the last two games. The success has been season-long at a league-best 25.8 percent, and it's been especially strong in the last seven games with an 8-of-17 mark (47.1 percent). The Red Wings have won eight straight when tallying a power-play goal.
For coach Mike Babcock, though, it was an improved penalty kill (3 for 3) that drew much of the praise after going just 15 for 25 (60.0 percent) in the previous seven contests.
"Real good special teams," Babcock said. "I thought our penalty kill in the first period we killed two but we didn't do a good job clearing the puck. In the second, when we got the penalty ... we did a great job there, and then obviously the power play was dangerous."
The Coyotes (19-26-7) had won two straight to close an eight-game road stretch before returning home with Thursday's 2-1 shootout loss to Carolina. It was the latest in a season of home struggles that's resulted in a 9-12-4 record and four straight defeats with five goals scored.
Mike Smith made 40 saves and has turned in consecutive quality starts, allowing two goals.
His performance was all Coyotes coach Dave Tippett liked about the effort Thursday, though defenseman Keith Yandle picked up an assist to extend his point streak to five games. The defenseman has 11 points in his last 10 games.
"Sloppy - so sloppy it was almost entertaining," Tippett said.
Smith has a 2.01 GAA over a 3-1-0 stretch against Detroit.
These clubs haven't met since October 2013. Arizona won both meetings a season ago.
---