Detroit Red Wings
Detroit Red Wings
Mr. Hockey is laid to rest
Published
Jun. 15, 2016 12:28 p.m. ET

DETROIT (AP) -- Hundreds of people, including Bobby Orr, Wayne Gretzky and Gary Bettman, bid farewell to Gordie Howe at a packed, two-hour funeral service in Detroit.
Howe's son, Murray, began the service with a eulogy Wednesday that emphasized his father's toughness and generosity.
"How do I do justice to the life of a living legend -- my own hero? I still pinch myself at the realization that he was my father," Murray Howe said to a rapt crowd at the Cathedral of the Most Blessed Sacrament, about six miles from the home of Howe's longtime team, the Detroit Red Wings.
Dozens of fans stood in line a couple hours before the funeral, which was streamed online by the Red Wings from the cathedral that has a capacity of about 900. Ted Lindsay -- part of Detroit's famed "Production Line" with Howe and Sid Abel -- was on hand, and so was Hall of Fame coach Scotty Bowman. The rugged Hall of Famer died Friday at the age of 88.
Murray Howe recalled talking with his father about what he should say after Gordie died.
"He said, 'Say this: Finally, the end of the third period.' Then he added, `I hope there's a good hockey team in heaven,'" Murray Howe said. "Dad, all I can say is, once you join the team, they won't just be good, they'll be great."
The service came a day after thousands of people came to Joe Louis Arena for a public visitation scheduled from 9 a.m. to 9 p.m., a nod to Howe's famous No. 9, though it stretched beyond that.
Howe set NHL records with 801 goals and 1,850 points -- mostly with the Red Wings -- that stood until Gretzky came along. Howe also won four Stanley Cups with Detroit and those banners flanked his casket during the visitation on Tuesday on the floor of the arena.
Gretzky wore No. 99 as a player in a tribute to Howe, a man he got to know when he was a kid. The Great One said he was "embarrassed" to break Howe's records because he played in an incomparable era.
"Not everybody gets to meet their hero or their idol," Gretzky said Tuesday. "And sometimes when you meet them, it wasn't as good as you thought it would be. I got so lucky that the guy I chose happened to be so special."
St. Louis Blues coach Ken Hitchcock met Howe in Edmonton, Alberta, about six decades ago when he was a kid. Like a lot of people in western Canada in the 1950s and 1960s, Hitchcock grew up rooting for the Red Wings because of Howe. Hitchcock became one of Howe's many friends in the early 1990s when he was an assistant coach for the Philadelphia Flyers and Howe's son, Mark, was playing for them toward the end of his Hall of Fame career.
"Gordie would spend all day and night at the rink because he just loved the game and the people in it," Hitchcock said Wednesday in a telephone interview with The Associated Press. "And if you got an autograph from him back then or at any time in his life, he would look you in the eye and you could read every letter of his name because that's what kind of great guy he was."
Murray Howe has said his father's remains will be cremated. The family requested donations be made to the Gordie Howe Traumatic Brain Injury Initiative, the Howe Foundation or the Gordie Howe Fund for Alzheimer's Research.
---
---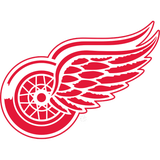 Get more from Detroit Red Wings
Follow your favorites to get information about games, news and more
---