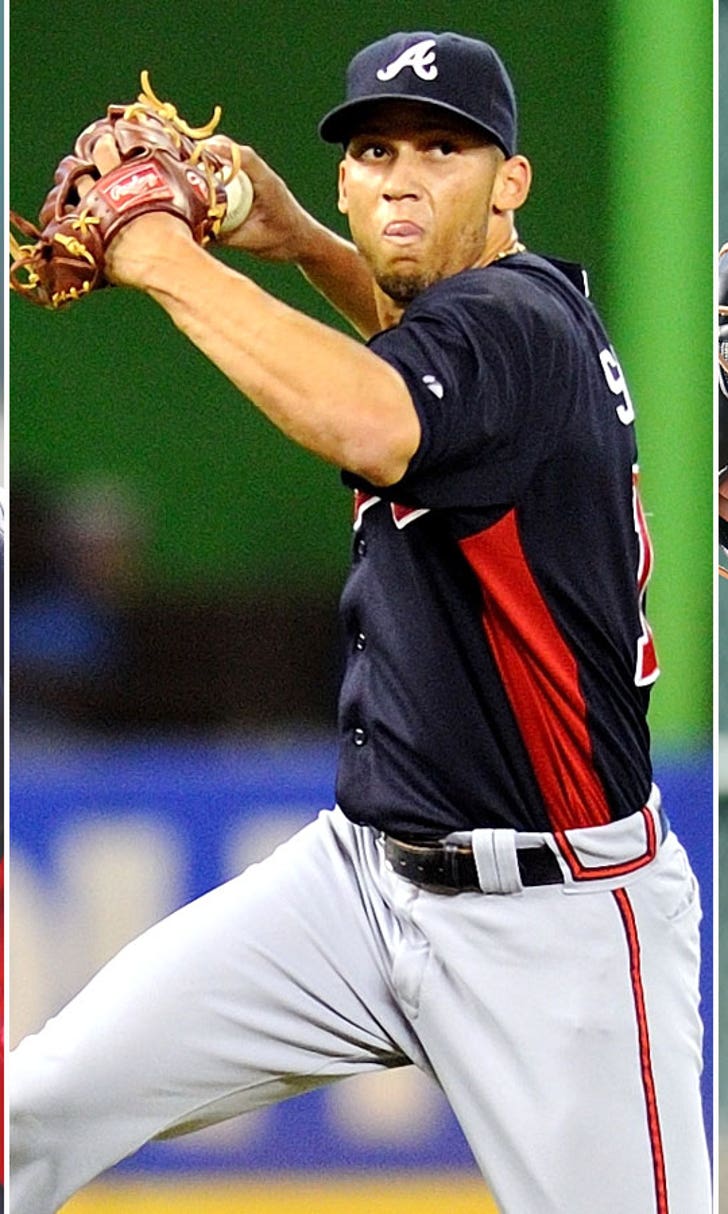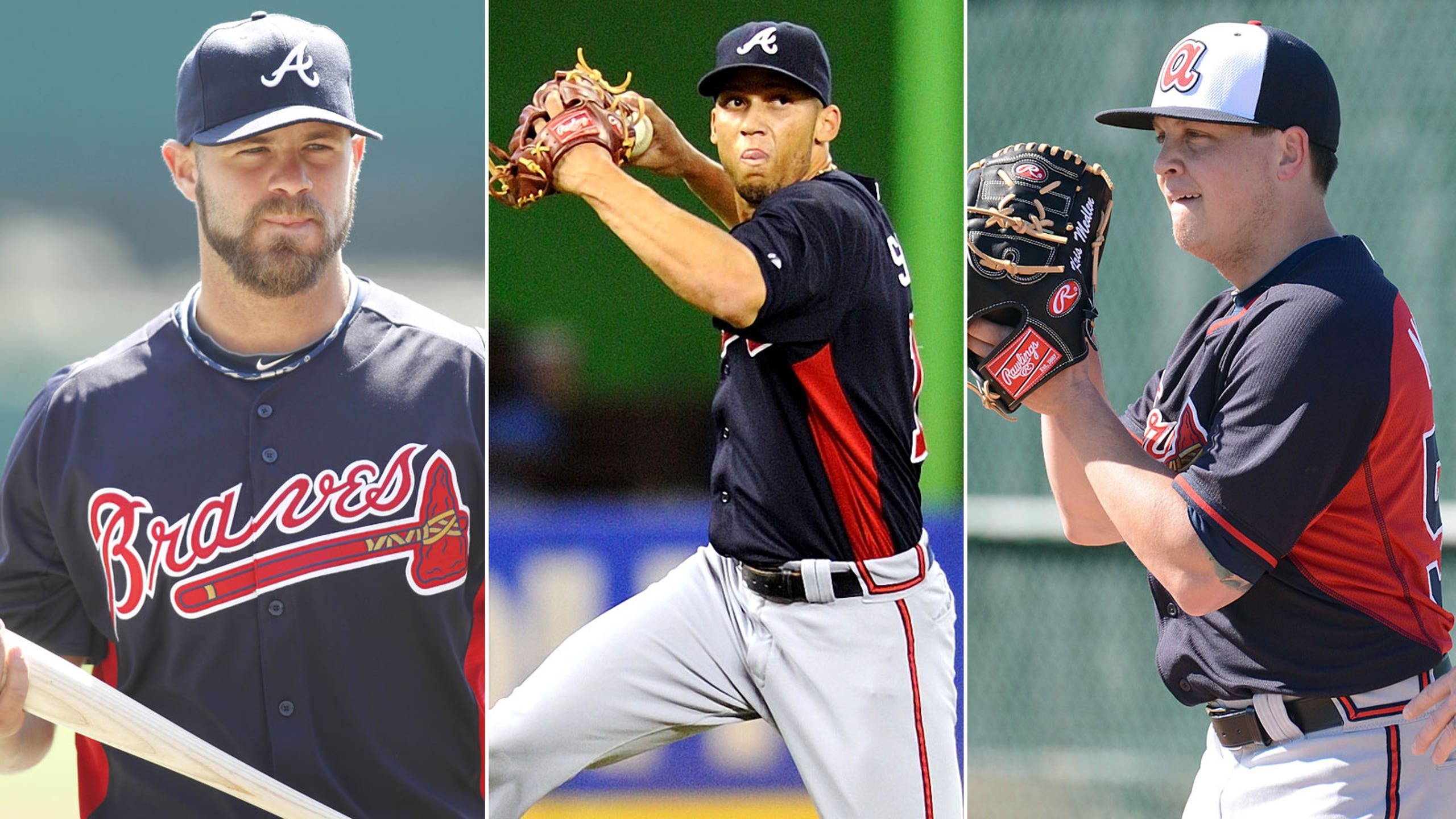 MLB: Seven quick hits from Braves' Sunday workout
BY foxsports • February 23, 2014
LAKE BUENA VISTA, Fla. -- The Atlanta Braves kick off the 2014 portion of their Grapefruit League schedule (against the Tigers) in just three days.
Here are seven quick observations from Sunday's workout, spanning multiple fields at the Disney World complex.
1. It shouldn't surprise anyone to see the pitchers ahead of the hitters at this point.
On the field adjacent to Champion Stadium, both Kris Medlen and Craig Kimbrel pitched live batting practice against the likes of Jason Heyward, Justin Upton and B.J. Upton.
And even though Medlen and Kimbrel appeared to be laboring under the warm Florida sun (with minimal breezes), very few batted balls were driven into the power alleys on a line.
(No homers allowed from either pitcher, as well.)
Medlen, who shaved his head to help benefit the Rally Foundation for Childhood Cancer Research on Wednesday, certainly looked cool on the mound, experimenting with different pitches from various angles along the rubber.
For the July-September periods of 2012 and '13, Medlen posted elite-level marks of 19-5, a 2.04 ERA, 0.99 WHIP and 178/35 K-BB rate.
2. Chris Johnson treats every drill like it's mid-May and his team needs a late-inning spark to salvage a four-game split against the Brewers.
On Sunday, while the Braves were running through situational infield drills, Johnson was equal parts loud, supportive, attentive, restless and fundamentally sound -- especially when trying to tag out a "phantom" runner on third base (after fielding a throw from catcher Evan Gattis).
Has it been just 13 months since Braves general manager Frank Wren had the foresight to include Johnson as a virtual throw-in to that blockbuster trade involving Justin Upton (via the Diamondbacks)?
In that span, Johnson has posted one superb season of 12 homers, 68 runs, .321 batting and a .358 on-base percentage, while also emerging as one of the Braves' true veteran leaders.
For good measure, Johnson was one of few Atlanta regulars to avoid the disabled list in 2013.
3. During a charge-the-slow-grounder drill with the third basemen, shortstops and second basemen, no one displayed a quicker catch-and-release motion than Andrelton Simmons, the National League's platinum-glove defender last season.
4. First baseman Freddie Freeman, who was mic'd up for Fox Sports South on Sunday, has essentially had the same swing repetition since childhood -- one that uses both power alleys with regularity.
From a splits standpoint last year, Freeman absurdly notched six straight months of a .366 OBP or higher. And for May-September, he tallied at least four homers, 17 RBI and 29 hits each time.
The coup de grace period came in September, when Freeman rolled for six homers, 21 RBI, 19 runs, a .380 average, .449 OBP and 1.068 OPS.
5. Braves farmhand Edward Salcedo, who turns 23 in late July, has the requisite size (6-foot-3, 210 pounds) and defensive fluidity of a future major leaguer at the hot corner.
But ay the rub: Salcedo (three-year averages: 14 homers, 22 steals) needs to make strides in batting average (.240 career) and on-base percentage (.304 for 2011-13) before forcing the Braves' hand at the big-league level.
6. Jordan Schafer hit an opposite-field homer off Cory Gearrin -- the only blast of the live-batting session that I witnessed.
The weird thing about Schafer's blow: A sonic boom did not accompany the swing; instead, the ball just kept carrying as it gathered steam in the airstream.
7. Evan Gattis, whose bat had plenty of pop on Sunday, isn't getting the necessary love from the fantasy community right now.
On the popular site MockDraftCentral.com, Gattis currently holds the No. 10 fantasy ranking amongst catchers, or 229th overall. Both marks are low for a guy with 30-homer potential and dual-position versatility (catcher/outfield).
Gattis, who belted 21 homers in just 105 games last year (rookie campaign), was the only Braves hitter to notch three months of six or more homers in 2013.  
---