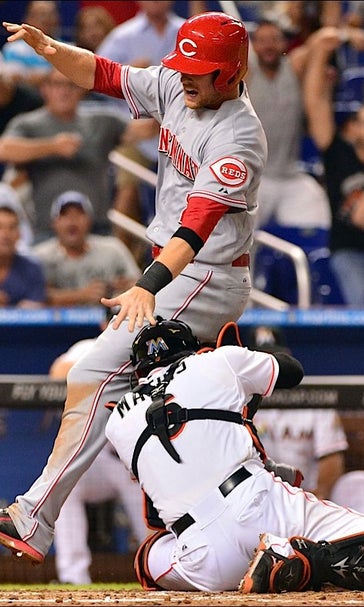 MLB clarifies home plate collision rule
September 9, 2014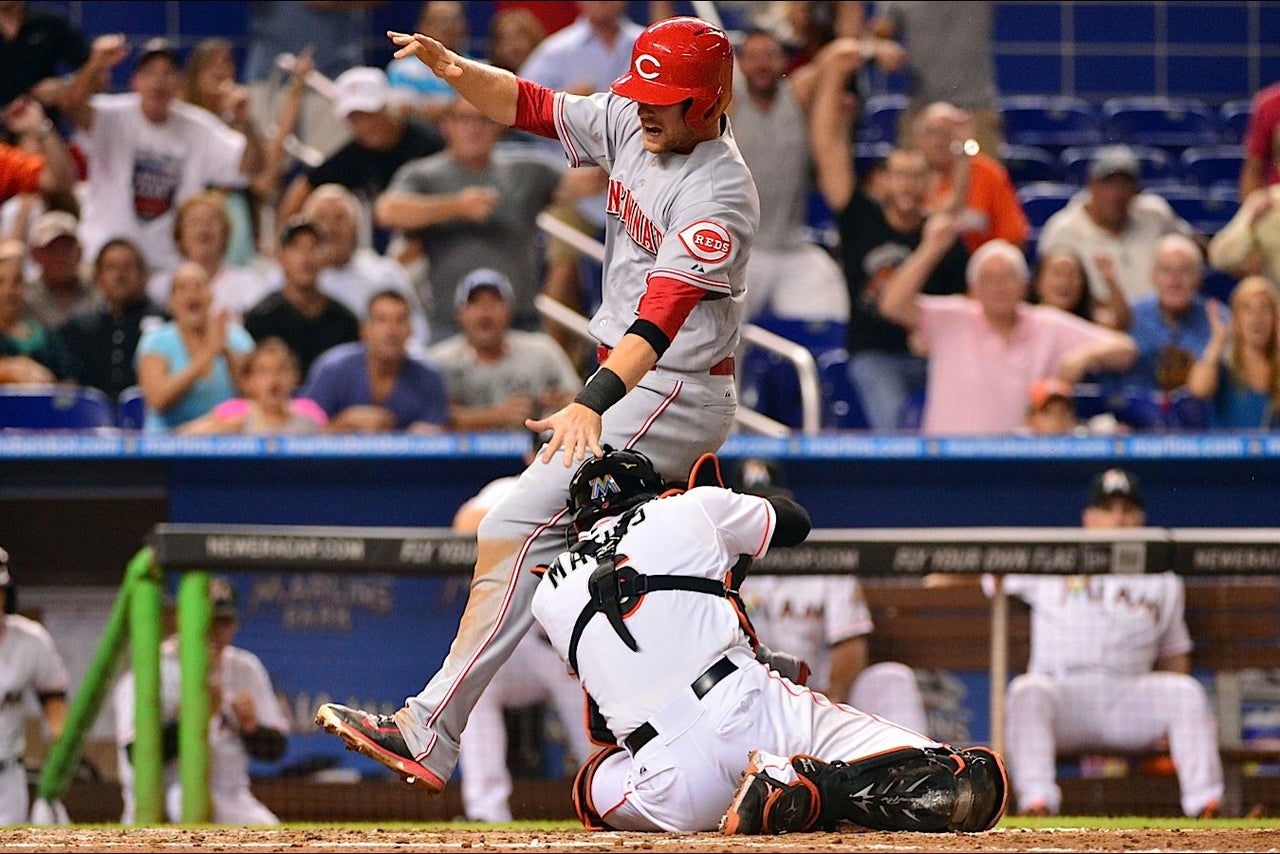 NEW YORK (AP) -- Major League Baseball sent a memo to teams clarifying this year's experimental rule intended to limit collisions at home plate, saying runners should not be called safe if the ball clearly beats them.
The rule, announced in February, says a catcher can't block the plate if he doesn't have the ball. There have been several disputed calls, including a pair of decisions in the last 5 1/2 weeks that led to runners being called safe after video review.
The guidelines sent to teams Tuesday say the catcher's positioning shouldn't change the call when the throw clearly is ahead of the runner. They also say if the catcher is entirely in fair territory, he should not be considered to have blocked the plate. Photo examples were included.
"It's basically the same thing, but the officials in New York got to use a little bit of common sense," Atlanta Braves manager Fredi Gonzalez said. "If you're out by 40 feet ... let's not call that guy safe because of that."
The new guidelines were tested immediately when Tampa Bay left fielder Matt Joyce threw out the New York Yankees' Stephen Drew trying to score in the fifth inning Tuesday night. Ryan Hanigan gave Drew no lane to the plate as the Rays' catcher waited for the throw, which arrived in plenty of time.
Hanigan tagged the sliding runner and Drew was called out by plate umpire Vic Carapazza. The ruling was upheld following a replay review, leaving the Rays with a 4-3 lead.
Overturned calls led to tying runs for the home team in the late innings at Cincinnati on July 31 and at San Francisco on Aug. 13. In both cases, the hosts went on to score more runs in the inning and win.
"There's been a few plays this year where it looks like the guy's been out by 10 feet and they call him safe because he felt like the catcher -- he took the plate away," Colorado manager Walt Weiss said. "You've got to add some common sense to the rule."
CINCINNATI REDS
On July 31 at Cincinnati, Miami led 1-0 in the eighth when Todd Frazier flied out to right fielder Giancarlo Stanton, who threw home as Zack Cozart tried to score from third. Catcher Jeff Mathis tagged Cozart, who trotted in without a slide, and the runner was called out by umpire Mike Winters.
After a 6-minute, 10-second review, the call was overturned, and Ryan Ludwick followed with a two-run single that sent the Reds to a 3-1 win. Marlins manager Mike Redmond was ejected after throwing his hat to the ground and arguing with umpires. Then he kicked his hat on his way back to the dugout.
San Francisco trailed the visiting White Sox 1-0 in the seventh inning on Aug. 13 when Chicago first baseman Jose Abreu fielded Joe Panik's broken-bat grounder and threw out a sliding Gregor Blanco by about 10 feet. The runner was called out by plate umpire Chris Segal, but after a video review that lasted 4 minutes, 55 seconds, replay umpires in New York ruled Blanco safe, citing catcher Tyler Flowers for blocking the plate with his left leg in violation of the new rule.
Chicago manager Robin Ventura ran onto the field, was ejected and repeatedly kicked home plate. The Giants went on to a seven-run inning and won 7-1.
"If a guy, you can tell he's going to be out, he should be out," Ventura said Tuesday. "I understand protecting the catchers. I think most of their injuries probably come from foul tips, not actual plays at the plate. You don't want guys charging the catchers coming into the plate. In the end when you get a guy out, you make the play, everything's done effectively, you want the guy to be out."
The new rule followed debate that intensified following May 2011, when San Francisco slugger Buster Posey was injured as the Marlins' Scott Cousins crashed into him at the plate. Posey, an All-Star catcher, sustained a broken bone in his lower left leg and three torn ligaments in his ankle, an injury that ended his season.
In Game 5 of last year's AL championship series, Detroit backstop Alex Avila was pulled a couple of innings after being run over at the plate by Boston's David Ross, a fellow catcher.
---