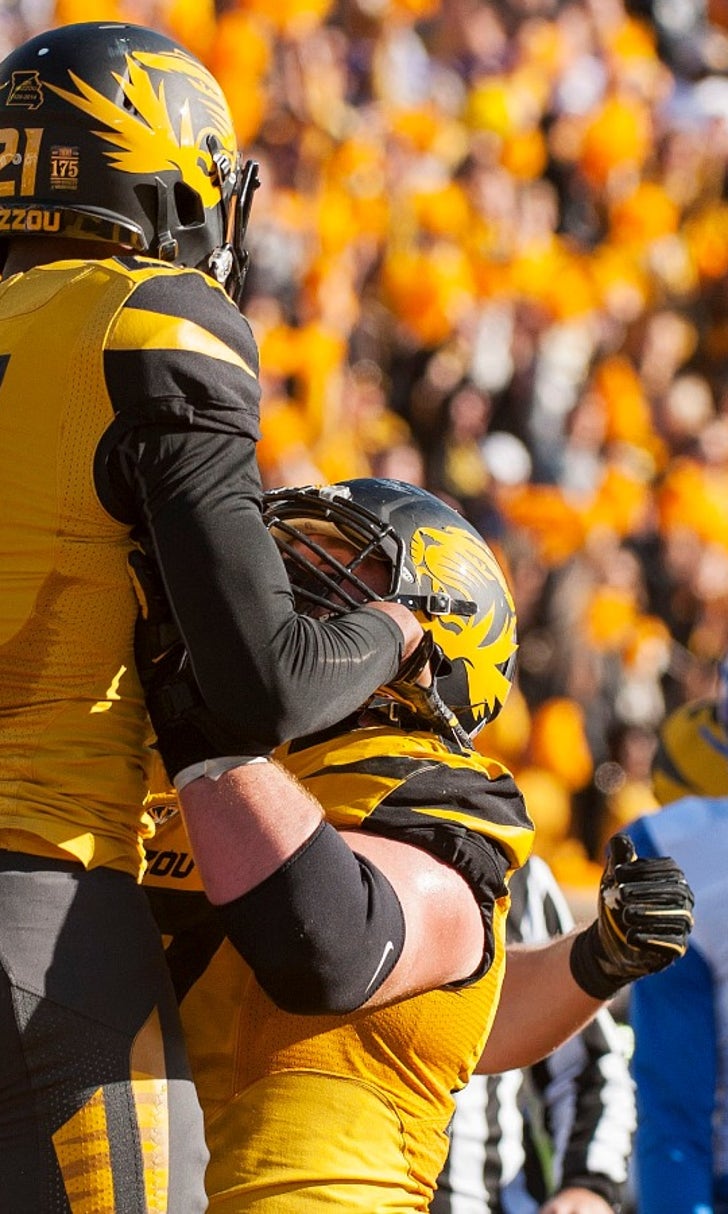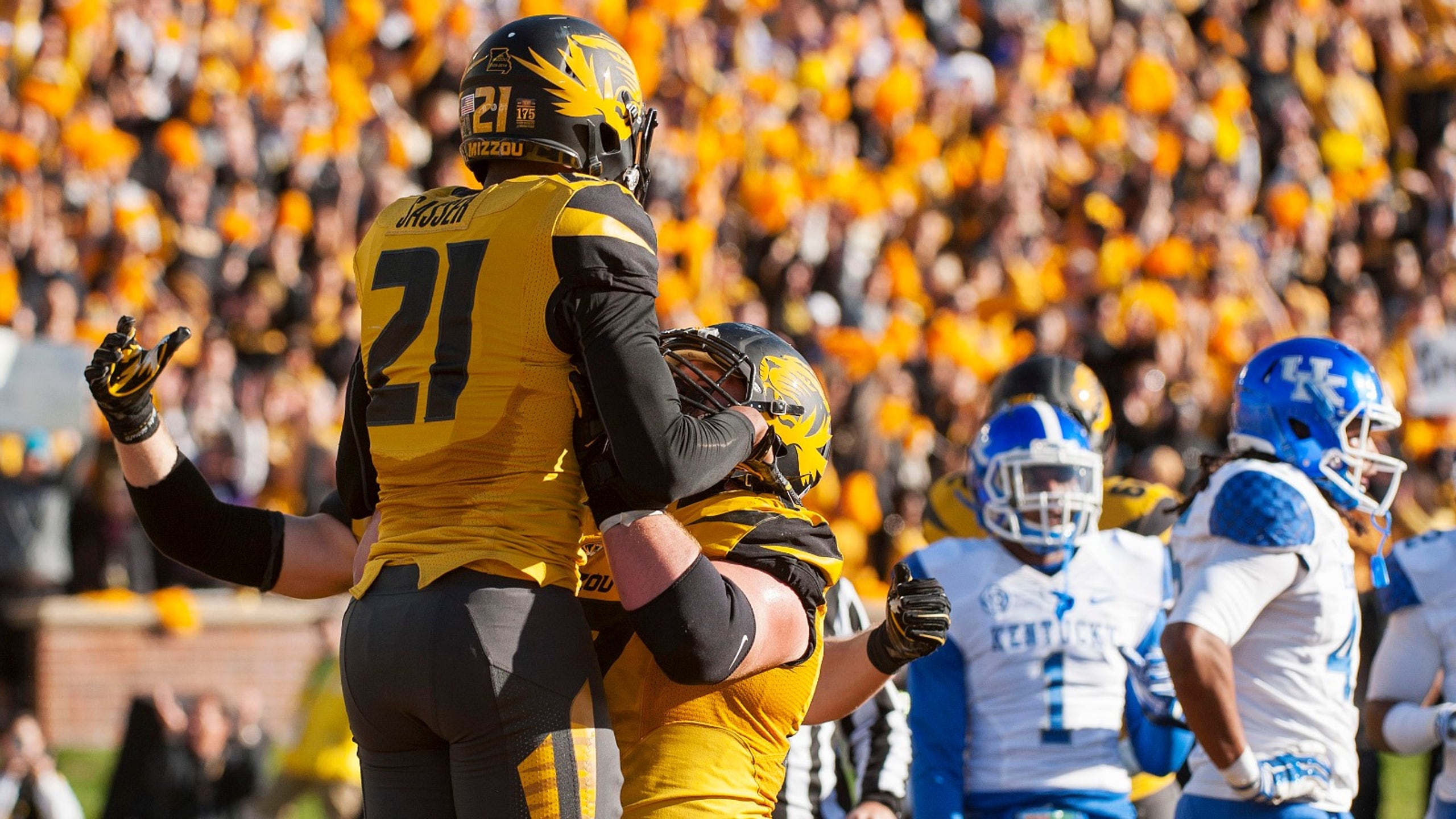 Mizzou relying more heavily on dominant defense for wins, much to Sasser's chagrin
BY foxsports • November 1, 2014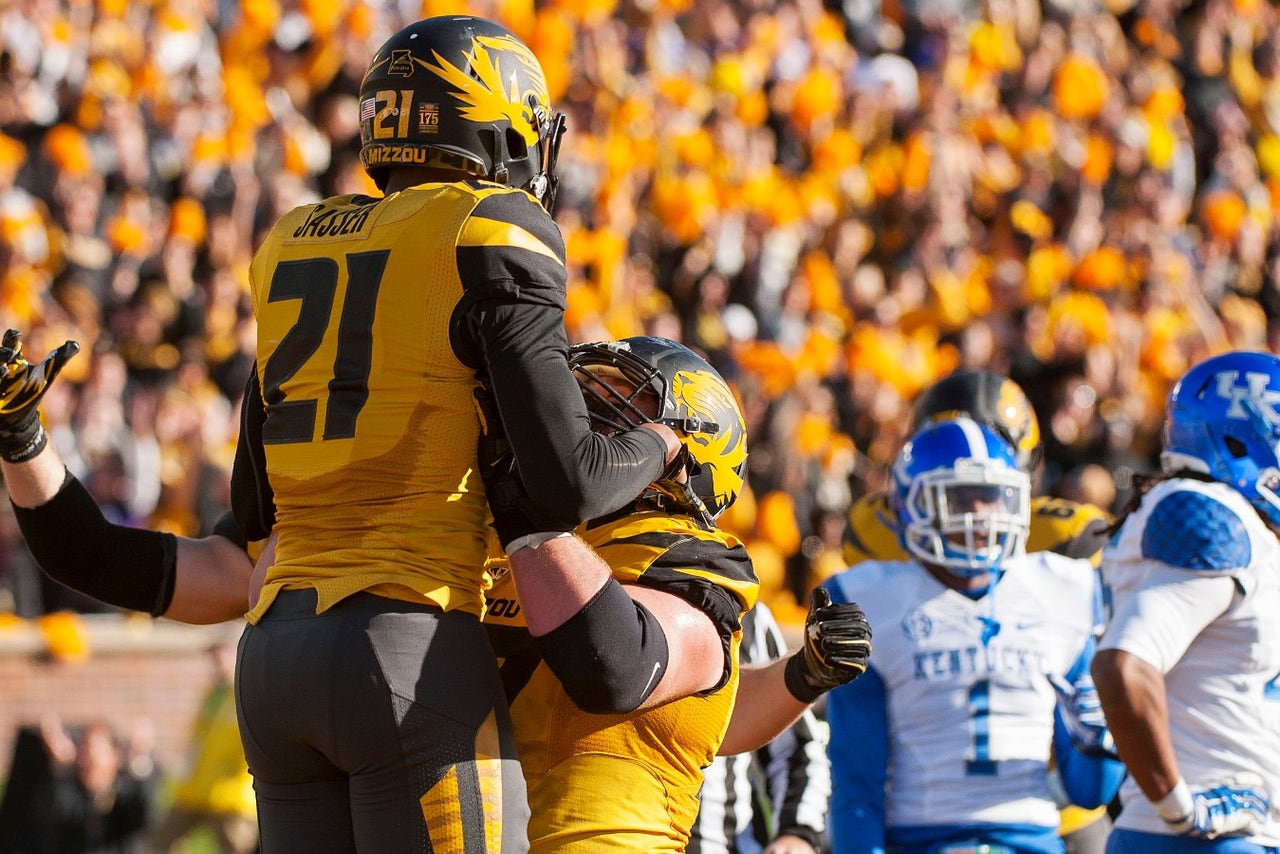 COLUMBIA, Mo. -- Goodbye, overpowering offense. Hello, dominant defense.
An unexpected shift has manifested itself for Missouri, a team used to reaching 40 points on a regular basis and needing most of them to come out on top. Even coach Gary Pinkel said he's not quite comfortable with the new normal after the Tigers held off Kentucky, 20-10, to cap off a three-game win streak.
"I'm not getting used to it," Pinkel said. "I don't want to get used to it. We won a lot of games around here, a few years, 44-31 or 45-29 or 30."
In fact, earlier this year the Tigers went to Toledo and came away with a 49-24 win, though even then the Rockets scored just seven points in the first half. But the last time Missouri played in a shootout-type game, Indiana scored in the final minute to hand Pinkel one of the most embarrassing losses of his 14-year tenure.
Since then, the defense has taken control, though the offense got most of the glory for coming to life just in time to score two late touchdowns in a 21-20 win at South Carolina. At first glance, a 42-13 win at Florida looks to be an exception, but in reality defense and special teams stepped up to save the offense from its worst performance in several years.
That trend continued Saturday against a Kentucky offense that put up 31 points and 504 yards in a loss to No. 1 Mississippi State a week ago. The Wildcats looked remarkably inept in the third straight scoreless first quarter by a Tigers opponent, netting just one first down and 18 total yards on eight plays.
"We always say, let's start fast and hit them in the mouth," said cornerback Kenya Dennis, who broke up four passes and made three tackles, including 1 1/2 for loss. "We just try to come out and do that every game and give our offense something to work with."
Meanwhile, the Missouri offense that terrorized defenses with its quick tempo and deep passes didn't score until Bud Sasser's three-yard touchdown reception off a 55-yard drive in which quarterback Maty Mauk never threw the ball more than five yards past the line of scrimmage. But the Tigers have needed to be good enough for only a couple drives lately, something they learned the hard way in a 34-0 home loss to Georgia.
The defense eventually wore down against the Bulldogs, something that hasn't happened in ugly wins over Vanderbilt and Kentucky the last two weeks. The Wildcats' Patrick Towles threw his first interception in 159 passes toward the end of the first half, and his night ended with a sack by defensive end Shane Ray.
That gave the Tigers' overpowering senior 12 sacks for the season, breaking the school record with at least four games remaining. As usual, dominant play by the entire defensive line kept Kentucky off-balance, holding Towles to just 158 passing yards and 26 on the ground.
"Quarterbacks get a lot of pressure -- and he'll mature through it, too, because he's a really, really talented guy -- but your timing gets off a little bit," Pinkel said. "Guys were open, he missed some throws, and I think it has a lot to do with the pressure we put on him."
His receivers looked to be a little rattled as well after taking some big hits from defensive backs and linebackers who seemed to have a good read on Kentucky's screen-heavy attack. Even when the Wildcats found some separation in the secondary, they suffered multiple drops that made moving downfield much more difficult.
Freshman Mikel Horton broke free for at least 16 yards on his first three runs, including a 27-yarder to take Kentucky into Mizzou territory and set up a field goal in the second quarter. But the Wildcats' running backs averaged barely two yards on their remaining 20 carries thanks to the Tigers' relentless pursuit and speed on the edges.
"Mizzou has a great defense, one of the best defenses I think we have played against," Horton said. "They were physical and they beat us this game."
That was especially true on third and fourth down, when the Tigers took their game up another notch. Kentucky converted just two of 16 third downs, and its lone successful fourth-down play in five attempts was a great catch by Garrett Johnson to set up a late touchdown.
Ray says the way the Tigers win doesn't make a difference to him, and they're back in a familiar position as the leaders of the SEC East after Florida's stunning 38-20 upset of No. 11 Georgia. Two more wins in the next three games will earn Missouri another SEC title berth, despite the fact this team has averaged nearly 15 points less in conference play than last year's team, including a 59-41 loss to Auburn in the SEC championship.
Pinkel said the coaches have adjusted their game plan to fit the team's personality, running the ball more and trying to eat up clock. That doesn't sit particularly well with Sasser, and he knows the offense has no one to blame but itself.
"It's very frustrating because you're trying to figure out what's going on and then you see all this little stuff that's going on," said the wide receiver, who caught six passes for 67 yards and both Mizzou touchdowns. "It's, 'Hey, we have to get these things going, we have to work on them in practice and make sure we perfect them in practice.' It's on me and I have to step my game up, period."
The Tigers will have two weeks to make corrections on offense before hitting the road to face Tennessee and Texas A&M. But considering both of those teams have scored 20 points or fewer in more than half of their SEC games, Missouri might be able to keep getting by on the strength of its defense.
You can follow Luke Thompson on Twitter @FS_LukeT or email him at lukegthompson87@gmail.com.
---