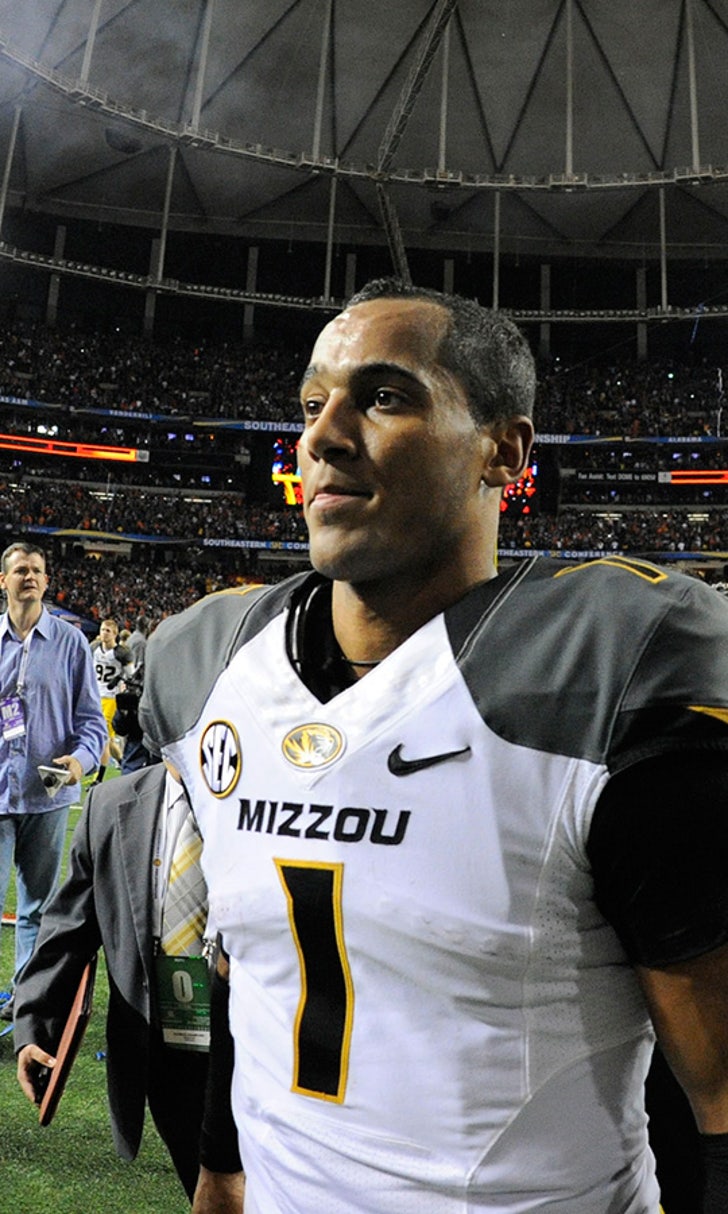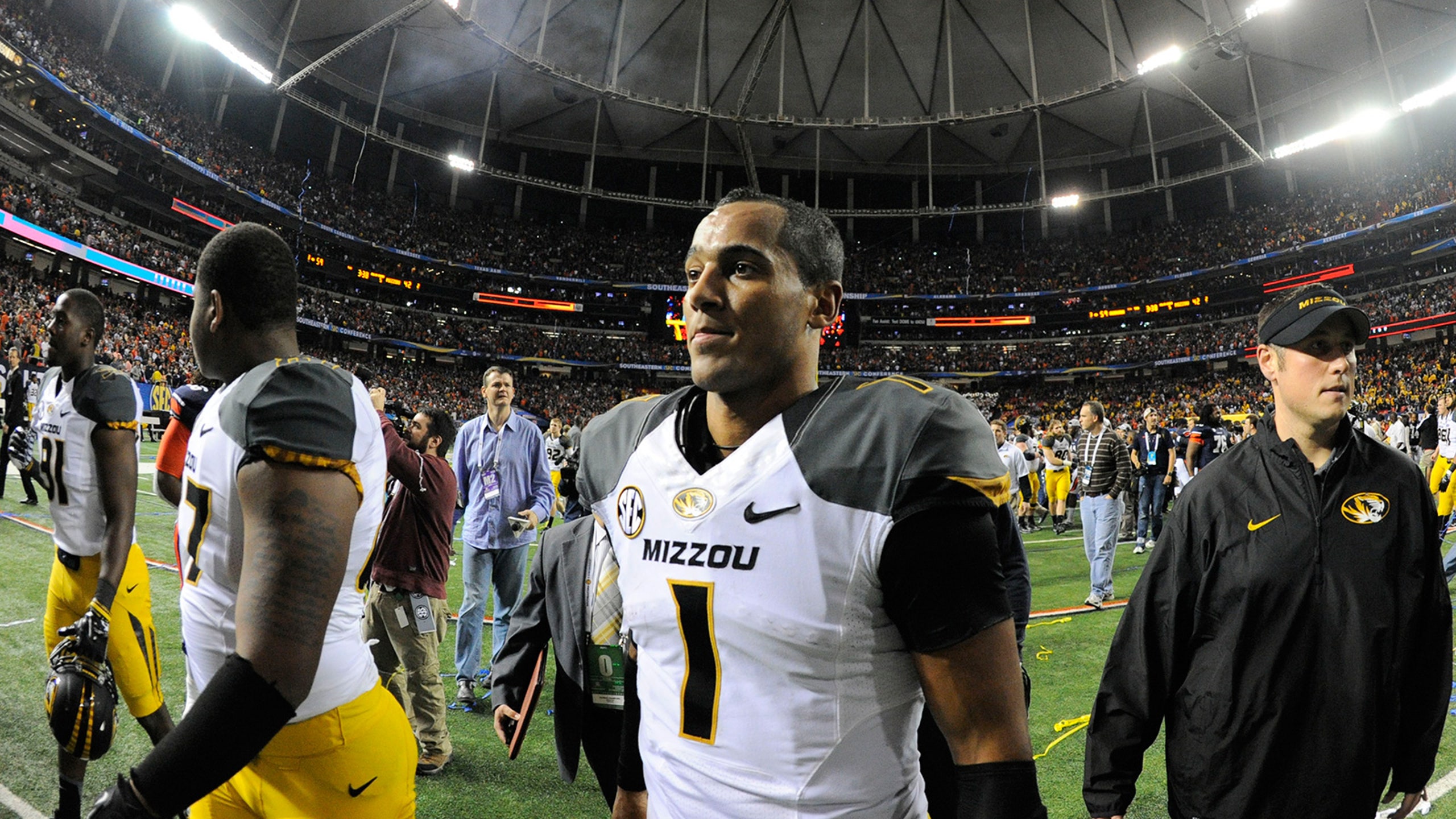 Missouri's surprise season comes to end in SEC title game
BY Zach Dillard • December 12, 2013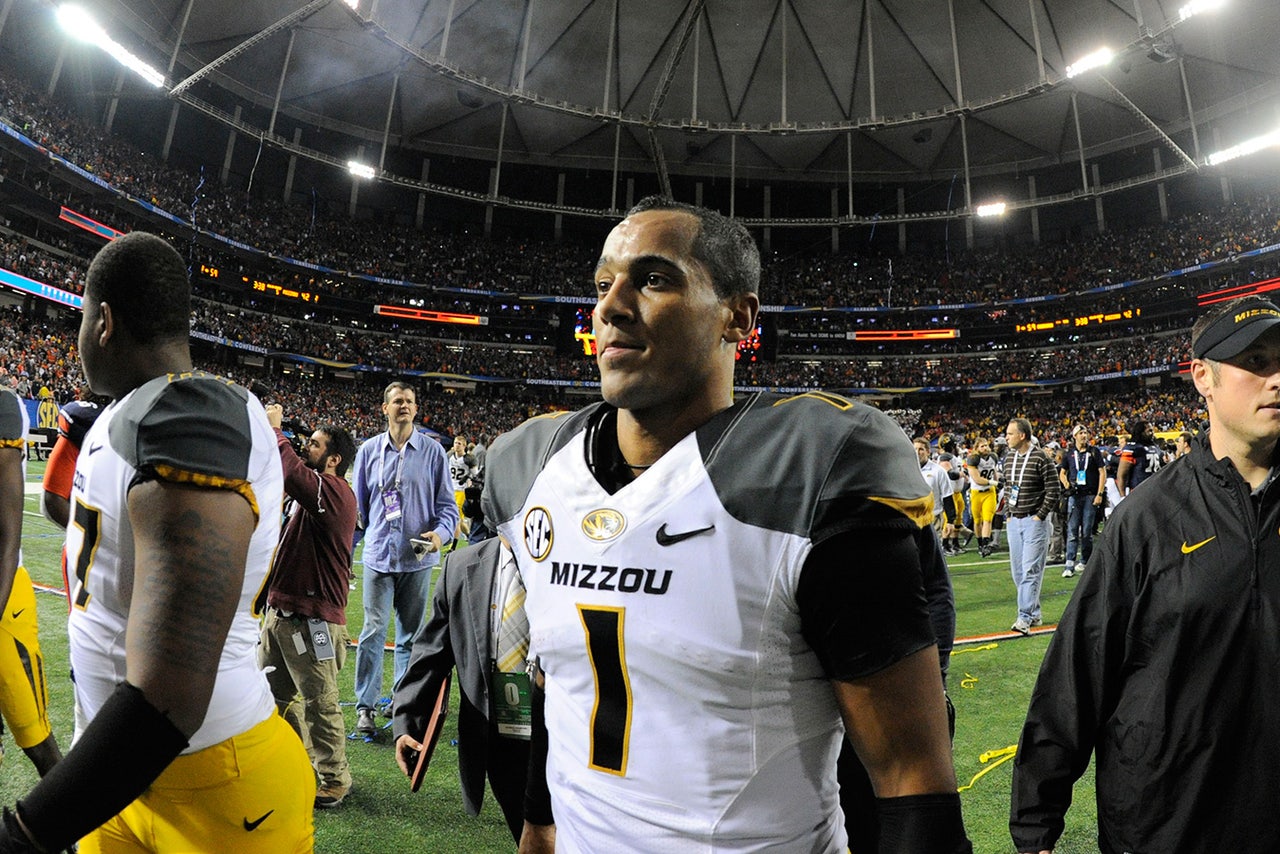 ATLANTA -- The confetti that falls from the rafters for SEC champions is blue, gold and white. Every year. There are no school-centric color schemes or personalized makeshift stages. The culmination of the long, often brutal conference schedule is officially branded from the outset, the only differences separating the two teams in the aftermath being emotion and origin of noise.
On Saturday evening in Atlanta, with BCS implications and that small margin of error hanging in the balance, the Missouri Tigers experienced the worst kind of confetti, the kind that sticks to your cleats as you walk toward a downtrodden locker room, engulfed by the screams of opposing fans. In a shootout of historic proportions -- smashing the previous SEC Championship record of 73 combined points (2010) -- Missouri could not keep pace with the third-ranked Auburn Tigers, falling 59-42, walking off the field on the losing end for just the second time in a surprise season.
A few just watched it all fall and fall, then fall some more.
"I watched (the confetti) come down. Walked off the field and you hear the fans talking and their team jumping and down, that's upsetting," said Missouri running back Henry Josey, who rushed for 123 yards in the game. "The next time I hear some confetti coming down and some bombs going off, it's gonna be for me. Or it better be."
For both programs vying for this year's conference crown, it's been an exhausting path -- Auburn scratching and clawing for last-second wins over both Georgia and Alabama; Mizzou faced with the pressure of playing for the SEC East title against Ole Miss and Texas A&M with South Carolina already in the clubhouse, banking on failure. Every minute (or second, in Auburn's case) was necessary, on both counts. Trapped in a back-and-forth barnburner that saw eight lead changes and was all but knotted up at 45-42 after three quarters, both sets of Tigers needed every last bit of fuel to reach the finish line.
One just had a bit more in the tank.
"They're crushed. I mean, they are absolutely crushed," Missouri coach Gary Pinkel said. "And that's good. I mean, that's OK. They're used to winning, and this game was real important to them."
Minutes after watching opponents make snow angels -- or, confetti angels -- on the same turf your team name and logo is freshly painted upon, consolatory reflections on an impressive program turnaround are not the norm. Losing is losing; judging by the looks on the battered faces around the Missouri locker room, it all feels the same. Still, as Pinkel noted, that feeling was rare in 2013. Coming off a 5-7 season with just two wins in SEC play, losing by an average margin of 19 points, a fifth-place preseason prediction in the SEC East appeared justified. But game after game, the wins kept coming: beating Vanderbilt, then Georgia, then Florida, then Tennessee, then Kentucky, then Ole Miss, then Johnny Manziel and fellow '12 newcomer Texas A&M.
Eleven wins are never guaranteed. Just ask Auburn.
To watch that run come to a screeching halt by the nation's No. 15 scoring defense allowing 59 points and 677 total yards (545 rushing) at the hands of Gus Malzahn's innovative offense scheme still stung. There are no second-place trophies and even if there were Pinkel's group would trash them on the way to the bus.
"For a big group of fierce competitors, winning is your livelihood. It's not like winning is awesome and losing kinda sucks," redshirt senior offensive lineman Max Copeland said. "It's like winning is eating. When you don't when, it's like you didn't eat. This pain is gonna stay with you until you eat again. That's how we feel. We gotta make sure we eat again, we gotta make sure ... We're hungry. We're so hungry."
Does losing in the most offensive-minded SEC title game in history -- one that turned the notion of "defense wins championships" on its head -- tarnish this campaign? Does giving up SEC Championship records for rushing attempts, rushing first downs, rushing yards and rushing touchdowns somehow underline a deficiency in the SEC East Tigers' season? These are the questions rattling around in the heads of Missouri players, not their own thoughts but those of others, both real and imagined.
"I think a lot of guys would answer this differently. I don't care what anybody else thinks about us. I don't care. I don't, I never have. I don't care what people think of me; I don't care what people think of my team," Copeland said. "As long there's self-respect, because we know who we are, dudes that are watching TV probably wearing suits and being called analysts, I don't care what they think of me. They don't define who I am."
Added fellow starting offensive lineman Evan Boehm: "Yeah, we were picked fifth and we're here right now. But where's the respect at right now? I don't know where the respect's at right now, you know? We weren't respected coming into this game and we played a tight game against a great Auburn team. And where's this respect gonna be at? Where are we at with this respect?"
Perhaps this Missouri team simply could not let go of the respect mantra when all was said and done. It had brought them so far, 700 miles to the southeast, right into the epicenter of all things SEC and blue and gold and white. Perhaps it will remain the calling card of Pinkel's program until the trophy Auburn players were hoisting is in midwestern hands. When asked if Missouri had made the statement it wanted to in a losing effort, quarterback James Franklin replied, "Not the one we wanted to."
On the wall right next to the door leading into Missouri's locker room, a quote was painted in team colors: "Leave Nothing. Take Everything." Missouri players saw it before walking into the bright lights of the SEC Championship, and once again while re-entering darker times. The players say it defines them and their season, even the losses.
"Everything's out there, man," said Copeland, pointing back out to the field. "I don't think we ever came in a locker room feeling like, 'We should've -- we could've given more. … What more can you ask of a soldier than giving everything, you know? We gave everything."
---