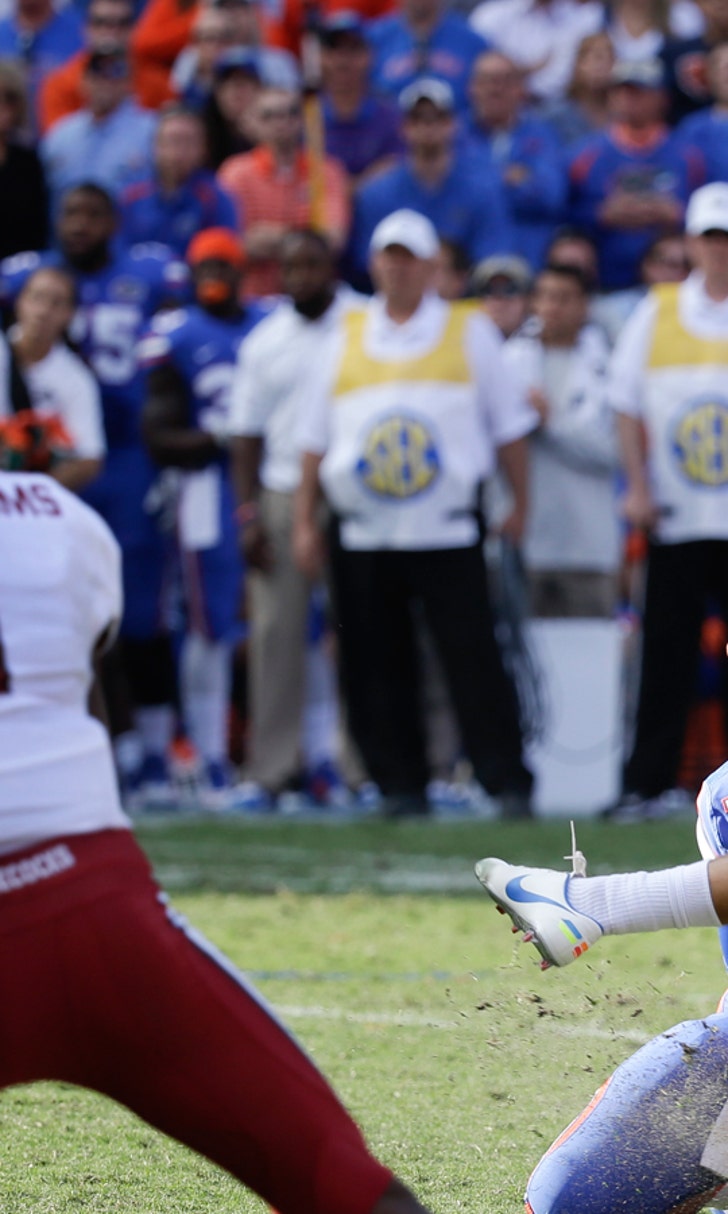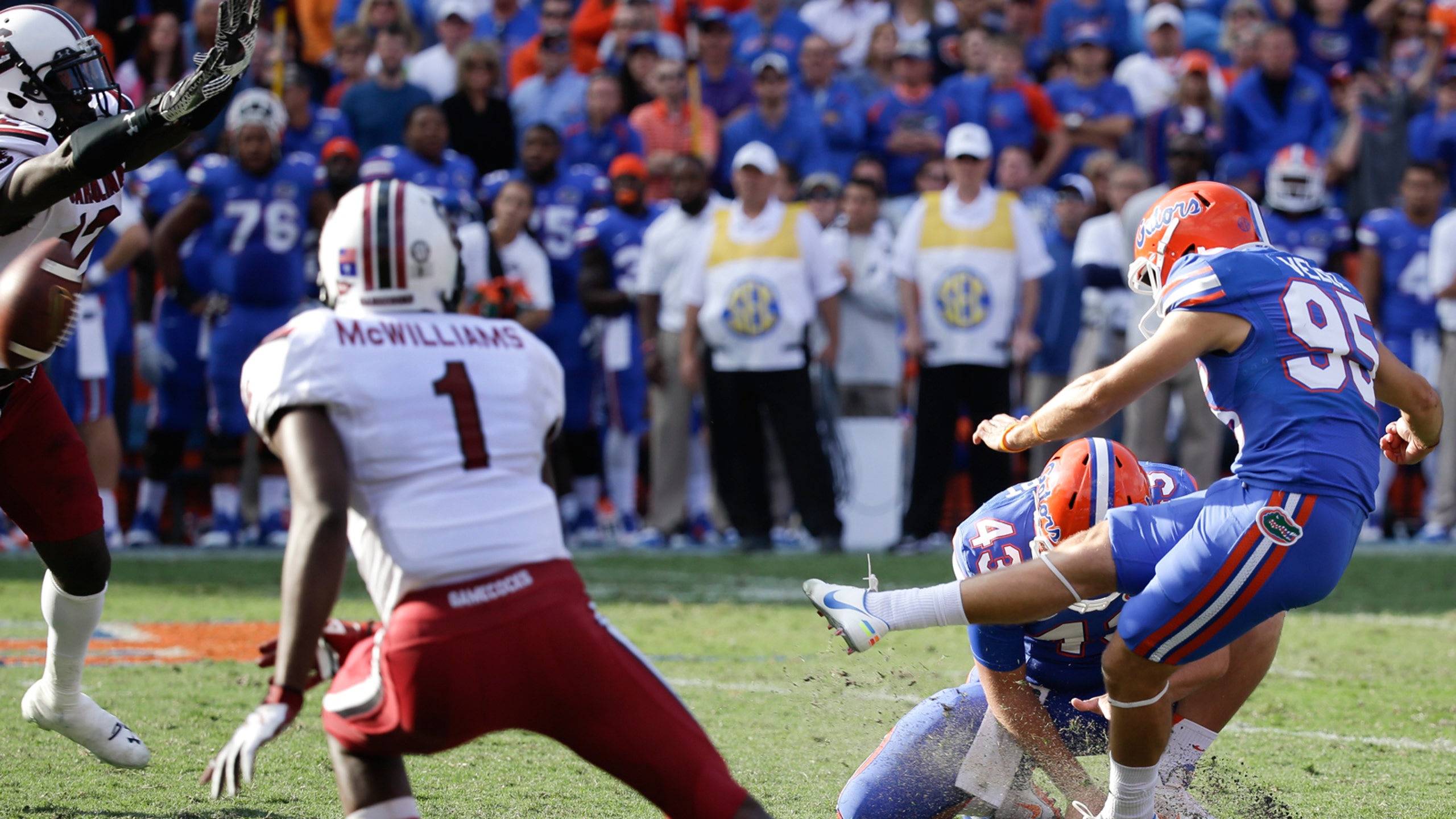 Missed opportunity: Blocked kicks put end to Florida's SEC hopes
BY foxsports • November 15, 2014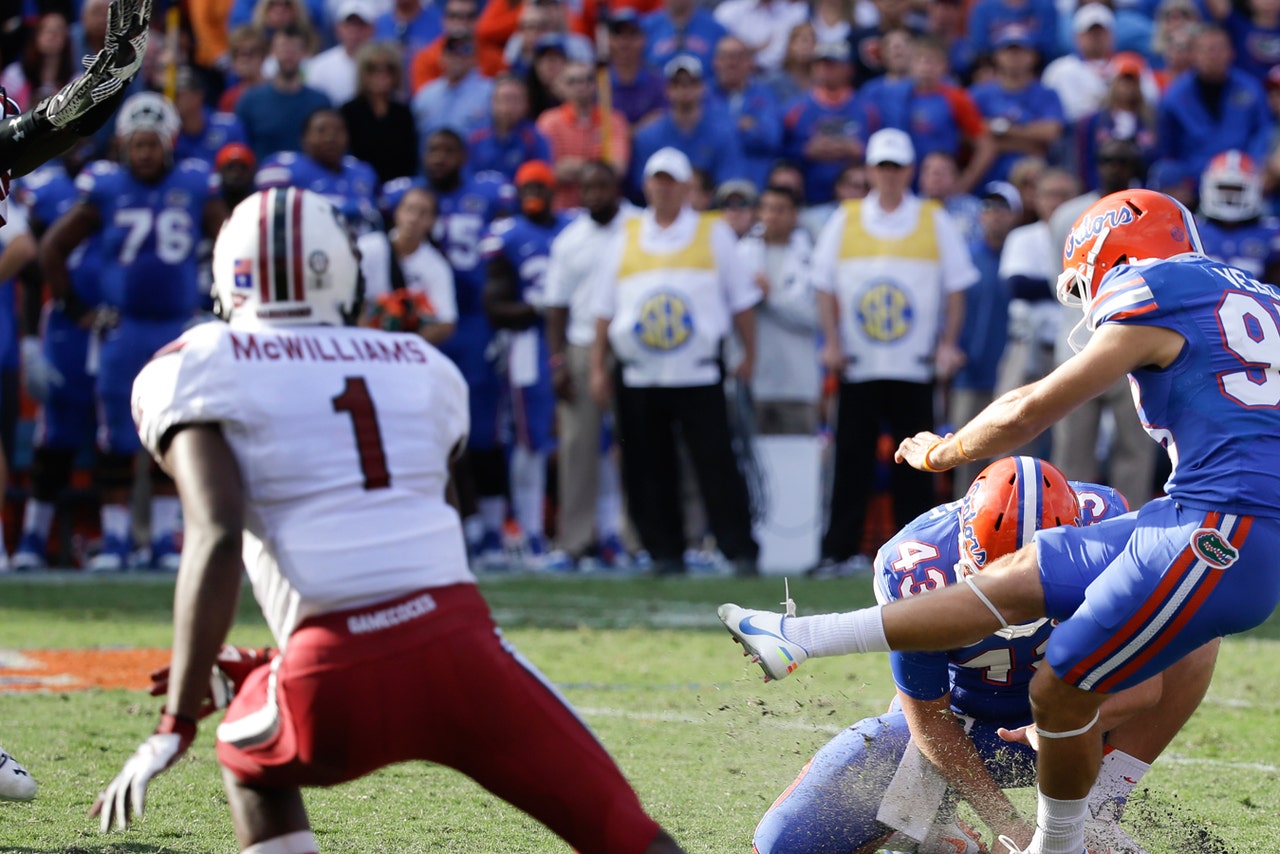 GAINESVILLE, Fla. -- Didn't matter what was lobbed at Florida coach Will Muschamp. Whether it was a lack of a passing game, the close-to-the-vest play-calling or some key yards yielded late by an otherwise solid defense. Muschamp kept going back to the same thing.
"We did what we needed to do to put ourselves in position to win the game," he said.
Very true.
But then the Gators did what they needed to do to lose it after a pair of late kicks were blocked -- first a field goal, then a punt -- and set in motion a shocking 23-20 come-from-ahead overtime loss to Steve Spurrier and his South Carolina Gamecocks before a stunned and bummed crowd Saturday at The Swamp.
The loss was UF's third straight Southeastern Conference defeat at home and eliminated the Gators (5-4, 4-4) from the league's East Division race.
Down 17-10, USC's freshman safety Jasper Sasser blocked Kyle Christy's punt and teammate Carlton Heard recovered at the UF 34 with just 39 seconds to play in the game, setting up the game-tying touchdown, a 2-yard run by tailback Mike Davis, with only 12 seconds remaining in regulation.
Gamecocks quarterback Dylan Thompson's 4-yard touchdown run in the first extra period -- after UF was forced to settle for a field goal on its lone possession in the overtime -- ended the game, as well as Florida's slim conference hopes.
"We're hurt," sophomore cornerback Vernon Hargreaves III said. "Obviously, we wanted it, but we can't do anything about it now."
No, but they could have before.
In the final quarter alone, with a 17-10 lead:
-- The Gators stopped the Gamecocks (5-5, 3-5) on downs and took over at midfield, only to squander the field position with a three-and-out. Christy responded with a punt that pinned USC at its 2.
-- Florida's defense, which started slowly but settled in for the final three-plus quarters, forced another punt and again the Gators had the ball in prime field position at the USC 48. The next seven plays were all runs that eventually stalled at South Carolina's 6, where Frankie Velez was summoned for a 32-yard field goal to put UF up by two scores. That kick was blocked by Brison Williams and caromed all the way out to the USC 41 with 3:31 to go.
-- Once again, the UF defense turned back the Gamecocks, this time on downs, with the Gators taking over at their 41 with 2:22 to go. The offense rushed three times into the middle, netting eight yards, then after a delay-of-game penalty brought in Christy to bury the Gamecocks deep with less than a minute to play. Yes. Blocked.
"It was a situation that just can't happen," Muschamp said.
All those chances for the Gators to close, yet the door remained open.
The Gamecocks were all too happy to walk in.
"Somehow it all worked out," Spurrier said after beating his former team for the fourth time in last five meetings. "Sometimes, you just have to say, 'It was meant to be.' This was meant to be."
The feeling in the other locker room was not mutual.
"We know the shots are going to come," senior offensive tackle Chaz Green said of the expected fan and media maelstrom as the team failed to earn the required sixth win to qualify for a bowl game with two remaining (at home against Eastern Kentucky next week, followed by a trip to Florida State). "We just have to pull together as a family and keep grinding like we've been doing all year."
The Florida offense, so promising and seemingly headed toward balance, took a big step backward in finishing with just 278 yards and only 60 through the air. True freshman quarterback Treon Harris, who threw just six passes in the win over Georgia two weeks ago and 21 in victory at Vanderbilt last week, only attempted 11 against the Gamecocks in his third start completing five, including an 11-yard touchdown to Demarcus Robinson. Harris led UF in rushing with 111 (on 20 carries) of the Gators' 218 yards.
South Carolina entered the game ranked fifth in the SEC in total offense at 479.6 yards per game and appeared well on their way to hitting that benchmark after jumping to a 10-0 lead behind 151 yards in the first quarter alone.
But after that period, the Gamecocks managed only 152 yards the next three periods and overtime, as the Gators chipped away at the lead behind a Velez field goal, the Harris-to-Robinson score and a 1-yard touchdown plunge from running back Matt Jones with 1:56 to go in the third quarter for the first lead of the game.
Then came that fourth quarter and one missed opportunity after another.
"Again," Muschamp said. "We get the punt off, we win the game."
Instead, USC quarterback Dylan Thompson, who was 22 of 41 for 206 yards, hit a 27-yard play and got a pass-interference call against safety Marcus Maye in the end zone for a first down at the UF 2. Two plays later, Davis took an option pitch to the left, fumbled it, but covered it in the end zone for the touchdown.
Elliott Fry's point-after tied the game with 12 seconds left.
The Gators got the ball to start the OT, but went three-and-out, including a completed third-and-3 pass from the USC 18 that gained nothing. Austin Hardin's 35-yard field goal gave Florida a 20-17 lead.
The Gamecocks need just seven plays, six of them runs, to roll 25 yards, with Thompson scoring on an end-run keeper with no one near him.
Game over.
Gators' SEC hopes over.
"Very disapointed to lose that football game," Muschamp said. "Our guys fought and played hard and put ourselves in position to get it done ... and didn't get it done."
---