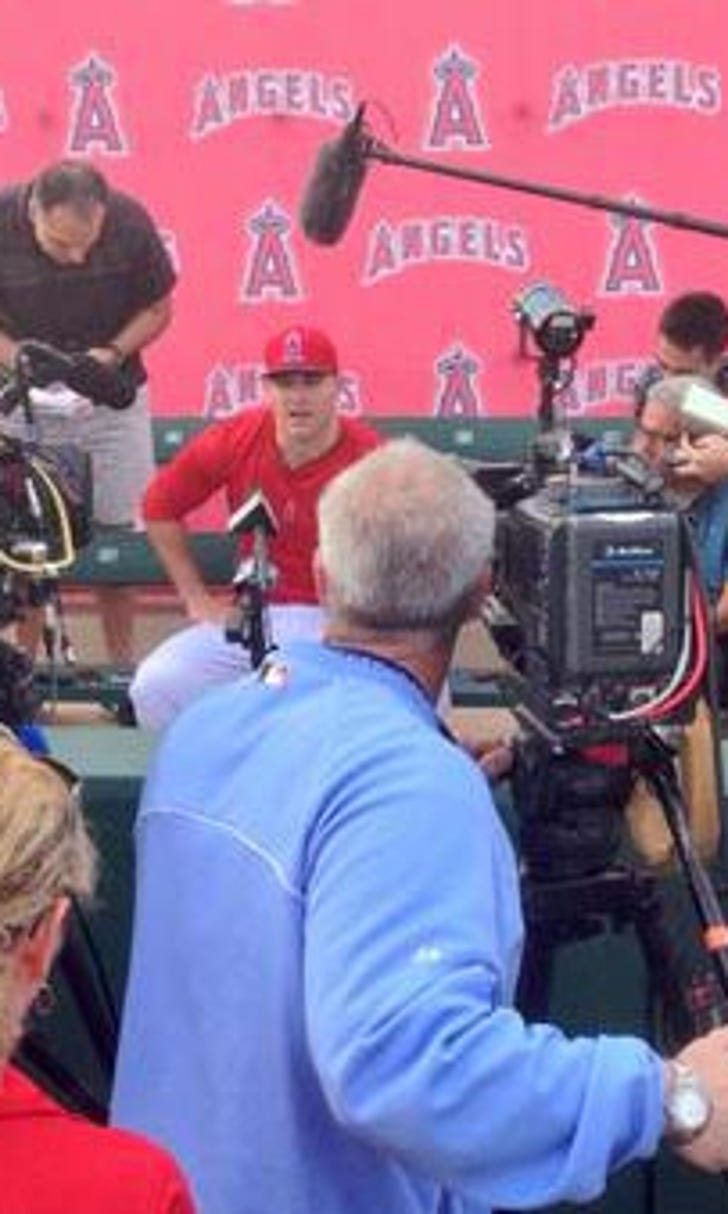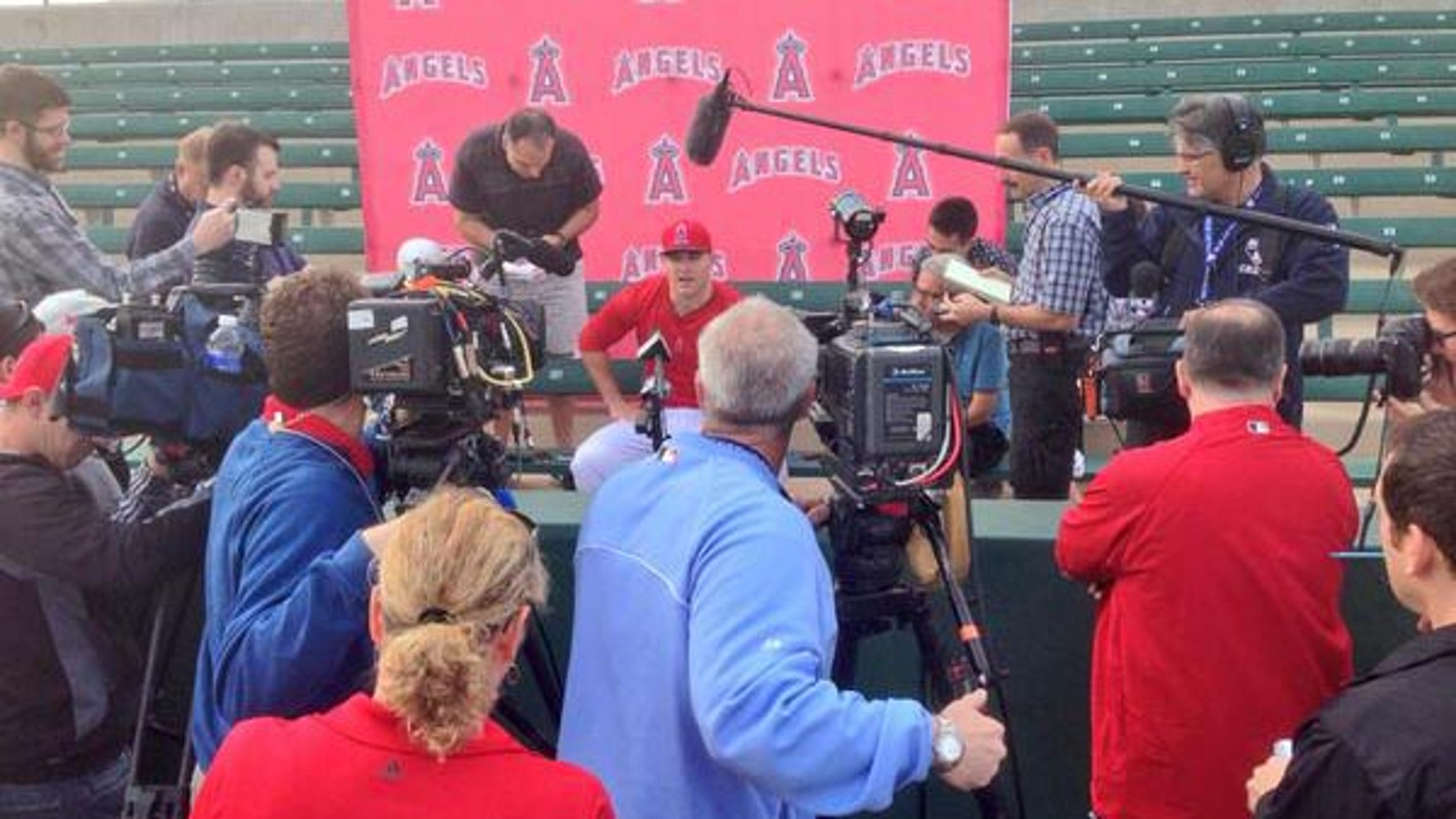 Mike Trout focused on making Angels better, not contract negotiations
BY foxsports • February 19, 2014
TEMPE, Ariz. -- If this is a dream, Mike Trout isn't ready to wake up. Not yet.
He's 22-years-old, has two big league seasons under his belt and still wears a smile full of innocence and wonder. As a kid growing up in New Jersey, all he wanted was to play baseball for a living, and now he's doing it.
He's the face of the game, with a social media appeal so strong that when he tweeted the other day that he was flying into Phoenix, 200 people showed up at the airport.
Even President Obama mentioned his name this month in a speech about a farm bill.
"To get a shout-out from the President is a crazy feeling," Trout said.
"I really can't explain the last couple of years of my life. It's been great, and I'm having fun doing it. It's what I wanted to be as a kid growing up, and I'm taking full advantage of it."
Trout joined his Angels teammate for the first day of workouts for position players on Wednesday, although his first obligation was a sit-down with a dozen or so reporters in the stands at Tempe Diablo Stadium. And before anyone could broach the subject, he addressed rumors about possible discussions regarding a long-term contract.
"I know what you guys are going to ask," he said. "I'm here to get ready for the season. I don't want to comment on the contract negotiations and stuff. I'm here to just get ready and prepare myself for the upcoming season."
Trout is still four years away from free agency, but he could become arbitration-eligible in one more year, and the Angels have acknowledged they're interested in signing him to a multi-year deal.
The sums of money that have been mentioned -- starting at $300 million for 10 years -- are possible distractions that Trout would have to deal with. He's heard the numbers, but he's avoiding the subject.
"It's interesting what people are saying about it, but other than that I don't want to comment on it," he said.
Manager Mike Scioscia added: "He won't let it be anything that's going to become a distraction on the field. He's here to play baseball. It's no different than any year he's been here."
Certainly, Trout will be a major figure in the Angels' hopes to end their playoff drought at four years. He's been their most consistent offensive player, producing .326 and .323 batting averages and totaling 57 home runs, 238 runs and 180 RBI. He is one of just four players -- along with Joe DiMaggio, Ted Williams and teammate Albert Pujols -- to hit .320 with 50 or more homers and 200 runs scored in his first two full seasons.
That gives him plenty of street cred, which is why he spent the previous two days in a Nike photo shoot that also included San Francisco 49ers quarterback Colin Kaepernick, Yankees outfielder Jacoby Ellsbury and Rockies outfielder Carlos Gonzalez.
Few athletes have that kind of star power.
"It's just been crazy," Trout said of the various demands. "It's still going on. It's one thing after another, with people at the airport, the Nike shoot, which I never thought I'd be doing when I was a kid, and now being here in front of all the cameras. It makes me feel good knowing that as a kid, I wanted to be here and be in a place where I could compete and have fun in the big leagues, and now I'm living it up."
There's no reason not to. Facing expectations after two spectacular seasons isn't something that seems to concern him. He remains grounded, and he's energized at the idea of playing baseball again, including the grind of spring training. He even conceded that a return to center field after the trade of Peter Bourjos to St. Louis brings him comfort.
"Playing center field this year, I feel a lot more comfortable coming into the season," Trout said. "Last year, I started out in left and it was a big adjustment for me. Playing center field my whole life, then moving to left, was a challenge. It didn't just affect me in the outfield (but) at the plate."
More than anything, Trout wants to see the Angels end the poor starts that marked their past two seasons. They were out of the American League West race early, leaving little to watch except Trout's growth as a young star.
"The last two years killed us," he said. "We've got to figure out a way to prepare ourselves to get out on a hot streak. I always told myself, and told everybody, the first two weeks of the season can make or break your season. Last two years we came out and struggled a little bit. We've got to improve on that."
---