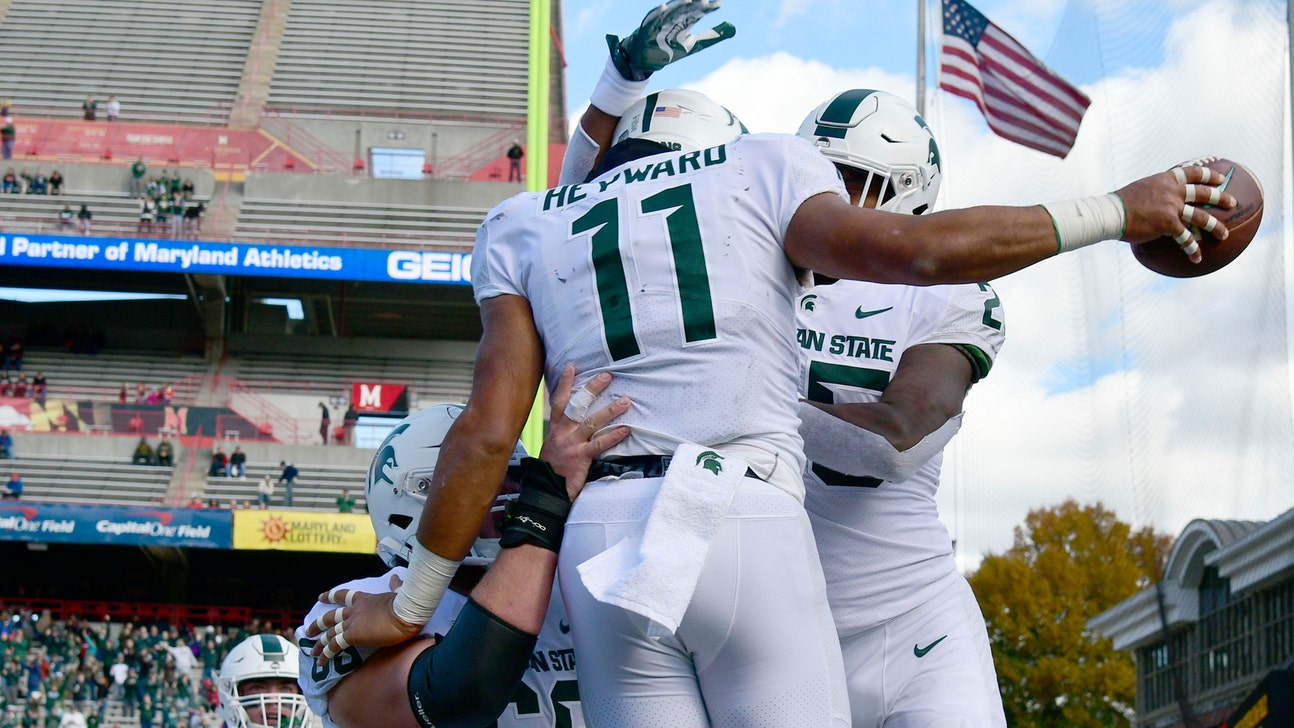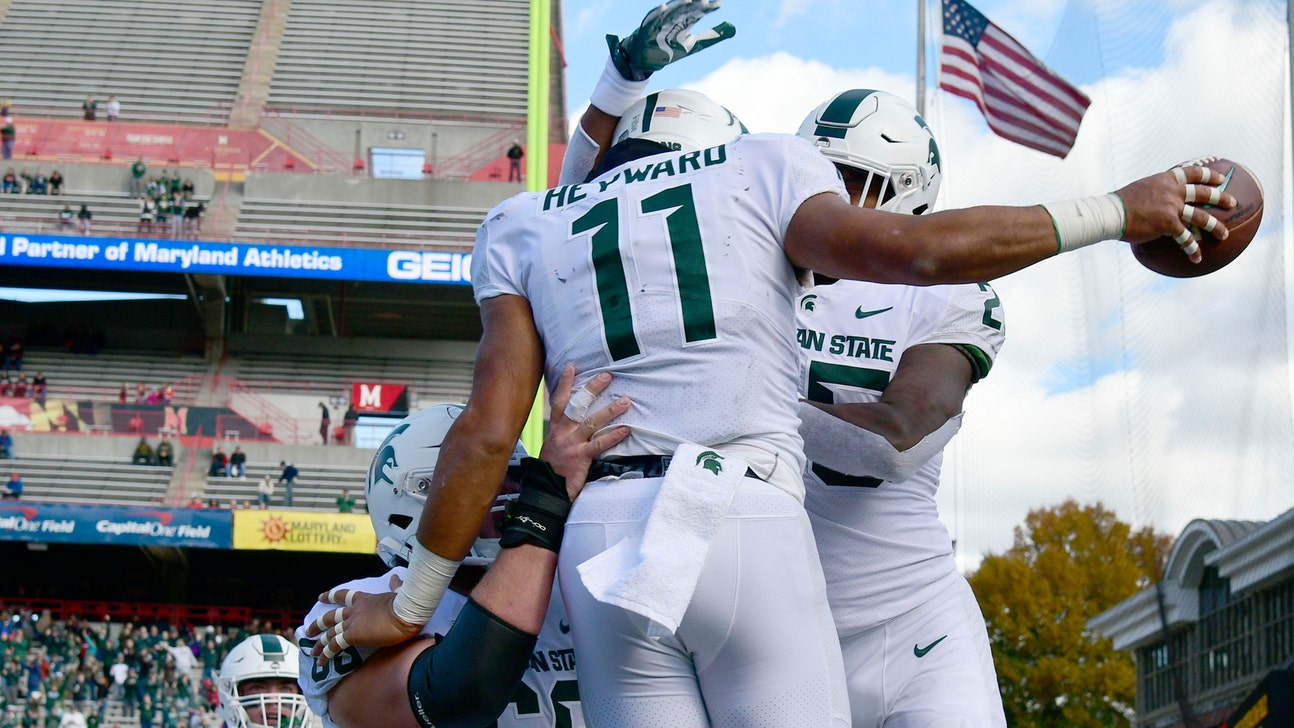 Michigan State stuffs Maryland, becomes bowl eligible
Published
Nov. 3, 2018 5:37 p.m. ET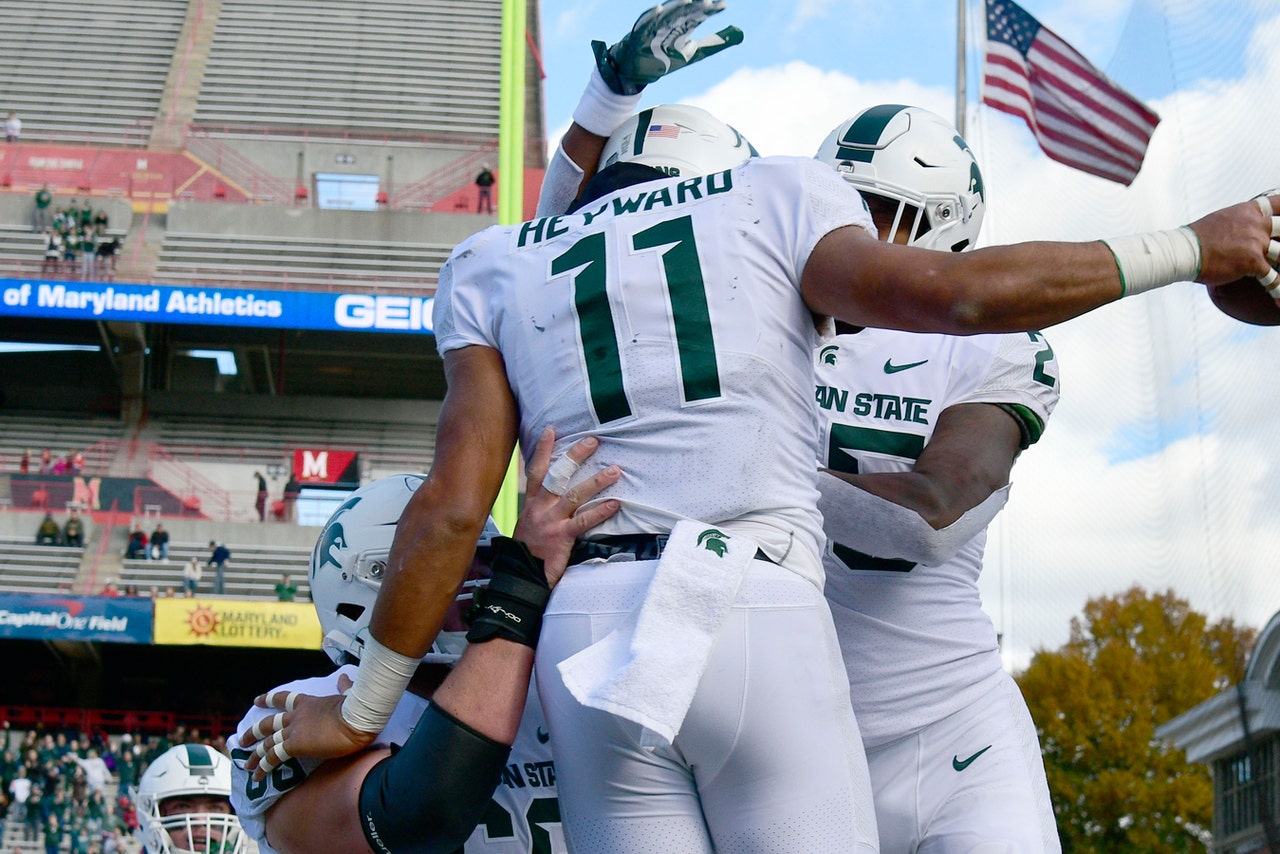 COLLEGE PARK, Md. (AP) -- A tumultuous week for Maryland ended with a sobering defeat.

Michigan State capped a rough stretch for the unsettled Terrapins football program, using a stout defensive performance to secure a 24-3 victory on Saturday.

The Terrapins (5-4, 3-3 Big Ten) managed only 100 yards and nine first downs for interim coach and offensive coordinator Matt Canada.

Connor Heyward ran for 157 yards and two touchdowns to help the Spartans (6-3, 4-2 Big Ten) become a bowl eligible for the 11th time in 12 years, the only exception a 3-9 stumble in 2016.

The loss followed the reinstatement, then dismissal, of Maryland head coach DJ Durkin over the span of two days.

"This week was a challenging week. That's a fact. You guys all know that," Canada said. "But we came in and worked every day. Our kids played hard. We lost today because we just didn't play well enough. We played a really good football team and I didn't coach well enough."

Canada spoke alone, opting not to make the players available to the media.

"Our players are more than capable of speaking and they will," Canada said. "They've had a big week, a challenging week."

On Tuesday, Durkin was reinstated by the University System board of regents following a probe into the culture of the football program. The investigation was launched soon after school president Wallace Loh acknowledged in August that "mistakes were made" in the treatment of Maryland offensive lineman Jordan McNair, who collapsed during an offseason workout and died two weeks later of heatstroke.

The decision to bring Durkin back from paid administrative leave created such a furor among students and politicians that Loh fired Durkin on Wednesday.

On Thursday, the board of regents chairman resigned from his post.

Several outlets reported that three players walked out of a meeting with Durkin on Tuesday. After practice that day, the backup punter, who had spoken out about the coaching staff, was reportedly assaulted by a teammate who supported Durkin.

Coming off all those distractions, the Terrapins were looking to become bowl eligible with their third win in four games. Instead, they fell behind early and never got the offense working.

The Spartans scored on their first possession, added a first-quarter field goal and went up 17-3 in the third quarter when Max Rosenthal recovered a Heyward fumble in the end zone.

"Huge win for us," Michigan State coach Mark Dantonio said. "We stayed focused on the task at hand, which was to win No. 6."

Dantonio fully understood Maryland's unique situation.

"I'm sure there were a lot of distractions. They have faced a very emotional tragedy earlier in the year," Dantonio said. "For that, we are all very sorry. Everything else that's going on is difficult for us to comprehend, being on the outside looking in. But our thoughts and our prayers go with the McNair family and also our thoughts are with the entire Maryland football program as they move through challenging times."

Maryland's effort to come back was thwarted by two fourth-quarter turnovers. Javon Leake lost a fumble on the MSU 26 and Byron Cowart fumbled on an interception return with the Spartans recovering in the end zone for a touchback.

"We make that score, it's 17-10 with 11 minutes to go, we're right in the game," Canada said.

On the next play, Heyward ran for an 80-yard touchdown for a 24-3 lead with 11 minutes left.

"I don't know how to describe it," Heyward said. "You're just smiling and then looking at the Jumbo screen hoping you don't get caught."

Maryland's strong running game was limited to 26 yards (on 29 carries) by the nation's top-ranked rushing defense. Kasim Hill went 8 for 21 for 74 yards for the Terps on a very windy day.

THE TAKEAWAY

Michigan State: After putting off a decision on his starting quarterback until late in the week, Dantonio settled on senior Brian Lewerke, who returned from a shoulder injury to go 11 for 20 for 87 yards and an interception before being replaced by redshirt freshman Rocky Lombardi.

"I know there were a lot of distractions this week over here (at Maryland), but same for us, not knowing exactly what's going on as well," Dantonio said.

The Spartans have some work to do in the passing game, but the defense is good enough to make up for that and keep them competitive against any foe.

Maryland: When the Terps are bad, they're bad. Maryland's one-dimensional offense sputtered again, and those two turnovers in the fourth quarter didn't help. Maryland's four losses this season have come by a combined 86 points.

EJECTED

Terrapins defensive tackle Mbi Tanyi was ejected in the second quarter for throwing a punch at a Michigan State player.

UP NEXT

Michigan State: The Spartans host No. 8 Ohio State.

Maryland: The Terrapins travel to Indiana.
---