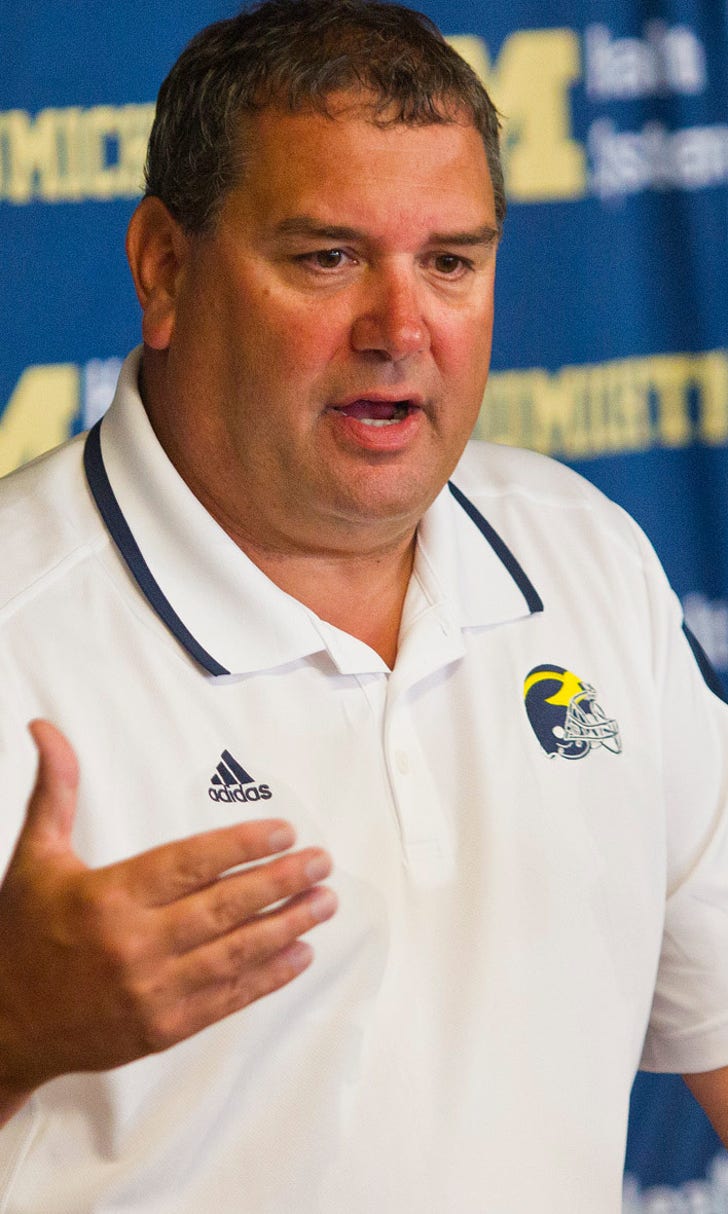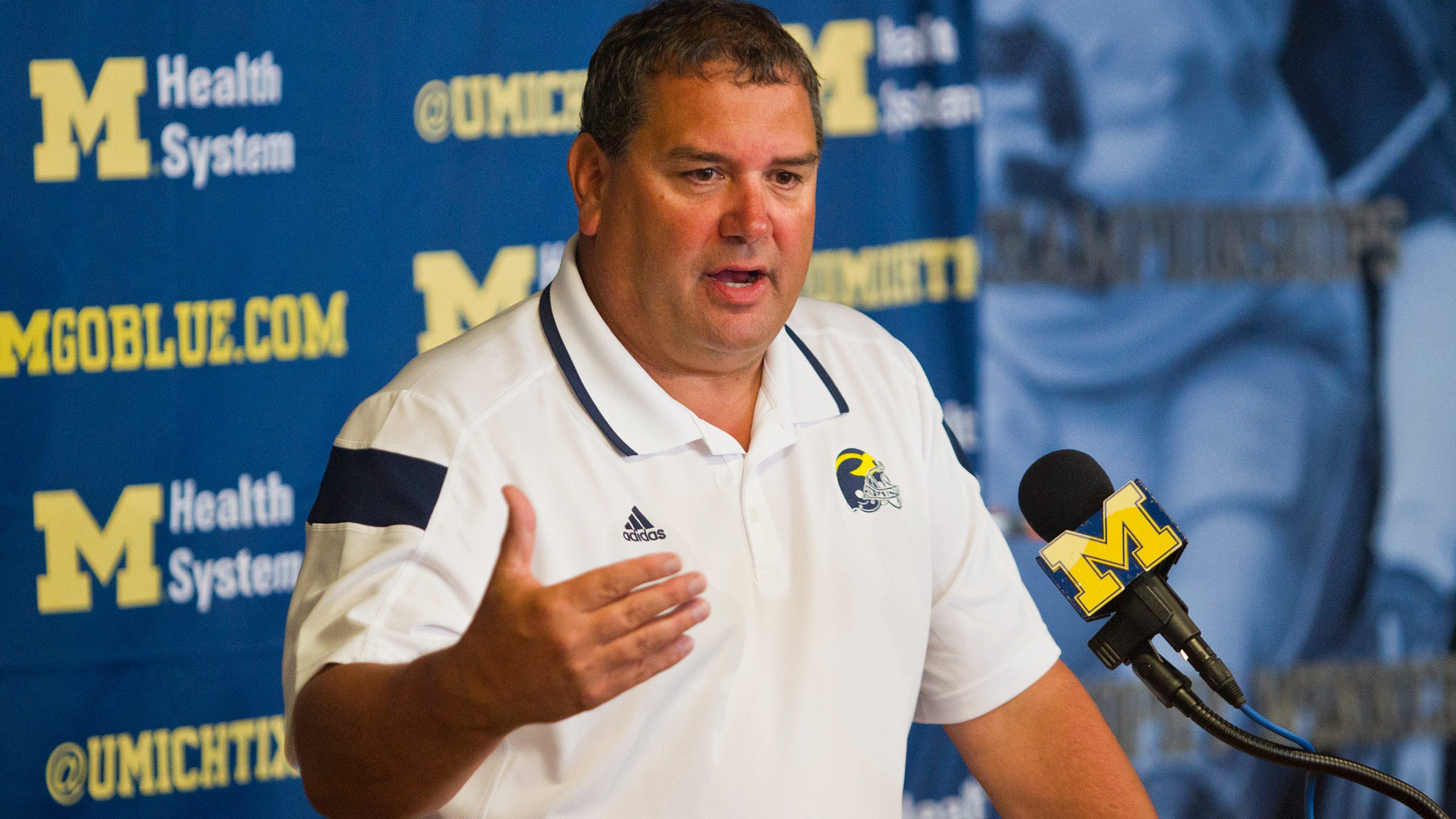 Michigan going back to playing smash-mouth football
BY foxsports • August 10, 2014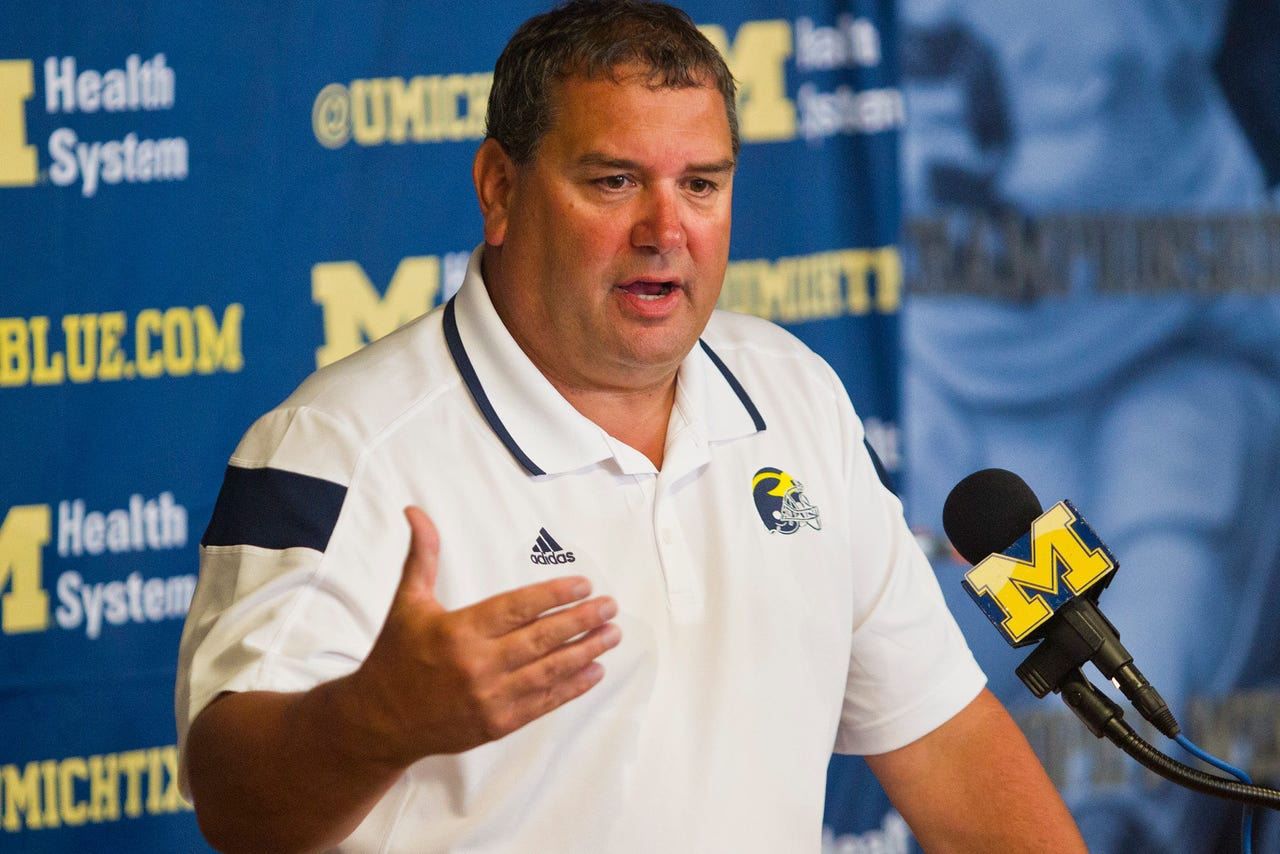 ANN ARBOR -- After all these years, Michigan is going to play smash-mouth football again. 
Brady Hoke and new offensive coordinator Doug Nussmeier were both clear about that at Michigan's Media Day at Schembechler Hall. 
"I want to be a football team that can run the ball," Hoke said. "You always want your team's execution level to be high, no matter you play, but we want to get back to the toughness that has personified this program for years. These kids understand that, and they are starting to show some progress."
Nussmeier, hired away from Alabama, echoed his new boss.
"We are going to pound the ball inside," he said. "We are working every day in every drill to get our players ready to do just that. If we give them enough repetition, they will be able to perform the way we need them to perform."
Nussmeier was speaking a few feet from the new centerpiece of Schembechler Hall's museum -- a spiral column containing one engraved football for each of the school's national-record 910 victories. 
"There are high expectations on this team, but that's the reason you play at Michigan and that's the reason you coach at Michigan," he said. "You are expected to perform, and you are expected to win."
That's not going to be as easy as Hoke and Nussmeier make it sound, though. Last year's team was almost a parody of the great Michigan teams of the past, as they were almost completely unable to get any production from their running backs. To make matters worse, a struggling offensive line lost its only two productive members, Taylor Lewan and Michael Schofield, to the NFL.
"Last year, this was definitely Taylor and Michael's offensive line," said Kyle Kalis, one of the linemen who will need to improve this season. "That was a good thing, because they were seniors and they had the experience to teach the rest of us what we needed to know.
"This year, though, we've got to take over and be the leaders. We haven't performed up to expectations yet, and we need to step it up."
Despite the disappointments of the past two seasons, Hoke's boss, athletic director Dave Brandon, said it would be a mistake to say it's a make or break year for a coach with three years left on his six-year contract.
"I don't think it is a pivotal year," Brandon said Sunday in an interview with The Associated Press. "It is another year to make progress and show growth with more recruits who are the type of athletes he wants for his style of play."
Hoke had 11 victories in 2011, went 8-5 the next year and 7-6 last season, but Brandon said Hoke is having success in other ways as the Wolverines' leader.
"Sadly, there are people who only care about wins and losses," Brandon said. "Part of Brady's job description is to teach life lessons that help young men become successful in life, and he's doing a great job at that."
Meanwhile, the Wolverines have to find a starting running back. At the moment, sophomores Drake Johnson and De'Veon Smith are battling for the No. 1 spot, with another sophomore, Derrick Green in third.
"Right now it would be Drake and De'Veon as 1 and 1-A, with Derrick as No. 2," Hoke said.
Johnson was the top-ranked player in the group a year ago, but he sustained a season-ending knee injury in the first game of the year. His recovery, though, has gotten him right back into the mix.
"That was really tough, especially to have it happen that early in the season," he said. "But coming back from it has made me stronger mentally, and that's good for me as a player. I know that, whatever happens this year, it won't be as bad as last year."
Nussmeier wasn't in Ann Arbor when Johnson got hurt, but he still appreciates what he has done. That doesn't mean he's just going to hand him the starting job.
"Drake is very explosive despite the injury, but De'Veon is one of those hard-hat guys who brings you everything he has every day and Derrick is doing some really good things," he said. "We need one of those three to separate themselves from the group and really give us a No. 1 back."
If the offensive linemen and running backs do take a big step forward, this could be the season that establishes Hoke in the eyes of Michigan fans. If not, and if Devin Gardner has to try to carry the offense by himself for another year, it could get ugly at the Big House.
---