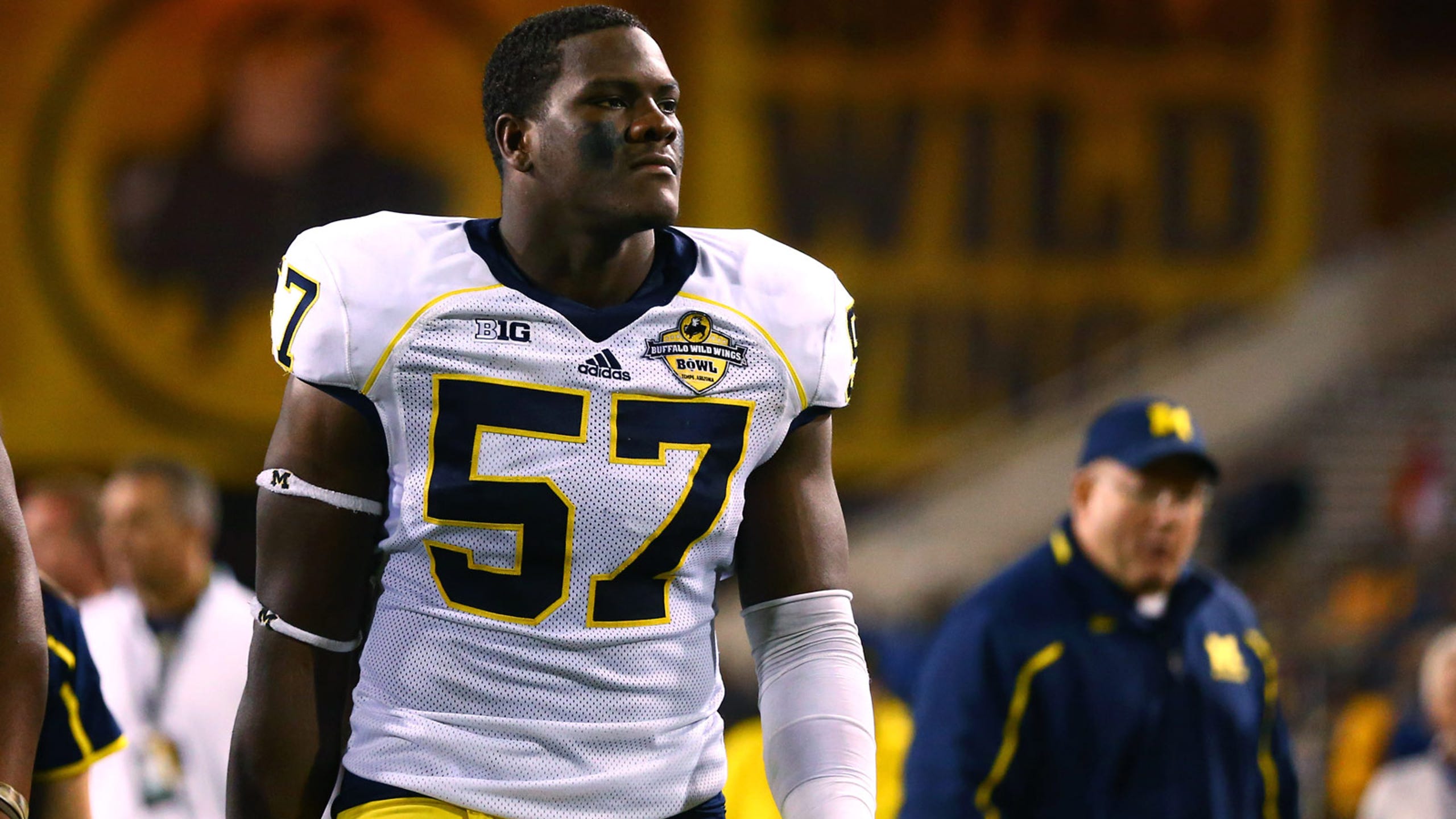 Michigan dismisses DE Frank Clark from team
BY foxsports • November 17, 2014
Michigan defensive end Frank Clark has been thrown off the team after being arrested for domestic violence over the weekend.
Clark was arrested Saturday and charged with one count of domestic violence and one count of assault after an alleged fight with his girlfriend in an Ohio hotel room. According to the victim's statement to police, Clark attacked her in a room full of her family members, including a 3-year old and a 5-year-old.
After issuing a statement on Sunday that he was still getting details about the incident, coach Brady Hoke took decisive action on Monday morning.
"Frank Clark has been dismissed for violating team rules from the Michigan football program," he said in a statement. "This is a tragic situation. Our student-athletes will be held accountable when their actions fail to meet the standard we have at Michigan. There is a legal process that will occur and we respect that process."
Clark, 21, pled guilty to a felony home-invasion charge in 2012 after stealing a laptop from another student's dorm room. Because he was then under 21, he was allowed to enter a program that would expunge the charge from his record if he completed a year of probation.
This season, Clark has been Michigan's best defender, and played his best game of the year in the Nov. 8 10-9 victory over Northwestern. It was his pass rush that disrupted Northwestern's attempt at a game-winning two-point conversion. Clark had also started to be mentioned as an NFL draft prospect.
Clark is at least the fifth Michigan football player arrested in the last 12 months, including three for assault.
It started with Taylor Lewan's arrest for assault on Dec. 1, 2013. Graham Glasgow (DUI), Jake Butt (disorderly conduct) and C'sonte York (assault) have been arrested in 2014, with York also being thrown off the team.
---