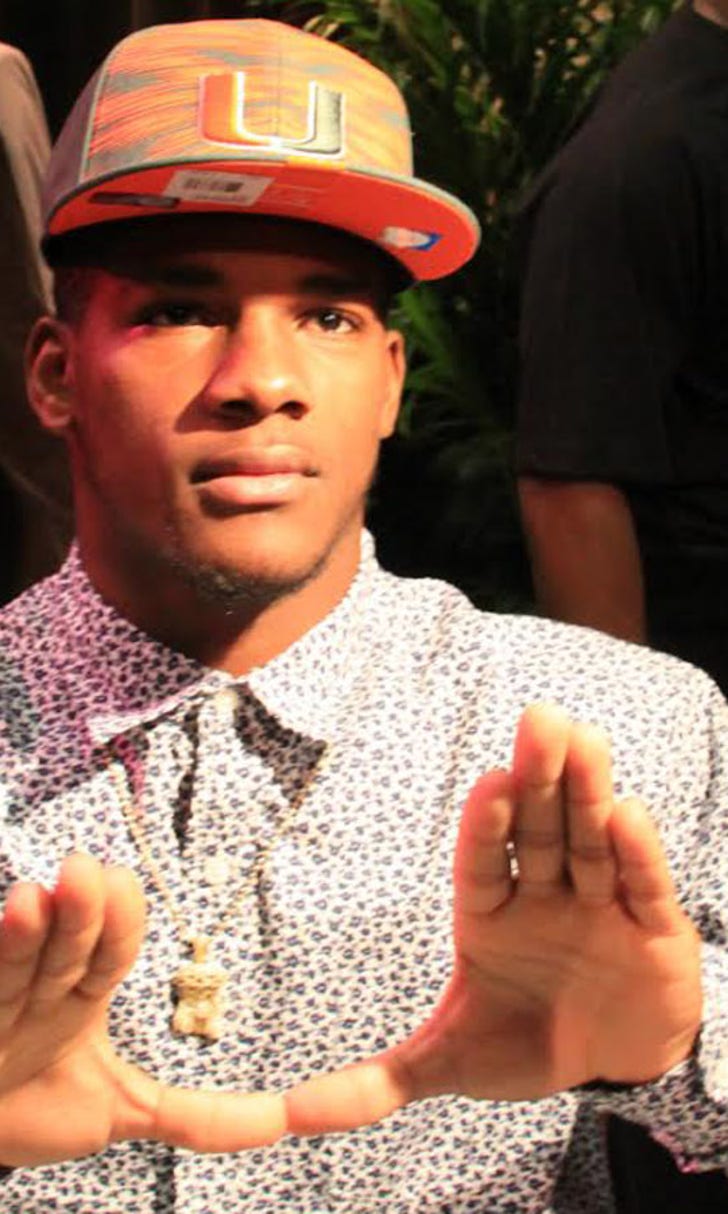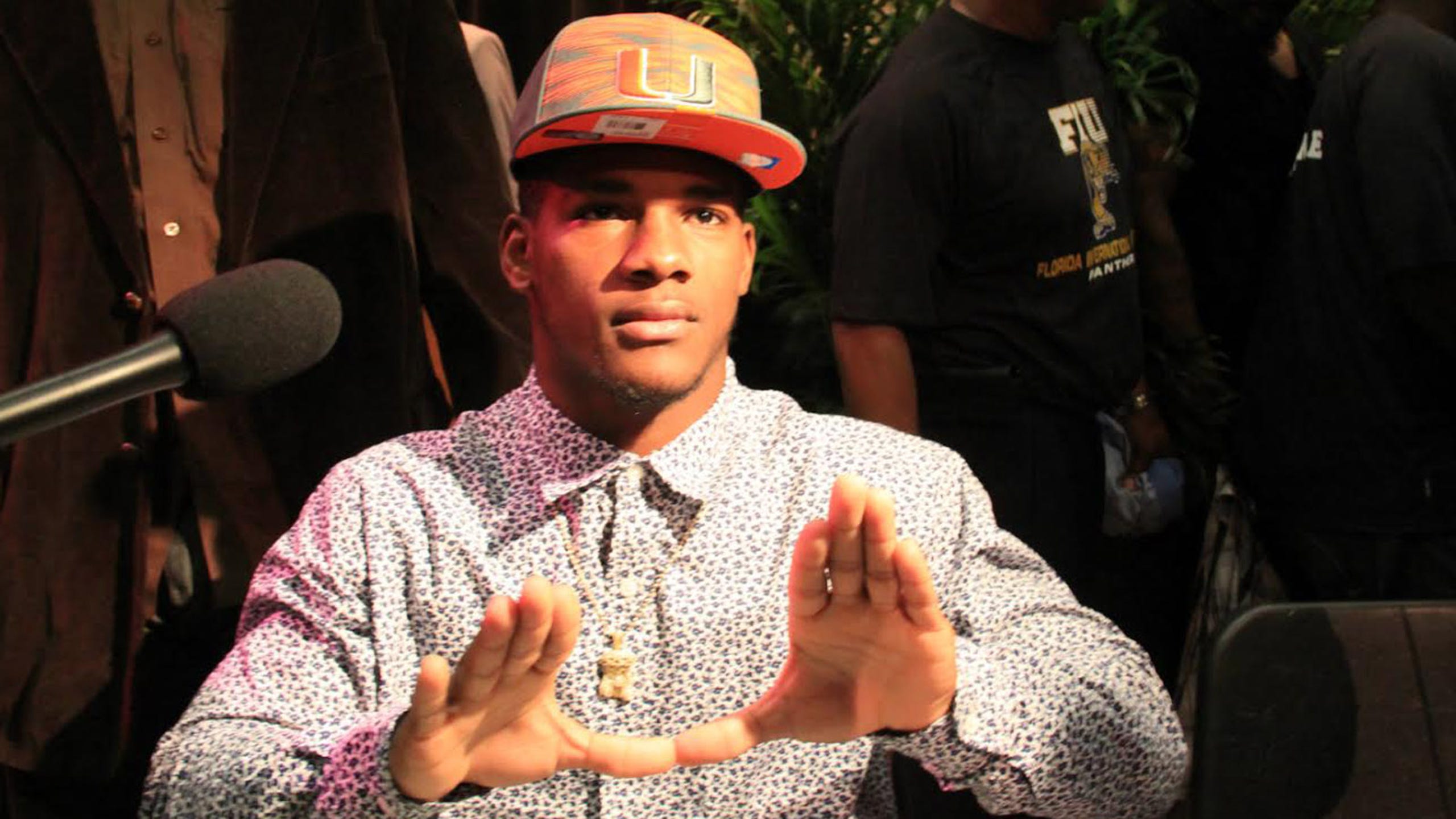 Miami's 2015 class lacks sizzle but addresses holes in roster
BY Hana Ostapchuk • February 4, 2015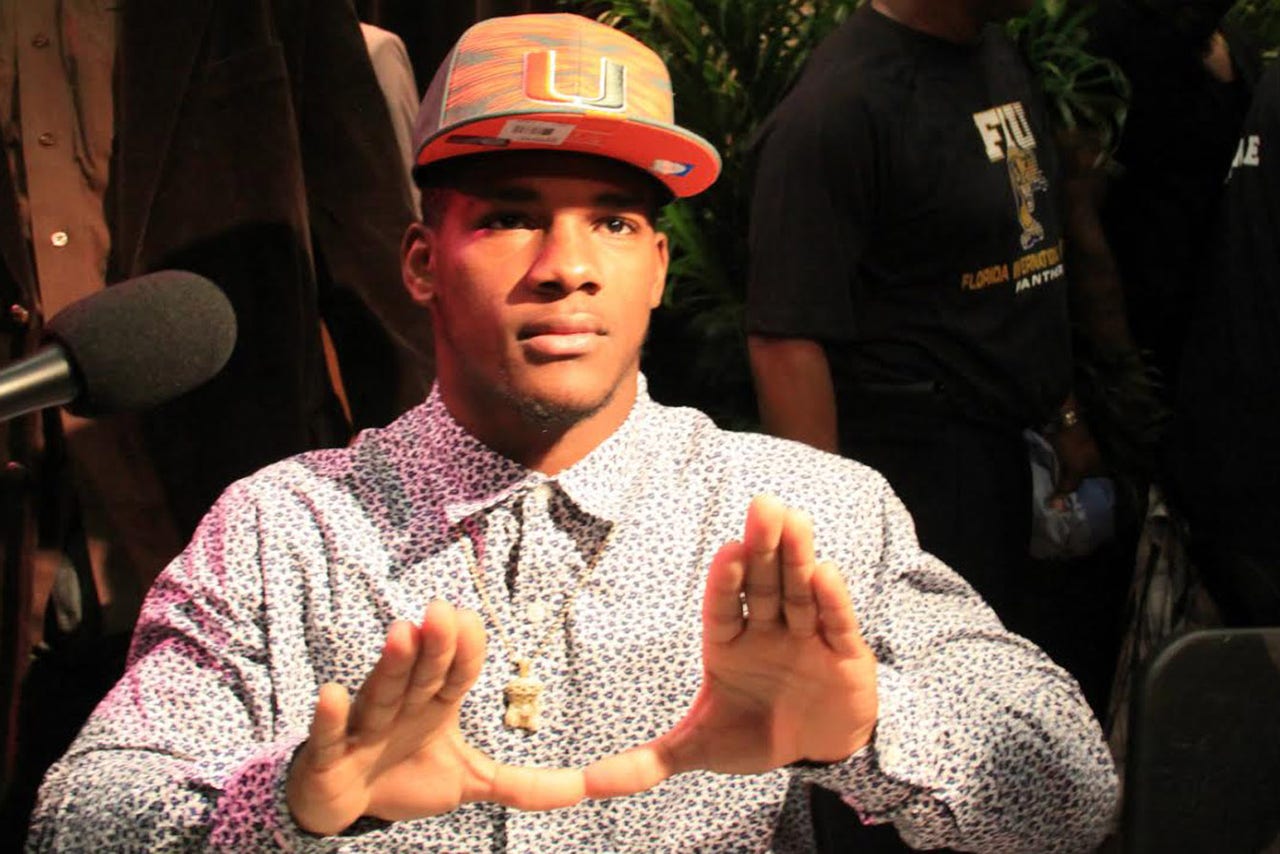 CORAL GABLES, Fla. -- The University of Miami's Class of 2015 isn't glamorous like in years past. Certainly not with this eye-catching breakdown: six offensive linemen, one running back, one wide receiver and no quarterbacks.
What it did do, according to head coach Al Golden during Wednesday afternoon's press conference, is fill needs.
The Hurricanes needed to replace all-time program rushing leader Duke Johnson and did so with Miami Booker T. Washington's Mark Walton.
The Hurricanes needed to replace Phillip Dorsett, who scored 10 touchdowns in 2014, and did so with Calvert Hall (Maryland)'s Lawrence Cager. He brings "great length" and "excellent ball skills." Miami also returns 11 guys who have caught passes.
The Hurricanes needed to replace all-time program tight end leader Clive Walford and did so with Jerome Washington, the top junior college prospect in the nation.
But the most glaring need was the lack of depth at offensive line.
Miami lost three starters to either graduation or the NFL draft this winter. Two others underwent knee surgeries in 2014. The unit gains four-star Bar Milo, who protected quarterback Brad Kaaya at Chaminade College Prep in California. On average, the six incoming players are 6-foot-5 and 312 pounds.
"Because we lost one of each that's where we are," Golden said of the class. "The one position we had to overcompensate for was offensive line. I prefer not to do that in any single year. If you take four offensive linemen every year you'd be very happy. That would give you about 15-16 over a four-year period. I think when you have to take six it really shows you how we were not really where we needed to be a year ago on the offensive line, and it takes away from you getting the skilled guy or somebody who can do something with the ball in their hands."
Just two of Miami's 20 signees were listed in Scout's top 300 list: Miami Killian defensive back Jaquan Johnson and Walton. In total, three four-star and 13 three-star recruits signed. Seven are from the tri-county area.
These numbers are staggering for a program that created the "City of Miami," staking claim on South Florida's hotbed of talent. Golden said they are skewed in 2015 because of the O-linemen. He also mentioned it not being a "big skill year." Plus, 51 guys saw action in their first year in 2014. Another 17 redshirted.
As of Wednesday, Miami already has 13 commits for the Class of 2016 — all from Florida. While the Hurricanes plan to get up to 78-79 scholarship players in 2015, they hope to be back at 85 for 2016.
"Last year was clearly our best year and not just in numbers," Golden said. "It's not really about numbers. It's about performance and production. Chad Thomas and Joe Yearby and Kc McDermott, Nick Linder, Trevor Darling. All of those guys were either starters or big contributors and so many other guys."
UM needed two corners, two safeties and three linebackers and got them. Next year, the program will likely need five wideouts. The breakdown of needs changes based on personnel.
Johnson, an early enrollee, will be joined by high school teammate Sheldrick Redwine. Redwine, who also plays in the secondary, switched his allegiance from Louisville to Miami on National Signing Day.
Walton, who admitted it was a relief to end the stressful recruiting process, chose Miami over Georgia and West Virginia. He had been a verbal commit to the Hurricanes. Earlier this week, UM lost out on Fort Lauderdale St. Thomas Aquinas running back Jordan Scarlett. Dexter Williams, another four-star guy, picked Notre Dame over Miami.
Rated the 20th-best running back in the nation and fourth in Florida, Walton said having former high school teammates Thomas and Demetrius Jackson at UM also impacted his decision. So did the opportunity of playing with Kaaya, who he called one of the top young quarterbacks in the country.
"I think it was the perfect fit for me to go into that program and have my family to back me up 100 percent," Walton said. "Not leaving the city of Miami, and my family can be there for me when I need them to. It was a perfect fit for me."
His teammate, linebacker James King, switched from Florida Atlantic to Miami after the Hurricanes expressed interest last week. He called it the best fit because of the combination of being at home and Miami's NFL lineage at linebacker.
Denzel Perryman, a finalist for the Butkus Award, is headed to the NFL. The Hurricanes signed King, Charles Perry and Jamie Gordinier to join the linebackers corps.
Despite the 6-7 record in 2014, Walton believes the Hurricanes are close to returning to their winning ways. The program can be turned around, and it starts with the players who call or will call Coral Gables, Florida, home.
Over the past three years, Booker T. Washington has won a state title. In 2014, the Tornadoes were national champions. How can that carry over for Walton and King with the Hurricanes?
"It's the same thing," King said. "Just go out there and work hard, put that work in. Every day work hard and we'll be able to win again at UM. I know it takes certain kids to be able to go there as a winning program to work hard. I know me and Mark are like that, so we'll work hard and go out there and do what we've got to do."
Five players are already enrolled at Miami: Johnson, offensive lineman Jahair Jones, defensive end Scott Patchan, Perry and Washington.
"The five guys that we brought in midyear -- from an academic standpoint, from a responsibility standpoint, understanding the big picture -- (they're) just awesome to be around," Golden said. "All these guys. I think that says a lot, and that's something I'm looking forward to coaching these guys."
Miami also announced that former Florida defensive lineman Gerald Willis will transfer. He was dismissed from the team last month. Although he won't be eligible this upcoming season, the former five-star recruit wanted to join the Hurricanes and former teammate Stan Dobard. Punter Justin Vogel, who walked on the team last year from the Gators, also earned a scholarship.
Golden said he and the coaching staff will continue to evaluate the quarterback position. Kaaya, redshirt freshman Malik Rosier, who is also on the baseball team, and redshirt sophomore Gray Crow are the only returning players.
"Overall excited about this group and excited to move forward with the 2015 group tomorrow," Golden said.
Most significant signing: Mark Walton
After missing out on Scarlett and Williams this week, the Hurricanes needed a running back in this class. With the addition of Walton, a guy who hasn't lost in three years of high school football, UM gets a winner. He joins a backfield that includes Yearby, rising junior Gus Edwards and redshirt freshman Trayon Gray.
"Obviously with the departure of Duke Johnson we're pleased to bring in Mark Walton, a young man from Booker T. who obviously had a prolific career there and had a great run in the playoffs," Golden said.
Biggest surprise: Kendrick Norton
Not really any surprises here. The verbal commits expected to sign with the Hurricanes did so. Other than the late switch by Redwine, Tyree St. Louis' decision to stick with UM stands out.
Most important may be Norton choosing Miami over Auburn on Wednesday. The defensive line, which has been an issue in the past for the Hurricanes, added a 6-foot-3, 310-pounder. Sophomore Courtel Jenkins, rising junior Michael Wyche and rising senior Calvin Heurtelou are also in the middle.
"Young man we're really excited about," Golden said. "He brings us strength, brings us power. He's a big man. He's got to be 315, 320 pounds. In that range. We're excited about that."
The one that got away: Take your pick
Scarlett? Williams? A reporter asked Golden the reason for 14 decommits. Misevaluation? Kid picking another school?
"It's all the above," Golden said. "Maybe that's just the direction we're going. I don't know. We don't want to get into that business. At the end of the day we're happy with our class and the needs that we met in this class. But it's a variety reasons, and they're individually based. It's tough to just sit up here and paint a brush and say why it happened."
Rank: 34th nationally, fifth in the Atlantic Coast Conference (Scout)
MIAMI HURRICANES 2015 COMMITMENTS
| | | | | | |
| --- | --- | --- | --- | --- | --- |
| Player | Pos | HT | WT | Stars | Scout.com rank |
| Jaquan Johnson | DB | 5-10 | 172 | 4-star | 119 |
| Mark Walton | RB | 5-9 | 182 | 4-star | 149 |
| Bar Milo | OL | 6-6 | 285 | 4-star | N/A |
| Lawrence Cager | WR | 6-5 | 200 | 3-star | N/A |
| Ryan Fines | DL | 6-3 | 310 | 3-star | N/A |
| Tyler Gauthier | OL | 6-5 | 310 | 3-star | N/A |
| Jamie Gordinier | LB | 6-4 | 235 | 3-star | N/A |
| Michael Jackson | DB | 6-2 | 192 | 3-star | N/A |
| Brendan Loftus | OL | 6-6 | 300 | 3-star | N/A |
| Hayden Mahoney | OL | 6-5 | 290 | 3-star | N/A |
| Richard McIntosh Jr. | DL | 6-4 | 270 | 3-star | N/A |
| Kendrick Norton | DT | 6-3 | 310 | 3-star | N/A |
| Scott Patchan | DE | 6-6 | 238 | 3-star | N/A |
| Charles Perry | LB | 6-1 | 206 | 3-star | N/A |
| Sheldrick Redwine | CB | 6-1 | 185 | 3-star | N/A |
| Tyree St. Louis | O | 6-5 | 315 | 3-star | N/A |
| James King | LB | 6-2 | 205 | 2-star | N/A |
| Robert Knowles | DB | 6-1 | 185 | 2-star | N/A |
| Jahair Jones | OL | 6-4 | 315 | N/A | N/A |
| Jerome Washington | TE | 6-5 | 255 | N/A | N/A |
You can follow Christina De Nicola on Twitter @CDeNicola13 or email her at cdenicola13@gmail.com.
---