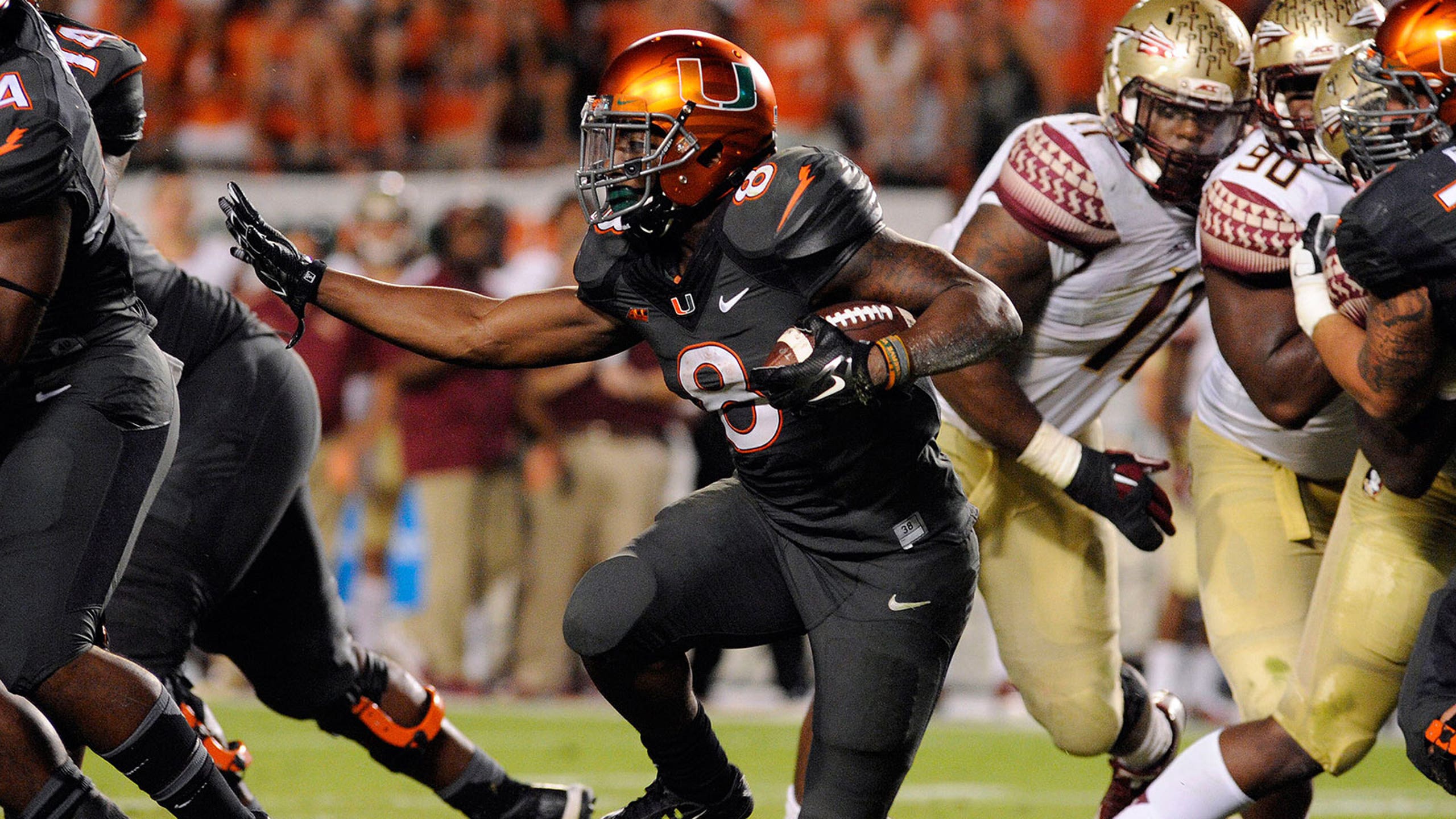 Miami, Virginia meet looking to rebound from recent misery
BY foxsports • November 21, 2014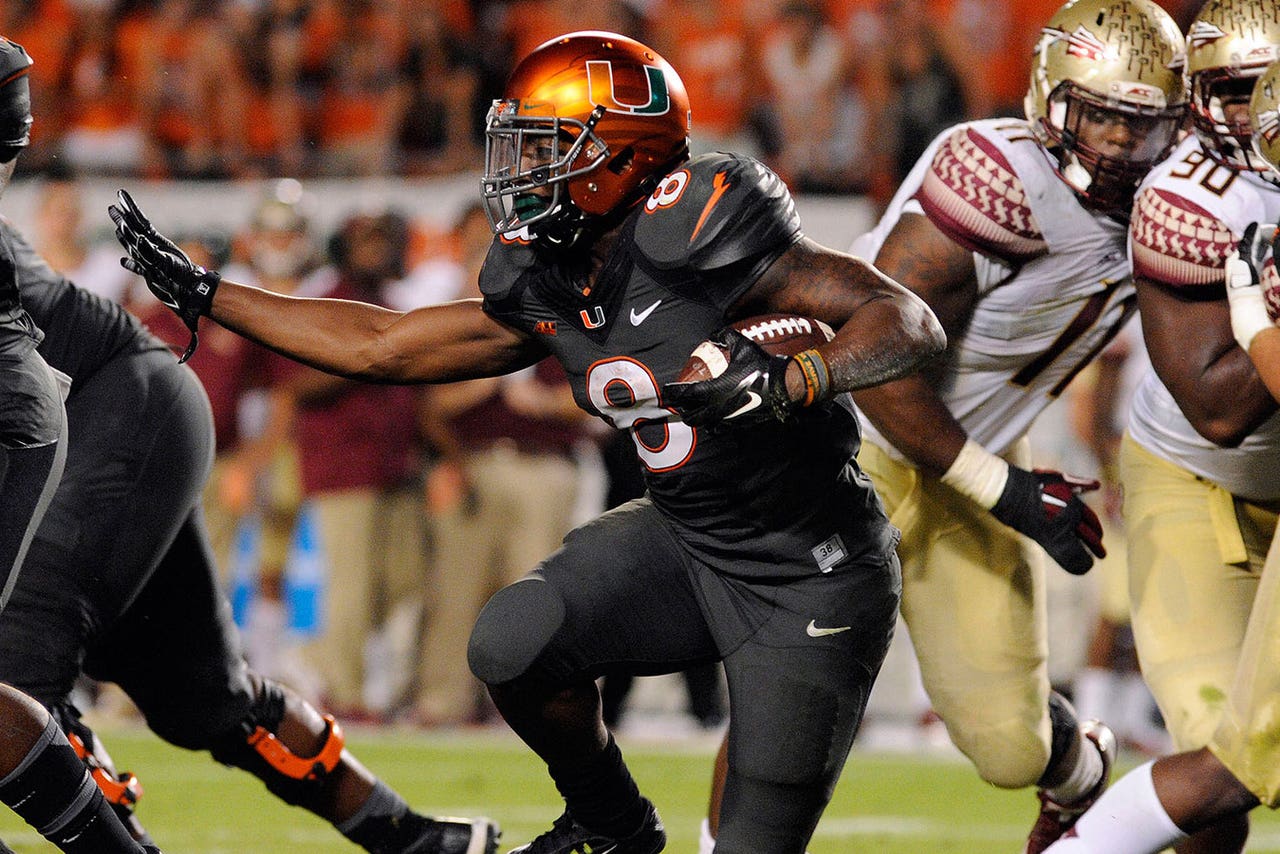 Neither Miami (6-4, 3-3 ACC) nor Virginia (4-6, 2-4 ACC) will sit atop the Atlantic Coast Conference Coastal Division when the season ends in two weeks.
Eliminated from a berth in the ACC title game, Saturday night's matchup at Scott Stadium instead represents a chance for both teams to regroup and end 2014 on a high note.
After opening 4-2, the Cavaliers have dropped four in a row by a combined score of 117-70. They will be coming off a bye, but have lost their previous two games under similar circumstances with head coach Mike London. Last season, the Hurricanes beat the rested Cavaliers, 45-26, in South Florida.
Miami faces the challenge of moving on from a heartbreaking loss to Florida State last Saturday. The Hurricanes led by 16, but watched it disappear in the second half as the Seminoles won their 26th straight game and fifth in the rivalry. UM had strung together three straight blowout victories.
Though Miami leads the all-time series 6-5, Virginia has won three of four. The Cavaliers have taken the past two in Charlottesville under London, including a 41-40 result in 2012.
"The big thing I see with this team is we don't worry about who we play," senior wideout Phillip Dorsett said. "Obviously FSU was a big game, everybody wanted to win that game. This team just comes out and plays football no matter what. A lot of the things we've done the past four to five weeks we came out and played every game the same. We don't worry about who we're playing, we just come out and play ball because we love football and we love to play it. Everybody has the same mentality, and I think we'll be fine."
MATCHUP TO WATCH
Miami's offensive line vs. Virginia's front seven
Defending champion Florida State didn't record a sack and collected just one quarterback hurry against the Hurricanes last Saturday. Freshman Brad Kaaya had time to throw, which not only led to 240 first-half yards but another 80 on the ground.
Virginia's front seven, however, poses a dangerous threat. The Cavaliers have 28 sacks (188 yards) and 66 tackles for loss (311 yards) through 10 games. They have forced 11 fumbles, seven by the opposing quarterback.
Two weeks ago in Tallahassee, UVa created three turnovers against the Seminoles, the same unit that allowed just one sack and one quarterback hurry to the Hurricanes.
Leading the pack are junior defensive end Eli Harold and senior linebacker Henry Coley. Harold has seven sacks and 13 tackles for loss, while Coley is tied with Clemson's Vic Beasley for the conference lead with eight sacks (12.5 TFL).
Fifteen of the 28 sacks come from the linebacking corps. Senior Daquan Romero is third on the team with 73 tackles (two sacks). Sophomore Max Valles has 42 tackles and five sacks.
The rush defense ranks 16th in the nation with 118.6 yards allowed (347.8 overall). The defense averages 2.8 sacks and 6.6 tackles for loss per game.
"On defense they're physical, they're strong, they're smart," head coach Golden said. "I thought they played really well against Florida State."
Miami's ever-shuffling offensive line has permitted just 15 sacks for 114 yards this season, which ranks 28th in the country. Until Kaaya's final throw of a 30-26 loss, he hadn't been intercepted in 90 attempts.
Junior running back Duke Johnson has rushed for 100 yards in six straight games, and the Hurricanes hold an 1,170-307 rush advantage during this four-game stretch.
Junior Ereck Flowers, who underwent knee surgery two weeks ago, returned to left tackle for the FSU game and protected Kaaya's blind spot. Freshmen Trevor Darling and Nick Linder have become reliable starters on the line. Seniors Shane McDermott and Jon Feliciano round out the group. The former has started all but two games since 2012, while the latter has 43 starts (45 games) since his redshirt freshman year.
"This front we're going against this week is a good front," Golden said. "Everybody that plays them (knows) they're long, they've got strength inside, a big mike linebacker that plays downhill, elite pass rushers on the outside in 44 and 7."
TRENDING UP
Miami: Johnson has outrushed opponents by a 718-307 tally in the last four games. The Hurricanes rank 15th nationally in total defense, allowing just 323 yards per game. Sophomore Justin Vogel, a semifinalist for the Ray Guy Award, has dropped 52.6 percent of his punts inside the 20-yard line, best in the nation.
Virginia: The Cavaliers rank eighth in the nation with 95 points off 24 takeaways. That figure is 10th in the country and second in the ACC through 10 games, eclipsing their 12-game total of 21 last season. Freshman free safety Quin Blanding ranks second in the ACC (first in nation among freshmen) with 102 tackles.
TRENDING DOWN
Miami: Despite forcing three FSU turnovers last Saturday, the Hurricanes lost for the first time in 14 occasions under Golden when creating that many takeaways. Miami is 1-3 on the road this season, but its last away game was the lone win. UM has missed four extra points (36 of 40), including a crucial block in the first half of Saturday's four-point loss to the Seminoles.
Virginia: During the four-game losing skid, the Cavaliers have scored just one rushing touchdown after tallying 10 through the first six contests. Virginia's average field position is the 20-yard line, compared to the 33 during the 4-2 start. While Virginia scores in the red zone 82 percent of the time, just half of the opportunities go for touchdowns.
INJURY REPORT
Miami: Doubtful -- S Deon Bush (Lower Extremity); Out -- OL Alex Gall (Lower Extremity
Virginia: Probable -- CB Brandon Phelps (Hamstring); Questionable -- OL Michael Mooney (Undisclosed), OL Ryan Doull (Undisclosed) (report via statfox.com)
DID YOU KNOW?
-- Johnson needs just 122 more yards to become Miami's all-time leading rusher.
-- Kaaya is one of 15 quarterbacks nationally to throw for 2,400 yards, 22 touchdowns and 10-or-fewer interceptions.
-- Cavaliers wideout Darius Jennings will wear Miles Gooch's No. 17 to honor his fellow senior, who sustained a season-ending injury against North Carolina.
-- Thirty-four fourth- and fifth-year Virginia players will be honored for Senior Day.
-- Saturday marks the first night game in November for Virginia.
-- Golden and London were assistant coaches at Virginia from 2001-04. Miami defensive coordinator Mark D'Onofrio was an assistant there from 2004-05.
QUOTE BOARD
"Literally just dropped the ball." -- Freshman wideout Braxton Berrios on his dropped touchdown against FSU.
"It doesn't matter if it's Florida State or Virginia. We play everybody the same." -- Freshman linebacker Darrion Owens on the team's approach this week.
"I've been labeled as just a vertical threat, but I worked hard this offseason and last offseason, and I felt like last year I would be able to show more of what I could do. But obviously I got hurt. This year I'm just trying to show everybody I'm more than a deep threat. I can catch, run routes, I can catch the tough catches and all. I'm just expanding everything." -- Senior wideout Phillip Dorsett on what he hopes he showed on Saturday.
"For them to put me in there for that long of a time I feel like I'm earning their trust. Just keeping going. That's all I'm doing." -- Junior defensive tackle Michael Wyche on his playing time against FSU.
"Can we save that for another day?" -- Head coach Al Golden on the big picture after four years at the helm of the program.
LOOKING AHEAD
Miami closes out the regular season by hosting Pittsburgh on Nov. 29.
You can follow Christina De Nicola on Twitter @CDeNicola13 or email her at cdenicola13@gmail.com.
---