Miami takes control in second half, cruises past Drexel to stay unbeaten
BY foxsports • November 20, 2014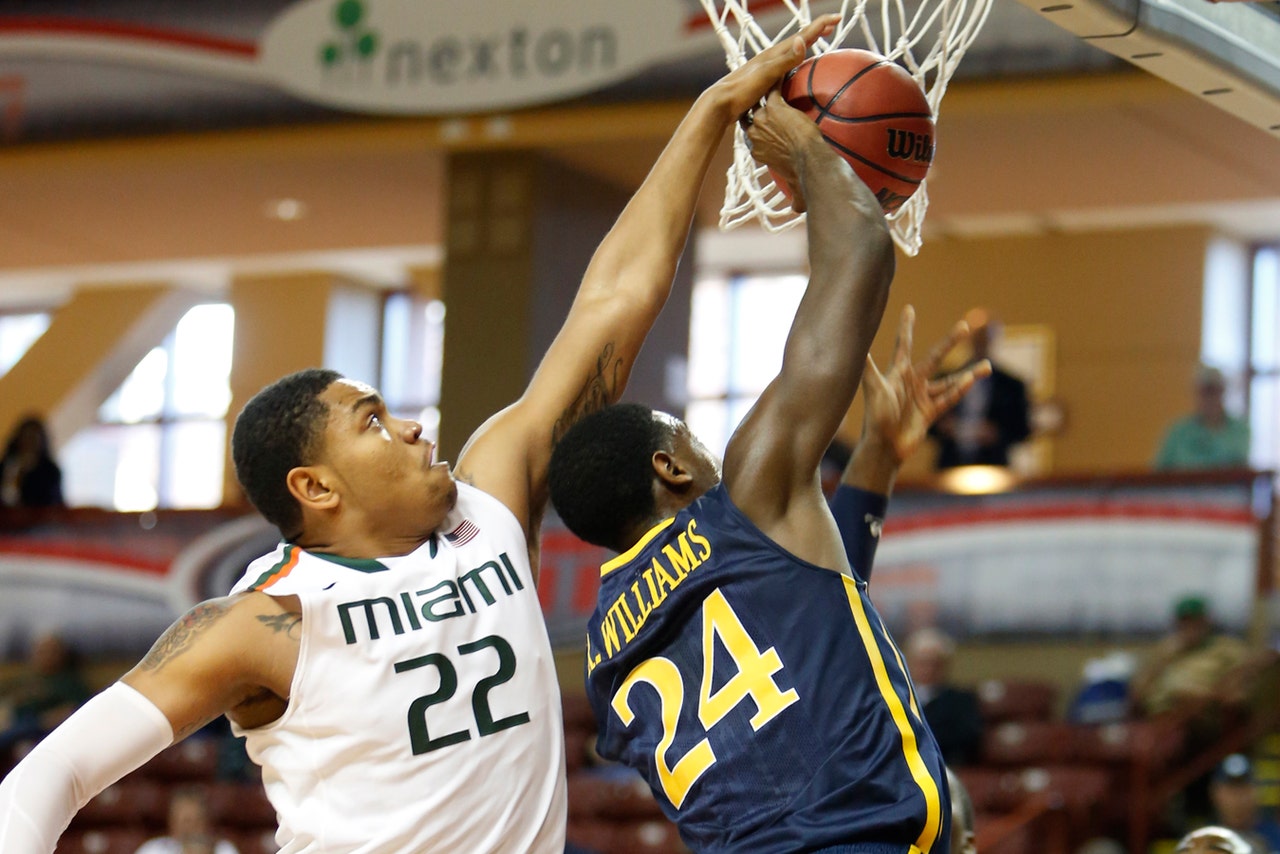 CHARLESTON, S.C. (AP) -- Angel Rodriguez made sure Miami's celebration of the upset of No. 8 Florida didn't linger into the Charleston Classic.
Rodriguez had 15 points, including 10 straight during a second-half 28-11 run, in Miami's 66-46 victory over Drexel on Thursday.
Miami will face Akron on Friday for a spot in Sunday's championship game.
Rodriguez wondered how well the team would put that win aside and focus on the tournament. The Hurricanes ended the Gators' 33-game home win streak on Monday night.
"It was a great win, but that doesn't mean anything if we lose our next game," Rodriguez said. "That's only our second win and we have 20-something more games."
Miami coach Jim Larranaga said some younger players acted a bit too happy at practice Wednesday. He took care of that after the workout, saying it's not what he expects from the Hurricanes.
"I let them know the Florida game was over and we've got a new challenge ahead of us," he said.
That's Akron, who also won its opening tournament game by a 66-46 score over Southern Cal.
The Hurricanes, who started 3-0 for the second time in Larranaga's three seasons, closed the opening half on a 14-2 run against the Dragons. After Drexel (0-3) cut the lead to 28-24 just after halftime, Rodriguez led the second-half run that put the game away.
Tavon Allen led the Dragons with 13 points.
Rodriguez had a career-high 24 points in the Florida win. He had three of Miami's season-high 11 3-pointers against Drexel.
Manu Lecomte added a career-high 15 points for the Hurricanes. Tonye Jekiri scored eight points and tied his career high with 13 rebounds.
Drexel will play Southern Cal on Friday, the winner moving into Sunday's fifth-place game.
The Hurricanes came out a step slow against the Dragons. They made 4 of 5 shots to open the game, yet trailed 18-14 after Damion Lee's two foul shots with 10:11 left.
That's when Miami kicked things in defensively to finish the half on a 14-2 run. Omar Sherman and Angel Rodriguez started the charge with 3-pointers, the latter one that put Miami up for good.
Rodriguez made two of three foul shots before Lecomte finished the scoring with a basket for a 28-20 lead at the break.
Dragons coach Bruiser Flint said his other players didn't step up when Miami took away Lee's open looks. "There are other guys on this team that have got to make plays," he said.
Where the Hurricanes made the biggest impression was on defense, pressuring Drexel into bad shots and missed chances. The Dragons managed only four foul shots in the final 10:45 and ended the half missing their last 11 shots.
DEFENSIVE CHANGE
Drexel coach Bruiser Flint said things changed when Miami switched to a box-and-one defense to lock down on leading scorer Lee. He had 8 points in the first half and was limited to no shots and one free throw in the final 20 minutes.
OPEN SEASON
Four Miami players had multiple 3-point goals. Rodriguez and Lecomte had three each, while James Palmer and Omar Sherman had two apiece. Sheldon McClellan also made a 3-pointer.
TIP-INS
Drexel: The Dragons are 2-10 all-time against Atlantic Coast Conference opponents. The wins both came against recent ACC members, Syracuse in 2006 and Louisville in 2010.
Miami: The Hurricanes win over Florida was their first road victory against a top-10 opponent in three seasons since winning at No. 7 Duke in overtime in February 2012.
UP NEXT
Drexel plays Southern Cal on Friday.
Miami plays Akron on Friday.
---