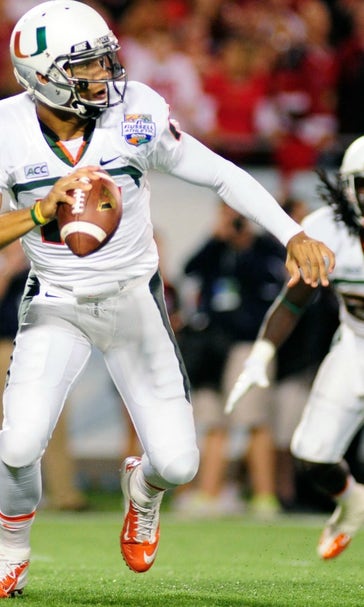 Miami faces Louisville on Labor Day primetime season opener
August 31, 2014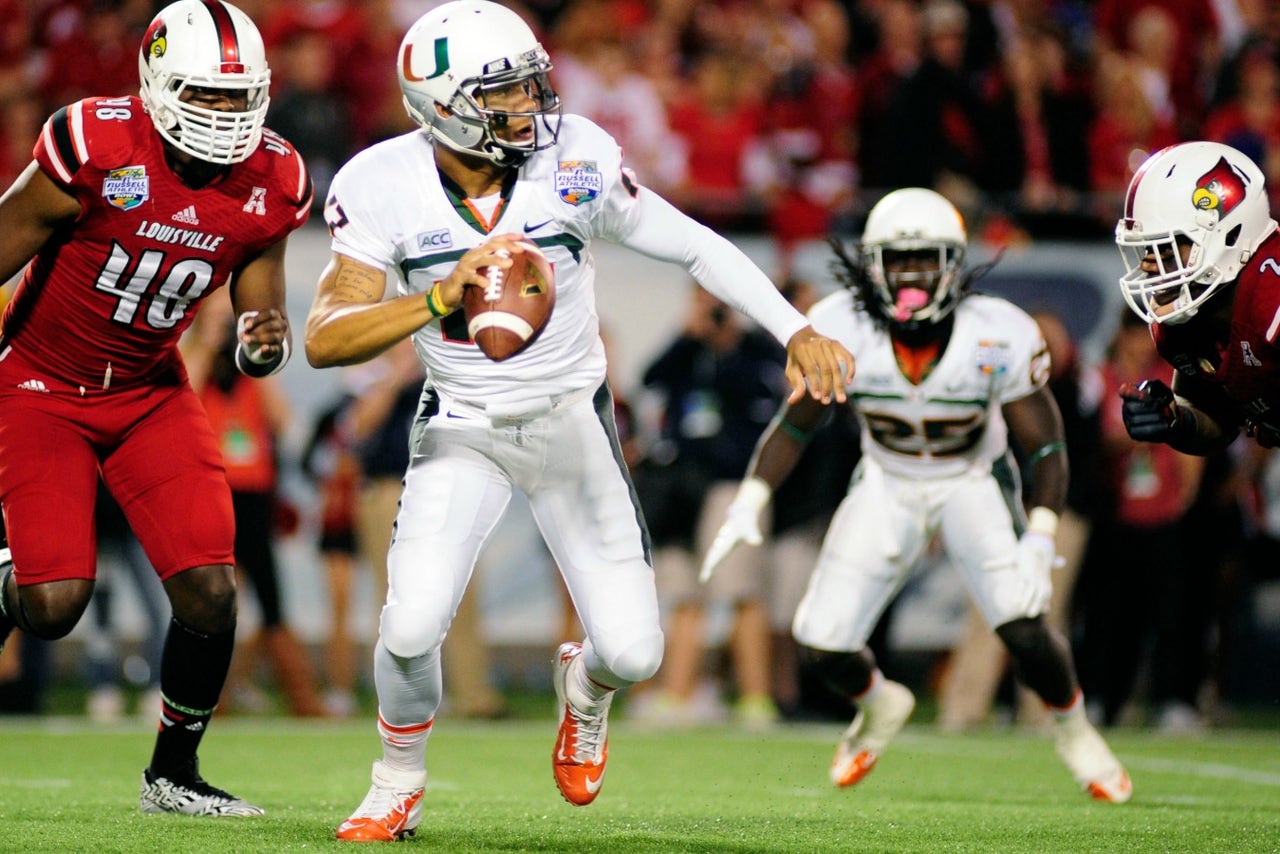 For the first time in the Al Golden Era, the University of Miami will begin a season with the NCAA investigation behind the program.
The Hurricanes travel to face Louisville at 8 p.m. Monday for a Labor Day primetime showdown with a true freshman under center for an opener for the first time since 2008.
These teams met up in last December's Russell Athletic Bowl where the Cardinals routed Miami 36-9. The Hurricanes scored on a safety before Louisville's 36 unanswered points. Miami was held to 174 total yards of offense without All-ACC back Duke Johnson and wideout Phillip Dorsett.
Local boy Teddy Bridgewater, who threw for a career-high 447 yards, will not be on the field for the game after being taken in the first round of this year's NFL Draft. Sophomore Will Gardner takes over the duties having appeared in five games in 2013, tossing for 112 yards and two touchdowns. Preseason All-ACC wide receiver DaVante Parker is out for the game. He caught nine passes for 142 yards and a touchdown in the bowl contest.
Though Louisville trails the series 9-2-1, it has won the past two meetings. The Cardinals will be celebrating their Atlantic Coast Conference debut with a black out for just the fourth time in program history and first since 2008 against West Virginia.
Louisville opened as three-point favorites. During ESPN's College Gameday, guest analyst and retired pro wrestler Stone Cold Steve Austin chose Miami for the upset.
MATCHUP TO WATCH
Miami offensive line vs. Louisville defensive line
Quarterback Brad Kaaya will need protection if the offense hopes to possess the ball and score points. Three starters return on the line: center Shane McDermott, guard Jon Feliciano and tackle Ereck Flowers.
The unit's ability to open lanes for Johnson will set the tone for the game. Louisville will likely crowd the box trying to stop the run and force Kaaya to make plays. Whether he has time to throw will determine whether Miami can stay in the game and win it.
Seven starters are gone from last season's Cardinals defense that led the nation in both total and rush defense. Back is senior Lorenzo Mauldin, who recorded 9.5 sacks and 40 tackles.
TRENDING UP
Miami: For the second straight year, the Hurricanes were chosen to win the ACC Coastal Division. Eight players were named to preseason watch lists, including Johnson and All-ACC linebacker Denzel Perryman. The program has seen gradual progress -- going from six losses in 2011 to five in 2012 to four in 2013.
Louisville: The Cardinals have won six in a row, tied for the fourth-longest active streak in the nation entering 2014. They have victories in their past three games at home to open a season. Under head coach Bobby Petrino, Louisville is 22-1 at Papa John's Cardinal Stadium.
TRENDING DOWN
Miami: Although the Hurricanes are 11-4 in head coach Al Golden's last 15 games, they dropped four of six to close out 2013. Miami won its first seven games but finished with its eighth straight season of at least four losses.
Louisville: The program is 33-48-1 against the current 14-team football alignment of the ACC. The first ACC opponent it faced -- though at the time not in the conference -- was Miami. The Hurricanes won 33-7 on Nov. 11, 1933.
INJURY REPORT
Miami: Out -- WR Rashawn Scott (upper extremity); QB Kevin Olsen (suspended for violation of team standards)
Louisville: Out -- WR DeVante Parker (broken toe); Questionable -- RB Michael Dyer (quadriceps contusion)
DID YOU KNOW?
Prior to last season's bowl game, the Cardinals routed Miami 31-7 in 2006 -- Petrino's final year at Louisville. Monday marks his return for his second stint.
QUOTEBOARD
"We've been working ever since spring. When the season was over we got right back to it." -- Sophomore wideout Stacy Coley
"Opening up with an ACC opponent -- and it's opening day -- makes it that much bigger." -- Senior defensive end Anthony Chickillo
"Last few years we were counting on some of the young guys really before they had an opportunity to learn the system or be ready to go. We're counting on a lot of young guys this week, but they're not in a starting role or in a significant role. They're significant in terms of our locker room and executing but they don't have to shoulder the burden. Obviously Brad is the one outlier in this instance." -- Head coach Al Golden
LOOKING AHEAD
Miami faces a quick turnaround, hosting FCS opponent Florida A&M at 7 p.m. Saturday.
You can follow Christina De Nicola on Twitter @CDeNicola13 or email her at cdenicola13@gmail.com.
---