Miami commit Ryan Fines ready for drama-free National Signing Day
BY foxsports • January 30, 2015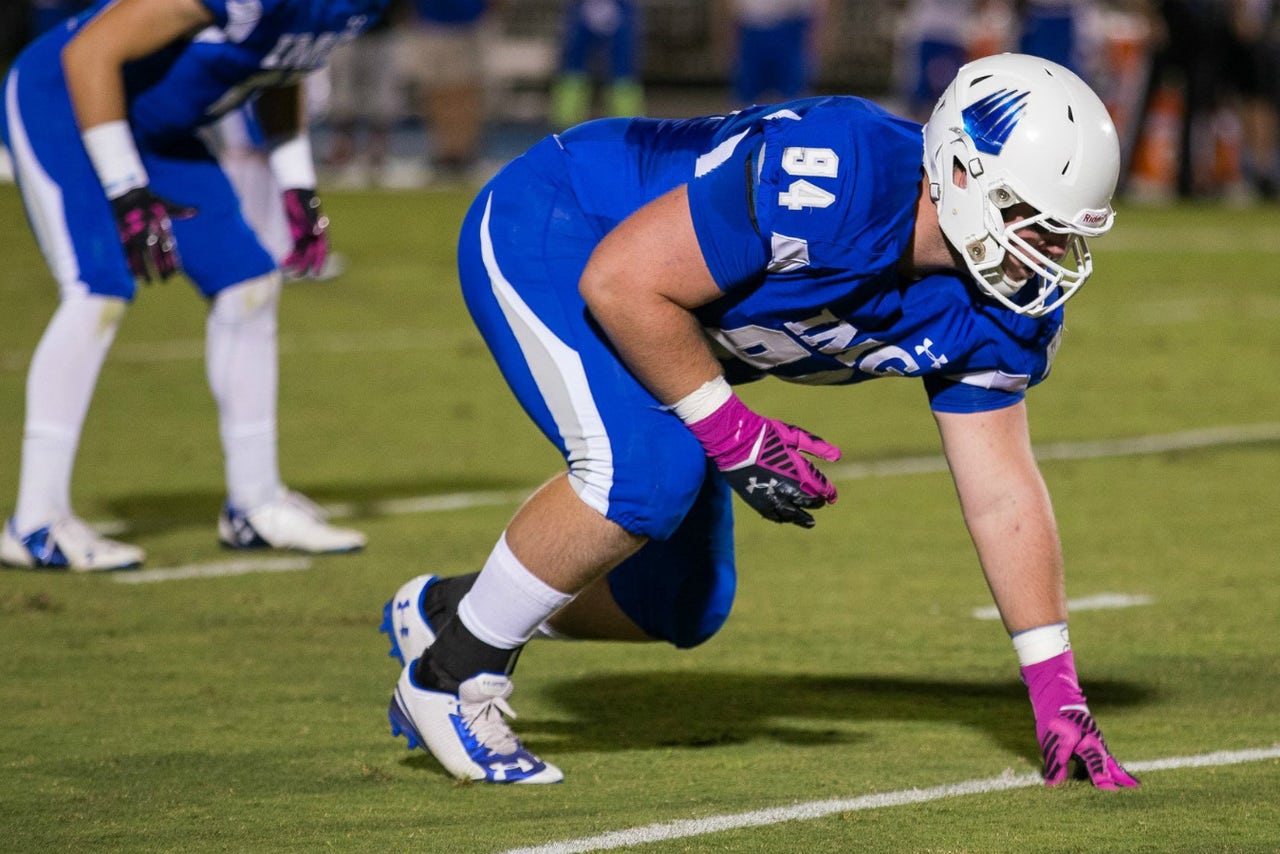 This weekend marks the final chance for college football programs around the country to sway high school players into becoming their future stars before Wednesday's National Signing Day.
Such isn't the case for Ryan Fines, a three-star defensive tackle from IMG Academy in Bradenton, Florida. He has been committed to the University of Miami since last February.
Fines, listed at 6-foot-3, 290 pounds, spent 1.5 years at Bradenton Manatee High School before moving onto the IMG program. Fines recorded 55 tackles, 14 tackles for loss and eight sacks in 11 games in 2014.
Two of his teammates -- defensive end Scott Patchan and offensive tackle Tyree St. Louis -- are also part of Miami's Class of 2015. The Ascenders finished as the fourth-best team in the state and 16th in the nation, according to MaxPreps.com, in just their second year of competition.
FOX Sports Florida's Christina De Nicola (@CDeNicola13) spoke with Fines, whom you can follow on Twitter (@RyanJFines), earlier in the week about the recruiting process, forming a bond with fellow commits and why he'll succeed at Miami.
FOX SPORTS FLORIDA: How do you think the IMG experience has prepared you for the next level of college football?
RYAN FINES: Honestly, it's probably one of the best places in the country to get prepared for college because our entire lifestyle is basically set up like college with classes -- three in one day, an hour-and-a-half long. We live in dorms and all the training is college-level training.
FSF: That has to be cool. It seems like some guys fall victim to moving away for the first time or on their own. This seems like a way to put you in that college setting early.
FINES: Yeah. It definitely gives us a boost.
FSF: You train then with Scott and Tyree. How close are you guys? What was sort of the process of being recruited? You all happen to be Miami commits.
FINES: I don't really know Scott's and Tyree's. As far as us training together and knowing each other, I met Scott before he committed and then I came here and told Scott about this place (IMG Academy) and Scott eventually came here. We're all really close. We all text each other. Scott was my roommate last semester. He went to Miami and now Tyree's my roommate.
FSF: Oh cool! For you, personally, how was the whole recruiting process? It's interesting when you think about it. Schools woo you. When was the first time someone was interested in you, and how did it all evolve?
FINES: I still remember the first coaches I actually talked to were the Miami coaches. I used to go to Manatee High School, and they came down one day. They weren't looking for me in particular. They were looking at some other guys, but coach brought me in that day. They were technically the first ones I talked to. I was super, super nervous because I had never talked to a college coach before. They were all really nice.
FSF: When was this?
FINES: Oh, man. Almost two years ago I think. Back probably March or April of 2013.
FSF: How has the whole experience stacked up to things you had heard of from other guys or seen on TV or the Internet?
FINES: Mine is kind of different because I committed back in February. I've been committed for a long time, so that's kind of slowed down the recruiting process for me because colleges see that and say, 'Oh, he's really committed. We probably don't have a good shot with him.' My recruiting process has been kind of quiet.
FSF: Is that good? You can focus on where you're going, work on your game more? Take away some of the drama of it all?
FINES: Definitely took away a lot of the drama and a lot of the angst. Just like worrying about where you're going to go. That's part of the reason why I committed so early. I knew where I was going to be going.
FSF: What draws you to Miami? What are some of the things you take into account?
FINES: The main thing was just the family atmosphere there. That was my biggest thing with colleges. It's like one big family everybody looking out for each other. Miami blew me away when I first went there. How close everybody was. There's also the academic side, top 50 in the country with academics. That was a plus. And also the campus was gorgeous.
FSF: A lot of stuff has come up since the season ended. How much do you personally take into account things like facilities, the team's record the previous year? Even the fact of switching from Nike to Adidas? Are those things you take into account?
FINES: The Adidas thing I really don't care. I don't exactly care about that. Adidas is fine with me. As far as facilities go? Yes, they're a plus. But they don't really make or break a school for me, but they're definitely a plus. (The record) doesn't really bother me either. If I know what they're doing is good and they're headed in the right direction then I'm down for it.
FSF: And then with a program like Miami that's got a very reputable history of putting guys in the NFL, that's got to help?
FINES: Definitely. Pro potential is big.
FSF: I noticed over the years, especially last year when I spoke to (Brad) Kaaya and some of the out-of-state guys before they signed... It was interesting. They sort of had a bond that Class of 2014 signing class. Is that the case here? Do you keep tabs?
FINES: Yeah, definitely. We had our official visit last weekend and pretty much all the committed guys were there and we spent the whole weekend bonding with each other, getting each other's numbers, having fun.
FSF: You have an idea of everybody before you officially get on campus for the first time.
FINES: Exactly.
FSF: What are some of the things you are working on and hope to improve on when you first get to college?
FINES: My speed. Speed in college is unlike anything in high school, so that's probably the main thing I need to work on. The other is my hands. I need my hands better. High school you can rely on your strength, but in college everybody's super strong, so it's all about technique.
FSF: Last thing. Why do you think you can succeed as a football player at Miami?
FINES: Mainly it's my never-say-die attitude. Even when things don't look good I'm always positive. I'm always thinking, 'We can still do this, we can still come back'. That kind of thing. That's something champions do. That's something my parents instilled in me from a young age. I think that's what makes me successful.
You can follow Christina De Nicola on Twitter @CDeNicola13 or email her at cdenicola13@gmail.com.
---