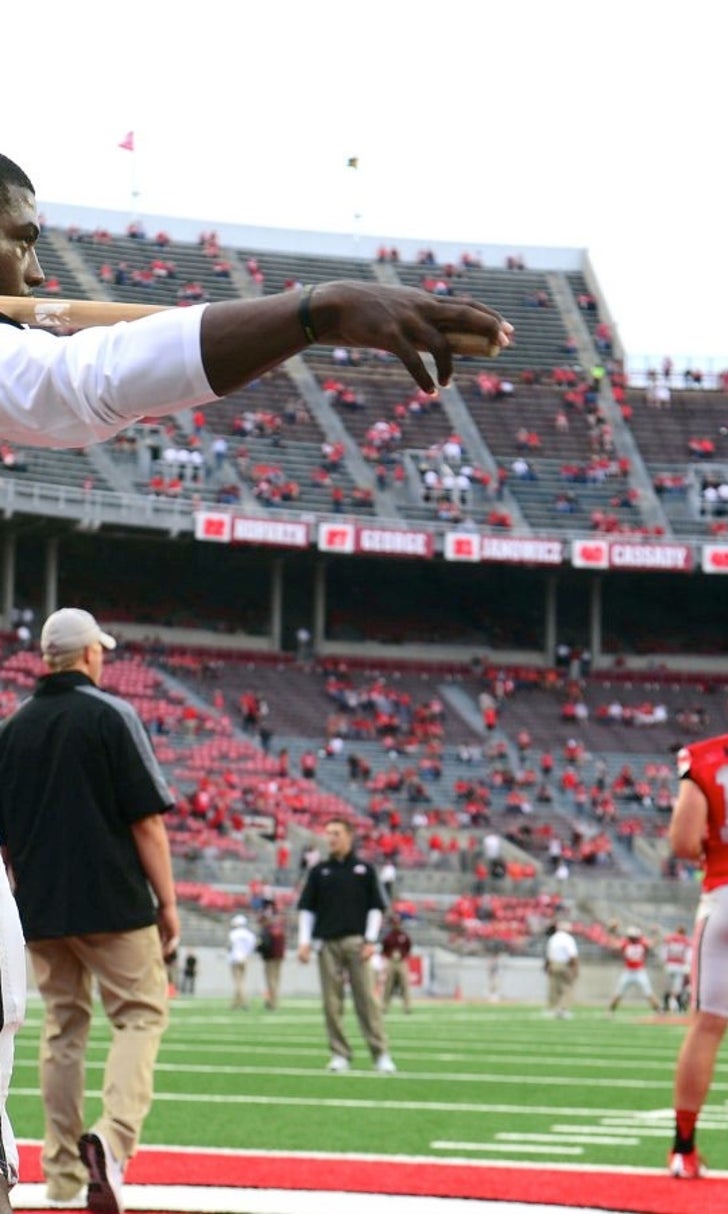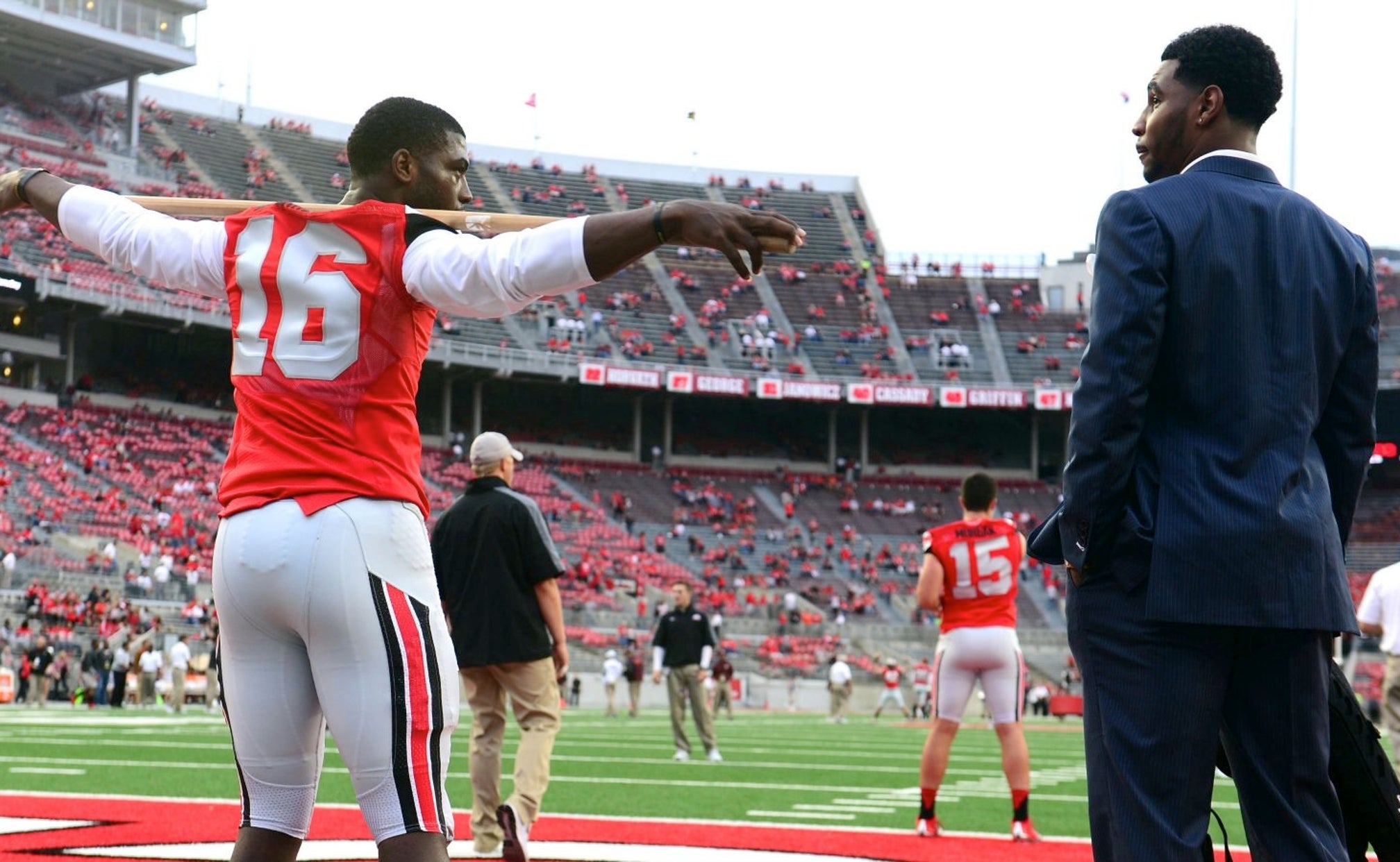 Meyer: When Miller returns, 'it's Braxton's team'
BY foxsports • September 29, 2014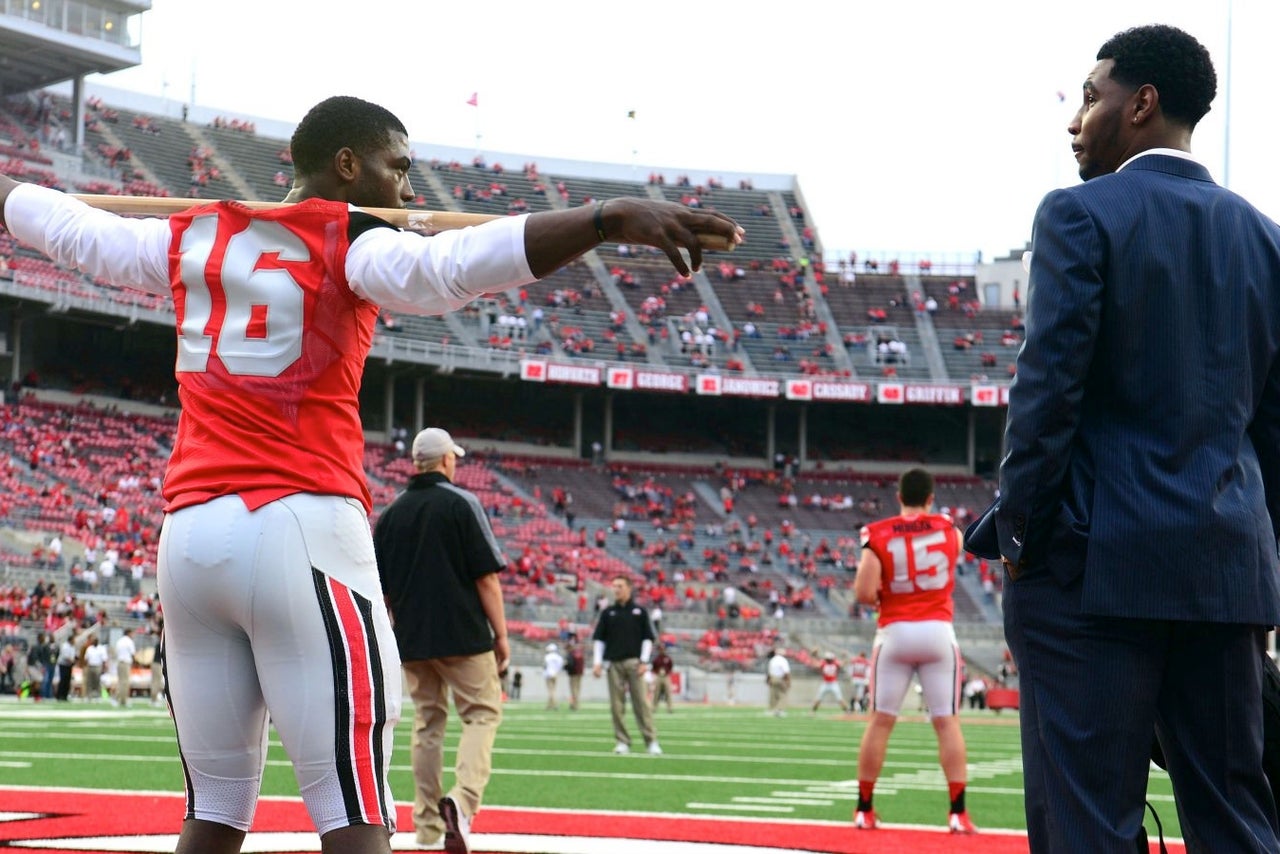 COLUMBUS, Ohio - Redshirt freshman J.T. Barrett is firmly entrenched as Ohio State's starting quarterback.
For now.
With Braxton Miller out for the season while recovering from a shoulder injury, Ohio State coach Urban Meyer was asked Monday if he'd thought about "a good problem to have" if Miller returns to the team in 2015.
Meyer didn't give it much thought.
"Braxton is our quarterback," Meyer said. "To be fair to Braxton, (he's the two-time) Big Ten Player of the Year. It's good to know we've got both of them. And (backup) Cardale Jones is growing up. I admire him...I like his professional approach right now."
Miller took over the job the middle of his freshman season in 2011 and, except for sitting out three non-conference games while injured last year, was slated to hold it through this season. His offseason shoulder surgery let Jones and Barrett quarterback the Buckeyes through spring practice, and after he was injured in preseason camp Barrett was named the starter.
Miller's right arm is still in a sling. In an August statement announcing his injury, Miller said he planned to "come back stronger than ever" and to take a redshirt season, enroll in graduate school "and then return to lead the Buckeyes next season."
If he does, he'll be an early Heisman Trophy contender the way he was entering this season.
Barrett guided the Buckeyes to a record-setting performance last weekend in a 50-28 win over Cincinnati. Ohio State got a school-record 45 first downs and had 710 yards of total offense, missing the school record by 8 yards when a snap went over Jones' head in the final minute of the game.
Just four starts in and playing full-time for the first time in two years after he injured his knee in his final high school season, Barrett is showing "a command" of the offense, Meyer said, and continuing to improve.
"J.T. has to take charge," Meyer said. "He's an extremely intelligent guy. He understands (how) we want to run a play...there are certain looks that don't run against (a certain defense). In the second half (against Cincinnati) I want to say a dozen times he changed the plays.
"J.T.'s proved he has the cognitive ability to do it. Now he's got to continue to have that leadership."
Meyer said Ohio State had a "conservative" offensive approach to the season opener vs. Navy because it was playing a freshman quarterback, and a Week Two loss to Virginia Tech is a game "I wish we had back."
Now, the players and coaches believe in Barrett and his 336-yard, four-touchdown performance vs. Cincinnati is proof of that.
"J.T. continues to be a very good distributor, completing a high percentage, and really we're giving him more and more responsibility about getting us in the right play," Meyer said. "I love J.T. He's fun to coach. He's a guy that has a great demeanor on the sideline. He's a student of the game. He has a great relationship with his coordinator and position coach.
"He's a product of those around him. There are some guys making really terrific plays out there for him, too. So I think as a group, this (offense) is a good group to be around right now."
---