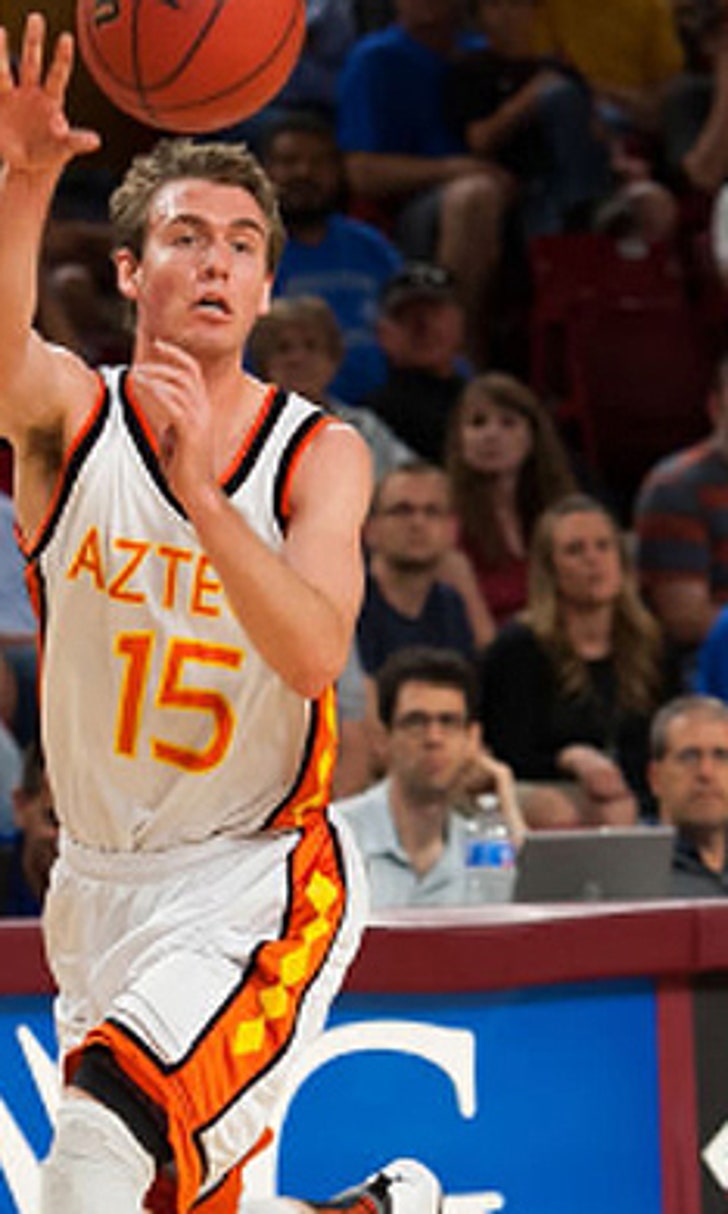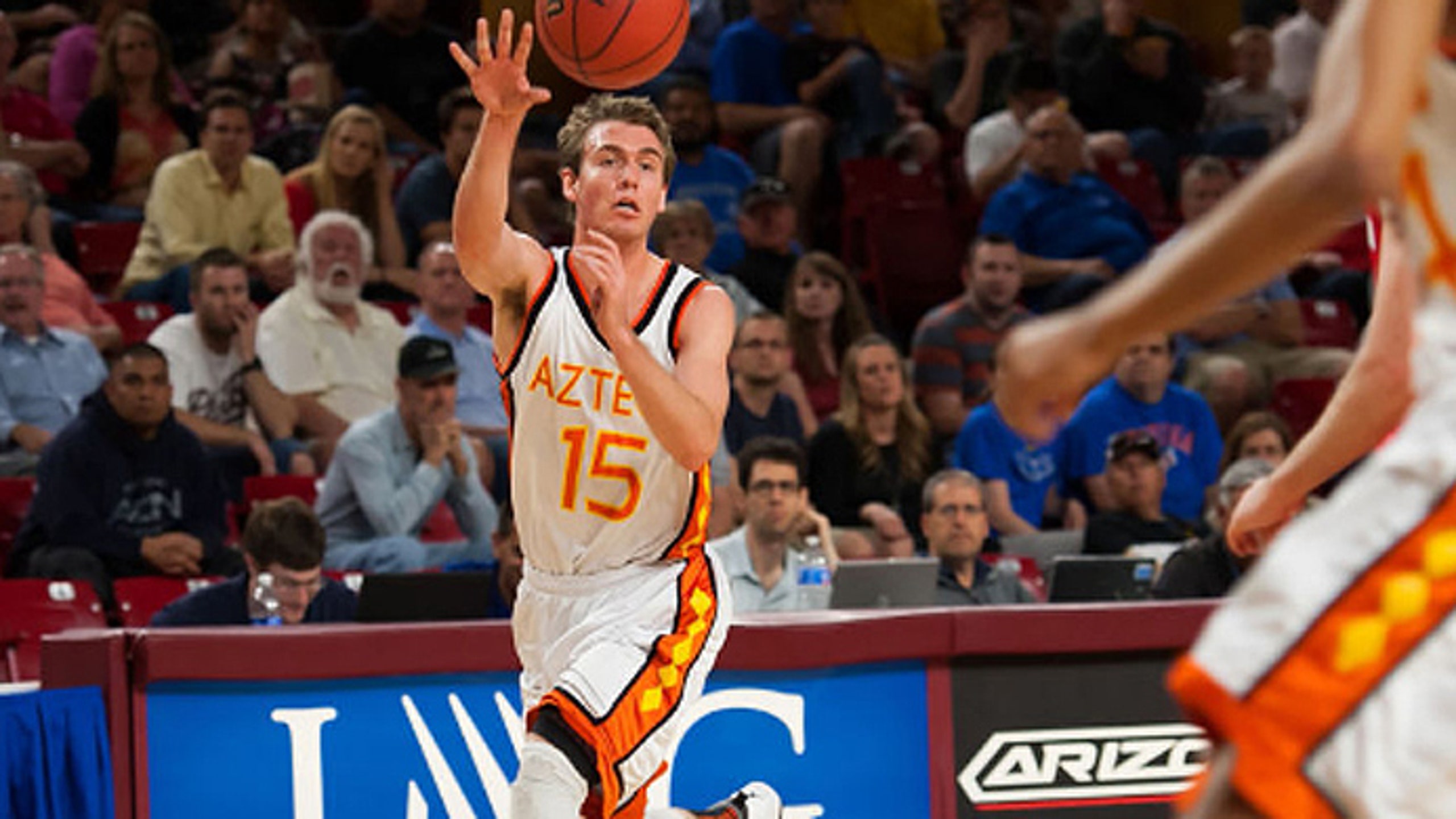 Matchups set for D-I, D-III basketball state finals
BY foxsports • March 1, 2014
Different year, same matchup.
For the second straight year, Corona del Sol and Pinnacle will meet Saturday for the Division I boys basketball state title after both teams advanced in Friday night's state semifinals.
Top-seeded Corona del Sol, in search of its third straight state championship, outlasted fourth-seeded Perry 78-66 behind 30 points from senior Casey Benson and 21 from freshman Alex Barcello.
The Aztecs (32-1) will be playing in their fourth state title game since 2006, all under coach Sam Duane Jr.
Third-seeded Pinnacle also is headed back to the finals thanks to a 74-64 upset of second-seeded Dobson, which had lost just once in its past 19 games and beaten the Pioneers in both of the teams' prior meetings this season. Pinnacle (23-9) got 23 points from senior Dorian Pickens and 21 from junior Trey Ingram in the win.
The Pioneers, coached by Charles Wilde, do not have a state title in their history.
Saturday's final is scheduled to tip off at 3 p.m. at Jobing.com Arena and will be televised on FOX Sports Arizona.
March madness came a night early. Westview advanced to the D-I girls basketball state finals by stunning Hamilton 47-46 on a 3-pointer as time expired, and in the following game, Desert Vista rallied to knock off top-seeded Dobson 54-49 to earn its own title game berth.
The sixth-seeded Lady Knights and fifth-seeded Thunder will meet for the state championship at 1 p.m. Saturday at Jobing.com Arena on FOX Sports Arizona.
Westview (26-6) had let a late seven-point lead slip away, with Hamilton getting a layup with just 4.2 seconds left to go ahead 46-44. But the Lady Knights quickly moved the ball upcourt and found Marissa Rincon open in the corner, and Rincon found nothing but net as the final buzzer sounded.
Westview has never won a state title; the program's only appearance in the final came in a 2007 loss to Tolleson.
Desert Vista (29-2) got 20 points from junior Kristine Anigwe, including 15 in the second half as the Thunder rallied from six down late in the third quarter and then pulled away in the final minutes.
Dobson had two attempts at a game-tying 3-pointer in the final 15 seconds, but both were off the mark.
FOX SPORTS ARIZONA BROADCAST SCHEDULE
Saturday
9 a.m. -- Division II girls (replay on March 3, 2 p.m; March 18, 7 p.m.)
11 a.m. -- Division II boys (replay on March 3, 4 p.m.; March 18, 9 p.m.)  
1 p.m. -- Division I girls (replay on March 3, 8 p.m.; March 25, 9:30 p.m.)
3 p.m. -- Division I boys (replay on March 3, 10 p.m.; March 26, 8:30 p.m.)
5 p.m. -- Division III girls (replay on March 4, 11 a.m.; March 27, 10:30 a.m.)  
7 p.m. -- Division III boys (replay on March 4, 1 p.m.; March 27, 10 p.m.)
Ninth-seeded Cortez kept its championship dreams alive with another upset win Friday in the state semifinals and will take on second-seeded Valley Christian for the state title Saturday.
The Colts, who knocked off No. 1 Chinle in the quarterfinals, dominated fifth-seeded Show Low in the semifinals in a 67-39 rout with the help of 14 points from Jordyn Loggins and 13 from Davon MacBeth.
Cortez (26-3), under coach Tarik James, is in search of its first state championship.
Valley Christian was similarly impressive in its semifinal performance, pulling away from third-seeded Yuma Catholic for a 70-51 victory.
The Trojans (23-8) trailed by eight early but dominated the rest of the way, getting 16 points from senior Zach Wolf and 15 from fellow senior T.J. Widner.
The D-III title game is scheduled for 7 p.m. Saturday at Jobing.com Arena and will be aired on FOX Sports Arizona.
The Valley Christian girls are a win away from perfection. To get it, they'll have to get past seventh-seeded Fountain Hills on Saturday in the D-III state finals.
Top-seeded Valley Christian is 33-0 heading into the championship matchup after getting past fourth-seeded Window Rock 53-40 in Friday night's state semifinals. The Trojans got a game-high 18 points from Ashley Koch in the win.
Valley Christian will be playing for its third state title; the Trojans also win in 2010 and 2011 in Class 2A.
Fountain Hills advanced to the finals with a 63-49 win over sixth-seeded Estrella Foothills. It was the Falcons' third win this year over the Wolves, who had won 19 straight overall coming into the semifinals. Senior Natalie Stillwell had 25 points and 13 rebounds for Fountain Hills (24-3).
The Falcons girls have never won a state championship.
---