Matchup with struggling Notre Dame team just what USC needs after UCLA loss
BY foxsports • November 25, 2014
Notre Dame might just be the prescribed medication for a USC team that got trounced by UCLA last Saturday at the Rose Bowl. 
Gone is any hope of winning a Pac-12 title. Gone is the chance to regain the Victory Bell. 
After suffering a demoralizing setback to their biggest rival, the Trojans now must regroup before facing their other biggest rival. 
Saturday at the Rose Bowl was "not our night," USC head coach Steve Sarkisian said Monday. It also was, quite possibly, the worst game the Trojans have played all season, minus the loss to Boston College. 
USC was outplayed in every facet of the game against UCLA, but the Trojans can't dwell on what was lost Saturday. The focus now needs to be on what the Fighting Irish bring to town.
"The reality of it is I don't know if there's a better game for us coming out of the UCLA game that would snatch our attention," Sarkisian said. "You play UCLA. You don't play great but boom, here comes Notre Dame at the Coliseum for Senior Day."
The last time Notre Dame came this far west, things didn't work out well for them. The Fighting Irish were defeated by Arizona State 55-31 earlier this month.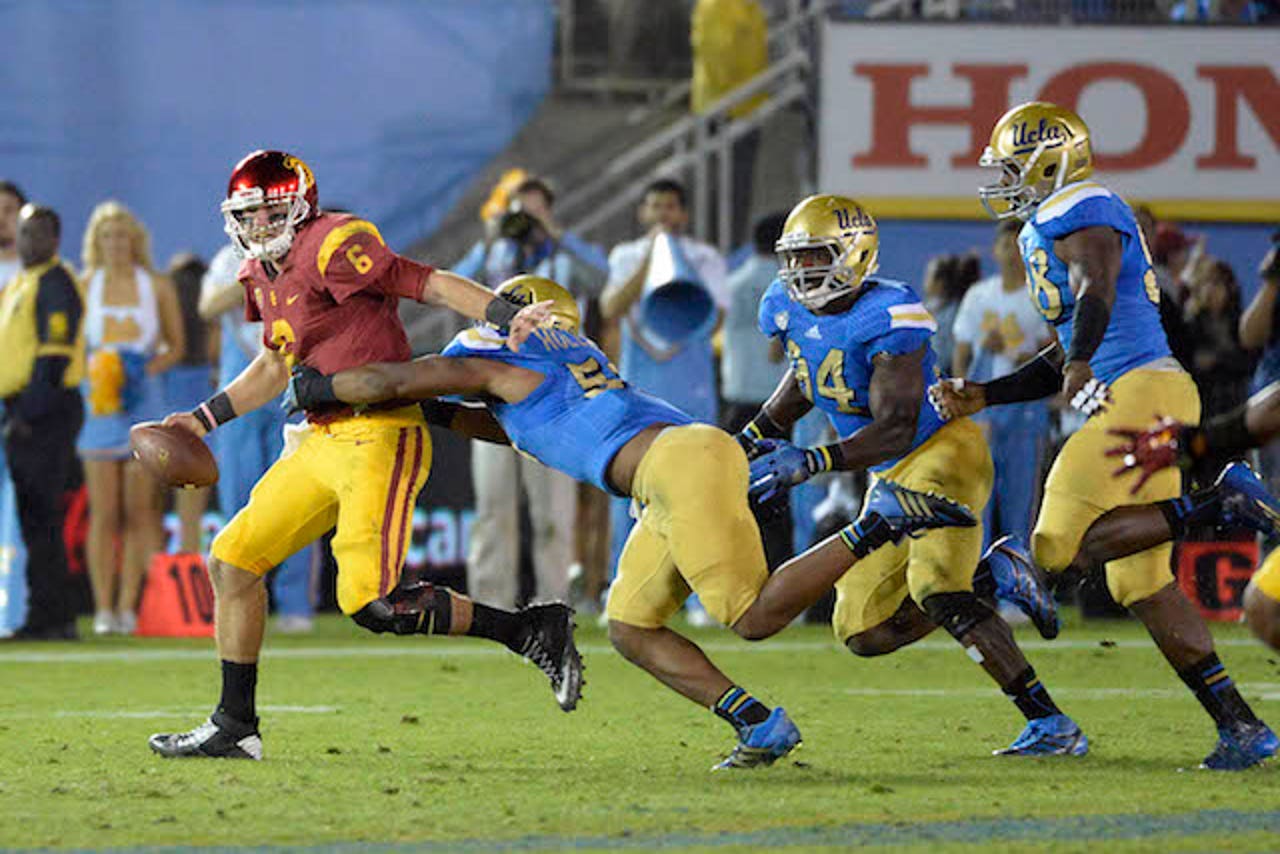 USC coach Sarkisian: UCLA game 'not our night'
Last week, Notre Dame lost to Louisville in South Bend on their Senior Day after failing to convert on a game-tying field goal with under one minute to play. 
So, the Irish aren't in necessarily good spirits heading into Saturday's contest at the Coliseum, either.
Since losing at Florida State last month, Notre Dame has dropped three of four games. They began the season 6-1, ranked No. 10 in the first College Football Playoff ranking.
"I think this is a great matchup for us, it's a great matchup for them," Sarkisian said. "Two teams that are, kind of, fighting with their backs against the wall. We're in very similar situations. I think both teams will be hungry." 
Both teams are also unranked, marking just the 12th time in 86 meetings in which neither team is ranked when the game kicks off.
---