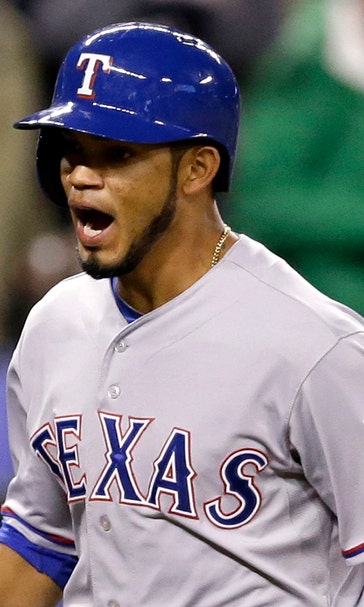 Martin's single pushes Rangers past Mariners
June 15, 2014

SEATTLE (AP) -- Leonys Martin hit a run-scoring single with two outs in the ninth to send the Texas Rangers past the Seattle 4-3 Saturday night, extending the Mariners' losing streak to five games.
Luis Sardinas singled off Fernando Rodney (1-3) with one out in the ninth and moved to second on a groundout. Martin then hit a grounder just past the glove of a diving Kyle Seager at third base, scoring Sardinas without a play at the plate.
Neal Cotts (2-3) earned the win with 1 2-3 innings of relief, striking out four. Joakim Soria pitched a perfect ninth for his 15th save in 16 chances.
The Mariners tied the game in the seventh after taking advantage of a Rangers fielding gaffe. With two runners on and one out, Cole Gillespie hit a grounder to second that looked like it could turn into an inning-ending double play. Elvis Andrus couldn't handle the throw at second, though, and Seattle loaded the bases.
Robinson Cano followed with a soft line drive to right, scoring Willie Bloomquist and tying the game, 3-3.
The run spoiled a win for Joe Saunders, who was in line for his first victory of the season after allowing two runs in six innings.
Shin-Soo Choo singled off reliever Danny Farquhar to open the sixth and scored when Adrian Beltre followed with a double into the left-field corner, tying the game 1-1. After a pair of strikeouts, Robinson Chirinos put Texas ahead with a two-run home run to left field.
Farquhar came on for Erasmo Ramirez, who had skirted danger in five scoreless innings. Ramirez allowed just three hits, but struggled with his command and walked four. The right-hander allowed seven baserunners and threw 89 pitches.
The Mariners pushed across a run in the fifth when Stefen Romero hit a sacrifice fly to left to score John Buck from third. Buck led off the frame with a single and moved to third when Seager followed with a base hit. The run snapped a 13-inning scoreless streak for the Mariners.
Seattle added a run in the sixth when Buck scored Cano from second with a single. The call at the plate was confirmed after a review.
NOTES: Sunday's series finale will feature Mariners RHP Hisashi Iwakuma and Rangers RHP Nick Martinez. ... The umpires reviewed four calls: two in the first, one in the sixth and one in the seventh. Leonys Martin was originally called safe in an attempt to steal second, but it was overturned. A 2-2 count to Adrian Beltre was also reviewed, and upheld. A ruling that Robinson Cano was safe at home in the sixth was confirmed. Elvis Andrus was originally called out at first in the seventh after being involved in a rundown, but the call was reversed. ... Seattle's Jesus Montero, a former top prospect, made his first appearance since being suspended 50 games for his connection to the Biogenesis performance-enhancing drug investigation last year. Montero, who was recalled from Triple-A Tacoma on Thursday, collected a single in three at-bats as the designated hitter.
---