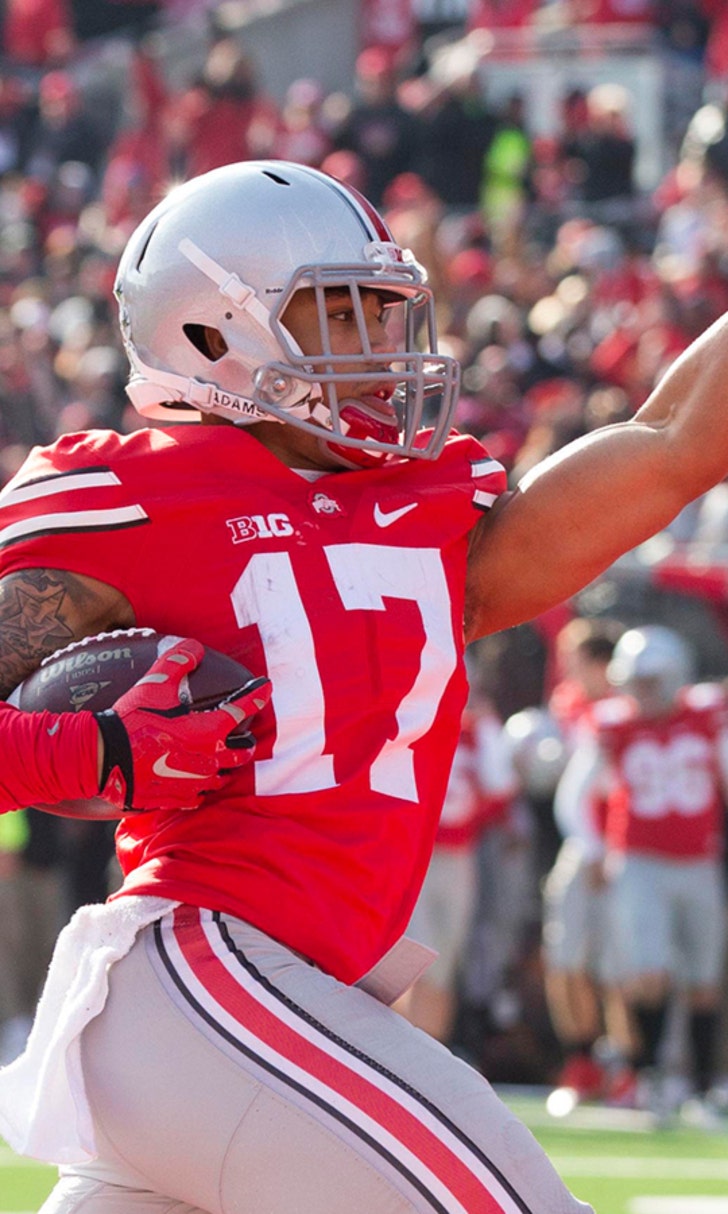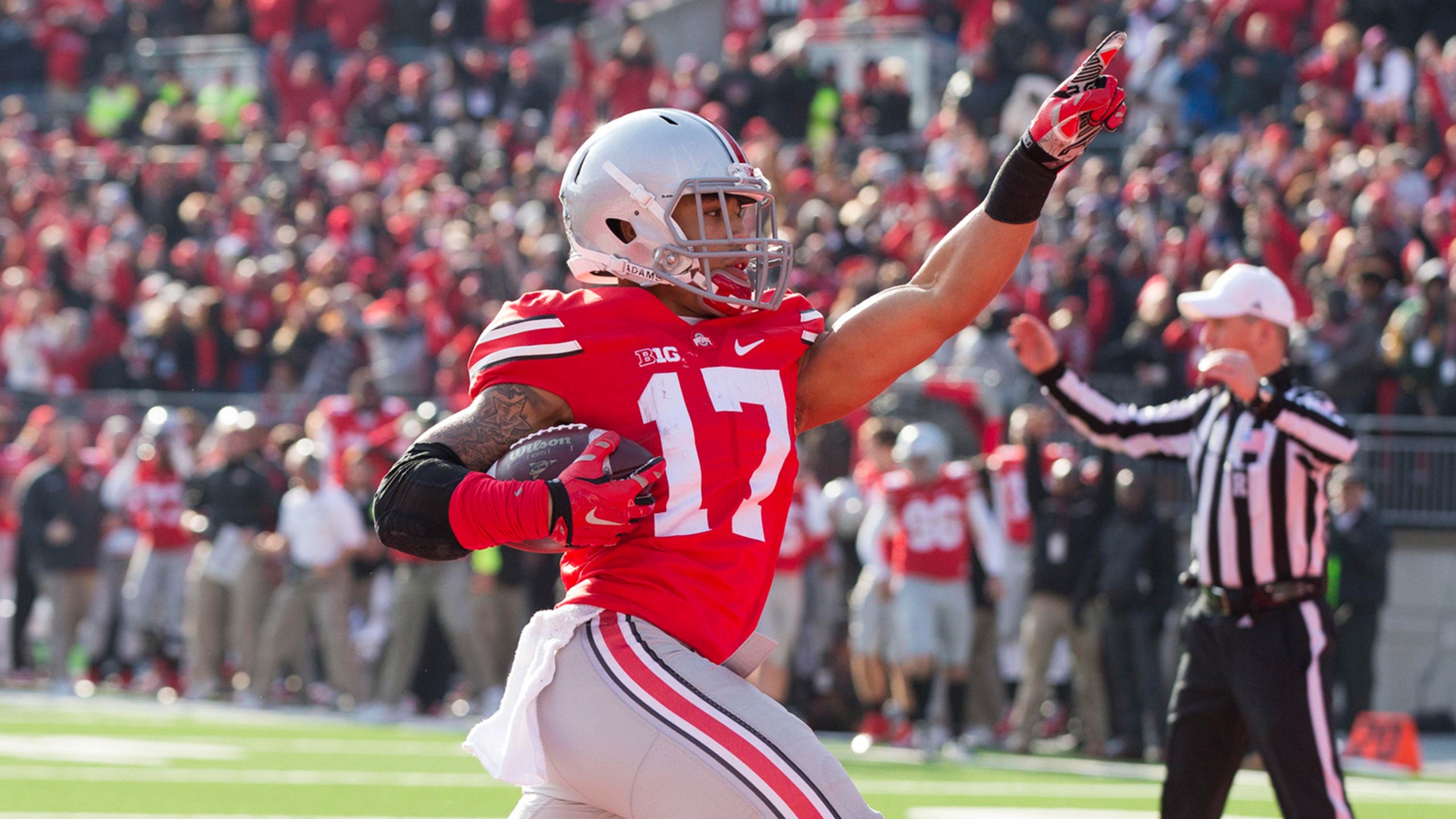 Marshall redeems himself in Buckeyes win over Indiana
BY foxsports • November 22, 2014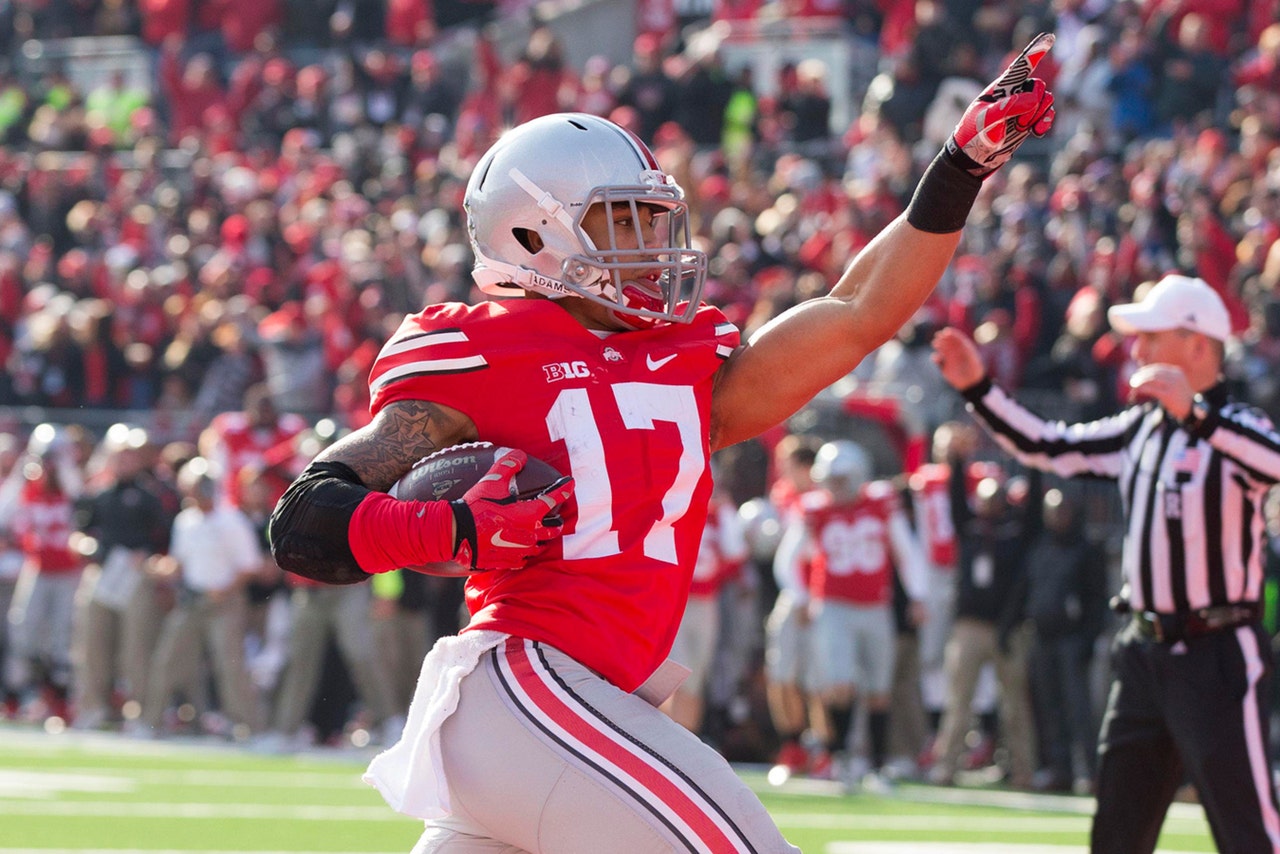 COLUMBUS -- Last week after Jalin Marshall had two fumbles, the feedback on social media was enough that if Jimmy Kimmel wanted to do a three-hour Mean Tweets special, he would have had more than enough material.
When Marshall goes through his timeline this weekend, it should be more pleasant.
With Ohio State trailing in the third quarter against Indiana on Saturday, the redshirt freshman scored four touchdowns as the Buckeyes took control in the final 18 minutes to beat Indiana 42-27. The win gave sixth-ranked OSU the Big Ten East title and a trip to Indianapolis for the conference championship in two weeks.
"It's definitely a little bit of redemption," Marshall said. "I felt like I silenced the doubters that they had in me and I felt satisfied that people could see how I could really go out there and play."
Last week at Minnesota Marshall made news with two fumbles that led to 14 Gophers' points. The first one came on a shovel pass during the first half where it looked like he would score, only to have it knocked out near the end zone. In the fourth quarter, a muffed fair catch deep in Ohio State territory set up another touchdown that allowed Minnesota to get back into the game.
Marshall admitted he was surprised by some of the tweets that came his way after the game. When asked if one stood out, he said -- "Somebody told me to kill myself. That was a big one for somebody to take in, but at the end of the day you have to let that go and move on to next week."
Marshall then added: "You know, at first it kind of hurt because I'm so young, but I had to realize most of those people really have never played football or been involved with football in their life, so I had to let it go. I had a lot of support from my teammates and my coaching staff and also my family to help me get through it."
Even though Monday is the player's day off, Marshall was out in the snow on the practice field taking punts on his own. That helped him re-establish his confidence as practices for Indiana ramped up on Tuesday.
While turnovers continue to be a concern for Urban Meyer, the one thing he wasn't worried about was Marshall's effort. Marshall's teammates, including quarterback J.T. Barrett, told him to shake off what happened in Minnesota and that things would be OK.
"Sure enough he comes out and plays well," Barrett said. "It is not new to us. That's what we expect from him."
After a Tevin Coleman 90-yard touchdown with 7 minutes, 17 seconds remaining in the third quarter gave the Hoosiers a 20-14 lead, no one knew what it would take to get Ohio State back on track. The Buckeyes had the ensuing drive stall near midfield but a Cameron Johnston put was downed at the OSU 1 to shift field position. The Hoosiers went three-and-out and were forced to punt from their own 4. Erich Toth got off the punt but it didn't have much hang time. Marshall fielded it at the OSU 46, side stepped IU linebacker Nick Mangieri eight yards later and then made Toth miss at the IU 30 en route to the end zone.
"Secure the ball is definitely the first key, making the first guy miss, and then after that I had extreme trust in the punt block team and I feel like they led me all the way there," Marshall said about the return, which was the first by a Buckeye since Corey Brown two years ago and the first by an OSU freshman since Ted Ginn Jr. in 2004.
Two of Marshall's three receiving TDs came on shovel passes. There was a 4-yarder to make it 28-20 and then a 54-yard scamper up the left sideline to put OSU up by three touchdowns. Sandwiched between those was a nifty one-handed grab on a 15-yard pass from Barrett.
Marshall would finish with five receptions for 95 yards. The four total touchdowns matched what he had scored all season coming into the game. Meyer agreed with the assessment of many that it was the most complete game by an Ohio State H-back in a long time.
"I cover him every day in practice. He's a definitely a problem, he's definitely dynamic. It's good to see him finally sprout. Go out there and see the things that he does in practice and see him do it in a game," said sophomore safety Tyvis Powell. "You got that speed when he catches it, he's gone. He took the sweep to the house, he caught the punt and made one guy miss and he's gone. The athleticism and as quick as he is, he's got the burst."
While some will wonder if Ohio State could take a hit in the rankings after struggling against the Hoosiers, Marshall feels as if the Buckeyes continue to be on a roll headed into the two most important games of the season -- Michigan next Saturday and the Big Ten title game in two weeks.
"I feel like we're one of the strongest teams in the country, and I feel like we can play with anybody as long as we just execute at a high level. If we go out there and give great effort, I feel like we can go all the way," he said.
---