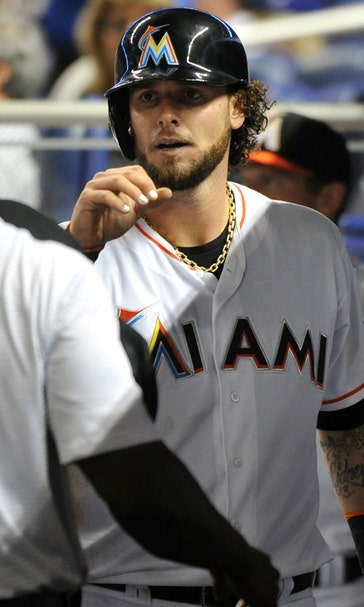 Marlins playing near-perfect ball to keep riding momentum during win streak
May 3, 2014

MIAMI -- If the Miami Marlins want to hang around with the elite teams, they must play near perfect baseball and receive contributions from the entire roster.
Through four games of their current homestand, they've done just that.
Six different players drove in a run as the Marlins beat the Los Angeles Dodgers 6-3 Friday night at Marlins Park.
Miami (15-14) has won four in a row over Atlanta and Los Angeles -- two veteran clubs that reached the 2013 postseason.
"I think they're feeding off each other. It doesn't matter if you're a rookie or you've been around six, seven, eight years," manager Mike Redmond said. "Everybody's trying to contribute, everyone wants to win and do their part. ... That's fun. When you're playing well, feeling confident, I think everybody in that lineup -- doesn't matter who you put out there -- feels like they have to do something or contribute in some way. I think we're seeing that."
With the victory, the Marlins moved over .500 for the first time since April 9, when they were 5-4. They put together a four-game win streak just once last year -- over the season's final four games.
Offseason additions Casey McGehee, Jarrod Saltalamacchia and Garrett Jones combined to go 7 for 11 with three runs and three RBI in the middle of the lineup.
Saltalamacchia, who celebrated his 29th birthday, homered off righty Josh Beckett with one out in the second as Miami took a 1-0 lead. He became the seventh Marlin to hit a home run on their birthday.
Jones collected three doubles on the night, including one in the fifth that drove in Saltalamacchia from first. The first baseman improved to 11 for 22 during his current six-game hitting streak.
The Marlins busted the game open with four two-out runs in the seventh, chasing Beckett and rattling righty Jose Dominguez.
Pinch-hitter Reed Johnson reached out for a 0-2 pitch to score Jones, who doubled to lead off the frame. Johnson, brought in as a non-roster invitee this spring, leads the majors with five pinch-hits. Christian Yelich drove him in with an RBI triple. After a pitch hit Derek Dietrich, Giancarlo Stanton and McGehee followed with a pair of RBI singles.
The Marlins have tallied double-digit hits in each of the past four games.
"That's what it takes to win," Saltalamacchia said. "One through nine's got to contribute. It's a matter of just having a good approach up there, not trying to be too big and not take it all on your own shoulders. Everyone's got to contribute. You can't hit a three-run homer with nobody on."
Righty Tom Koehler, who began the season as the fifth member of the rotation, recorded his fifth quality start with seven shutout innings. He allowed three hits, while striking out four and walking two.
In their past nine home games, Miami's starters have a 1.16 ERA. Their performances have played huge roles in the club's 13-4 record at Marlins Park.
"Any time you play a team of their caliber, to take the first game is huge," Koehler said. "We've been playing really well at home. I don't think that's a secret. I think everybody is aware of that. To go out there against an opponent like that, to take the first one, puts us in position to win the series (Saturday). That's what we're trying to do."
Rather than risk blowing the big lead, Redmond handed the reins to lefty Mike Dunn with just one out and two runs across in the eighth after righty Carlos Marmol struggled. Dunn got two quick outs to limit the damage.
Closer Steve Cishek came in for a non-save situation with a four-run lead in the ninth. Redmond went to him despite tossing 20 pitches on Thursday in a four-out save.
Though Cishek allowed a run on two hits, the Marlins held on for the win as they continue to ride momentum.
"They're all important, and I think the better the team .... These guys are good and they've got a lot of weapons," Redmond said. "They've got speed. You saw how quick they put those three runs up. I'm not messing around with wins. If we have a chance to finish a game off, we're going to do it. It would've been nice to get out of that eighth inning using (Carlos) Marmol and then going to (Carter) Capps or whoever to end the game, but this is the big leagues.
"It's tough to get outs in the big leagues. Those guys don't quit, and we've got to keep executing our pitches, pounding the strike zone. At the end of the day we picked up the win. It was nice."
You can follow Christina De Nicola on Twitter @CDeNicola13 or email her at cdenicola13@gmail.com.
---