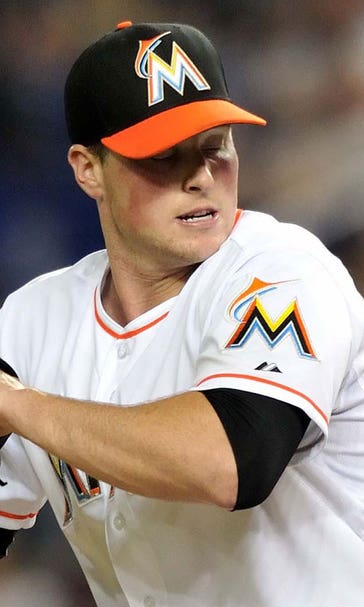 Marlins notes: Sign of good things to come from Carter Capps?
May 24, 2015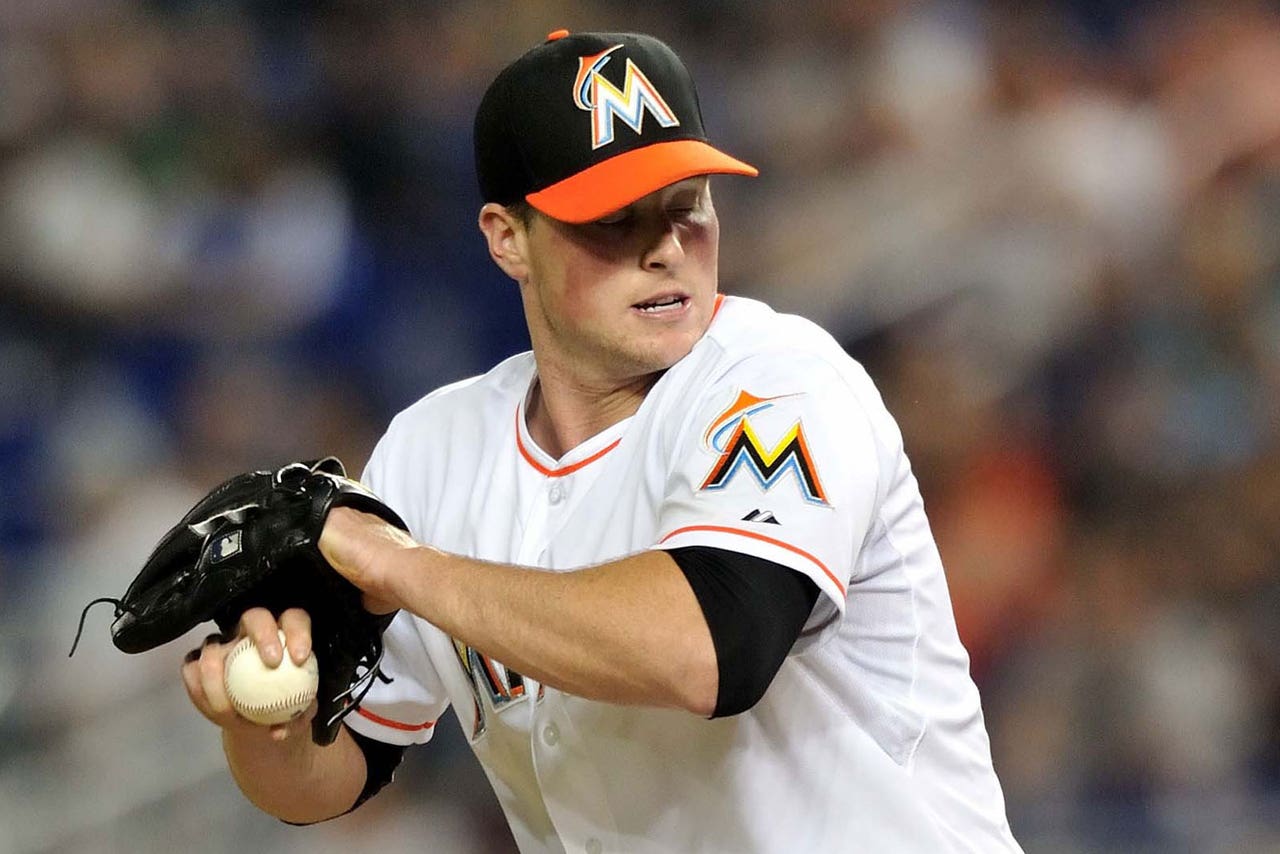 MIAMI -- Miami Marlins right-handed reliever Carter Capps described Saturday's outing as the best of his major-league career. If it's a sign of things to come, it arrives at the perfect time for a beleaguered bullpen.
Capps earned his first victory as a Marlin by tossing a career-high three scoreless innings, permitting just a two-out bloop single with a career-high six strikeouts. Of his 30 pitches, 24 went for strikes. He reached 99 mph four times on the radar gun and used his slider seven times.
"I was going to the slider quite a bit," Capps said following the game. "I just had good command of it (Saturday) I feel like. I was trying to use it. It definitely sped my fastball up a little bit trying to keep them off balance. When you can do that it definitely makes it a little easier. That's probably the best I've felt with slider command."
Acquired from the Seattle Mariners for Logan Morrison during the 2013 offseason, Capps' stint with the Marlins hasn't gone without a hitch. Saturday's appearance marked just his 20th in a Marlins uniform. 
The 24-year-old righty has gone back and forth between Triple-A New Orleans and the majors. During 2013 spring training, Capps worked on new mechanics and didn't make the Opening Day roster. Miami recalled him on April 23. Six of his first seven outings were scoreless, but over his final two he allowed three runs. 
By May 27, he landed on the disabled list with a right elbow sprain. Capps didn't require Tommy John surgery, but he didn't return to the ballclub until September. He posted a 5.40 ERA in eight appearances that month.
Earlier this season after once again beginning the season in the minors, he exited a game when the umpire called consecutive illegal pitches because of his unconventional delivery. Capps worked with pitching coordinator Charlie Corbell and Zephyrs pitching coach John Duffy to correct it.
"Last year I felt like I was throwing good, but then I got injured unfortunately," Capps said. "Kind of felt like I let the team down. I really felt like I could contribute, and this year trying to prove I can get in there and get the job done if they need me."
Added manager Dan Jennings: "That's the guy that we knew was in there, well-located fastballs and, man, he threw some filthy sliders that just buried in the plate. Great job to pick up three innings and do what he did and get the win."
INJURY UPDATES
With the Marlins traveling to Pittsburgh following Sunday's finale with the Orioles, three starting pitchers -- Henderson Alvarez, Mat Latos and Jarred Cosart -- will stay back to rehab while on the DL.
The Marlins hoped the doctor could come in on Sunday to perform an MRI on Alvarez, who is once again sidelined with right shoulder inflammation. Latos needs to strengthen his left knee, which is inflamed. Cosart continues to play catch as he takes medication for his vertigo.
"Based on what I heard thus far it seems like it can be the 15 days and have them back ready," Jennings said. "Maybe somewhere in that 15-20 range best case. Is it a big blow? Absolutely. We came into the season -- those guys are your 1-2-3. For now, it's the next-man mentality. We'll have a visit postgame and determine how we go after here in terms of the final two spots (on Tuesday and Wednesday). Luckily, we have some candidates here at the big-league level and down below. We'll look at when the guys have thrown, where they're stretched to and see how it matches up with Pittsburgh."
JENNINGS' ANALYSIS
On Jose Urena: "Throwing very, very well."
On Justin Nicolino: "Nico's just that guy. You sit there and you watch him and he just pitches. He's the MVP of the Florida State League, he's the MVP in the Southern, and I think he has his sights set on the PSL. Both guys are doing well." 
Overall: "I think we're very fortunate to have choices like that to reach to. You have Brad Hand here who is proven at this level. I got to tell you, he's been absolutely impressive in his role and what he's adjusted to down there. I see a lot of team-first mindsets, team-first mentality, and that's huge."
You can follow Christina De Nicola on Twitter @CDeNicola13 or email her at cdenicola13@gmail.com.
---