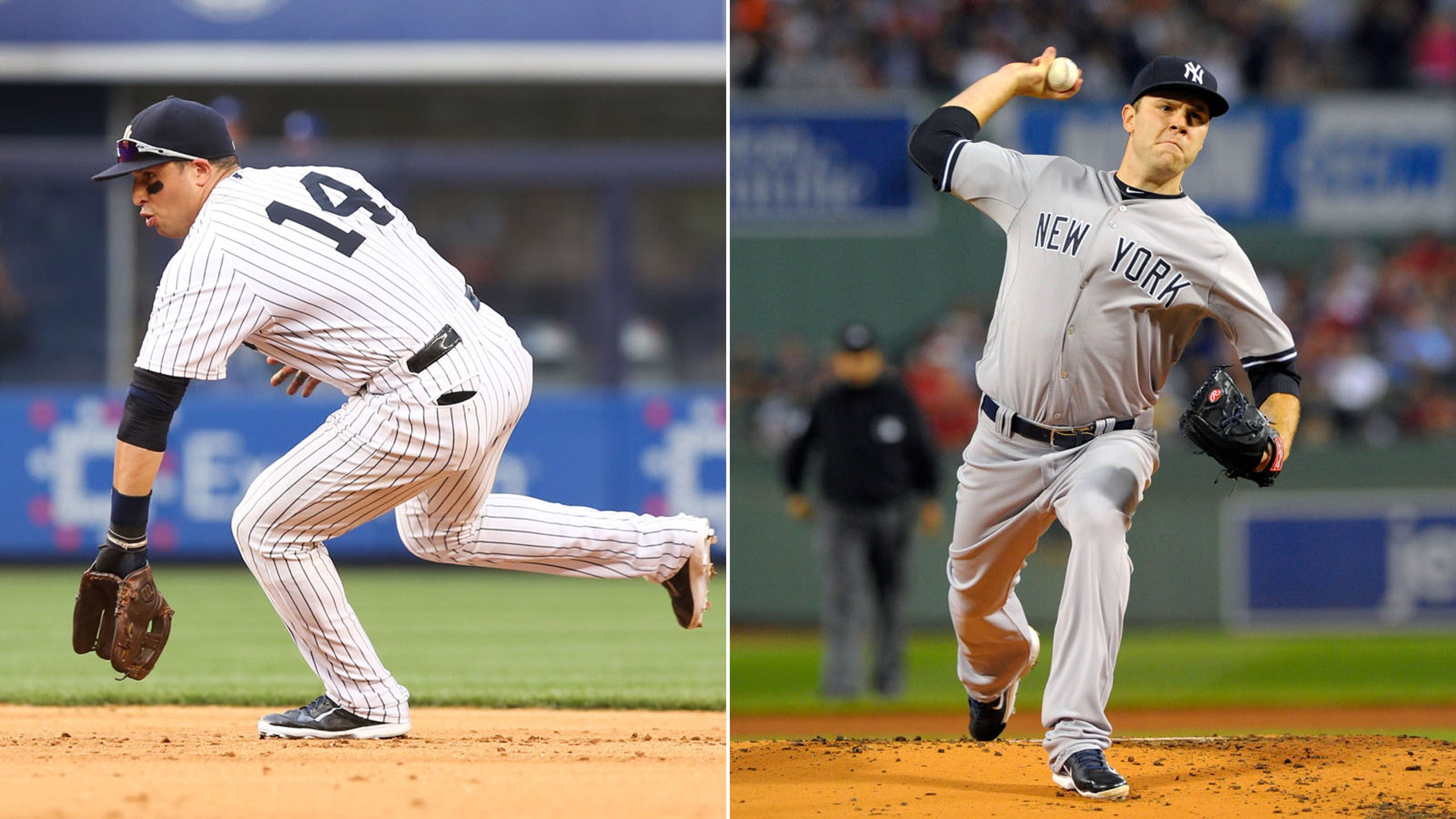 Marlins acquire utilityman Prado, righty Phelps in trade with Yankees
BY foxsports • December 19, 2014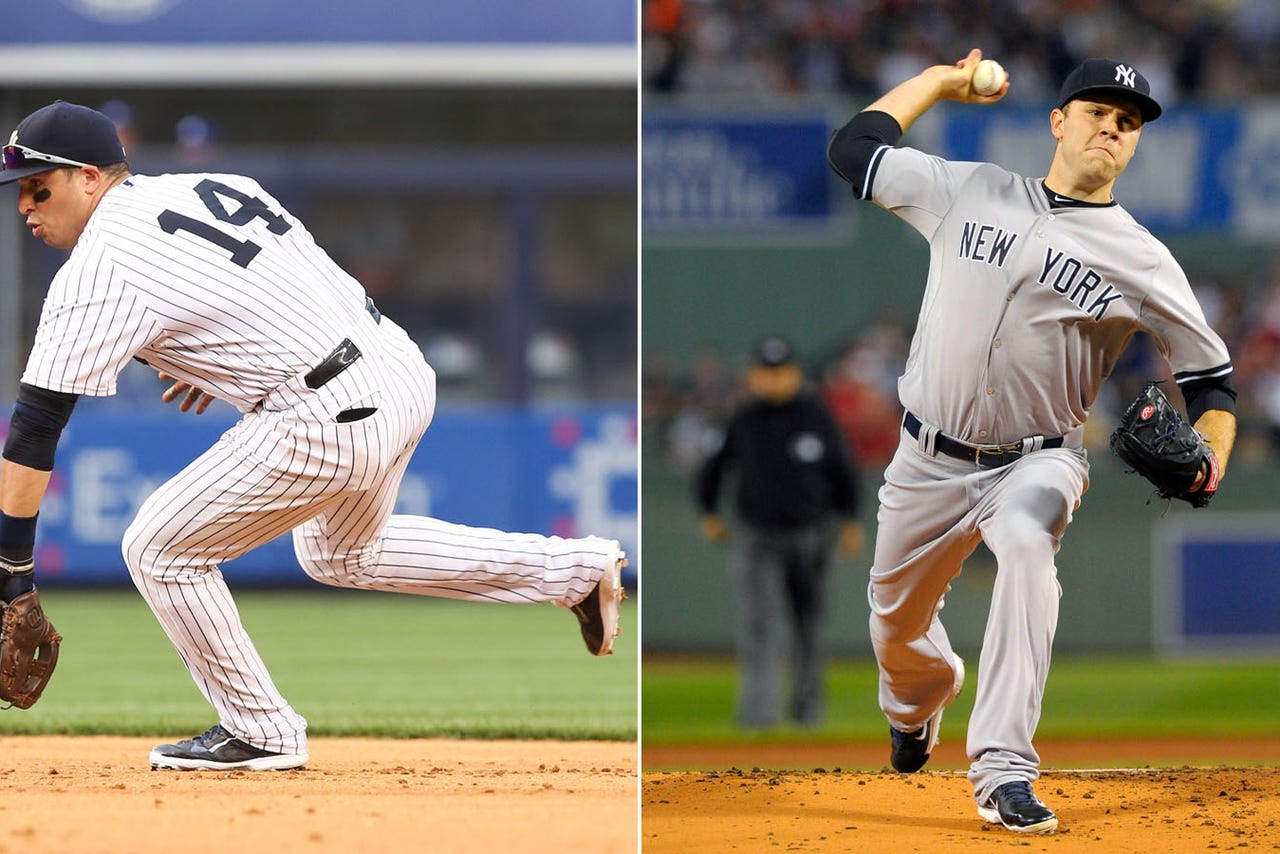 On the same day the Miami Marlins formally introduced a trio of new stars in right-hander Mat Latos, second baseman Dee Gordon and first baseman Michael Morse, they made yet another move during Hot Stove season.
The Marlins traded right-hander Nathan Eovaldi, first baseman Garrett Jones and pitching prospect Domingo German to the New York Yankees for utility player Martin Prado and right-hander David Phelps on Friday afternoon.
Prado, an All-Star in 2010 with the Atlanta Braves, is a .291 hitter with 230 doubles, 22 triples, 78 homers and 426 RBI in nine big-league seasons. He is not a free agent until 2017.
Between the Arizona Diamondbacks and New York Yankees in 2014, Prado, who turned 31 in October, batted .282 with 12 dingers and 58 RBI in 143 games. Prado has played all infield positions as well as both corner outfield spots. This past season, he appeared in 110 games at third base.
"We love (Prado's) athleticism," president of baseball operations Michael Hill said. "We love what he brings defensively to the table and the fact we control him an additional year. He brings athleticism to both sides of the ball, offensively and defensively, and the control. We know we have him for two years. Casey was on the brink of free agency. Given the opportunity, we felt it would be a good fit to bring Martin over."
Prado underwent an emergency appendectomy Sept. 16 that ended his season. Hill said he is "full go" for spring training and is "extremely excited" about joining the Marlins.
Hill admitted the Marlins tried to obtain Prado in the past for Dan Uggla. With his presence in the lineup, Miami may place Prado in the second spot behind leadoff batter Dee Gordon and before Christian Yelich. It would not only put Yelich in a run-producing position but also give All-Star slugger Giancarlo Stanton a chance to bat cleanup.
"We saw a lot of him from the other dugout when he was with the Atlanta Braves," Hill said. "It's nice to have him in a Marlins uniform. He's killed us on many occasions as an opposing player. We just love what he brings to the table. His skill set as a player, both offensively and defensively. He's going to be our everyday third baseman. He'll bat somewhere in the middle of that lineup. We just know he's a very dangerous hitter who can beat you so many different ways. We were extremely excited to add him and know he'll be with us in both 2015 and 2016."
Phelps, who is arbitration eligible this winter and not a free agent until 2019, has gone 15-14 with a 4.21 ERA in 87 games (40 starts) since his call-up on April 8, 2012.
The 28-year-old went 5-5 with a 4.38 ERA in 32 games (17 starts) in 2014. He offers the Marlins flexibility as an arm in the rotation or bullpen. Phelps told Hill he "would do whatever we asked of him and whatever he could do to help the ball club win games."
"We just wanted another versatile piece," Hill said. "He's done both. We're going to give him an opportunity to compete and be one of 12 with our club. He's done both. I'm looking forward to the competition.  It should be a great competition with Phelps and Hand and Crow. It should be interesting to see how it unfolds, but we love the versatility. We know the big man Jose is coming back in June or July and we wanted to give ourselves as much flexibility as possible in our staff."
As of Friday, president of baseball operations Michael Hill said Dan Haren, who the Marlins received in the Gordon trade with the Los Angeles Dodgers earlier this month, has yet to make a decision on whether he will retire.
Eovaldi, acquired in the 2012 trade with the Dodgers for Hanley Ramirez, went 13-27 with a 4.10 ERA in 63 starts for the Marlins from 2012-14.
After going 3-7 with a 4.43 ERA in 12 starts starts upon his arrival in South Florida, he missed the first three months of the 2013 season with right shoulder inflammation. Upon his return, he closed out 4-6 with a 3.39 ERA in 18 starts.
But the flamethrower, whose fastball reaches the upper 90s, struggled with his secondary pitches and gave up the most hits (223) in the National League in 2014. When ace Jose Fernandez got injured, Eovaldi was 2-1 with a 2.78 ERA. He would end the season 6-14 with a 4.37 ERA, dropping eight straight decisions.
"He's got a good arm and he's young," Yankees general manager Brian Cashman told The Associated Press. "We are getting younger." 
New York doesn't appear to be interested in big-money free agents such as Max Scherzer and James Shields.
"We're clearly going to continue to be open-minded to any legitimate opportunities, and that's the optimal word, legitimate opportunities," Cashman said, "something that obviously fits within our current circumstances." 
As for the Marlins rotation, with the addition of Latos — and perhaps Haren, Miami has a surplus in starting pitching. Aside from All-Star Henderson Alvarez, Jarred Cosart and Tom Koehler, there is also lefty Brad Hand. Eovaldi, who turns 25 in February, is arbitration eligible for the first time this winter.
Jones became expendable when the Marlins signed Morse, a free agent, to a two-year deal. The 33-year-old Jones had one more season on his contract worth $5 million.
In 2014, he hit .246 with 33 doubles, 15 homers and 53 RBI in 146 games. His 13 errors led the majors at his position, plus he batted just .221 against southpaws.
For the Yankees, Jones provides left-handed-hitting backup to Mark Teixeira at first base and outfield depth behind projected starters Jacoby Ellsbury, Brett Gardner and Carlos Beltran. His acquisition seems to lock out Alex Rodriguez as a possible backup at first.
"He's made for our ballpark," Cashman said. 
German, a top prospect for the Marlins, spent five seasons in the minors, going 20-10 with a 2.33 ERA in 77 games (44 starts).
The 22-year-old from the Dominican Republic posted a 9-3 record and 2.48 ERA in 25 starts for Class-A Greensoboro in 2014. German also appeared in the Futures Game during All-Star festivities, tossing a perfect frame with two strikeouts.
— The Associated Press contributed to this report.
You can follow Christina De Nicola on Twitter @CDeNicola13 or email her at cdenicola13@gmail.com.
---