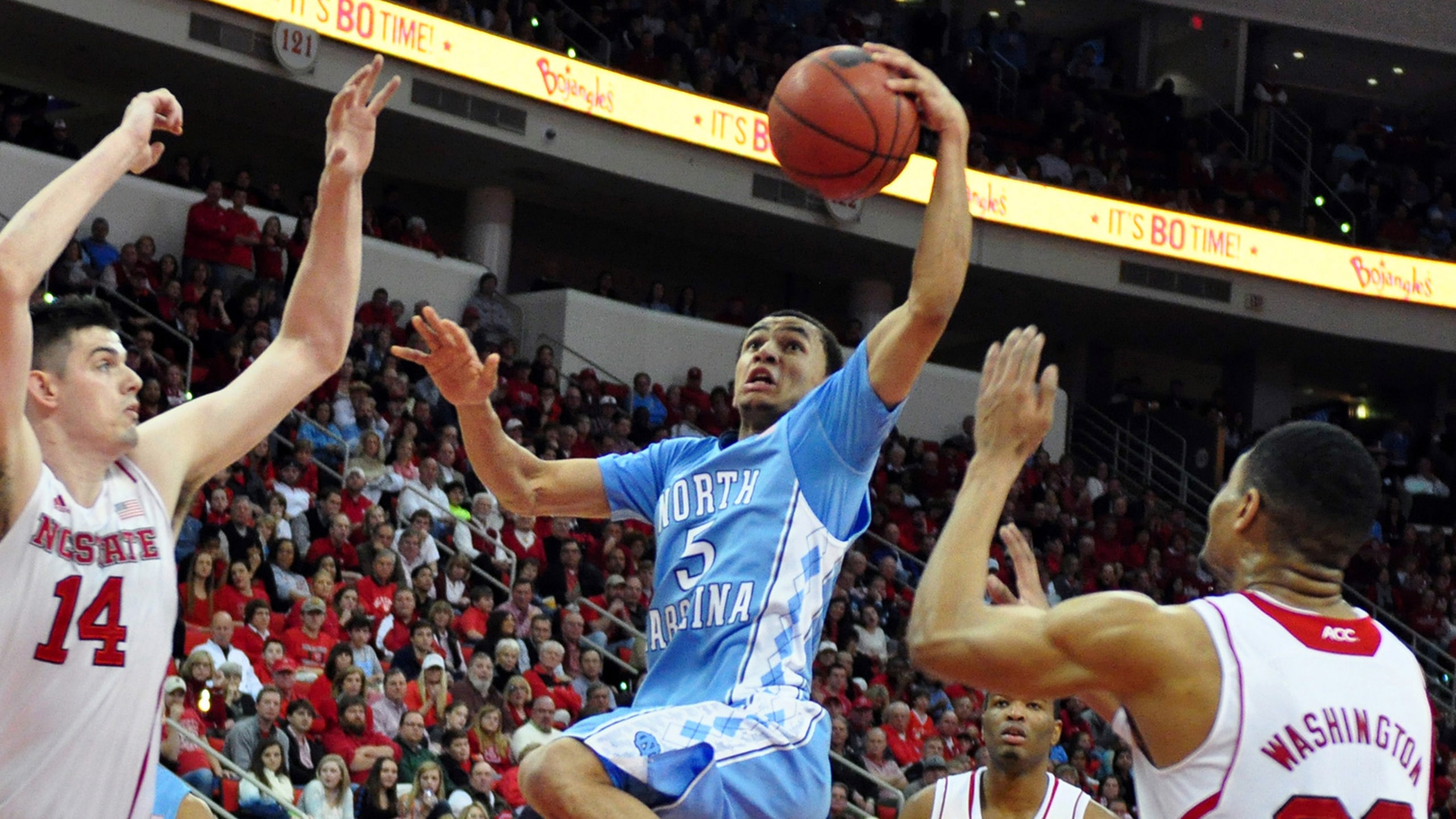 Marcus Paige, UNC edge NC State in OT thriller
BY foxsports • February 27, 2014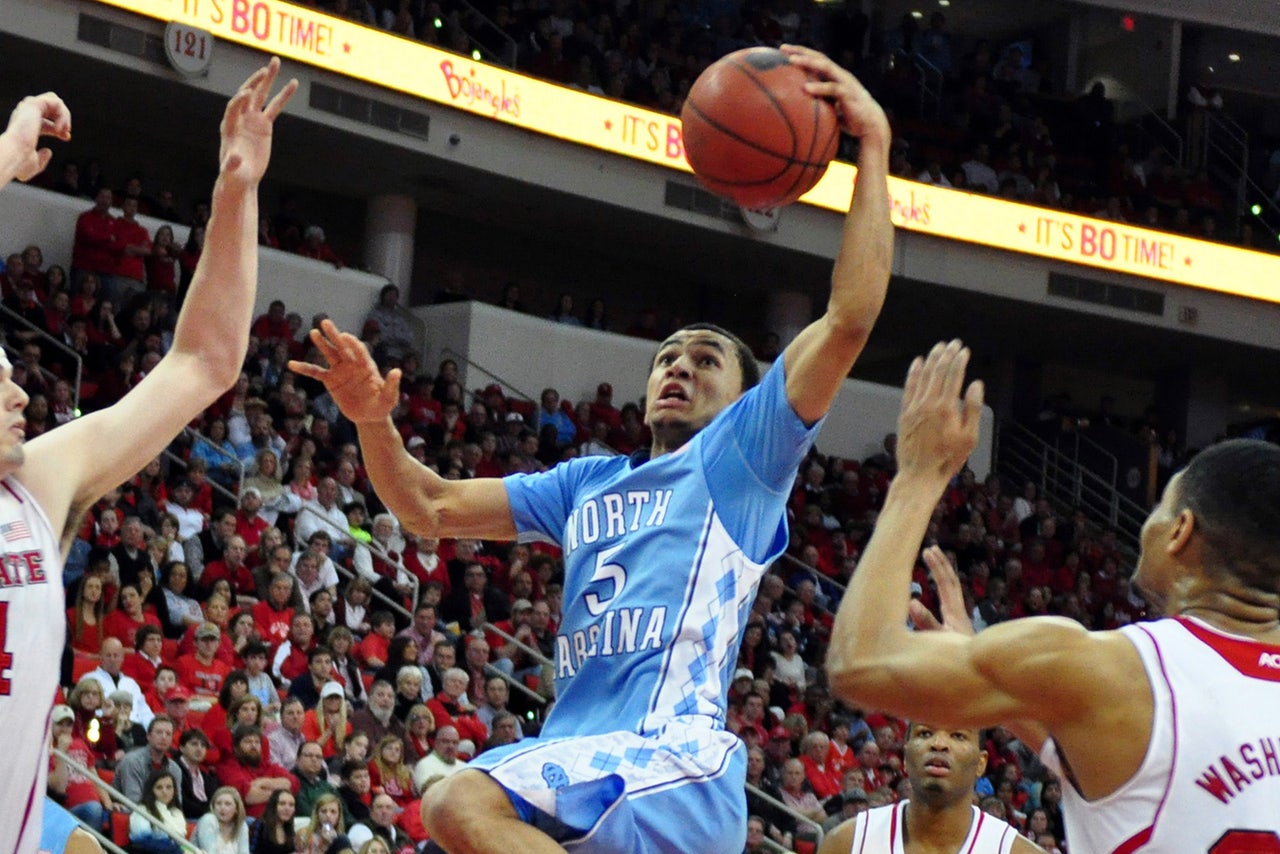 RALEIGH, N.C. -- Marcus Paige is aware that a Twitter hashtag exists to honor the odd phenomenon of his second-half scoring explosions -- #SecondHalfPaige. 
"I saw the little hashtag thing from a couple games ago," the North Carolina (21-7, 11-4 ACC) sophomore point guard said with a grin, basking in the glow of hitting the game-winner in an 85-84 overtime win at NC State (17-11, 7-8 ACC). "See, I'm aware. I'm on Twitter."
And even Paige admits that his performance in Raleigh was taking that concept to the extreme.
He had 31 of his career-high 35 points in the second half and overtime, and 17 of those came in the final 1:39 of regulation and overtime. That's six minutes, if you're counting at home. 
"Now that I can reflect on it, I was able to get hot and I felt like the rim was this big in the second half," Paige said, spreading his arms wide to demonstrate. 
It looked that way, too -- #SecondHalfPaige made seven of his final 10 three-pointers and scored 29 of his team's final 47 points -- oh, and 17 of their final 23. 
But what made the game itself special -- and particularly the end -- wasn't just what Paige did. 
As jubilant as Paige was after the game, his counterpart T.J. Warren, the ACC's leading scorer and one of the best scorers in the nation, was nearly as miserable. Which is unfortunate, because between those two, neither deserved to lose.
His team desperately needed a win like this to bolster a very thin NCAA Tournament resume, and they led by six with 1:34 to go in overtime, only to see it slip away as a Paige lay-up with 0.9 seconds to go fell through the net.
Warren has been putting his team on his back all season. This time, he scored 23 of his team's final 40 points (and 17 of their final 24) on his way to a career-high 36. 
Paige and Warren weren't guarding each other -- although UNC junior forward James Michael McAdoo said afterwards it might have been more fun if they had been -- but make no mistake, it was a duel.
As they went back and forth in the final 1:39 of regulation, it was absolutely exhilarating to watch. It felt like neither could miss. 
The two have known each other for a long time, and there was plenty of good-natured ribbing going on.
"We were talking pretty much the whole second half, at the free throw line -- like 'hey, give me one', 'I need one right now', 'miss a free throw'. 'Hey, you have 30, you can't say that to me.' It was good gamesmanship," Paige said. "Me and him are pretty good friends and there's no hard feelings between us."
"On a subconscious level, there's a little gamesmanship going on, there's a little competition because we're both such great competitors."
The two were simply spectacular to watch, making tough plays, tough shots and doing it all in huge moments. 
Warren and Paige are two of the smarter players in the league, and total basketball junkies. Warren admitted he watched Syracuse games even before the Wolfpack prepared for that game (which they nearly won) and tried to find holes in their zone. Paige watches games nationwide and is aware of the news and narratives of the day in college basketball. 
And both know what to do on offense, certainly.
Warren got UNC's best defender -- J.P. Tokoto, who missed a good portion of the second half with cramps -- into foul trouble, and there was no one else on UNC's roster that could guard him one-on-one. They tried everything -- guards, forwards, double teams -- nothing worked. And Warren attacked accordingly. 
"T.J.'s got such a tremendous ability," UNC head coach Roy Williams said. "He scores on little guys, he scores on big guys, it doesn't make any difference."
When NC State went to a zone midway through the second half, Paige was finally able to get some looks from three relatively cleanly. 
"Once you see that ball go through a couple times, as a shooter, you kind of lick your chops a little bit. You're ready to go," Paige said. "So that helped, getting a couple clean, open looks with my feet set at the rim."
Make no mistake, though, Paige would not have enjoyed that duel anymore than Warren did if his team had been on the other side of it.
He's had some big games in the past, but he's still haunted by his failures. Especially against Belmont in one of UNC's more head-scratching losses of the year in November. Late in the game, he tried to go behind his back with his dribble to split a double team, and turned it over instead. 
"I'll never forget that play," Paige said.
This time, the Tar Heels were down 84-83 with 7.7 seconds left in overtime after Warren made one of two free throws. The foul that put Warren on the line was frustrating enough to Williams that he sat on the court, staring ahead in disbelief.
But Paige and his teammates knew what to do this time.
"When I saw T.J. miss that first free throw, it started going through my mind, 'Marcus get the ball, Marcus get the ball', and I'm pretty sure all my other teammates were thinking the same thing," Tokoto said.
And that's because the Tar Heels were going to run a 'go'. No, not a 'go' route like in football -- although, in a way, that's exactly what it is. Without any timeouts to use even if they wanted to, they knew what play to run. 
Or, at least, Paige did.
"Usually we'll have a timeout left and we'll say if it's above 7 seconds, then just go. We're not going to use a timeout. But we didn't have any timeouts," Paige said. "That's something we've practiced. With that much time, you want to try to get an early ball screen somewhere in between half-court and the three-point line, and then just attack and have shooters in the corner.
"I just knew we were in the bonus and I was going to the basket. I wasn't going to settle for a jump shot. I know I had hit a bunch of three's in a row, but you've got to put pressure on the refs to make a decision. Once the lane kind of parted and I got a step on (NC State's Jordan) Vandenberg, I knew I had a chance."
That Belmont game, in some ways, seems like a distant memory. UNC is on a 10-game winning streak now, and an exhausted team that finished its fifth game in 12 days managed to gut out a physically and emotionally exhausting win. 
It didn't start out very well for UNC though, as the Tar Heels shot just 38.5 percent in the first half and turned it over 11 times. They went in at halftime only down by eight, though, and fresh off a second-half comeback against Duke just last week. 
Suddenly, that Belmont game -- and others like it, which highlighted the inconstancies of this team early on -- didn't seem so far away after all. A hungry NC State team was the aggressor.
"We have dreams and goals of being one of the top teams in the ACC. They can't want this game more than us," Paige said. "It means a lot to them. I know they're trying to get into the NCAA Tournament. But this has to be the most important thing in the world to us for the next 20 minutes, and that's the mindset we had."
And for the final few minutes, no one on either team wanted it more than either Warren or Paige.
Paige just made the last shot. 
Over 15 minutes into fielding questions from the media, Paige never dropped his easy grin or friendly demeanor. But when asked if he was tired, he responded quickly with a "YES". 
"You don't look tired," the reporter countered.
"I'm very tired. Don't let my demeanor fool you. I'm exhausted, but that's fun," Paige said. "This is something we'll remember, we'll talk about, remember when we played horrible at State, T.J. Warren was killing us but we grinded it out, we did what Coach told us to and we got the win?'" 
Paige's humility aside, it will be remembered as perhaps the most epic in a series of #SecondHalfPaige performances.
---