Making the Grade: Passes/fails for UFC 188: Velasquez vs. Werdum
BY Damon Martin • June 14, 2015
Saturday marked another record-setting night for the UFC, as a sold-out crowd in Mexico City watched one of the greatest performances in heavyweight history: Fabricio Werdum tapped out Cain Velasquez to become the new undisputed champion.
Werdum established himself as the interim champ last November, but to feel like he was the true No. 1 fighter in the world, he had to get past Velasquez.
The veteran fighter not only won, but he punished Velasquez on the feet before tapping him out on the ground with a third-round guillotine choke.
Also on the card, Eddie Alvarez gutted out a huge win to beat Gilbert Melendez by split decision after his eye was swelled shut during a rough first round.
But the results have already been returned from the card, so we like to dig a little deeper as we discuss who passed and who failed on the card from Mexico City.
This is Making the Grade for UFC 188: Velasquez vs. Werdum.
PASSES
No More Doubting Fabricio Werdum
When Fabricio Werdum tapped out Fedor Emelianenko in 2010, it was one of the biggest upsets in MMA history. He walked into the fight as much as a 10-to-1 underdog, according to some odds makers, and he needed only 69 seconds to put the first legitimate loss on Emelianenko's record.
Five years later, Werdum was once again a huge underdog going into his fight with UFC heavyweight champion Cain Velasquez. While it took him until the third round this time, Werdum's result was still the same as he wrapped up a submission and tapped out Velasquez to become the new undisputed heavyweight champion.
Werdum has been a quality heavyweight since his debut more than a decade ago, but somehow he always seems to be undervalued when going into the biggest fights of his career.
Now with his latest victory, Werdum has picked up wins over arguably the greatest heavyweight of all time in Emelianenko and possibly the most dominant UFC heavyweight of all time in Cain Velasquez. Werdum still has a few hurdles to jump before he can enter the conversation as the best of all time himself, but he's already got plenty of gold stars on his report card when he finally calls it a career.
The one thing for sure is that Werdum has earned the right to be called the undisputed UFC heavyweight champion, and that's an accomplishment no one can take away from him.
A Corner Man Does Right by His Fighter
After two brutal rounds against Kelvin Gastelum on Saturday night, veteran fighter Nate Marquardt lumbered to his corner with barely enough energy to sit on his stool, much less to try to get up for one more round. He got pummeled on the ground by Gastelum throughout the final couple of minutes in the second round, and there were a few opportunities where the referee could have easily justified a stoppage.
As Marquardt stumbled to sit down, he looked up at his coach Trevor Wittman and said, "I've got nothing left."
Before Marquardt could say another word, Wittman motioned to the referee and the officials in the cage to say the fight was over and he was stopping the action before things got any worse.
Listen, MMA is a sport built on tough guys. The fact of the matter is if you've got the gumption to step into that Octagon, throw hands with an opponent while knowing full well that you might get knocked out or put to sleep in front of millions of people, there should be no questioning a fighter's heart. But there's also something to be said for protecting a fighter from him or herself, and that's exactly what Wittman did by throwing in the towel when Marquardt was clearly done.
It's certainly understandable why it's hard for coaches and corner men to pull that trigger, especially when they see the work and dedication on a daily basis that it takes to even get into the Octagon. It was just refreshing to see a coach realize his fighter was done and take the decision out of his hands.
Now maybe Marquardt will have the chance to fight another day.  
Refreshing Honesty
In a world where promotional hyperbole often rules the day, it's nice when fighters are brutally honest enough to look at a performance and critique themselves accordingly.
That was the case with Olympic gold medalist Henry Cejudo after he picked up a unanimous-decision win over Chico Camus on Saturday night. Cejudo definitely did enough to win, but Camus stuffed almost all of his takedown attempts, and if he could have mounted just a little bit more offense, the Roufus Sport fighter might have stolen the victory. Cejudo also battled against a bad case of food poisoning that didn't help him very much either.
Before UFC 188 kicked off, Cejudo's name was being tossed around as a possible title contender to face Demetrious Johnson with the flyweight belt up for grabs. When his night was over, a reporter asked Cejudo whether his win over Camus could justify a possible title shot.
"No," Cejudo said while laughing hysterically. "Not tonight, for sure. I think I'm better than that."
Cejudo's candor in that moment was just refreshingly honest, and it was a nice change of pace. Fighters should always be encouraged to promote themselves and not be afraid to ask for what they want, but Cejudo realized that his performance left a lot to be desired, and he knew after that win that there was more work to be done.
Cejudo will almost undoubtedly challenge for the gold within his next few fights, but it won't be his next one, and it's pretty awesome that even he realized that.
FAILS
Could You Translate That?
When you have an international sport like MMA with fighters competing from all around the globe, language barriers are going to happen. Not everyone speaks English, just like not everyone speaks Portuguese, Spanish, French, German, etc.
While the UFC has definitely encountered some issues over the years trying to employ the best translators, there's something to be said about too many cooks in the kitchen.
For the live stream of the UFC 188 post-fight news conference, there were reporters speaking English, Portuguese and Spanish, and fighters responding in kind with all three languages. The same could be said of the translators trying to interpret everything for the viewers watching at home.
There were a few moments where Fabricio Werdum would switch from Spanish to English, and the translator would try to keep up, and meanwhile my head was spinning like a top because it sounded like a Rosetta Stone instructional being played backward.
Commendable effort to help everybody watching understand what was being said, but the execution could use a little work next time.
Dodger Earned His Nickname
Augusto Montano definitely had the weight of a nation on his back at UFC 188 as one of the most popular local fighters out of Mexico competing on the fight card, but he definitely didn't endear himself by the time his fight with Cathal Pendred was over.
While Montano looked spectacular in his UFC debut last year, he was a shadow of that same fighter on Saturday night while he refused to engage and instead decided to bounce around the Octagon for 15 minutes while seeing just how quickly he should shuffle his feet from left to right.
There were moments where Pendred just stood in the middle of the Octagon with his hands out at his sides begging Montano to do something, and it still didn't happen.
Between the first and second rounds, referee Herb Dean actually pulled Montano aside and warned him that if his timidity continued he was going to deduct points from his scorecard. It's a rarely used rule, but Dean wasn't playing around even if Montano seemed like he was during the fight.
Montano could still be a very serviceable prospect going forward, but when your nickname is "Dodger," it's probably not a good idea to earn it by running away from an opponent for almost 15 consecutive minutes.
EPIC FAIL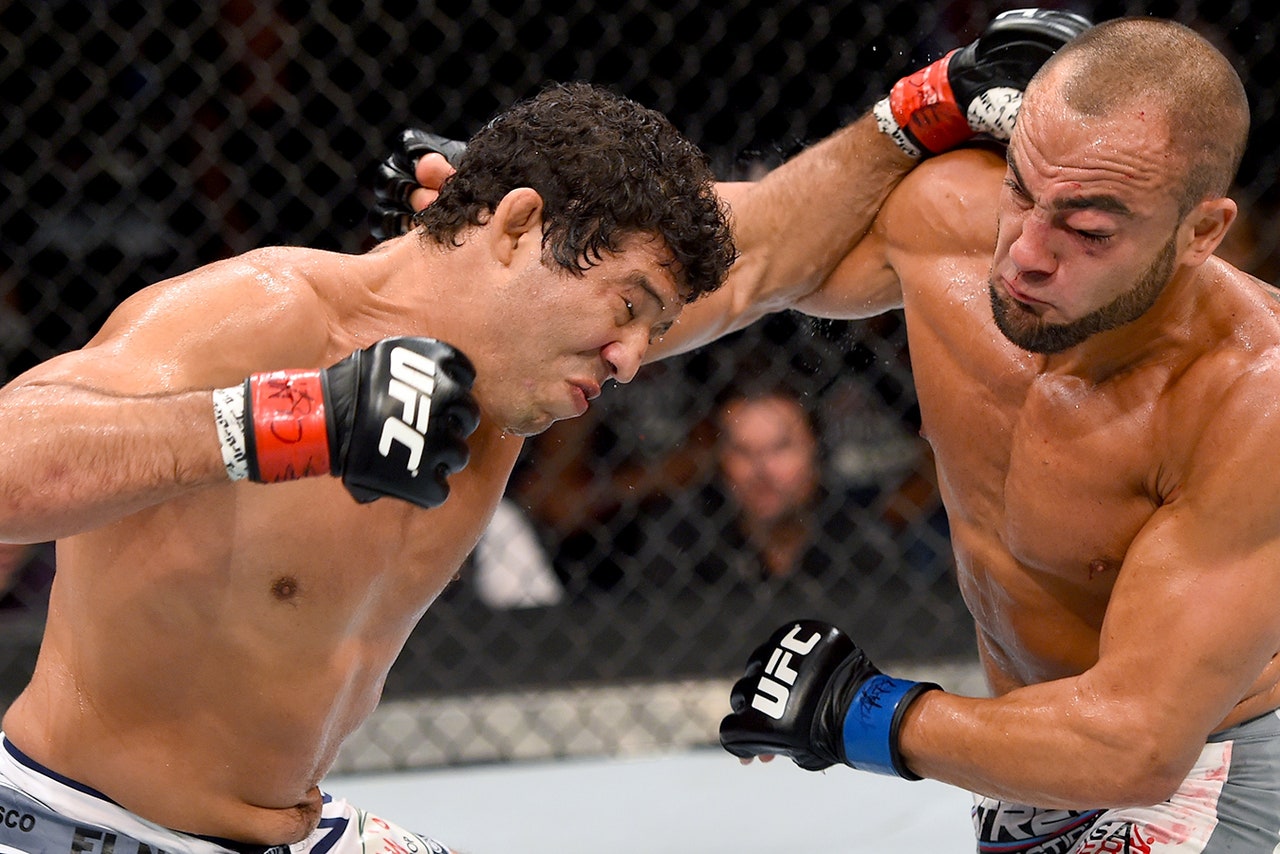 Into Thin Air
UFC president Dana White was as happy as a clam on Saturday night after another sold-out crowd filled the seats for the promotion's second card in Mexico City. White had talked about conquering the Mexico market for years, and after two record-breaking shows in a row, it appears the country will become a regular stop for the UFC in the future.
If that's the case — especially in Mexico City — the UFC seriously needs to consider sending everybody on the card to train there for at least two months before the show because the altitude drains oxygen out of fighters faster than Mega-Maid can do it to Planet Druidia.
Mexico City is actually about 2,000 feet higher in elevation than Denver, which is known as the "Mile High City." Conditioning already takes a beating whenever the UFC holds a card in Denver — and if you don't believe me, just go watch the fight between Mark Hunt and Ben Rothwell from 2011 as proof — so you can imagine how bad things got at UFC 188.
Just about everybody on the card suffered from the thin air in Mexico City. From flyweights to heavyweights, no one was immune to the altitude issue, and only fighters like Werdum and Cathal Pendred, who spent months in the city to prepare for the card, were able to withstand more than about five minutes in the Octagon without being winded.
Conditioning in MMA is crucial to survival, but it's not exactly fair to take away the air they can breathe during a fight either!
The good news: When the UFC returns to Mexico in November, the show takes place in Monterrey, with an elevation of only 1,765 feet! Let that sweet oxygen fly! 
---