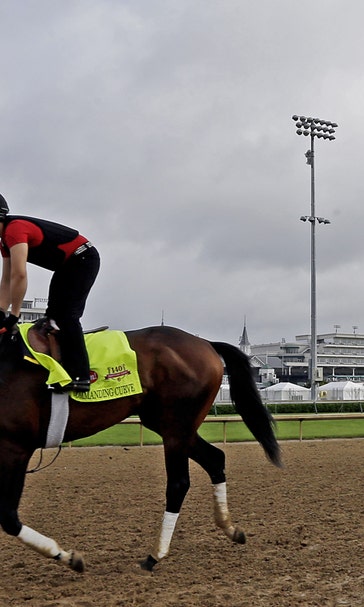 Making the Grade: Kentucky Derby runner-up Commanding Curve
June 2, 2014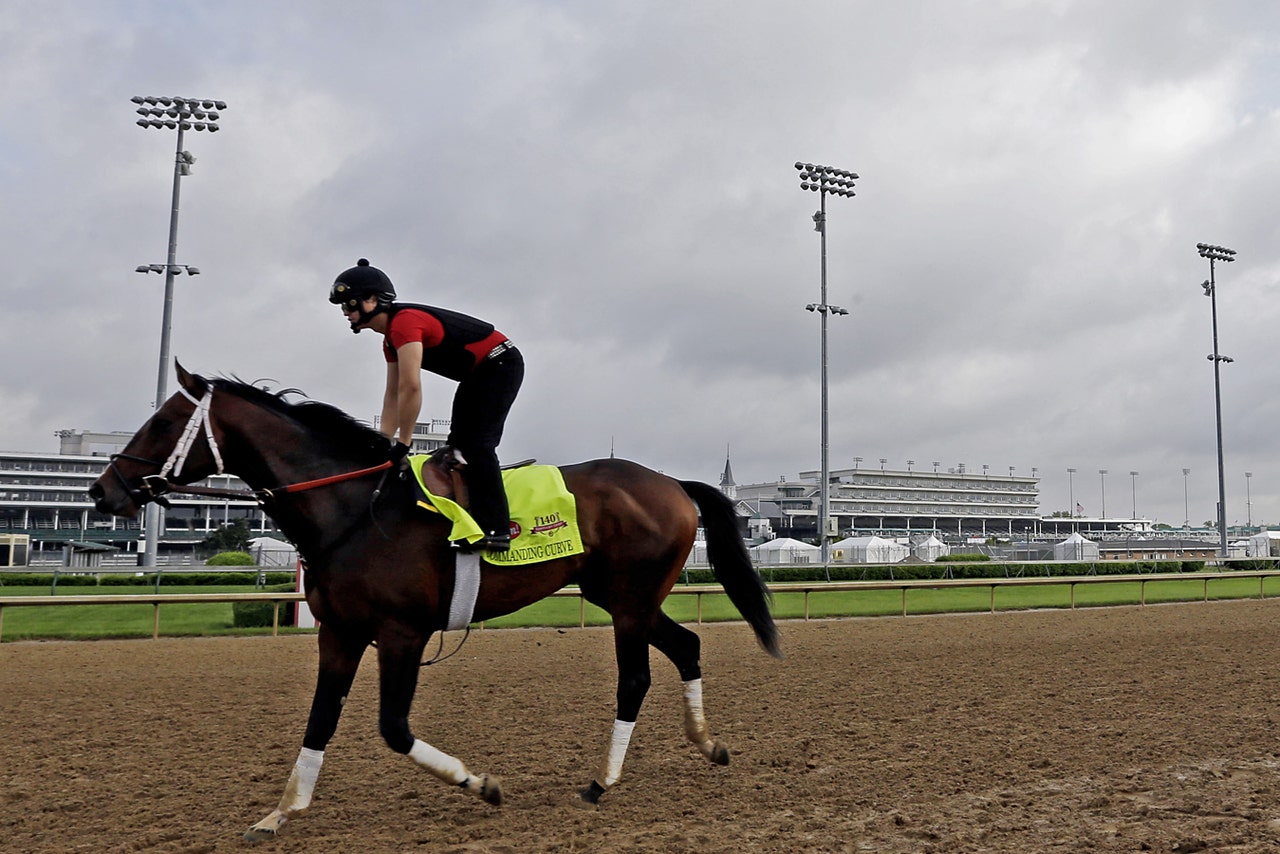 Making the Grade, which will run through the 2014 Belmont Stakes, focuses on participants in the big races, usually from the previous weekend, who could impact the next Triple Crown. We'll be taking a close look at impressive horses and evaluating their chances to win classic races based upon ability, running style, connections (owner, trainer, jockey) and pedigree.
This week we take a closer look at Commanding Curve, runner-up in the Grade 1 Kentucky Derby on May 3 at Churchill Downs.
It's rare for the subject of Making the Grade to be a 3-year-old without a stakes victory, much less a graded one to his credit -- but an exception was made for Kentucky Derby runner-up Commanding Curve.
The improvement he showed in his two most recent starts serves as a powerful reminder that 3-year-olds in the spring can make huge strides as they begin to learn and mature physically and mentally. I feel very confident that we've yet to see the best from Commanding Curve. But is he good enough right now to dethrone Kentucky Derby and Preakness Stakes winner California Chrome in the Belmont Stakes? Let's try to figure that out.
ABILITY: Commanding Curve was sold twice at auction, once as a yearling for $60,000 and then as a 2-year-old in training for $75,000 to owner West Point Thoroughbreds. He did not visit the winner's circle until his fourth start, but in his second career race he was beaten by only a neck and he lost his third start by less than a length. After a sixth-place finish at double-digit odds in his 2014 debut in the Grade 2 Risen Star Stakes, Commanding Curve began to show his potential with a third-place finish in the Louisiana Derby, in which he posted a career-best 94 Equibase Speed Figure. A late qualifier for the Kentucky Derby thanks to a couple of defections, Commanding Curve turned in by far the best performance of his career when he rallied from 18th to finish second at 37.80-to-1 odds to California Chrome in the first jewel of the Triple Crown.
Coming off of a 105 Equibase Speed Figure, Commanding Curve was wisely given some time to recover, and his connections targeted the Belmont Stakes instead of the Preakness.
While he was never going to catch California Chrome in the Derby, Commanding Curve clearly is starting to figure it out, and he was running much, much faster than everyone else in the final quarter-mile of the Derby.
"The horse is really doing super," trainer Dallas Stewart said. "He was so calm, cool and collected during all the Derby hoopla and ran like I thought he would. It didn't matter to me that he was a long shot, I had a ton of confidence in him; he's a real good horse."
RUNNING STYLE: As a 2-year-old, Commanding Curve raced much closer to the pace than he has this year. He was a close second going a mile in his second career start at Churchill when he came up a neck short, pressing the pace through a half-mile in :46.19. But in 2014 he has dropped well back in all three of his races.
In fairness, he was cut off at the start in the Louisiana Derby and forced to the back of the field, but it does look like Commanding Curve has found his calling coming from off the pace with one sustained, late rush.
Problem is, that has not been especially effective in the Belmont Stakes. In 13 of the past 20 Belmont Stakes, the winner has been fifth or better after a half-mile. But closers definitely can win the Belmont Stakes.
Summer Bird was ninth after a mile and won the 2009 Belmont by 2¾ lengths; Jazil closed from last after a half-mile to win in 2006, although the field did not include the Derby or Preakness winner; and who can forget Afleet Alex's electrifying rally on the turn in 2005 when he turned the Belmont into his own lemonade party. It can be done, no doubt, but a wide trip around that sweeping turn at Belmont going 1½ miles can be insurmountable unless the horse is an absolute freak like the aforementioned Afleet Alex.
The good news is that Commanding Curve has shown a willingness to split horses in his races this year. If he can weave his way into contention near the top of the stretch, the Derby runner-up could be in with a shot on June 7.
Neither the Louisiana Derby nor the Kentucky Derby featured an especially fast pace to set up Commanding Curve's late rally. Eventually, he will get a strong pace to set up his closing rally.
I'm just not sure it will be in this year's Belmont Stakes.
Fortunately, Stewart thinks Commanding Curve could race a little bit closer to the pace if necessary in the Belmont.
"He's versatile enough that I don't think we need to be way off the pace in the Belmont like we were in the Derby. He'll do whatever Shaun (Bridgmohan) asks of him."
CONNECTIONS: Stewart trains 2014 Derby runner-up Commanding Curve. He also trains Golden Soul, who like Commanding Curve closed from way off the pace to finish second in the 2013 Kentucky Derby. Golden Soul sat out the Preakness a year ago and went for the Belmont, in which he finished ninth.
Stewart also trained 2008 Preakness Stakes runner-up Macho Again, a Grade 1 winner, for Commanding Curve's owner, West Point Thoroughbreds. A winner of 697 races through June 1, Stewart won the Breeders' Cup Distaff in 2001 with Unbridled Elaine and the 2006 Kentucky Oaks with Lemons Forever.
Terry Finley is the founder and president of West Point Thoroughbreds, which manages the thoroughbred portfolios of nearly 400 partners and a stable of more than 80 horses. The operation picked up its first win in 1991 with Sunbelt.
Since 2007, West Point has amassed more than $17 million in purse earnings with a winning percentage above 20 percent. West Point raced Grade 1 winners Macho Again, Awesome Gem, Dream Rush, Flashy Bull, Irish Smoke and Lear's Princess.
West Point also races in partnership with St. Elias Stable 2014 Preakness Stakes fifth-place finisher Ring Weekend.
Shaun Bridgmohan has been aboard Commanding Curve for three of his seven starts, including his Derby runner-up finish, and he has the mount for the Belmont Stakes. Bridgmohan's lone previous start in the final jewel of the Triple Crown came in 2011 when he finished eighth aboard Santiva. He has won more than 2,700 career races, including 15 Grade 1s among 222 stakes wins through June 1.
PEDIGREE: Commanding Curve is from the second crop of Master Command, a son of 1992 Horse of the Year and Belmont Stakes winner A.P. Indy. Master Command won five graded stakes races with four of his graded victories coming at 1 1/8 miles. Master Command died in 2010 after sustaining an injury during a breeding session and has only two North American crops. So far, he has six stakes winners and four graded stakes winners from 144 starters. Master Command's top two earners so far are Master Risk, a graded stakes winner at 1 1/16 miles, and Unbridled Command, winner of the Grade 1 Hollywood Derby going 1¼ miles. Master Command should be a good source of stamina for Commanding Curve in the 1½-mile Belmont.
Commanding Curve is out of the winning Lion Hearted mare Mother, whose two wins came in six-furlong sprints. She finished fourth in the seven-furlong, Grade 2 Santa Ynez Stakes in 2005.
The bottom (maternal) half of this pedigree features only three stakes-placed horses, including Commanding Curve, within the first two generations, but there is some class if you dig a little deeper. His third dam (maternal great-grandmother), Proper Miss, was a stakes winner at 1 1/16 miles and produced stakes winner and sire Proper Ridge.
Commanding Curve's multiple stakes-winning fourth dam (maternal great-great-grandmother), Proper Princess, produced three stakes winners, including three-time Grade 1 winner Proper Reality, winner of the 1988 Arkansas Derby and 1989 Met Mile. Digging even further back, descendants of this female family also include champion Revidere, 1966 Santa Anita Derby winner and sire Boldnesian, 1992 Breeders' Cup Sprint winner Thirty Slews and multiple Grade 1 winner Cryptoclearance, who finished 2nd in the 1987 Belmont Stakes.
Commanding Curve's female family is a little bit light on class and stamina in the first couple of generations, but there is some interesting back class, and his sire, Master Command, should help his cause at 1½ miles.
---