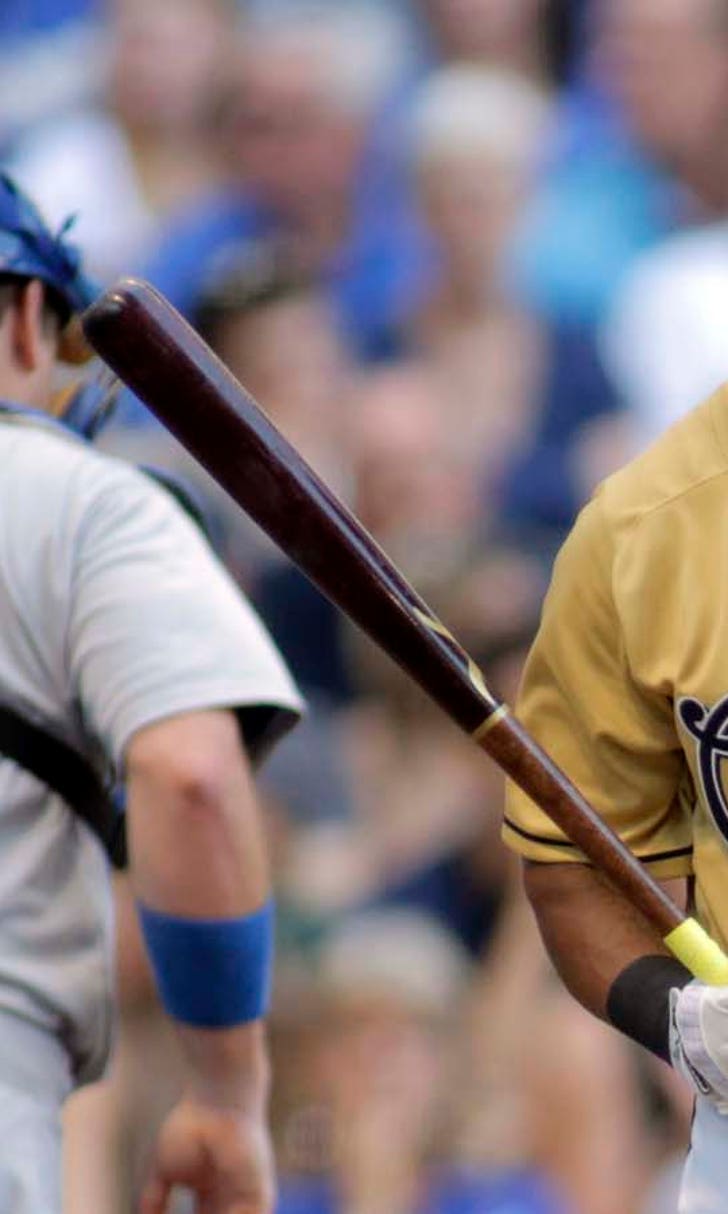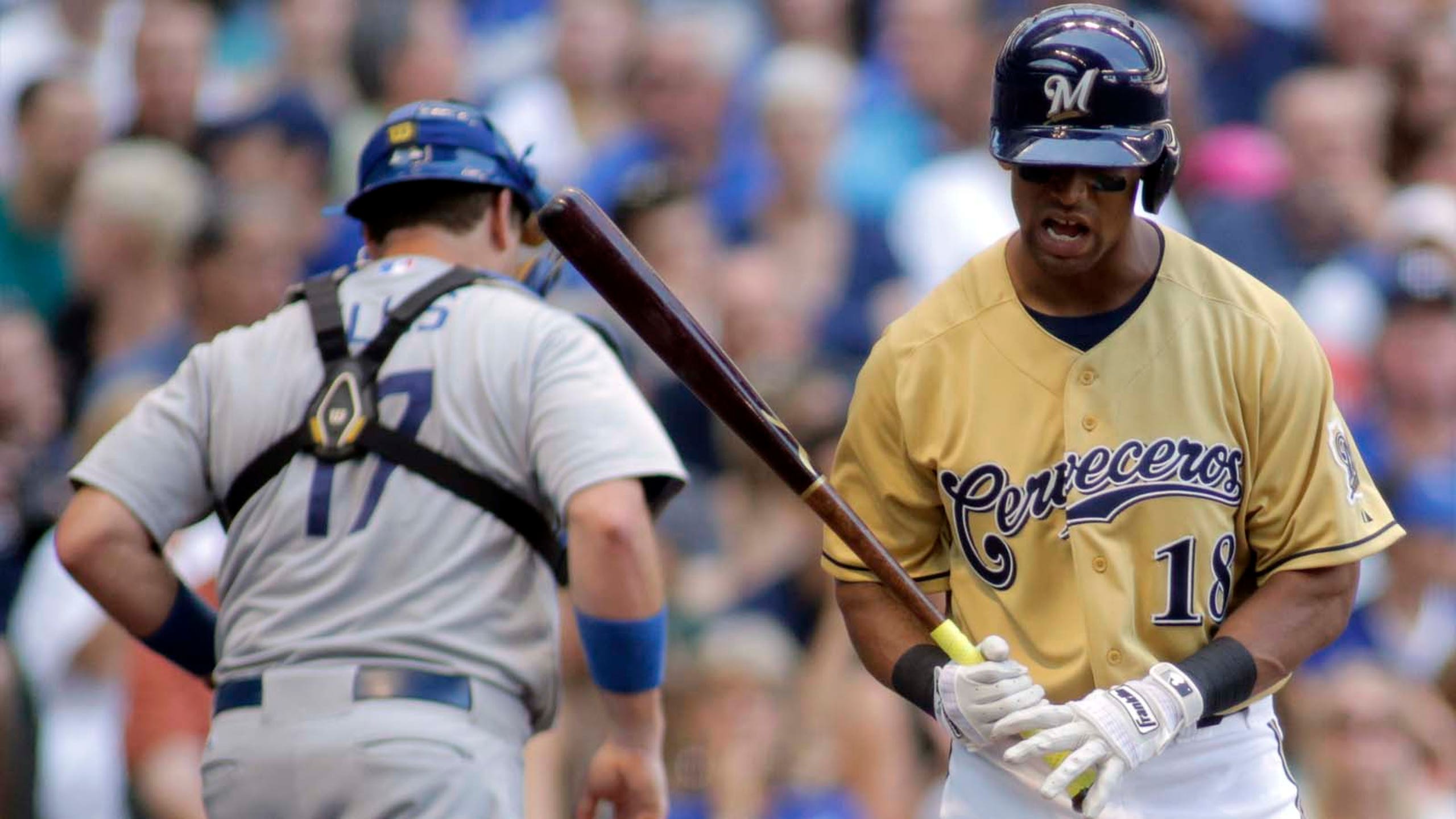 Loss ends, but doesn't spoil, successful Brewers homestand
BY foxsports • August 10, 2014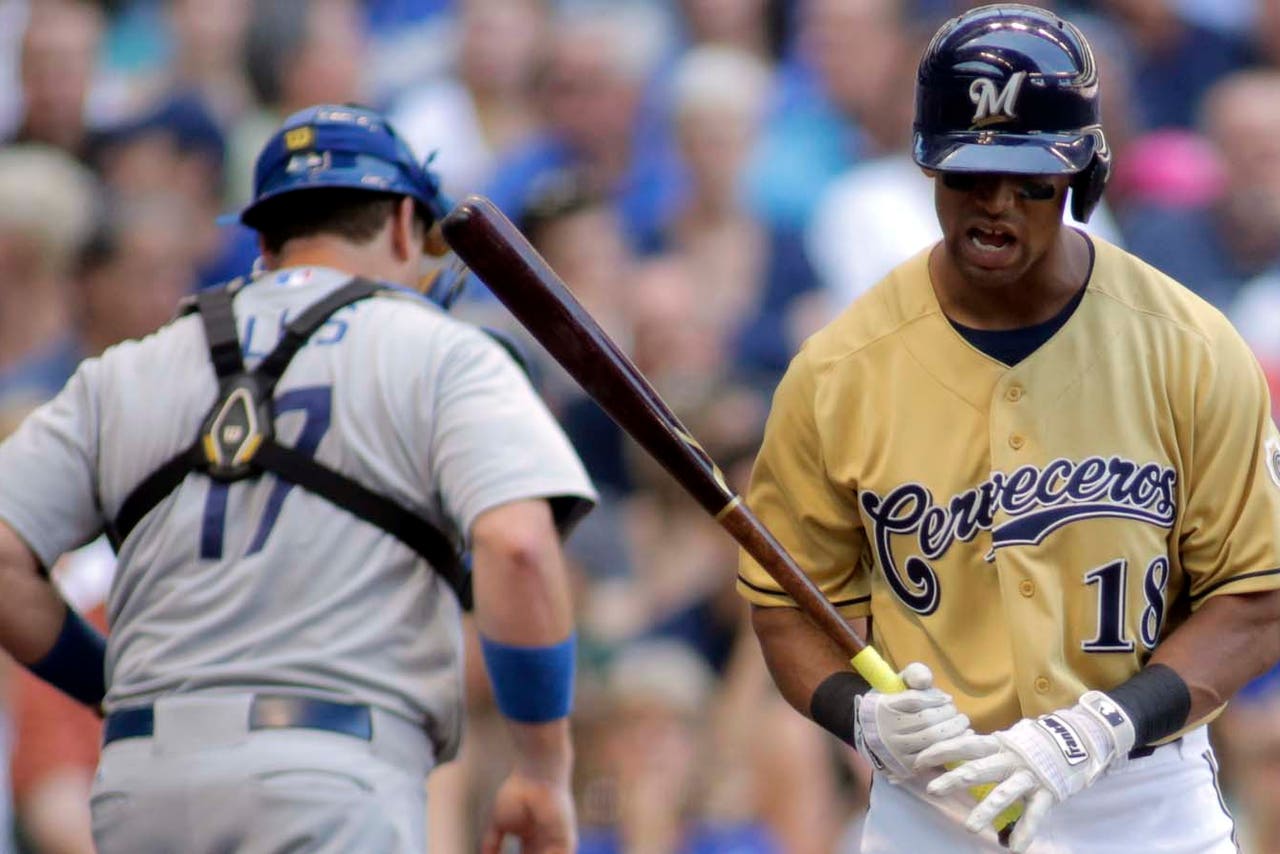 MILWAUKEE -- Runs are at a premium when facing a pitcher like Clayton Kershaw, making each baserunner valuable. But because it is hard to score, teams will often time be aggressive in order to create better offensive opportunities.
The Milwaukee Brewers usually walk the fine line between creating opportunities and making frustrating mistakes on the bases. On Sunday, the Brewers ran into three frustrating outs in the middle innings to erase scoring chances in situations where a run or two could have changed the game.
Pulling away late, the Los Angeles Dodgers used eight strong innings from Kershaw to avoid being swept by Milwaukee with a 5-1 victory in front of a sellout crowd of 43,612 at Miller Park on Sunday.
"You can't make mistakes against that guy, man," Brewers catcher Jonathan Lucroy said. "You can't give him free bases, you can't give him outs on the baselines. You've got to take advantage of everything you can, you know, score runs when you get a chance to, because that guy is so good, he doesn't make very many mistakes. It's just one of those things, and we didn't do a good job of that today.
"I think the game could have gone a lot different if we did some of the things right. So we know it's just a matter of one of those days, flush it and go get them tomorrow."
The Brewers will walk away from a six-game homestand against National League contenders San Francisco and Los Angeles feeling good about themselves after a pair of series wins. A victory over Kershaw on Sunday to complete what would have been their first ever series sweep over the Dodgers in Milwaukee would have been icing on the cake.
On his way to his third National League Cy Young Award, Kershaw extended his winning streak to 11 games by allowing just one earned run on six hits with six strikeouts Sunday. Kershaw is now 11-0 with a 1.16 ERA since the beginning of June.
"You can kind of throw him in the mix as the best guy in any situation you want," Dodgers manager Don Mattingly said. "He'll stop a streak, start a streak, continue a streak . . . whatever you want. He's pretty good in any situation. His last couple he's been a little out of sync but we see what he does with that; he continues to work, he doesn't give in and he keeps battling."
The Brewers jumped out to a 1-0 lead on Kershaw on a Ryan Braun RBI single in the first inning, but an Adrian Gonzalez sacrifice fly tied the game at 1-1 in the third.
Milwaukee's first baserunning mistake came in the bottom of the third after pitcher Jimmy Nelson led off with his first-career double. Nelson, who is not used to running the bases, was thrown out at third base for the first out of the inning on a groundball to shortstop.
Two pitches later, Carlos Gomez was picked off first base by Kershaw.
"I think anytime you face a pitcher like Kershaw, if you try to just get stagnant, I don't think much is going to happen," Brewers manager Ron Roenicke said. "Jimmy Nelson isn't used to being out there on the bases. That's always difficult. Carlos getting picked off, he's picked off a lot of guys. He's tough. He's tough to run against, but sometimes you think you need to do some things to try to create a few runs."
The Brewers got their leadoff hitter on against Kershaw in the fourth, as Ryan Braun singled and advanced to second on a wild pitch. Braun tried to advance to third when another ball got away from A.J. Ellis, but the Dodgers catcher recovered and made a great throw.
Braun was initially ruled safe by third-base umpire Marty Foster, but the call was overturned after a challenge by Mattingly.
After the Dodgers took a 2-1 lead off Nelson in the top of the fifth, Rickie Weeks led off the bottom of the inning with a double to right and moved to third on a groundout by Mark Reynolds. Jean Segura tried to squeeze home Weeks, but he bunted the ball foul.
Roenicke kept the squeeze sign on, but Segura popped up the bunt. Kershaw made an athletic diving catch and easily doubled Weeks off third.
"We had three times with a runner on second base and no outs," Roenicke said. "Next thing you look up and you've got nobody out there. We missed the squeeze, which would've changed the ballgame and change the way I pitch guys late in that game. It was a good game, it just got away from us a little bit there at the end."
Milwaukee didn't threaten much after the fifth, but Kershaw did allow a baserunner in seven of the eight innings he pitched. After Nelson allowed just two runs in six innings, Los Angeles scored an unearned run off Tom Gorzelanny in the seventh and two earned runs off Marco Estrada in the eighth to extend its lead.
The outs on the bases allowed Kershaw to keep his pitch count down, as he got through eight innings on just 100 pitches.
"They made a lot of outs on the base paths today," Kershaw said. "Gomez is really aggressive, he stole in the first inning. Their pitcher made a bit of a base running mistake and (shortstop Miguel Rojas) made a good play. A.J. (Ellis) made a great play to throw Braun out. All those plays were huge extra outs for me."
All things considered, it was a successful homestand for Milwaukee. Taking two of three from the Giants and the Dodgers leaves the Brewers two games ahead of St. Louis and 2 1/2 up on Pittsburgh in the National League Central as they embark on a seven-game trip to Chicago and Los Angeles.
"Good homestand, absolutely," Lucroy said. "Any time you can beat two teams that are pretty good, (from) the NL West, I mean, hey, it is what it is it is. I'll take it any day of the week."
After facing the Cubs for four games at Wrigley Field starting Monday, the Brewers will see the Dodgers again next weekend in Los Angeles.
Kershaw will be pitching the series opener, meaning the star left-hander gets Milwaukee in back-to-back turns through the rotation.
"They're a great team," Kershaw said of the Brewers. "You can see why they're in first place. They swing the bats really well. I'll have to figure out how to do it again when I pitch against them again; I know I face them back-to-back. Maybe I'll have to change the game plan a little. It was OK but there are some things I can definitely get better at."
Follow Andrew Gruman on Twitter
---