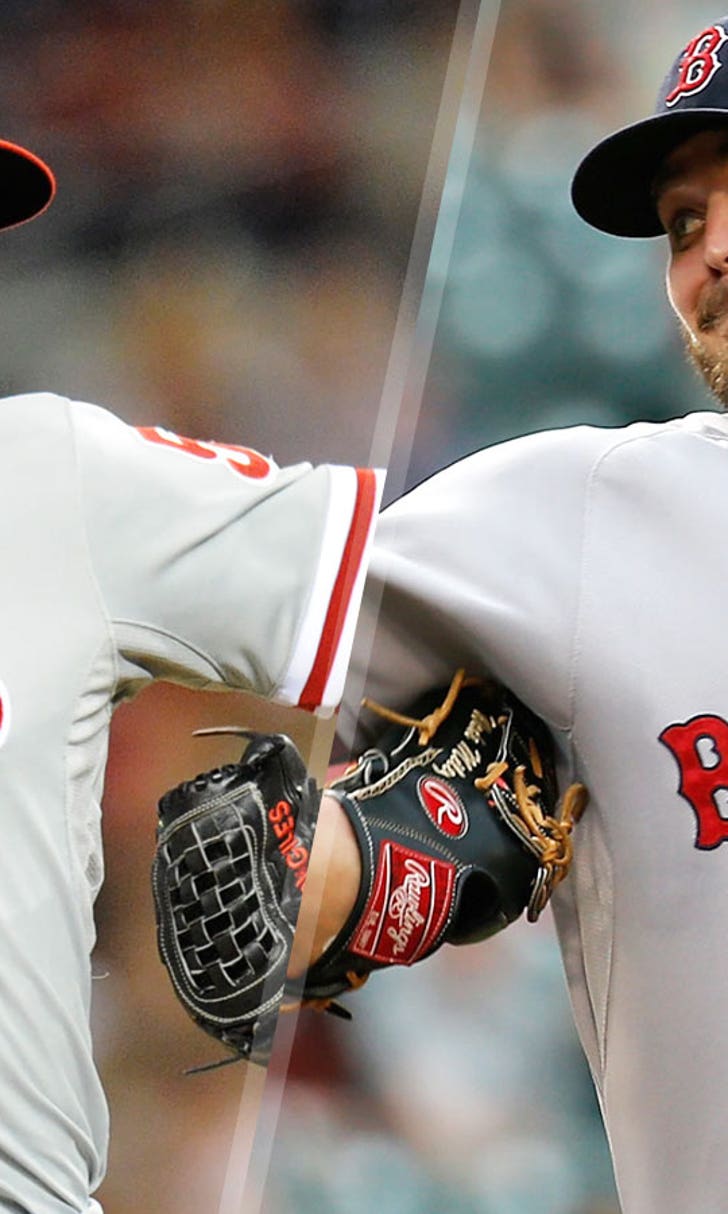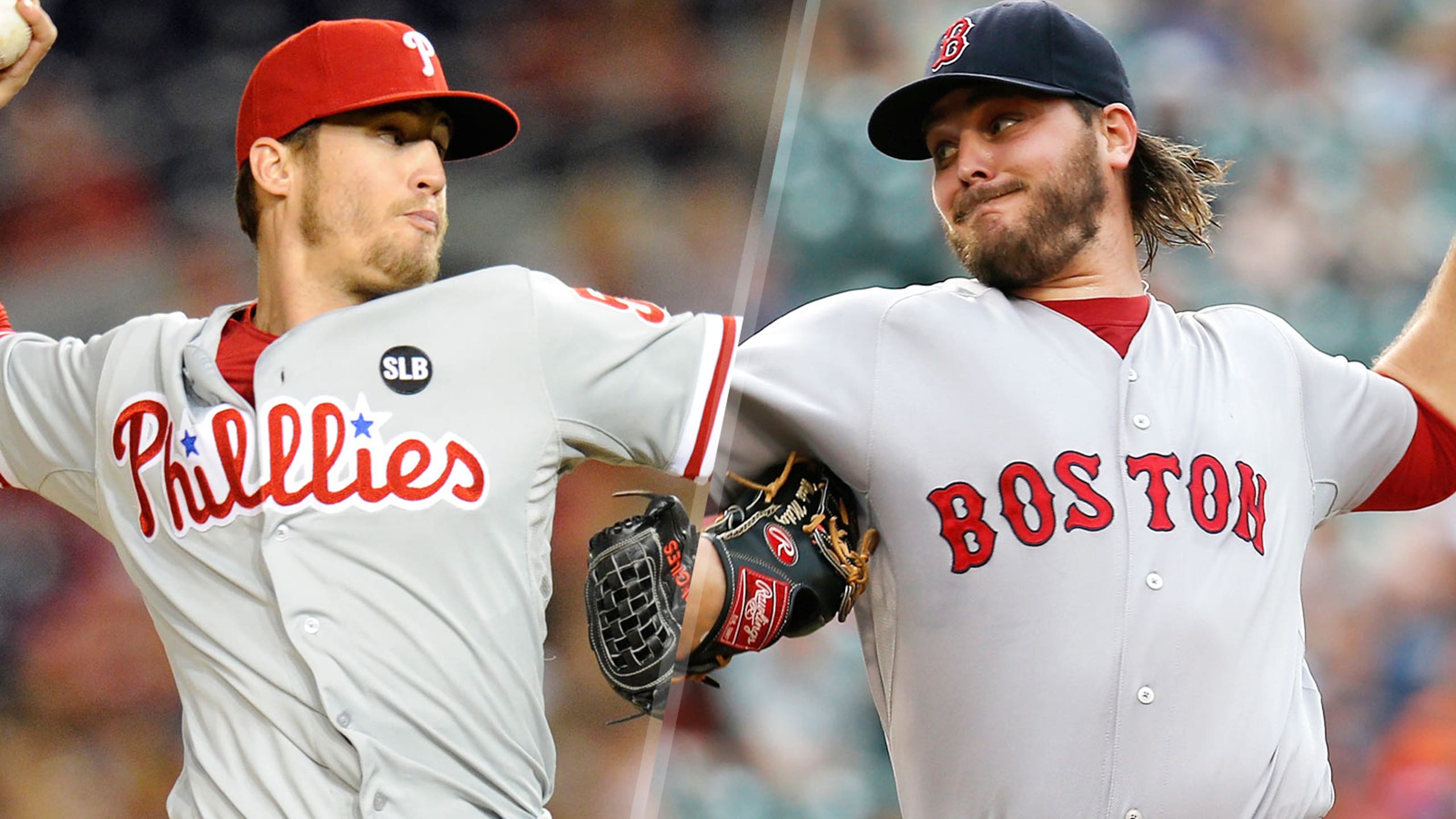 Losing your cool in a losing season
BY foxsports • June 15, 2015
Ken Giles wore a shirt to the ballpark on Friday night in Philadelphia that might have served as a forewarning of what was about to come. The shirt had flames on both sides of it and read "€œI'€™m all fired up"€ on the front and "100 miles Giles"€ on the back, at least according to the Phillies broadcast team. Well, Giles was fired up Friday night, but not in a way that made manager Ryne Sandberg very happy.
Giles entered the bottom of the 8th inning with the score tied 0-0. He got two quick outs by striking out Andrew McCutchen and inducing a groundout from Neil Walker. Giles then allowed a groundball single off of his foot to Josh Harrison; Giles attempted to make a sliding play on the ball behind the mound and threw it into the stands, allowing Harrison to go to second base.
The fuse was now lit.
The Phillies trainer came out, along with pitching coach Bob McClure to check on Giles. Giles seemed miffed by their mere presence on the field. He was fine. He didn'€™t want to talk about it, he didn'€™t want the trainer or pitching coach out there. Machoism at its finest.
The Phillies were doing their jobs here, but Giles was fine and it was obvious that his pride was hurt. He didn'€™t need to be checked on, he didn'€™t want to be viewed as soft. He was OK and wanted to be left alone. I get it, I've been there. Leave me alone, I'€™m not hurt, I want to pitch. But you can'€™t blame the trainers and coaches for doing their jobs.
Giles'€™ pride was about to take another hit.
Action resumes and in steps left handed hitting Pedro Alvarez with the potential go-ahead run at second. The Phillies decide to walk Alvarez, despite the fact that he is batting .239 this season and that lefties are hitting just .154 versus Giles. In two plate appearances versus Giles up to this point, Alvarez was 0 for 2 with a strikeout.
The plan was clear: Walk the lefty-hitting Alvarez (.217 in his previous 10 games) and go after Francisco Cervelli (.381 in his previous 19 games). It'€™s the typical lefty/righty play, by the book.
You can argue about the move, and there is a reasonable debate to be had. The Phillies aren'€™t going anywhere this year and Giles is being groomed to take over for closer Jonathan Papelbon. Trial by fire, let's see what he has. The flip side is that Alvarez'€™s run doesn'€™t mean much, so play the righty/righty odds and go after Cervelli. Personally, I'€™d rather have seen Giles go after Alvarez. He'€™s dominated lefties this season, he'€™s earned it and you don't play splits with future closers. But that's a conversation for another day.
Giles did not want to walk Alvarez. So much so that catcher Cameron Rupp had to come and talk to Giles, letting him know that the call came from the dugout. We'€™re walking Alvarez, it'€™s not optional.
The flames are being stoked.
The emotions of the error, the injury visit to the mound and now the call for the intentional walk have clearly gotten to Giles. He walks Cervelli on five pitches.
Pitching coach Bob McClure comes out to the mound. Giles is expressionless. McClure is talking and while Giles'€™ eyes are looking in the direction of McClure, the stare is blank. He is looking right through him and probably not hearing a word that is being said. McClure leaves, Giles barely acknowledges that he was even there.
This game is emotional and is played with intensity. When you are a hard-throwing reliever with plus stuff, 0-0 games late bring that emotion to the forefront. Controlling those emotions can be a challenge, especially when you are young. Giles is 24. If you are questioning decisions your coaching staff is making during such a time, then a recipe for disaster has been concocted.
The bases are loaded with two outs and Giles is facing Jordy Mercer. He nearly throws the first pitch over Rupp'€™s head. He falls behind 3-0. He throws a 96-mph fastball right down the middle for strike one. He throws a 95-mph fastball a little high and inside, but it is called a strike. His 3-2 fastball is at 97, just above the belt and probably a ball, but after the 3-1 call Mercer can'€™t let it go by and swings and misses. Inning over.
After the swing, Giles waves off Mercer. At least I think it was meant for Mercer and not for his own dugout. Giles was obviously amped for this game, and the events of the inning put him over the top.
Sandberg greeted him in the dugout. Larry Bowa had some words for Giles too. Cooler heads didn'€™t prevail. Giles barked back at his coaches, but it ended with Sandberg raising his voice with animated body language toward Giles. It was an ugly incident in a game the Phillies eventually lost 1-0 in 13 innings.
I say this often: Losing brings out the worst in athletes. The Phillies are a terrible team. Their 22-42 record is the worst in baseball. They have about 100 games left to play, and there is no light at the end of the tunnel. That never excuses poor behavior or showing disrespect for coaches, but it is a real factor.
That'€™s easy for me to say from where I sit now. I don't pass judgment on Giles. I'€™ve been there and have embarrassed myself in the same kind of way.
I was in Detroit during the lean years when we were perennially a bad team. I was brought into a game one time as our left-handed specialist and was instructed to intentionally walk the first batter I faced.
I had just heated up and gotten ready to come into a tight game. I am ready to go, jog to the mound and warm up with my intro music playing over the home crowd. And then I was told to intentionally walk the first hitter. Buzz kill.
I thought it was a ridiculous move and it bothered me. I was so irritated I let it affect me throughout the inning. I gave up a hit and allowed an inherited runner to score in that inning, and I snapped when I got in the dugout.
I threw a few things, probably cursed and made an utter fool of myself. I had been there a few years, we always lost and now we'€™re bringing in relievers to intentionally walk hitters.
Losing brought out the worst in me.
Things got even more embarrassing when my pitching coach explained to me why they called for an intentional walk. I entered the game with a righty hitting and a lefty on deck. Had our opponent pinch hit for the lefty, my manager wanted to have the option of taking me out. If he let the previous pitcher intentionally walk the righty and the other team pinch hit for the lefty when I came in, I would be forced to face the righty. It actually made perfect sense.
The bigger issue is that it doesn'€™t matter if what your team is doing makes sense or not. As players, our job is to play and let our coaches coach. I get Giles'€™ frustration; he wanted Alvarez and he didn'€™t want anyone asking him if his foot was OK. It might seem barbaric, but I want my relievers having that kind of edge to them. Their job, however, is to trust and respect their coach'€™s decisions and to never show them up in the process.
As Ken Giles, Wade Miley and even myself can tell you, that can be much easier said than done, especially when you'€™re losing.
---