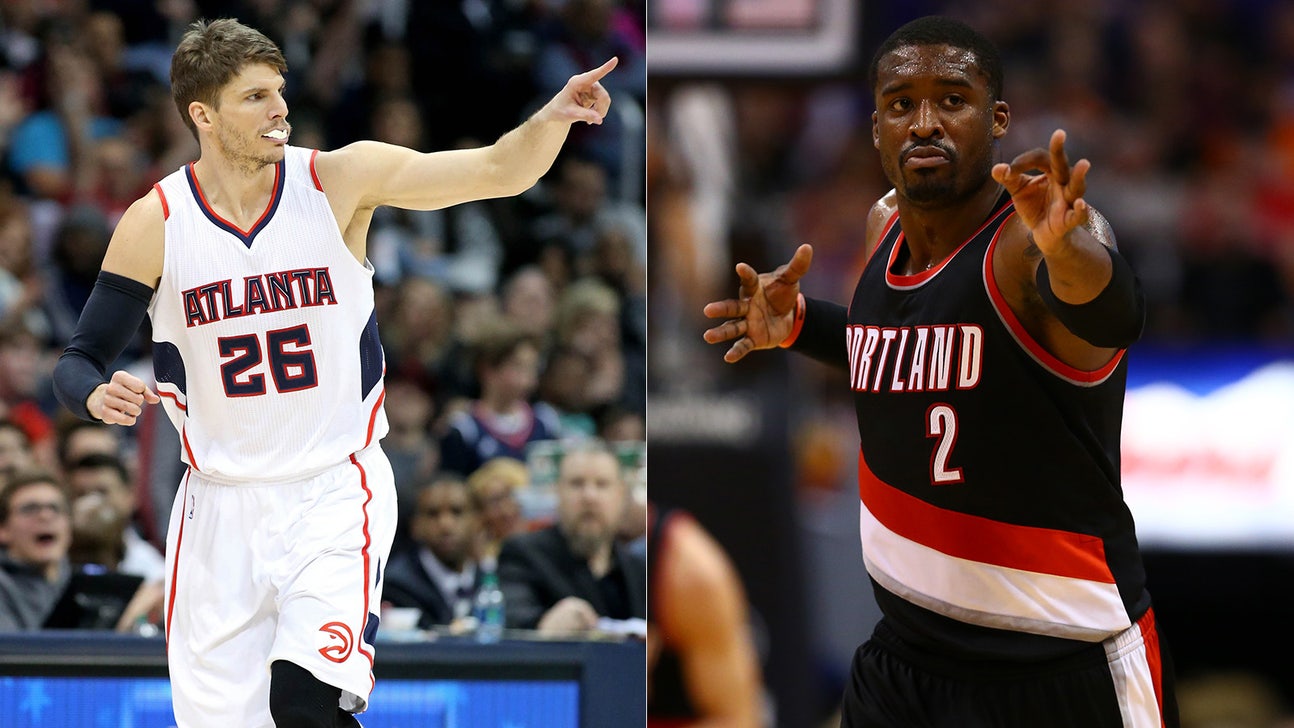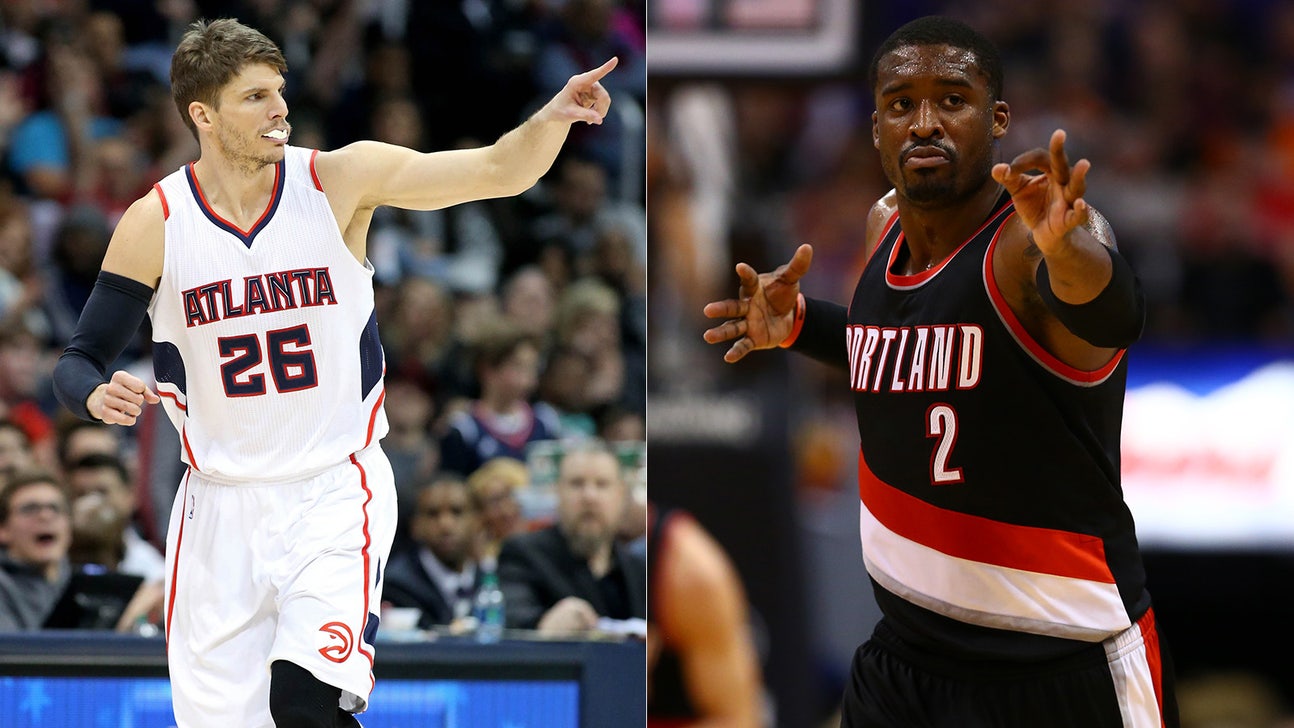 Long-distance operators: NBA leaders Korver, Matthews' approaches differ, but results same
Published
Jan. 30, 2015 10:35 p.m. ET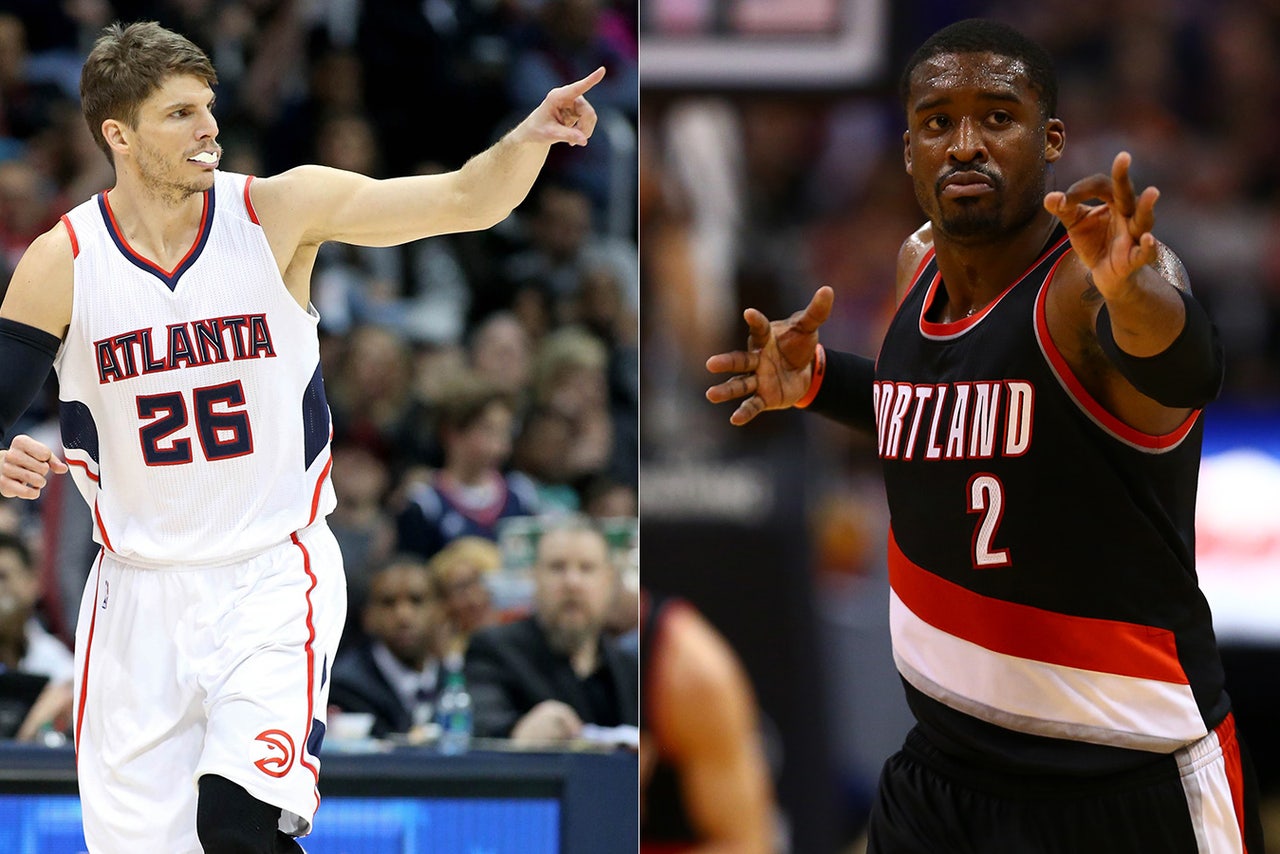 While four newly minted All-Stars took the Philips Arena floor, one of the most intriguing games within the game Friday night had nothing to do with the Hawks' Al Horford, Paul Millsap and Jeff Teague and the Trail Blazers' LaMarcus Aldridge.
It was the showdown of the NBA's most prolific 3-point shooters.
Atlanta's Kyle Korver and Portland's Wesley Matthews entered the Hawks' 105-99 win (their 18th straight) ranked No. 1 and 2 in the shots made from distance. Matthews' 141 lead by one.
Two weeks from now, they'll be putting their long-range skills on display in the Three-Point Shootout as part of All-Star Weekend in Brooklyn's Barclays Center.
This was just a preview, one that provided snapshots of just how differently these sharpshooters go about their business.
Steve Blake drove under the paint through a pair of Atlanta defenders, then kicked out on the right side to a wide-open Matthews.
He drained it.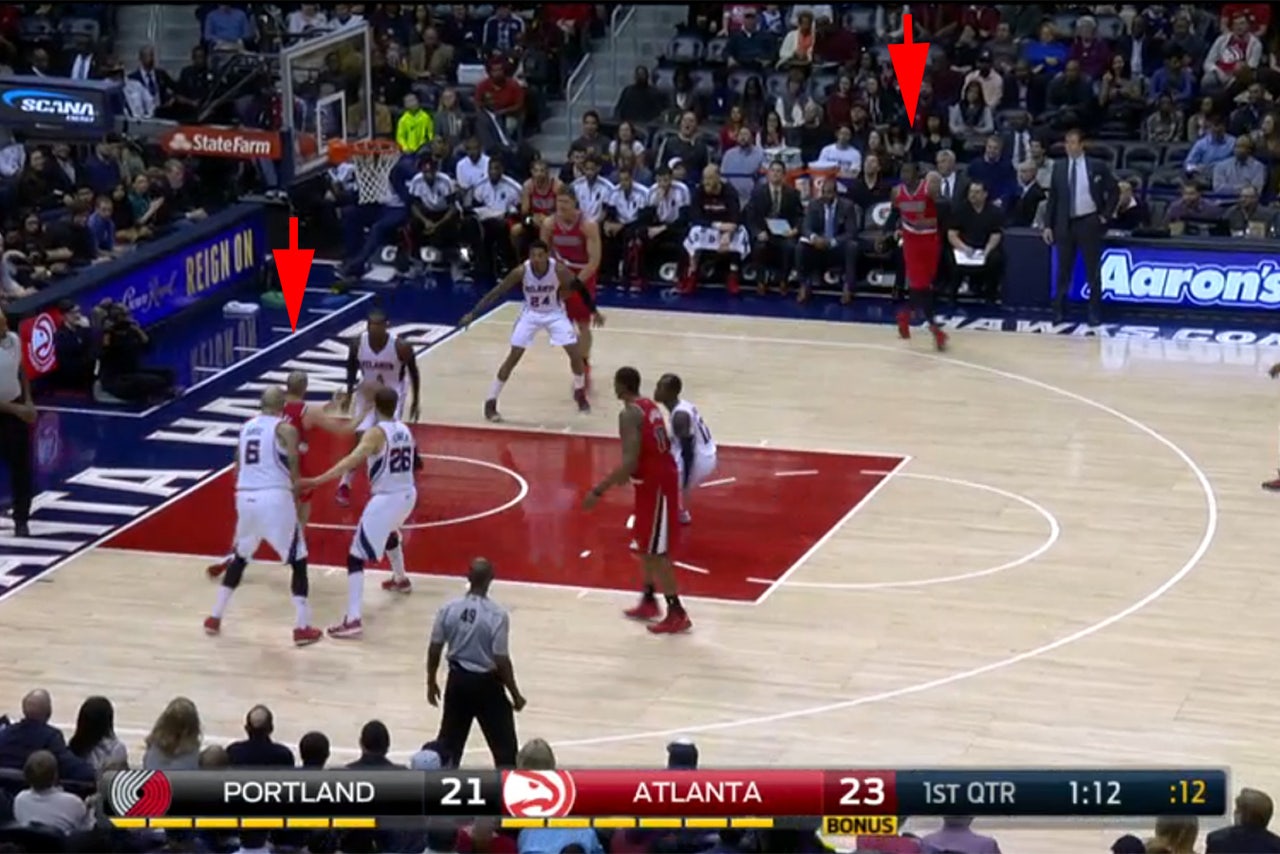 Later, Korver would run behind a John Jenkins screen on LaMarcus Aldridge, then shielded by another via Horford, caught and threw up a 3-pointer before the Portland center could close.
There was no doubt.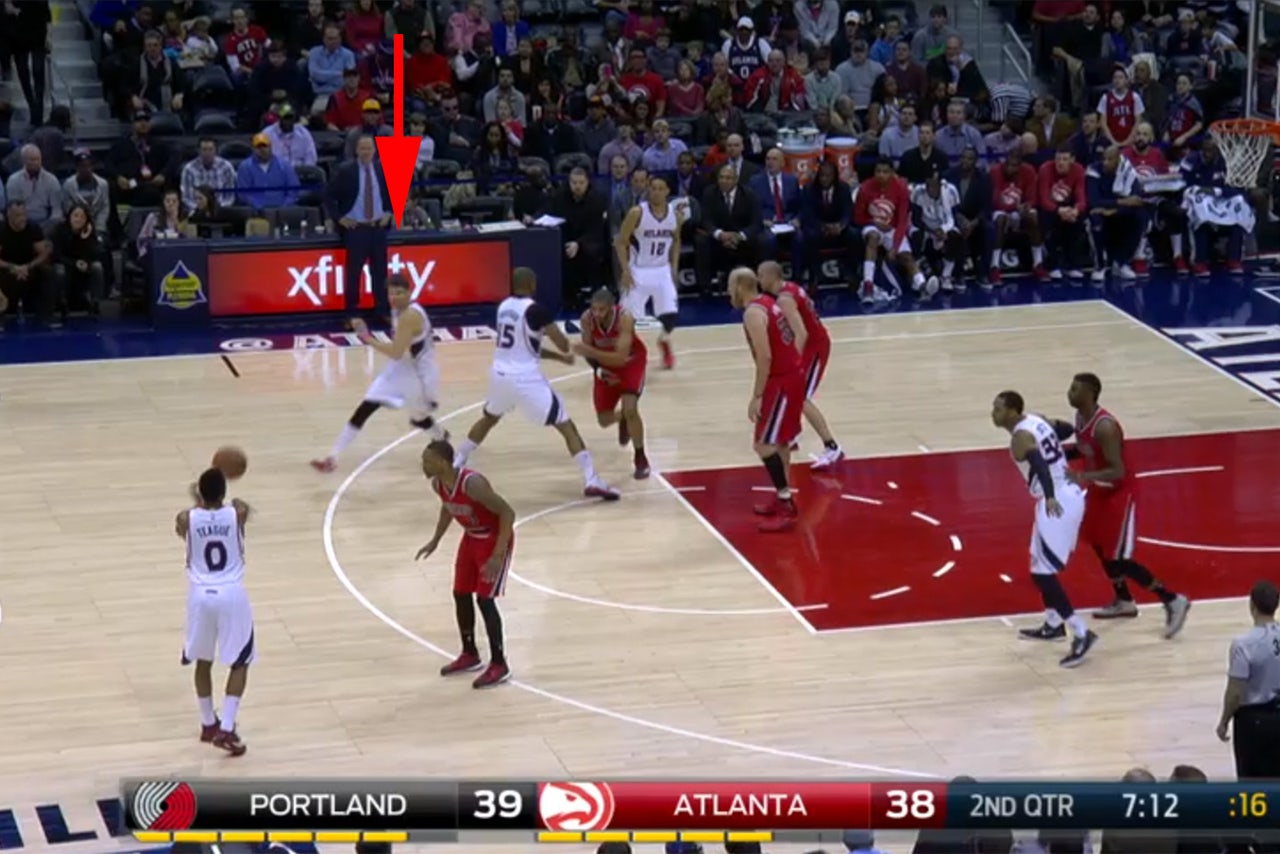 Those glimpses are their games, in bite-sized form.
"Our technique is different," Korver said. "He doesn't jump as high as I try to jump. He's got a little more of a set shot, but he shoots them on step backs ... he shoots step back 3s now. He hits them every game. It's unbelievable."
The Blazers' drive-and-kick ways have seen he of the Bow & Arrow celebration take 27.8 percent of his 3-pointers with a defender within 4-6 feet and 24.4 with someone more than 6 feet away.
Meanwhile, Korver has taken 30.7 percent from distance with a man 4-6 feet from him and 19.7 at 6 or more, but in what's deemed tight coverage (2-4 feet), he's taken 19.9.
Matthews is at 7.2 in that category.
In all, 76 percent of Korver's shots are of the Catch and Shoot variety as he utilizes those screens that are so integral to the motion offense.
It's created a daunting task for defenses in guarding Kover, one that had the Nets' Lionel Hollins drawing parallels to a future Hall of Famer.
"That's who he is," Hollins said of Korver. "He comes off screens, which the last guy who did that was Ray Allen. There are not many guys who come off a pindown and shoot a 3. He's one of those guys."
None of this is to insinuate that Portland's offense has made things any easier for Matthews than Korver.
While Korver leads the league on Catch and Shoot makes per game (2.8), Matthews is second (2.4), while the Blazer actually leads in attempts (6.0) and Korver is fourth (5.3).
But where Korver clearly has the edge is in their overall efficiency.
As the shot chars below illustrated, Matthews is largely at this best form two of the five quadrants, hitting at 47 percent from the left corner and 42.9 from just above it, he's hitting at under 37 percent everywhere else, including 33.3 in the right corner.
Korver, astonishingly, is below 50.7 in just one quadrant.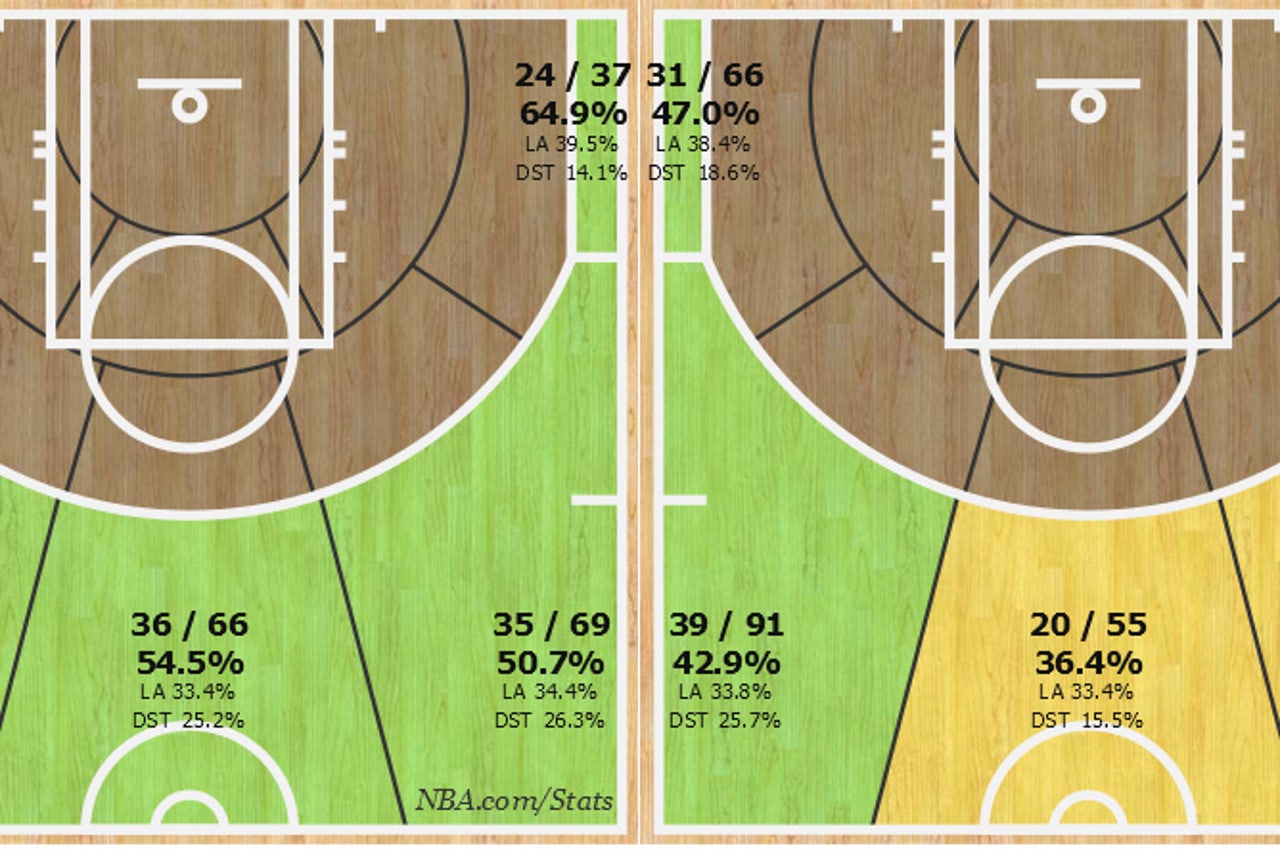 "I get a lot of great looks in this system, but I feel like you should keep getting better as you get older if your body doesn't fail you, you keep on getting better as shooter," the 33-year-old said. "You keep trying to keep working at it and get better every year."
Korver and Matthews will share the Three-Point Shootout stage with the Warriors' Stephen Curry and Klay Thompson, the Clippers' J.J. Redick and the Spurs' Marco Belinelli.
The NBA has yet to officially release the names of the contestants, but that's five of the top 7 in made 3s, with only Belinelli well outside that class in 124th, though he is the defending champ.
"The NBA got it right this year," Korver said. "I haven't done it in a bunch of years for several reasons, but the guy the one every year for a while you were like 'Ehh.' But that's the way it is. You can't say whoever wins is the best shooter. It's one night ... it's awkward circumstances, but for sure this is, I think, the best collection, the best group that has been in the 3-point contest since I've been in the NBA. Hopefully it's a good show."
There's a chance that Korver's role in All-Star Weekend could expand. With the Heat's Dwyane Wade dealing with a strained hamstring and expected to miss 2-3 weeks, Korver could be named an injury replacement.
That would add to a strong representation for the Eastern Conference's leaders, who have their coach, Mike Budenholzer, heading to New York, along with the three reserves and Dennis Schroder, who will play in the Rising Stars Challenge.
For now, Korver is resigned to being part of a star-studded Three-Point Shootout as he goes for his first win.
He's participated twice before, finishing second to Quentin Richardson in 2005 and third behind Voshon Lenard and Peja Stojakovic in '04. But Korver had yet to take part over the past six years, when he's led the NBA in 3-point percentage two times ('09-10 and '13-14).
Per sportsbook Bovada.lv, Curry is the favorite to win at 9/4, with Korver second (11/4), followed by Thompson (7/2), Redick and then Matthews (6/1). Odds have yet to be set for Belinelli.
The numbers don't lie, we're in a golden age of 3-point shooting, with nine teams this season ranking in the top 25 all-time in attempted treys per game. Among them are Portland (fifth at 27.6) and Atlanta (22nd at 25.3).
Korver and Matthews are the poster boys of those efforts, and while the Hawks kept their streak alive, they largely played to a draw. Both had 16 points, with Matthews going 3 of 9, while Korver was 2 of 4.
That leaves them just as they started the night, with Matthews having one more 3 on the season (144) than Korver.
Even that notion is stunning for Korver. He spent a year with Matthews in Utah in 2009-10 when the Marquette product was an undrafted rookie, and never saw this coming.
"I don't think any of us thought he would be the player he is now," Korver said. "I think Wes, he has an incredible work ethic and just a belief in himself that has taken him so far. What a great story."
It will include another chapter with Korver, this on a weekend to celebrate the game's best in a year domianted by the 3.
Friday night was just a taste of what's to come.
Follow Cory McCartney on Twitter @coryjmccartney
---