Live From Oxnard: The 17 Pre-Garrett Cowboys
BY foxsports • July 26, 2013
It isn't too difficult to pick through the public speeches of Jason Garrett to see the items that he deems worthy of pounding home on his 2013 campaign trail.

If you listen to a few of them, you do pick up on the words that are most often used, including "passion", "energy", and of course, one that seems to have gone missing early in camp '13, "process".  Not sure if he has retired the term, "process", but at least for now, it has been taken out of the rotation.

However, this spring and summer, he has reflected quite a few times about how the program is being built with a certain type of player and a certain type of roster.  During these quick moments of reflection, he generally mentions a number of "17 players" that were here when he coached his first game on Nov. 14, 2010 at the New Meadowlands Stadium against the New York (Football) Giants.

You may or may not remember this chart we made at the end of last season on "How the Cowboys were built", but either way, here it is with the different colors designating the different coaching regimes.  Top Silver is Garrett, Blue is Phillips, Bottom Silver is Parcells.


                                           
YEAR
DRAFT PICKS
FREE AGENTS
UNDRAFTED FAs
2012
Claiborne, Crawford, Wilber, Johnson,
Hanna, Coale, McSurdy
Livings, Bernardeau,
Orton, Vickers, Carr,
Sims, Moore
Beasley, Leary, Dunbar, Bass
2011
Smith, Carter, Murray, Arkin, Harris


Kowalski, Tanner, Callaway,
Albright, Jones, Bailey
2010
Dez Bryant, Sean Lee,
Sean Lissemore
P Costa, J Parnell,
B Church, D McCray
2009




2008
Orlando Scandrick


2007
Anthony Spencer, Doug Free


2006
Jason Hatcher
Miles Austin
2005
DeMarcus Ware, Jay Ratliff
LP Ladocuer


2004




2003
Jason Witten
Tony Romo

We will wait until the 2013 additions have made the team to redo this chart with the appropriate additions and subtractions, but for now, that gives you a pretty good idea of the soft underbelly that 2008 and 2009 presented the 2013 roster.

For one thing, the drafts (as has been reported on numerous occasions here and everywhere) certainly left the team in dire straits.  But, let's not underestimate that the undrafted rookie free agency bins and the free agency signings were non-existent there, too.  They literally added no players who could last for almost 24 months straight.  What was everyone doing in the personnel department during 2008 and 2009?  Actually, the truth might be that so many assets were lost in the Roy Williams trade that they didn't have much they could do.  Still....

As you can see, 2010 is looking to be a very plentiful season that should help this team recover.  Everyone can see that Dez Bryant and Sean Lee both have a chance to be cornerstones here for the balance of their careers like the greats Witten and Ware, perhaps, but don't lose sight of the others added during that season:  Barry Church, Jermey Parnell, Phil Costa, and Danny McCray all were undrafted free agents and Parnell was a practice squad signing from New Orleans.  All are players that have significant roles here today of either starters, depth, or special teams contributors.  Same for Sean Lissemore who was found in the 7th round that year.  We won't mention again the football ramifications of losing a young bull like Josh Brent, but safe to say that he would likely have played 500 snaps this season if he hadn't made another horrendous life decision last December.

Here is the game-book front page from Garrett Game #1 and you may click on it to see the entire roster from that game when Garrett took over the 1-7 2010 Cowboys: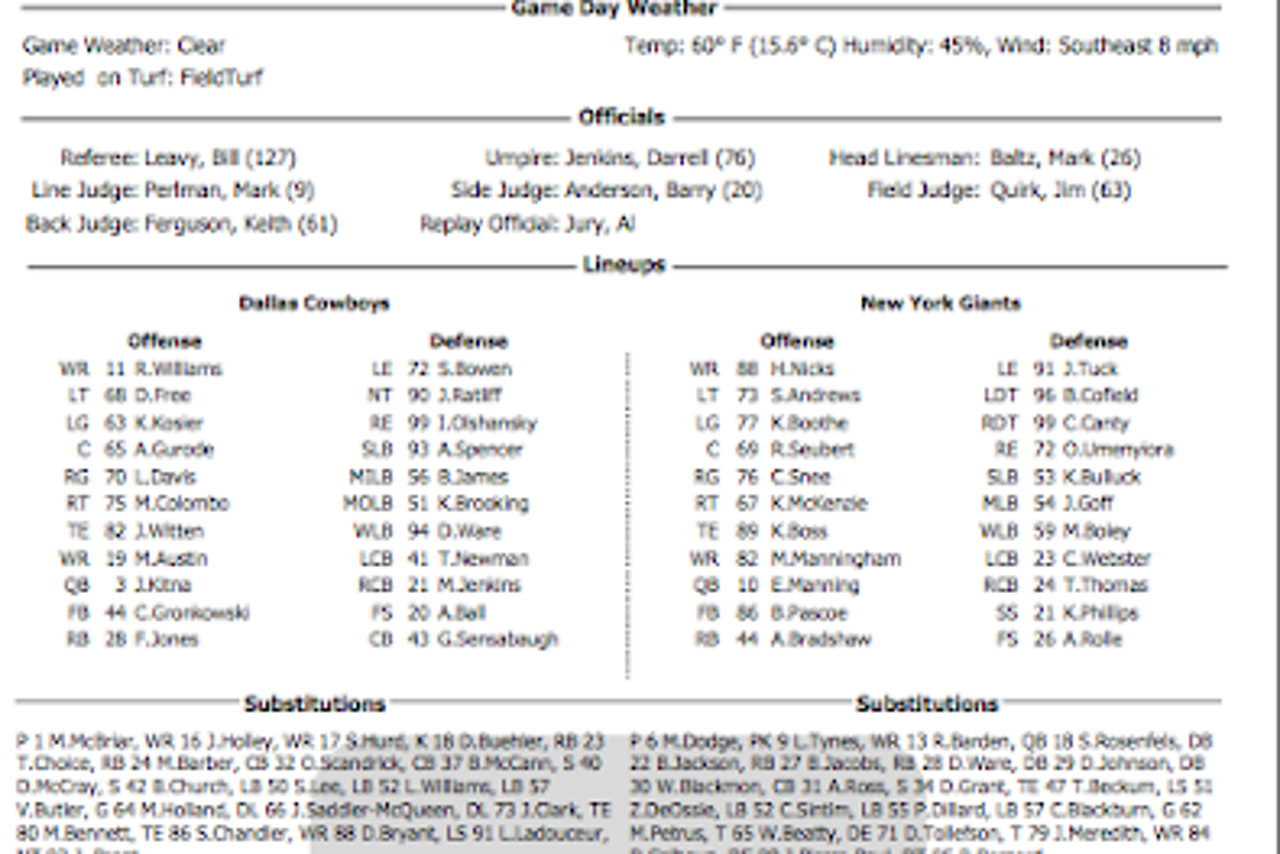 And now I further altered it with blue accents with just the "Pre Garrett 17" Cowboys: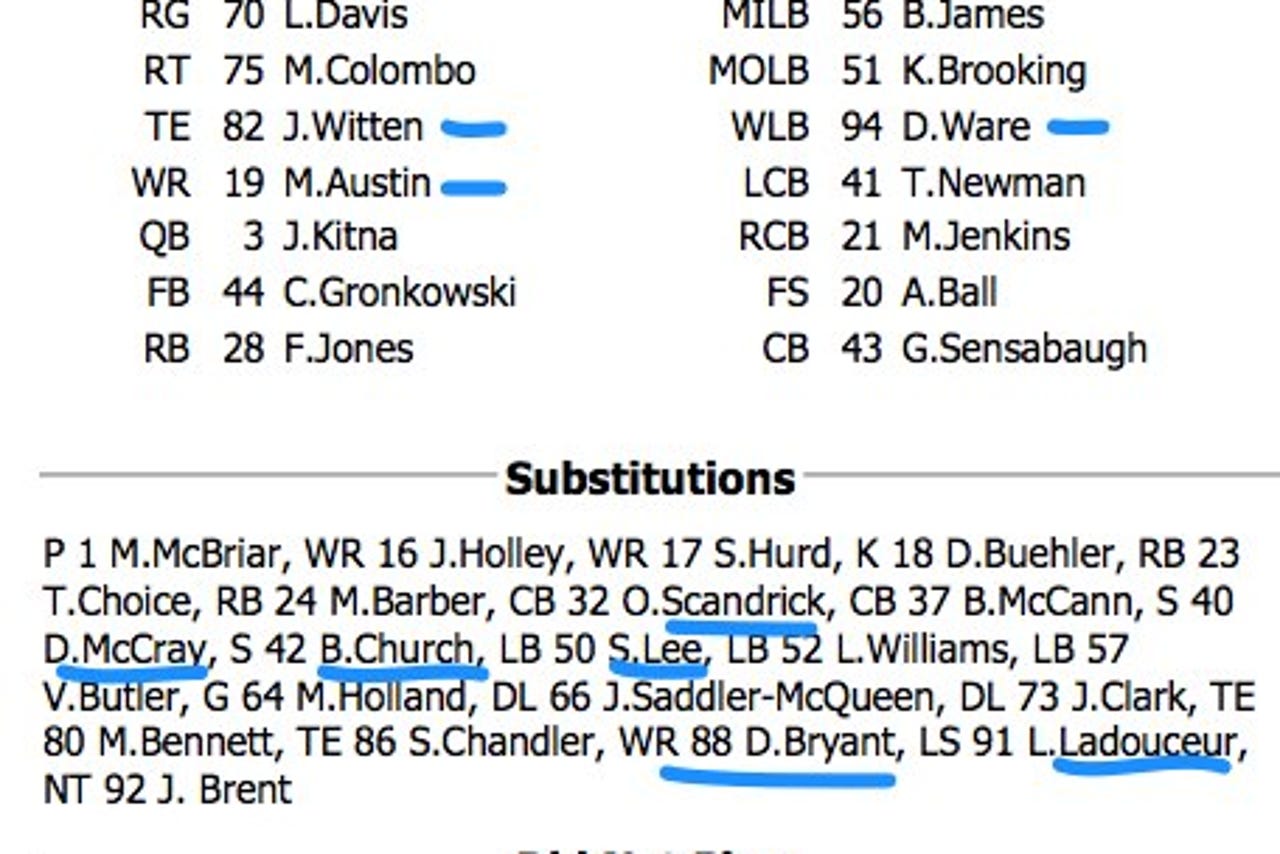 Given that this was less than 3 full seasons ago, it does shed light on how quickly things change in the NFL.  Only 3 offensive and 3 defensive starters remain from the team that took the field that day.

Today's rosters are largely built through the draft as there are no free agents from other NFL teams on this roster from before 2012 except for the Cowboys long snapper, LP Ladouceur.

Jerry Jones and Garrett have quickly turned this thing over.  We think that the NFL is a great departure from college football and the mentality that every season is a new team that we all expect in the college ranks.  But, perhaps this chart shows us differently.

Sure, there are a few players who can stay a decade.  But, overall, when you have a guy like Orlando Scandrick that is now one of your 10 longest-tenured Cowboys, you can see that you better be careful when you a buy a jersey of a young player.  There is very little evidence that they are promised to see their 5 year anniversary in a Cowboys uniform.  I imagine there are plenty of Felix Jones jerseys available on EBay these days.

So those are your 17 Cowboys who were here when Garrett took the job promotion.  I figure you can dazzle those in the next cubicle over with guys like Barry Church and Danny McCray.  Even Parnell was added a month before the change was made at head coach.  And all of those names are now veterans for the young guys behind them.

Hard to believe and yet it is the reality of the NFL.
---