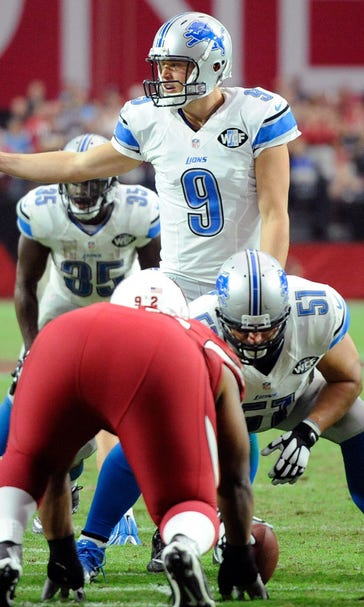 Lions simplifying game plan against Patriots
November 20, 2014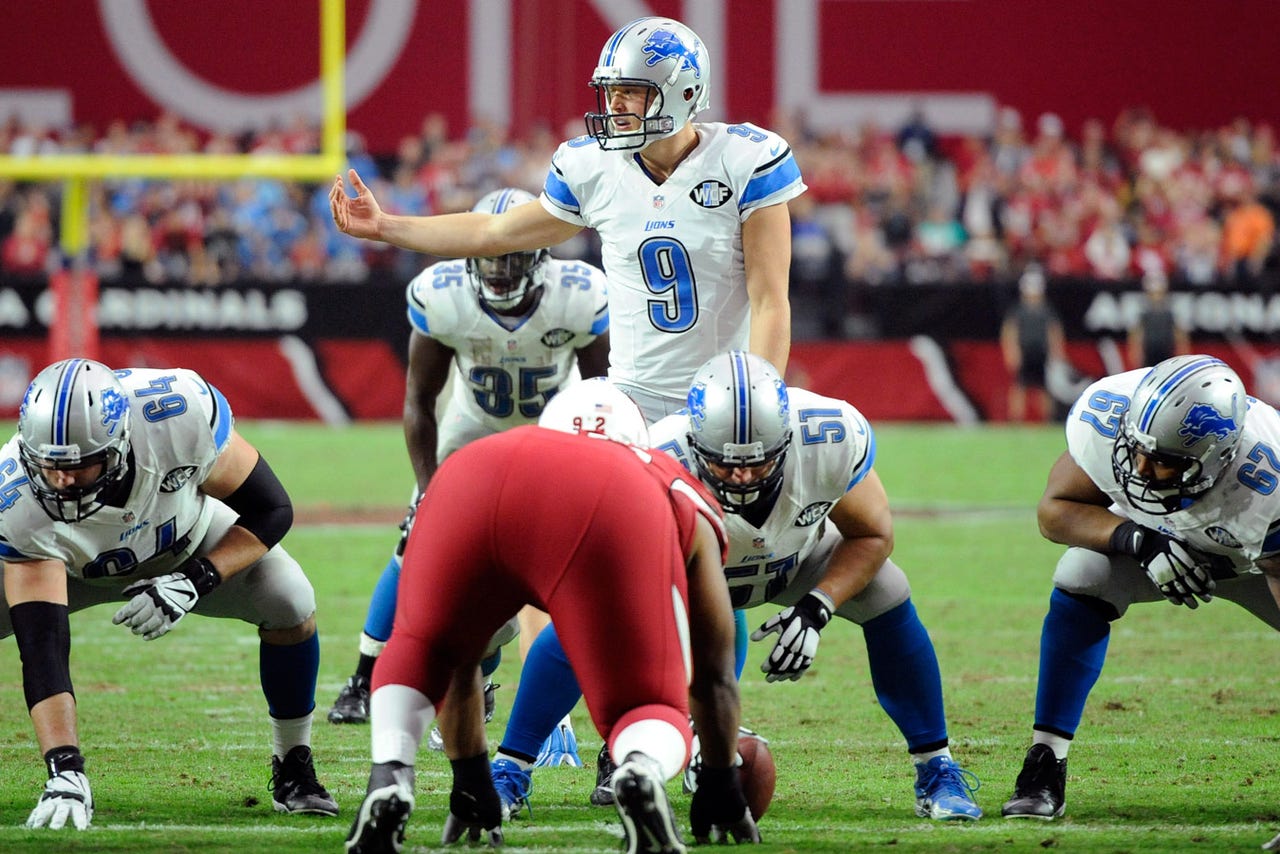 ALLEN PARK, Mich. -- With their offense failing to live up to expectations, the Detroit Lions and coordinator Joe Lombardi are taking the "less is more" approach this week.
The Lions are coming off their first game in five years in which they failed to score a touchdown and they rank 26th in scoring entering Sunday's game at New England.
With what's considered a complicated offensive system, perhaps there's been an element of paralysis by analysis over the first 10 weeks of the season.
So the Lions are going to simplify things a little. They've reduced the number of plays in this week's game plan by 20 percent.
"We're limiting the number of calls we have on our call sheet so that there's not as much to practice during the week," Lombardi explained. "It's just a matter of practicing fewer plays (so) they're able to handle all the different looks that might come up."
Lombardi admitted there's a tendency for a coach to "want all these plays (in the game plan), in case."
Not anymore, at least not in preparing for the Patriots.
"We don't need them," Lombardi said of the plays being eliminated from consideration this week. "You can kind of over-plan and have more offense than maybe what you need. We're practicing the things we know we're going to do, with more precision."
Lombardi said the decision was made after watching some of the problems the Lions had while getting shut down last Sunday in a 14-6 loss at Arizona.
"It's easy to say 'Hey, that guy's got to line up in the right spot and that guy's got to block this correctly,'" Lombardi said.
"But as a coach, you've got to take responsibility and say, 'Hey, we need to coach it better.'"
Some of the players believe the simplification will be for the better because the offense won't be as overloaded with information at the line of scrimmage.
"I think it will help us focus in on what we're good at," receiver Golden Tate said.
Running back Reggie Bush, who expects to return to the lineup after missing the last game with an ankle injury, added: "I think it will help us play faster."
EXTRA POINTS
--- Receiver Calvin Johnson and running back Joique Bell, both of whom missed Wednesday's practice because of sore ankles, returned on Thursday.
Defensive lineman Jason Jones, however, was absent again because of what coach Jim Caldwell termed a "personal family emergency."
Caldwell indicated it was unclear at this point whether Jones will be available for Sunday's game.
---- Tate, on getting only three touches and being targeted twice in the pass game at Arizona: "When we're winning and I get two catches, that's no problem at all. When we're losing, there's obviously things as a player I wish I could have done to help us win. I just kind of wish I had more opportunities."
--- Lombardi, on not using Tate more:  "I should have been more aware of it in that second half. You can call plays that make it more likely that he'll get the ball."
--- Cornerback Rashean Mathis, on New England rushing for 244 yards Sunday against Indianapolis: "Not to knock the Colts, but there was some undisciplined football. We know if we play undisciplined football, that can happen to us, too."
--- Teryl Austin has had so much success in his first year as the Lions' defensive coordinator that it's already leading to rumors he could be a candidate for a head-coaching job in college, perhaps Florida or even Michigan. He was an assistant at both schools. Austin said he's just trying to "live in the present" and focusing on the Patriots.
--- Ford Field in Detroit is reportedly one of the venues under consideration if the Buffalo Bills-New York Jets game gets moved, perhaps to Monday night, because of the massive snow storm in Buffalo.
---