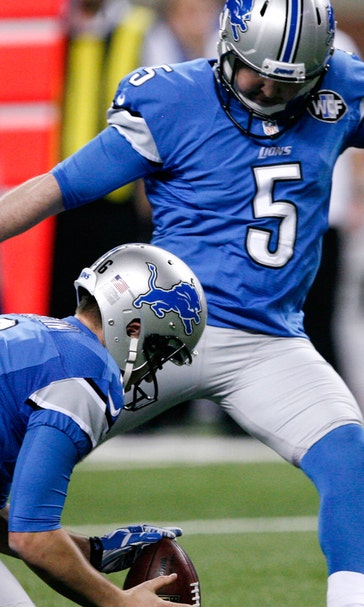 Lions re-sign kicker Matt Prater
March 6, 2015

The Detroit Lions learned a lesson last season. Don't take a kicker for granted.
The team confirmed Friday that it has re-signed Matt Prater, one of the top veteran kickers around. The three-year deal is worth a reported $9 million, according to the NFL Network.
Prater, 30, came to the Lions' rescue last season after rookie Nate Freese, a seventh-round draft pick, and his replacement, Alex Henery, both flopped during the first month of the season.
Prater missed two field-goal attempts in his Detroit debut, but then responded by making 20-of-23 over the final 10 regular-season games before also connecting on both attempts in a playoff loss to Dallas.
"He really became someone we could count on," Lions coach Jim Caldwell said in a statement released by the team. "Re-signing Matt was definitely a priority for us."
Prater was eligible to become an unrestricted free agent next week but had insisted all along that he felt a loyalty to the Lions for giving him a second chance in the NFL.
He came to Detroit after getting released by the Denver Broncos following a four-game suspension for violating the league's substance-abuse program.
Prater, who has admitted to having a drinking problem, spent his first seven years with the Broncos and was selected for the Pro Bowl in 2013.
"I am thankful for this opportunity and excited to come back to Detroit," Prater said in a statement. "I am also looking forward to working with both Sam (holder Sam Martin) and Mule (long snapper Don Muhlbach). We had to adjust quickly to each other in the middle of the season, and this off-season will be valuable in our preparation for the coming year."
EXTRA POINTS
--- The Lions also confirmed that they've re-signed reserve quarterback Kellen Moore to a two-year contract.
Moore, who could have been a restricted free agent, has spent the last three seasons on the team's 53-man roster but was inactive for every game.
--- The Lions officially gave defensive end George Johnson, a restricted free agent, an original-round tender for $1.54 million, and receiver/return specialist Jeremy Ross an exclusive-rights tender.
The team can match any offer that Johnson receives from another team while Ross can only sign with Detroit.
---