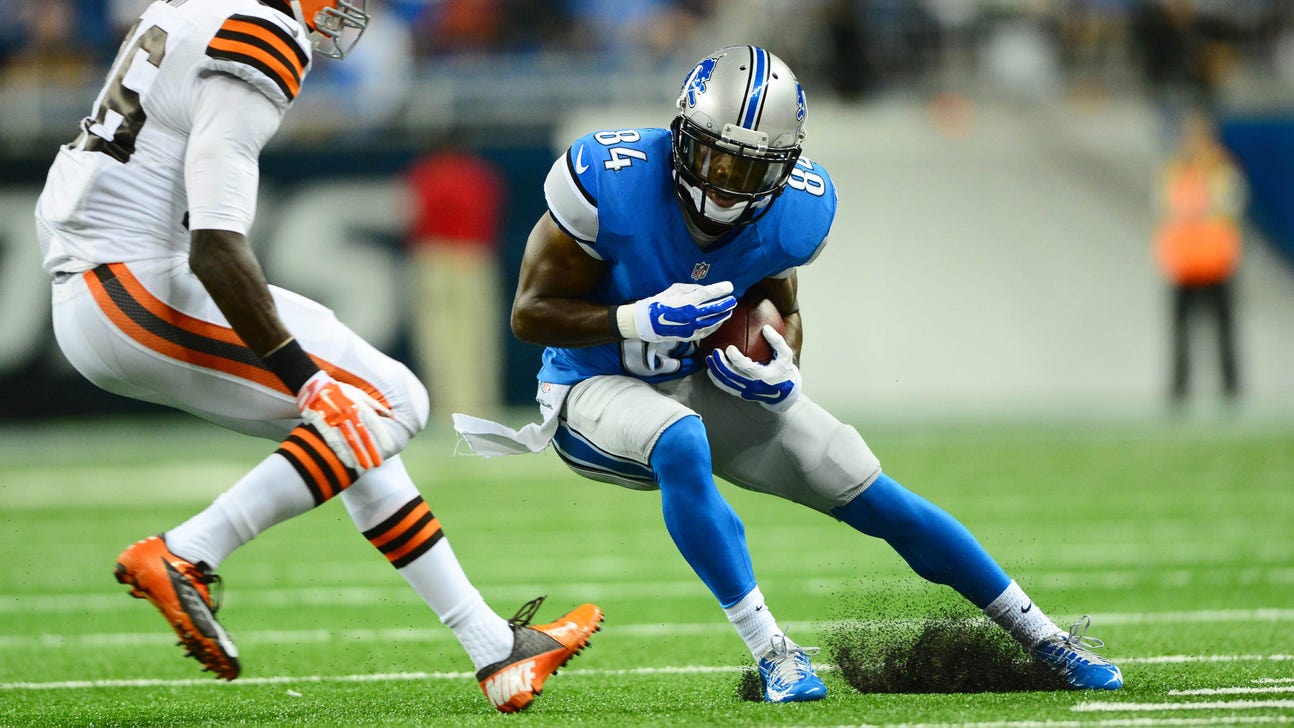 Lions Notes: Broyles wants to be successful, healthy
Published
Aug. 10, 2014 12:44 a.m. ET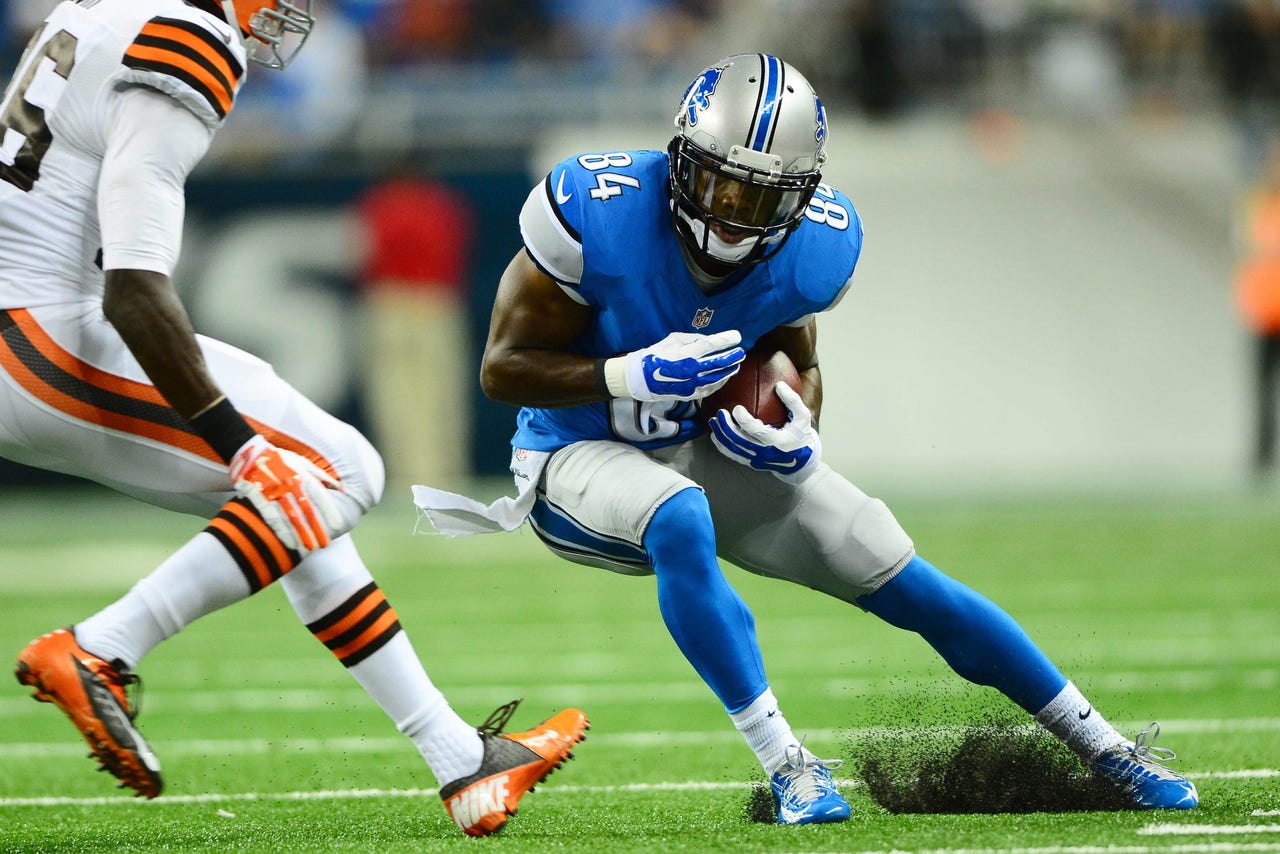 DETROIT -- Lions receiver Ryan Broyles knows that people are rooting for him and he wants to give them something to cheer about.
Broyles, the Lions' second-round pick in the 2012 draft, has had three straight seasons end in injury.
His last year at Oklahoma, he tore his left ACL. His rookie season with the Lions, he tore his right ACL and last season he ruptured his left Achilles.
So it was nice to see Broyles make three catches for 27 yards and two first downs in his first game action, the Lions' first preseason game against the Cleveland Browns.
"I want to be successful on the field. I felt like (Saturday night) was a good start for me," Broyles said. "Coach called a good play. My job is to catch the ball. I catch the ball and make a couple guys miss. I'm just humbled, I'm blessed to be out there healthy again."
Broyles knows that Calvin Johnson and Golden Tate are the Lions' top two receivers. There is the perception that because of the injuries, Kevin Ogletree has passed Broyles in the race for the third receiver job.
"I got everything to prove," Broyles said. "I'm a second-round guy, been through injuries. I proved I could make it back on the field, but now I gotta prove that I can make plays while I'm out there. I got a lot to prove."
Jim Caldwell is in his first season as Lions head coach and he liked what he saw out of Broyles against Cleveland.
"Broyles did a nice job in the first half with some good catches and not only that -- I think it was only three for 27 yards, but I think the run after the catch was key, converting some first downs," Caldwell said. 
Although Broyles is all-too-familiar with injury rehabilitation, he said this last one felt slower.
"I was in a cast for six weeks and I wasn't walking for two months," Broyles said. "I bounced back, I'm feeling healed up now, so I'm just looking forward to just continuing to grow in strength and in confidence."
Broyles understands that fans are rooting for him.
"I think everyone wants a feel-good story," Broyles said. "I know I want to be the player I used to be and I feel like I'm well on my way. So it's just a blessing to be out there and run around feeling pain-free."
ROOKIES IN FIRST GAME
Eric Ebron, the Lions' first-round pick in this past draft, caught one pass late in the second quarter for two yards.
"Did you guys tweet that I can catch now?" Ebron playfully asked reporters after the game. "It felt great. You just get a lift off your shoulders. It wasn't an easy catch but a catch was made. That's what you're drafted for. It just felt good to be able to give your quarterback a surface that he hits you."
Ebron moved around to different spots but said his versatility has not fully been exploited yet.
"That wasn't all of it," Ebron said. "Just the preseason so many more to come."
Kyle Van Noy, the Lions' second-round pick, also made his debut, nearly forcing a fumble.
"I was just trying to make a play on the ball," Van Noy said. "I read the back and tried to make a play on the ball. He called a great call out there for me and I read the play well and just tried to make a play."
Nate Freese, the Lions' seventh-round pick, kicked two field goals, one for 37 yards in the first quarter and one for 32 yards in the second quarter.
SLAY SEES HERO HADEN
On Wednesday, Lions cornerback Darius Slay got to switch numbers from 30 to 23.
One of the reasons he wanted 23 is because he is a fan of Browns cornerback Joe Haden.
"Of course, that's my guy," Slay said. "We talked before the game. He saw my number change and he said, 'Boy, you look sweet in that.' I said, 'Yeah, I do.'"
Slay had two tackles in the game.
PLAYED VERY LITTLE OR NOT AT ALL
Lions starting quarterback Matthew Stafford played one series and he was without his favorite target, Calvin Johnson, who did not play.
Stafford was 2-for-4 for 18 yards and helped the Lions get into position for the first field goal. 
"We have a lot of different looks and a lot of different plays that we can show the opposing defense," Stafford said. "You didn't see a lot of that (Saturday), because we barely game-planned for this game at all, so there weren't a lot of the things that we will have in the regular season."
Caldwell said Stafford might have played another series had they gone three-and-out the first time.
Caldwell was noncommittal about Johnson playing in the second preseason game in Oakland.
"I'm not going to determine that," Caldwell said. "Next week is a new week. We'll practice and see how things go."
Also not playing was former Lions receiver Nate Burleson.
INJURIES DURING GAME
Linebacker Tahir Whitehead had to come out of the game briefly.
"I'm feeling fine. It's something minor," Whitehead said.
Theo Riddick had to leave the game with an abdominal injury.
"There are a few guys that have a couple things here and there," Caldwell said. "Everybody will be evaluated and we'll see what happens."
---